Leftover Squash and Rapini Frittata For Two!
Waking up this morning was like the weirdest experience ever.
First, I was pulled from slumber at 4:06 by a small earthquake. Another small earthquake, shall I say, for that was the second time we got one in under a month.
I'm not really one to fret over these kinds of things though, so I quickly turned to my side and went right back to sleep. Well, as soon as the rattling got done with, the dogs gone back to their beds and the house had fallen silent again, that is.
Not long after though, I got awoken once again, but by a sound that was a LOT more pleasant this time: what I'm hearing is a low, calm and very masculine voice, whispering softly:
Réveille-toi, mon amour…   (wake up my love, is what it said)
I half open my eyes, all confused. Where's that voice coming from? Who could that possibly be? 
A quick glance at the bedroom ceiling informs me that the current time is 5:00 am (I have one of those super cool time projection alarm clocks, you see)
Awwww, shucks. Already? Time to get up. I quickly conclude that the mystery voice must've been in my dreams, when suddenly, it softly orders again:
Mon amour… réveille-toi… mon amour…
What? Again?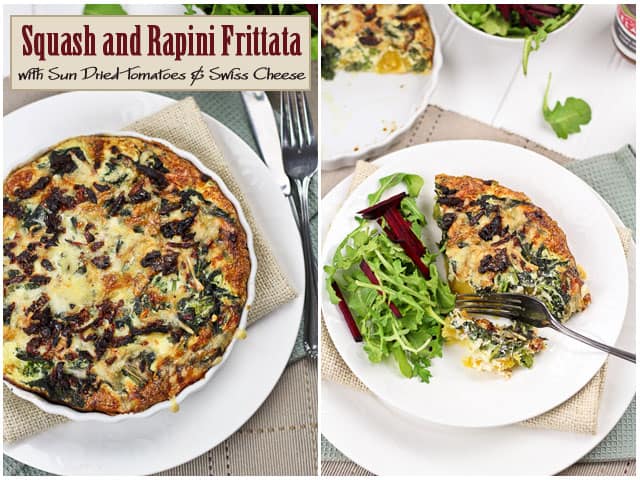 Not quite totally awakened yet, I lay there confused for a few seconds, until I finally realize that the man addressing me was in fact my alarm clock that had gone off, alerting me that it was time to get up!
The gentleman was just some guy reading some text on some morning show.
Bummer! Talk about perfect timing, though!
For an instant, I considered calling the station to ask them to play that very same passage every morning at precisely five am.
I wouldn't mind waking up to that every single day.
Just like I wouldn't mind having frittata every single week!
As a matter of fact, I really fail to see why I don't!
Frittata is just the PERFECT way to use up leftover meat and vegetables while creating a completely new and totally honorable dish.
Think leftover couscous, cooked chicken, broccoli and hazelnuts, for instance.
Or sweet potato, Brussels sprouts and portobello mushrooms…
Spinach, artichoke hearts, water chestnuts, brown and wild rice, maybe?
Cauliflower, red bell pepper, shrimp, celery and grated carrots, with a handful of pumpkin seeds and a pinch of curry. Ooooh, love that one!
Or, try a more classic combination: spinach, mushrooms, Swiss or goat cheese and sun dried tomatoes. My favorite!
You can basically throw just about anything in a skillet, pour eggs over it, cover with cheese if you'd like (I happen to like cheese on mine) and bake in the oven for about a half hour.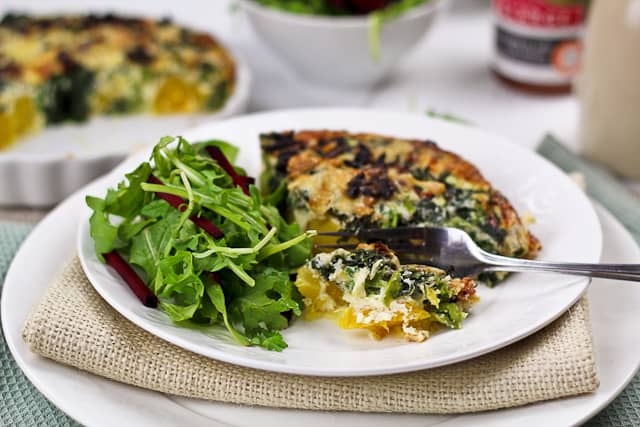 It doesn't get much easier than this. Yet, frittatas are so tasty and loaded with nutritious foods too!
For this particular version, I used some leftover squash and rapini that I had from my Crispy Cheesy Baked Rice Casserole. The combo had worked so well in that dish, I figured it would do just great in a frittata.
And I was right, it did!
This was intended as a single serving frittata, but ended up being way too substantial for a single meal.
It'll easily serve two, especially if you complete it with a side of mixed greens…
But with so little calories, you could very well afford to eat the whole thing!
IF you were really hungry, that is….
Cuz this baby will really fill you up!
Leftover Squash and Rapini Frittata For Two
Servings: 2
Ingredients
2 tbsp cornmeal
175 g chunks of leftover squash, cooked and cooled
175 g leftover rapini, stems removed, cooked and cooled
1 egg
¾ cup egg whites
¼ cup low fat buttermilk
45 g low fat swiss cheese, grated
15 g sun dried tomatoes, finely chopped
A pinch Himalayan or fine sea salt
A few gratings of fresh nutmeg
A few grinds of black pepper
Instructions
Preheat oven to 375F.

In a large mixing bowl, add egg, egg whites, buttermilk, salt, pepper and nutmeg. Mix vigorously with a whisk until fully incorporated and slighlty frothy. Set aside.

Coat a 6" quiche dish with a little bit of olive oil or cooking spray. Add cornmeal and shake pie dish so that cornmeal adheres to all surfaces.

Delicately add butternut squash and rapini then pour egg mixture over vegetables.

Sprinkle cheese and sun dried tomatoes on top and place in the oven, where you will bake the frittata for 25-30 minutes or until completely set and cheese takes a nice golden coloration.

Serve immediately with a side of mixed greens.
If you've tried this recipe, please take a minute to rate the recipe and let me know how things went for you in the comments below. It's always such a pleasure to hear from you!
You can also FOLLOW ME on PINTEREST, FACEBOOK, INSTAGRAM and TWITTER for more delicious, healthy recipes!