Beet and Raspberry Soft Serve – Entirely Fat Free, Refined Sugar Free and High in Protein
A couple of weeks ago, the most terrible thing happened to me.
HORRIFIC! UNIMAGINABLE!
My Magic Bullet died on me!
And very suddenly too! It went, just like that, right in the middle of making my morning smoothie.
Can you imagine? Talk about ruining a day before it's even had a fair chance at starting right…
But you know what they say: everything happens for a reason!
And I think there was a REAL good reason behind my Magic Bullet's passing.
You see, I'd just been watching flyers the day before and saw this Ninja Master Prep that was going to be on sale. I was considering getting one but figured I should probably pass since I had my trusty Magic Bullet and it was working perfectly fine…
Hmpft. It's almost like I'd MADE this happen!
After asking for advice on my Facebook page as to whether I should just replace my Magic Bullet or go with the Ninja System, I decided to go with the Ninja. (For the record, I also bought the Magic Bullet to replace the old one, since it was officially my daughter's and I'd been the one using it all this time. It was only fair that I should buy her a brand new one!)
So anyway, home I came with this new Ninja kid and decided to put it to the test. I knew EXACTLY what it was going to do for me: the only thing at which my Magic Bullet would fail miserably: SOFT SERVE!
Well, let me tell you, the Ninja truly delivered! I was, to put it simply, AMAZED! So much so, I had soft serve most every day for the past 2 weeks.
This combo right here was by far my favorite. Just look at that color. SO rich, so dark, so intense… it almost glows with intensity.
The beets and raspberries pair delightfully well, too! Add a banana to the equation and you get a trio that is so sweet, you don't even need to add any sugar at all. That's why I chose to use plain whey protein in that one.
However, if you like your soft serve really, really sweet, feel free to use vanilla flavored instead. Just make sure you choose one that's sweetened with stevia, not that other artificial junk…
Say, did I mention that this baby is ENTIRELY FAT FREE?
Oh yeah! Fat free, high in protein and contains no refined or artificial sugar whatsoever. Yet, it's so good, it makes you feel just like you're sitting at the ice cream parlor, indulging in one of their decadent specialties.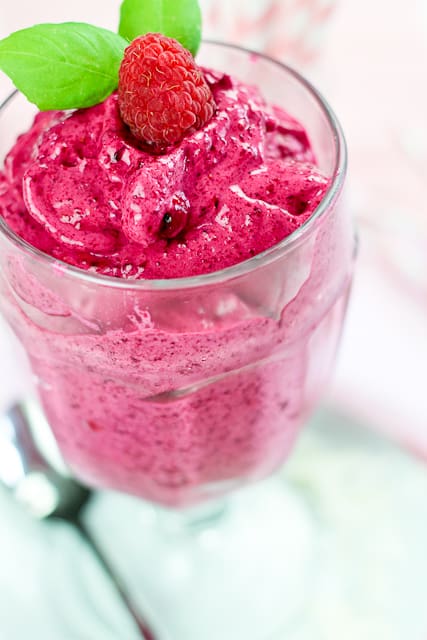 As luck would have it, shortly after I got my new Ninja, Simone of Junglefrog Cooking started a new Photography and Styling Challenge for the month of November: "Food or Drink in a Glass". Talk about perfect timing! Her post went out the day before I was planning on shooting this little gem. I have to admit that I was a little uninspired, but reading Simone's post totally inspired me and I just couldn't wait to get up the next morning.
I had not one, but TWO excellent reasons to get out of bed:
One, I was gonna get to enjoy that soft serve again and two, I was going to photograph it this time!
So what do you think… does this look good or what? Makes me wish beets were in season right in the middle of summer.
It sure would make this my go-to snack for those crazy hot and humid summer afternoons…
With such a guilt free little pleasure, tell me, who even needs ice cream?
Beet and Raspberry Soft Serve
Servings: 1
Ingredients
½ frozen banana, sliced
1 cup frozen raspberries
1 large beet, cooked and peeled, cut into chunks
1 scoop plain whey protein powder, use vanilla flavored protein powder for an even sweeter taste
Instructions
Add all ingredients to your mini blender or food processor and process on pulse until all the ingredients blend together to form this creamy, dreamy, icy concoction.

You might have to stop a few times and scrape the sides a little and push everything back down to get the action going again.

Once desired consistency is achieved, transfer to serving glass or bowl and garnish with fresh raspberries, basil leaves, unsweetened grated coconut, plain Greek yogurt, or whatever else tickles your fancy (you can also leave it ungarnished and dig right in!) I don't recommend eating this straight from the food processor though... the blades might get in the way!

Now take a few beats, sit down, relax and enjoy this delicious "treat" you just made.
If you've tried this recipe, please take a minute to rate the recipe and let me know how things went for you in the comments below. It's always such a pleasure to hear from you!
You can also FOLLOW ME on PINTEREST, FACEBOOK, INSTAGRAM and TWITTER for more delicious, healthy recipes!
Start with a nice, BIG glass. One that really inspires you…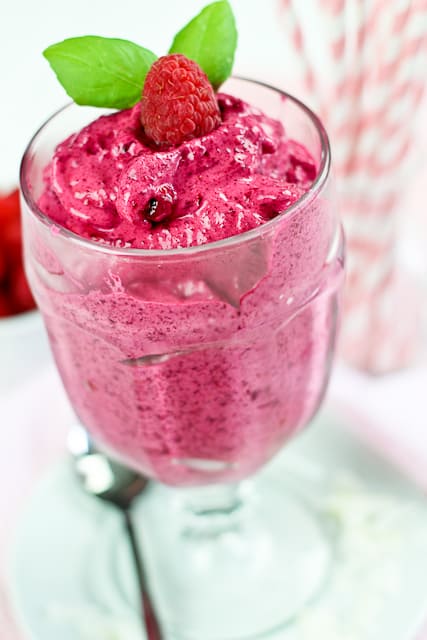 Fill it up right to the top!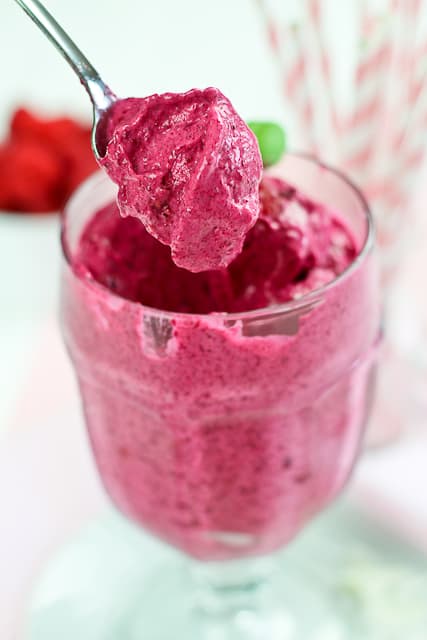 Look at that amazing texture! So soft and creamy and rich…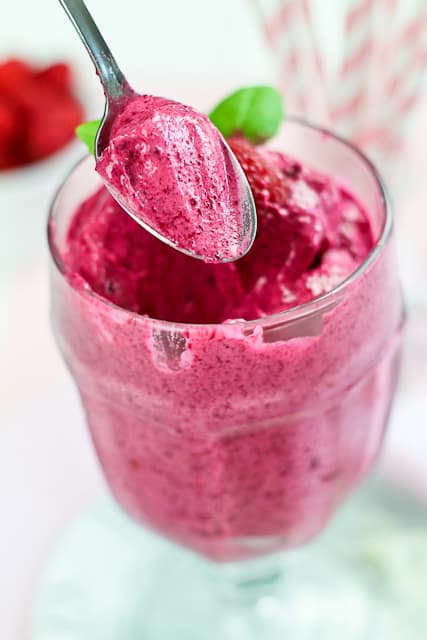 What? You mean to tell me this is not ice cream? Not even frozen yogurt? 
Better eat it fast, before it melts on you…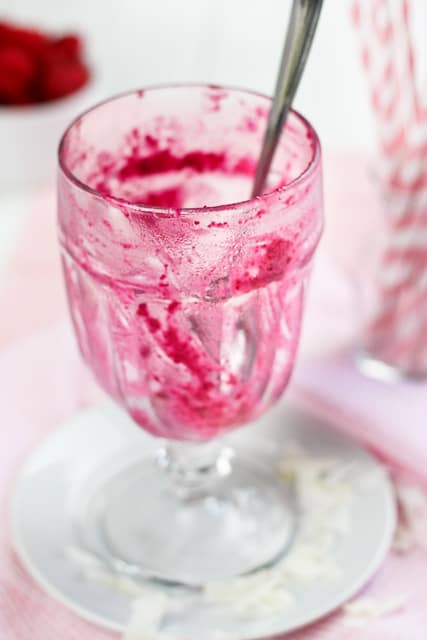 All gone… hope you cooked plenty of beets.
I get the feeling you'll be wanting another one tomorrow!