Orange and Rosemary French Roast, Pittsburgh Style
Cooking meat is something that's always intimidated me.
Perhaps this is due to the fact that, growing up, it was always my dad who was in charge of cooking steaks and roasts and he was always the one handling "DA GRILL".
Then, once I was all grown up and "on my own", it was my boyfriend who, very naturally it seems, inherited that oh so very important role.
So I guess in my mind, cooking meat has always been « a man's job ».
I wonder why that is! It's not like women are ill equipped when it comes to deciding whether a piece of meat is cooked or not!
And, as is the case with many other things, practice makes perfect when it comes to cooking different pieces of meat and placing a verdict on their doneness.
Sure, in the beginning, it'll be sort of a trial and error thing, but the more meat you cook the better you will become at "feeling" your meat and knowing how far it's gone into the cooking process.
I have to admit that I might have a bit of an advantage in this field, for I like my beef on the extremely rare side, so let's just say that undercooking it is kinda hard for me to do. So long as the outside is nice and crusted, or even better yet, charred, I'm good to go!
My ultimate favorite way to eat steak is the one that is known as « Pittsburgh Style ». If you're not familiar with it, it basically means charred on the outside while practically raw on the inside.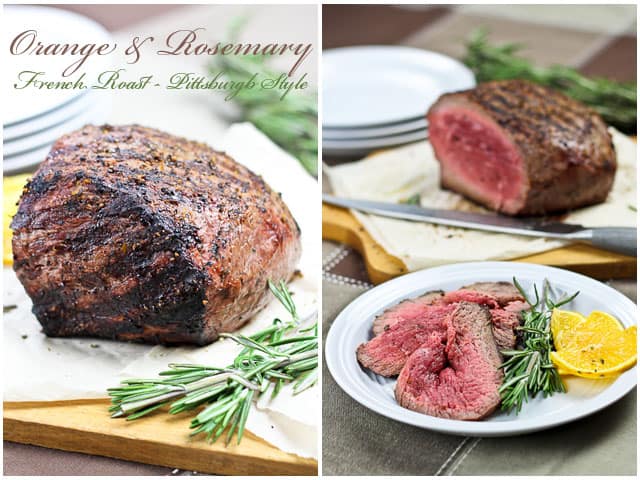 I find this cooking method allows you to get the best of both worlds. You get tender and juicy meat that's all trapped inside a crispy, crunchy, smokey and crazy good meaty crust. Of course, there are many ways to achieve that, but only the grill will give you that nice, smokey flavor that the gentle kiss of a flame will provide.
This method is usually applied to cook steaks, but I decided to go ahead and try it with a French Roast, just to see what it said.
The verdict?
GENIUS! It doesn't dirty up the kitchen nor smoke up the entire house. Hey, this translates into the fire alarm NOT going off. Now if that isn't a win, I don't know what is!
And of course, you could always use your BBQ to cook your roast even if you wanted it a little more on the "medium-rare" side. All you need to do is adjust temperature and cooking time.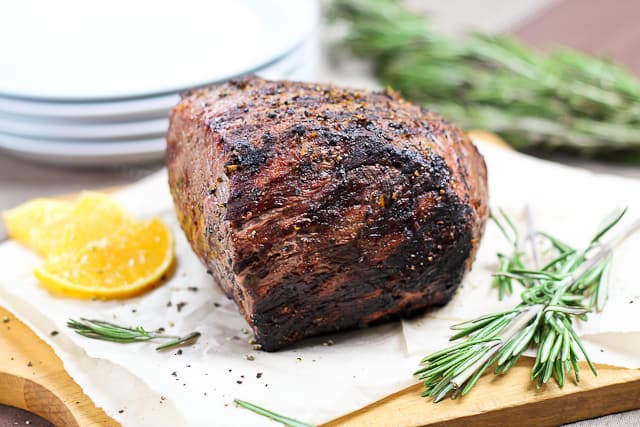 Now that I discovered how easy and practical it is to cook French Roast on the grill, I'll be enjoying it a lot more often.
Did I mention that this meat is also excellent cold and makes the best roastbeef sandwiches? You better believe it. I'll have to show you one day.
How about salads… Remember this one?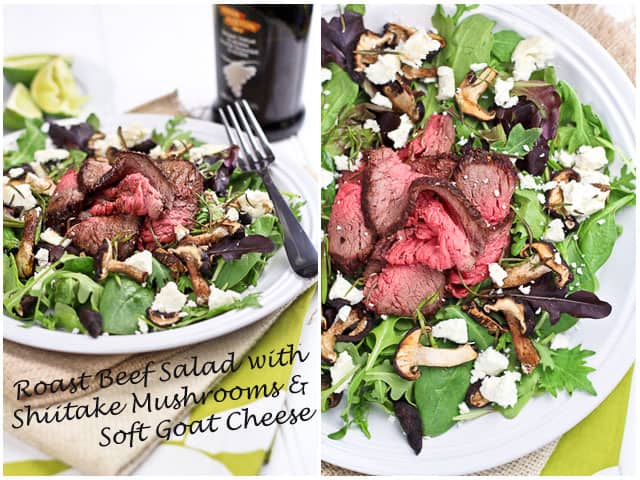 That's precisely the type of leftover beef that I had used to make that one.
And leftovers that allow me to whip up such gorgeous dishes, I will take any day!
I don't know why, but I sort of get the feeling that my trusty BBQ will NOT be stored away for winter.
It will have to be brave face and the cold winter months, because I, have meat to grill!
Orange and Rosemary French Roast, Pittsburgh Style
Ingredients
A 2-3 pound French roast, from the inside round
One navel orange
8-10 sprigs of rosemary
1 tsp Himalayan or fine sea salt
2 tsp freshly cracked black pepper
About 1 tbsp olive oil
Instructions
Zest the orange and put the zest in a small mixing bowl.

Add salt and pepper and mix until well incorporated.

Rub mixture all over the roast, making sure to cover all surfaces.

Place a few sprigs of rosemary on a large piece of plastic wrap.

Slice the orange and place a few slices over the rosemary, on a single layer, to approximately match the length of your roast.

Set the roast over the orange slices and rosemary.

Place the rest of the rosemary and orange slices over the top and sides of the roast, folding the plastic wrap tightly around them to hold everything in place.

Add a second layer of plastic wrap and place the roast in a plate. Transfer that to the fridge to rest for 18-24 hours.

Preheat your outdoor grill to very high heat.

When grill is hot enough, as in super hot, remove orange slices and rosemary from the roast, rub a tiny little bit of olive oil all over it and place it on the grill. Let it cook, uncovered, until a nice, dark, crispy crust forms, about 3-4 minutes. Avoid moving it around. Let the flames kiss it and do their job!

Once the crust is to your liking, flip the roast one quarter turn and again, cook until a nice golden crust forms. Repeat the process for all sides, including the ends.

Remove roast from the grill, cover it loosely in foil and let it sit for 5-10 minutes.

Slice as thinly as possible and serve.
Notes
If you want your roast to be a little more on the "medium-rare" side, lower your grill temperature, close the lid and cook for a few minutes more per side.
If you've tried this recipe, please take a minute to rate the recipe and let me know how things went for you in the comments below. It's always such a pleasure to hear from you!
You can also FOLLOW ME on PINTEREST, FACEBOOK, INSTAGRAM and TWITTER for more delicious, healthy recipes!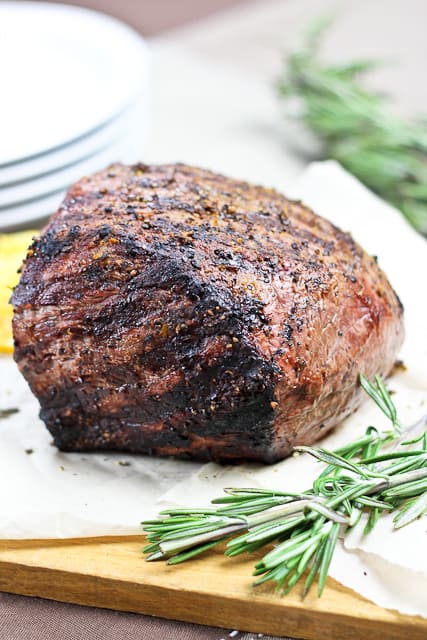 Check out the crust on that baby…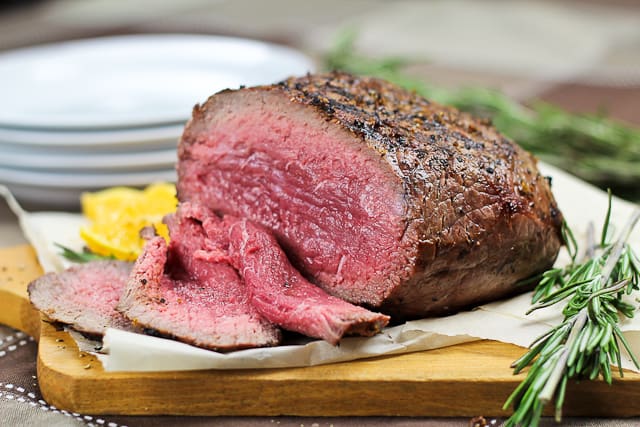 All nice and very rare on the inside! So juicy and tender…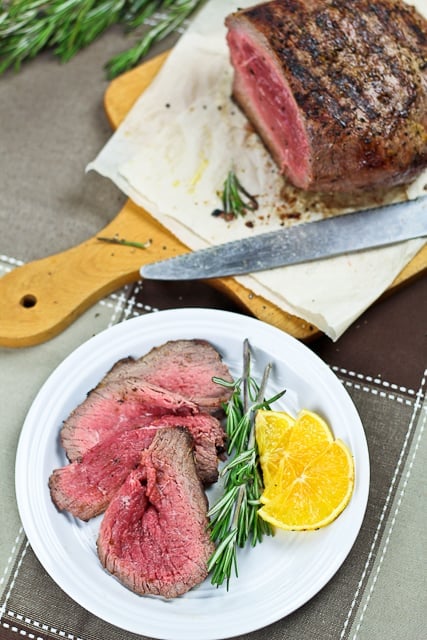 Dinner is served. And I say "Yes please!"