Spaghetti Squash Gratin
I love spaghetti squash. Unfortunately, it's never really inspired me to create anything, per se… I seem to always be eating it the same way: as a replacement for pasta, topped with tomato sauce, or as a side dish with a little bit of olive oil, salt and pepper.
Nothing much to it. I'd even dare say, a tad boring maybe…
So when I saw Nora's post a couple of weeks ago, featuring a superb Squash N' Greens Gratin that called for spaghetti squash, I was immediately sold. I knew I had to give it a try. It looked so good! I'll even admit to having gone back a couple of times just to look at the pictures and drool all over my keyboard dream of the day when I would finally be enjoying the real thing!
When that day finally came, I was super excited! But of course, me being me, I had to improvise a bit. I just couldn't help it. Well, you know me: I couldn't follow a recipe if my life depended on it… so my version turned out very different, and I find it doesn't look quite as good as Nora's.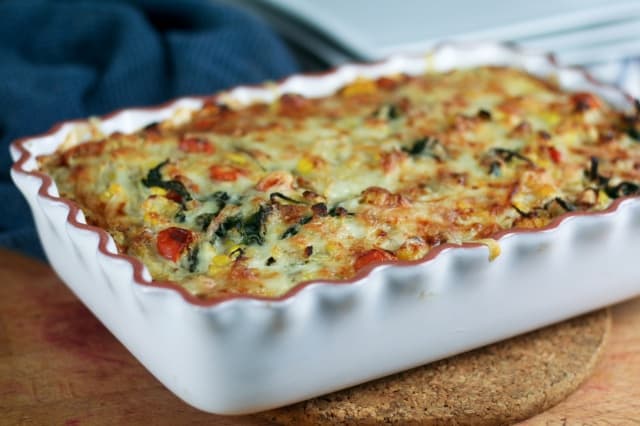 Don't get me wrong, though, it WAS very good, still. So much so that I made it 2 nights in a row because I wasn't too happy with the result the first time: it turned out a little too watery, and I wanted to see if the addition of a little bit of cornstarch would solve the problem. I'm happy to report that it did! 😀
Still, it looks NOTHING like the original. And it's the original that I was craving.
I think I will have to give Nora's version another try, only this time, I will have my daughter make it for me, for SHE can follow a recipe! 😉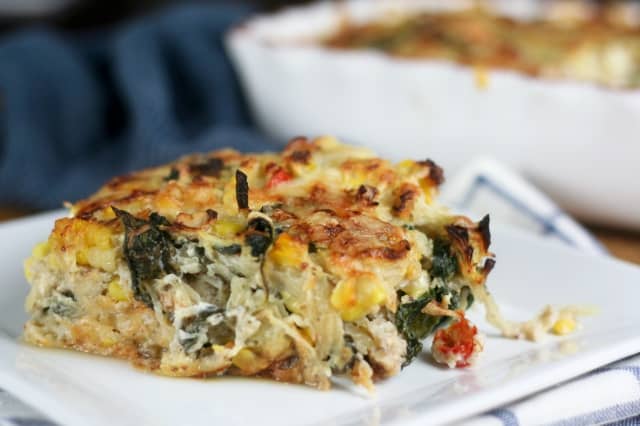 Not that I mind really. It'll give me an occasion to enjoy spaghetti squash again, and frankly, I can NEVER have too much of that! 😉
Tasha, on the other hand… she might be tempted to strangle me if I even so much as ask her if she would please consider making that recipe for me. I think she's had her dose already. It feels like we've been eating nothing BUT squash for the past 3 weeks.
Please, don't anybody tell her that I am planning on making Stuffed Acorn Squash this week-end… 😉
SPAGHETTI SQUASH GRATIN
INGREDIENTS
(serves 4-6)
Adapted from Natural Noshing
1 spaghetti squash, cut in half and seeded
1 small onion, finely chopped
½ tsp salt
½ tsp black pepper
250g spinach
3 cups cooked or frozen corn (I used oven roasted)
1 cup grape or cherry tomatoes, cut in half
50g toasted walnuts, chopped
75g sharp cheddar, shredded
50g low fat Swiss cheese, shredded
Sauce
Zest of ½ lime
¾ cup 1% fat cottage cheese
¼ cup 0% fat plain Greek yogurt
1 whole egg
½ cup soy milk
3 tbsp corn starch
1 tbsp Dijon mustard
½ tsp salt
INSTRUCTIONS
Preheat oven to 375F.
Cut spaghetti squash in half and remove the seeds. Sprinkle both halves with a bit of salt and pepper and lay them face down in a shallow baking dish. Add about ¼ cup of water in the bottom of the pan, cover with foil and cook for approximately 30-40 minutes, until tender. (This can be done ahead of time. You could even put the squash in the refrigerator to cool until the next day)
Preheat a large skillet over medium heat. Coat with cooking spray or drizzle with olive oil and add onion, salt and pepper. Cook until onion becomes translucent, about 3-4 minutes.
Add spinach and cook, stirring from time to time, until spinach is wilted. Squeeze to remove excess liquid and transfer to a large mixing bowl. Set aside.
When squash is done cooking, let it cool a bit and remove the flesh by sort of fluffing it with a fork. Add that to the spinach.
In a small food processor, add all the ingredients for the sauce and process until smooth. Pour that over the reserved spinach and squash mixture.
Add corn, tomatoes, walnuts and sharp cheddar and stir delicately until well combined.
Transfer the mixture to a baking dish and sprinkle Swiss cheese on top.
Cook in the oven for about 40-45 minutes, until cheese turns golden brown and mixture starts bubbling.
If you want your cheese to take on even more colour, turn the oven to broil for the last 3-5 minutes. Make sure to keep a close eye on your gratin so you don't burn the cheese.
Let stand for 10-15 minutes before serving.