Long week-end wrap up and Instant Pumpkin Pie Oatmeal Bake
What a great fantastic long week-end it has been for me. I had packed my agenda with so much stuff that I didn't even have time to write my scheduled post yesterday… so you're getting it today instead. Sorry about that! I just had to make the most of the last long week-end of the year.
And that, I did!
For one, the sun really cooperated and stayed out the whole time. There were barely any clouds in the sky. That it made it hard for me to give Sally her "Welcome Home" complete care treatment. Who wants to wash and wax their car under direct sunlight?
I managed to make a little room for her in the garage so that we could get a little bit of shade (what? are there still people who actually have room in the garage for their car?) and gave her all the pampering that she could take…
And here she finally is, all good and ready to be officially introduced: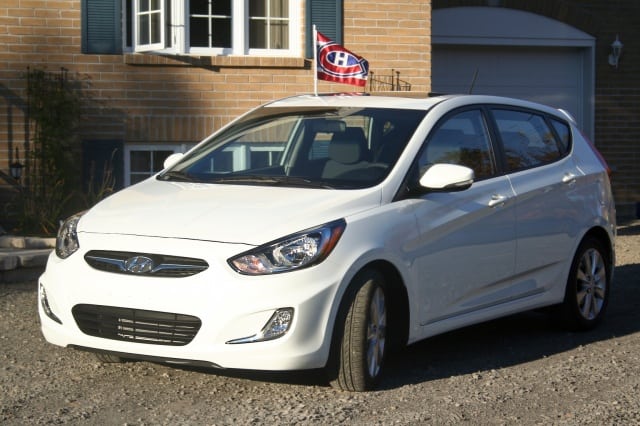 Isn't she gorgeous? Seriously, what a babe! 🙂
Of course, she's a huge fan of the Montreal Canadiens! 😉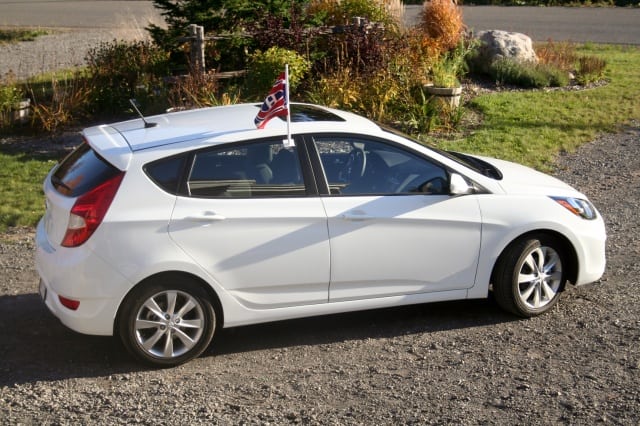 Also, I went apple picking with my daughter. We ended up going only the 2 of us and what a blast we had! I must've eaten at least a dozen apples that day…
I was a good sport and let Tasha take control of the camera, but maybe I shouldn't have… She's insanely trigger happy! I think I got my picture taken more often over the course of 3 hours than I did in the last 5 years!
Pictures of me contemplating the apples in the trees, pictures of me picking said apples from said trees, me comtemplating the apples that made it to the bag, me carrying said bag, me eating an apple… Pictures of me being silly on a "fun toy" meant for kids in a park also meant for kids, and pictures of me just plain being silly me…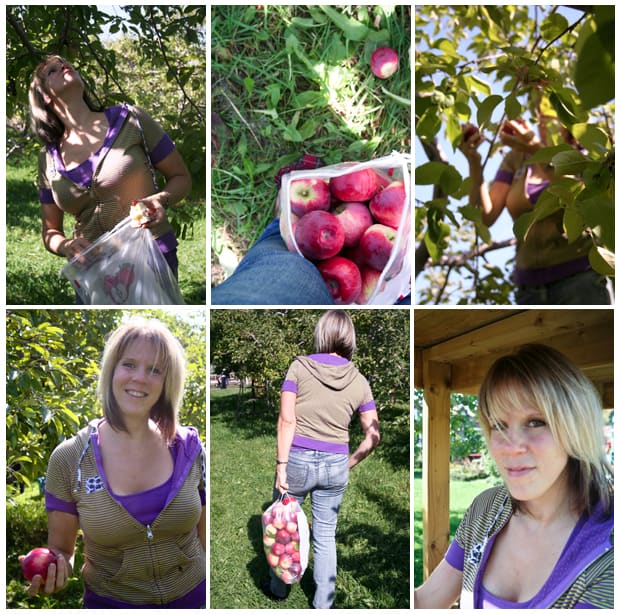 Then came the animals. There is a little farm at the orchard and every year, we have to go see the animals. They are so adorable… and goofy! We always end up spending a couple of hours watching them and feeding them grass.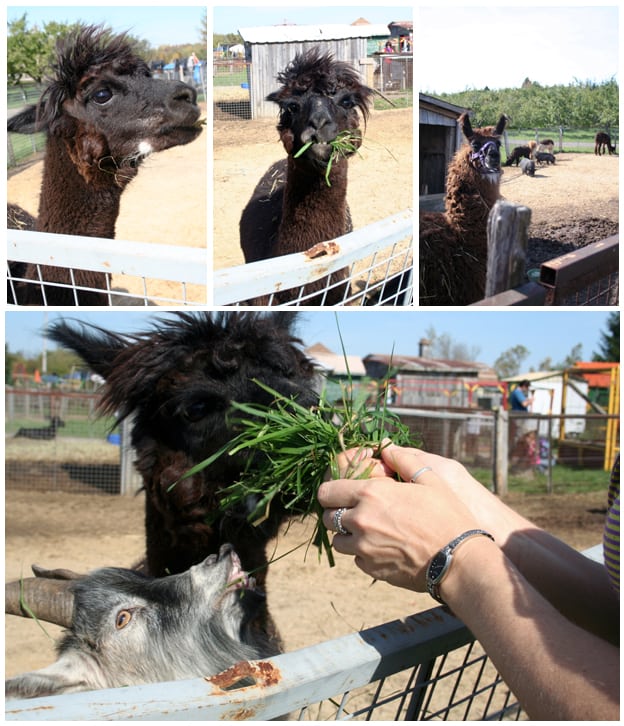 Check out the mouth on the goat above! Boy did he want some of that grass! 😀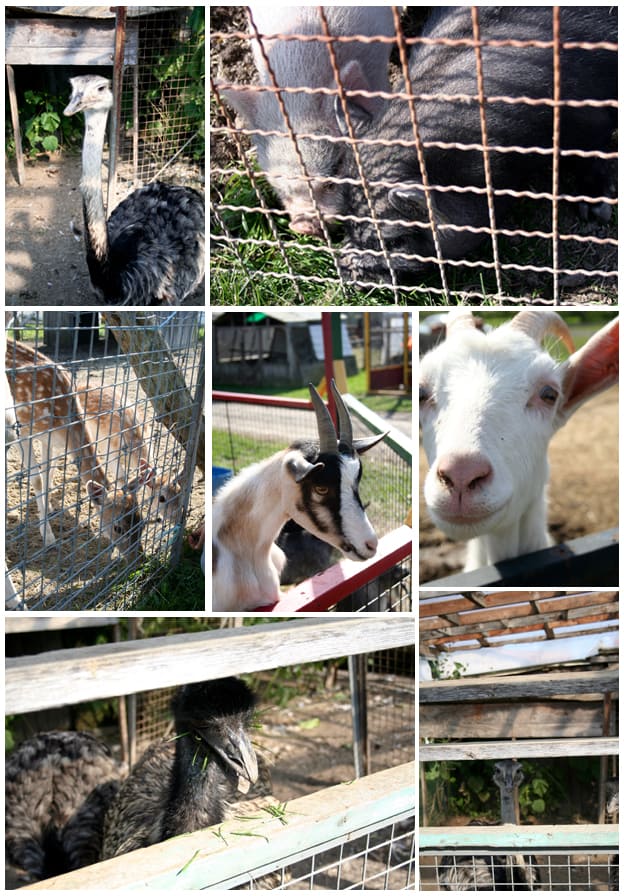 Despite the lovely weather, I didn't get to work in the garden much, but I did manage to take a couple of pictures. Litterally. A couple!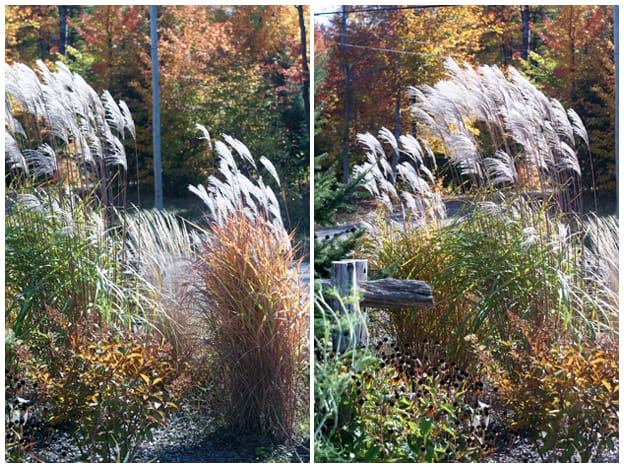 Oh! And my yard is now home to this cute little bunny rabbit, whom I have named Alexis. He's been living in our garden for the past 2-3 weeks now. Looks like he's adopted us, so we bring him food every day (which doesn't stop him from eating my plants, from time to time…) My ex even built him a little shelter to help him keep warm and get through the harsh winter months.
I really really hope he (or she!) makes it through winter… AND that he never comes face to face with any of my dogs.
I mean, look at him! How could you not get out of your way for such a cutie?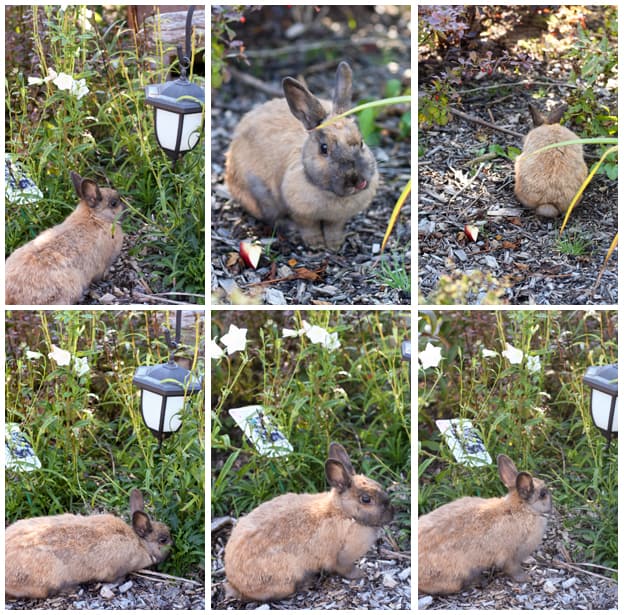 Of course, there's also been a lot of cooking happening this week-end. One of my favorite creations was a "Baklava Style Walnut Butter". I so can't wait to share that one with you all…
But for now, I give you this great recipe that you can make with the leftover filling that you might be left with after making my Crazy Good Yet Unbelievably Healthy Pumpkin Pie.
When I made mine, I chose not to bring the crust all the way to the edge of the pie dish, thus creating a thicker crust. This resulted in me having a little bit too much filling.
Now there was no way I was going to let that delicious concoction go to waste!
Instead, I decided to turn it into an Instant Pumpkin Oatmeal Bake.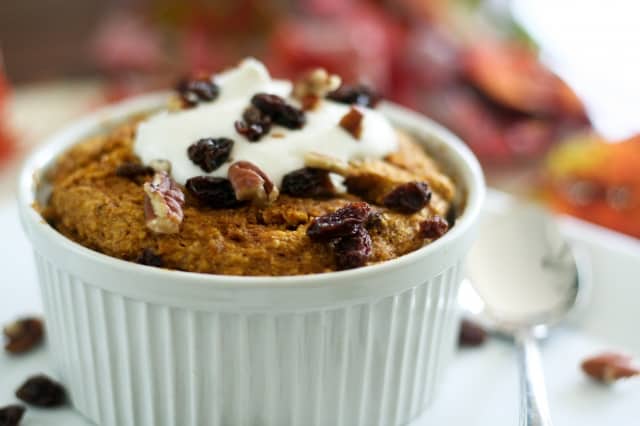 What a great decision that was! Given how much I liked the pie itself, I don't think I need to tell you that the resulting baked oatmeal was aslo insanely good.
Well, I'll tell you anyway. 😉  It was insanely good!
Of course, you can still make this bake even if you haven't been making the pie, or if you didn't end up having any leftover filling. But, I bet that if you ever make this bake and THEN make the pie, you'll be keeping about a cup of that filling on the side, even if it means coming a tad short for the pie… or maybe you'll even want to double the recipe for the filling just so you are stuck with WAY too much after!
What a shame that would be… 😉
Long week-end wrap up and Instant Pumpkin Pie Oatmeal Bake
Servings: 1
Ingredients
Instructions
In a small magic bullet type food processor, grind your rolled oats. Transfer to mixing bowl and add baking soda, raisins and pecans. Mix until well incorporated and set aside.

If you're not using leftover pie filling, add all the wet ingredients to your small food processor and process until smooth and well combined.

Add pumpkin mixture (the one that you just made OR the leftover pie filling) to the dry ingredients and mix with a wooden spoon or spatula until well incorporated.

Transfer to a microwave safe bowl, or dessert cup, cover with a paper towel and cook in the microwave for about 3 minutes to 3½ minutes.

When the cake comes out of the microwave, garnish with a dollop of plain yogurt, a handulf of raisins and chopped walnuts.

Serve immediately.
If you've tried this recipe, please take a minute to rate the recipe and let me know how things went for you in the comments below. It's always such a pleasure to hear from you!
You can also FOLLOW ME on PINTEREST, FACEBOOK, INSTAGRAM and TWITTER for more delicious, healthy recipes!