Crazy Good yet Unbelievably Healthy Pumpkin Pie
*EDIT: While absolutely delicious, this pie isn't your typical Sweet and Spicy Pumpkin pie. It's more like a cross between a cheesecake and pumpkin pie, so it does have a bit of a tangy taste to it and isn't really all that sweet. If a "traditional" sweet and spicy pumpkin pie is what you're after, I strongly suggest you check out the delicious paleo version of this pie!  
I don't think I've ever been as excited about a dish as I am about this pumpkin pie. Even my Raspberry Chocolate Pie had nothing on this one.
I mean, this… this is just beyond words.
This pie is, well, please pardon my French, better than sex. Really.
It's.THAT.good.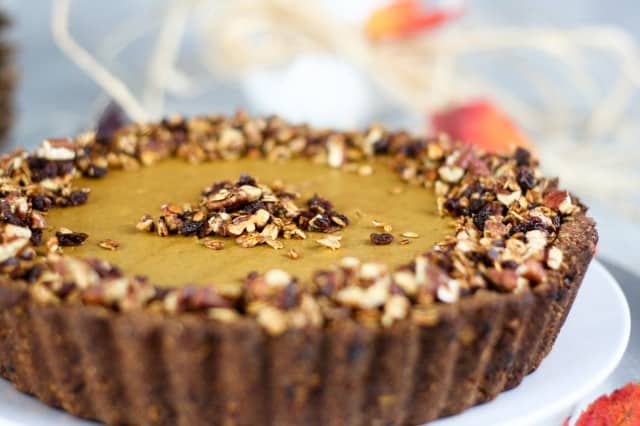 I died. With every bite. It was like one of the most decadent desserts I've ever had in my entire life. And I am not talking healthy desserts here, I'm talking desserts. Period. As in all of them.
And you know what?
This gorgeous pie is also… wait for it... SUPER HEALTHY! For real! It's loaded with all kinds of things that'll do your body good!
Unbelievable, isn't it?
Well, mind you, you haven't tasted it yet, so you can't tell just how unbelievable it is to say that this pie is healthy. But take my word for it. It's just plain out of this world creamy and smoooooth.  It rivals with some of the richest cheesecakes that I've eaten in my life. It has a texture that is kind of like a cross between a creamy cheesecake and a decadent sugar pie, only it doesn't have the overpowering sweetness of a sugar pie. Its flavor is a bit tangy, due to the addition of cheese and yogurt and buttermilk, but the pumpkin and various spices are always there to remind you that "Hey this is a pumpkin pie you are eating!"
Really, it's like a cross between a creamy cheesecake, a non sweet sugar pie and a spicy pumpkin pie.
Oh man, I can't believe I can't find better words to describe that sublime dessert. How I wish I could make you actually taste it with my words alone, but so far, I am doing an extremely lousy job.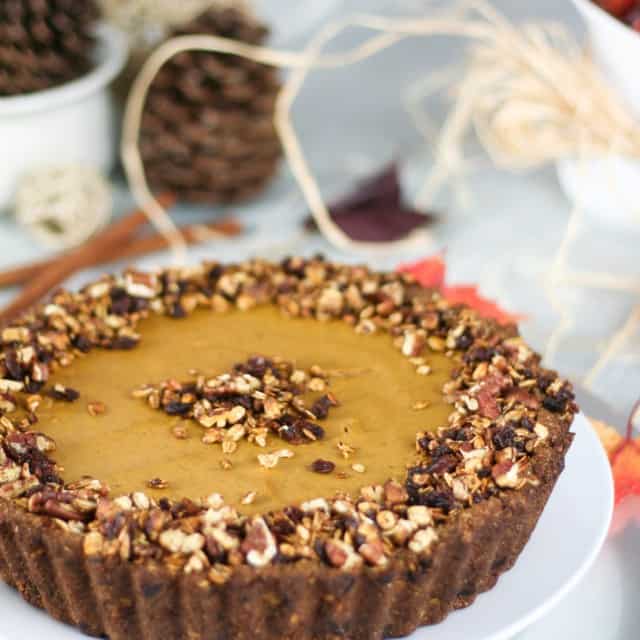 Mind you, I might already have convinced you at It's better than sex…
But seriously, I was lying… it's ten times better! 😀
OK, now I might be exaggerating… slightly! 😉
I guess you'll have to try it and see for yourself!
Oh, and if you happen to have a little too much filling because your pie dish is not quite deep enough, or if like me, you made the crust a little bit on the thick side and didn't bring it all the way to the top, by all means, don't throw it out.
In fact, you might even want to save a cup on purpose…
Why? Well, take a look!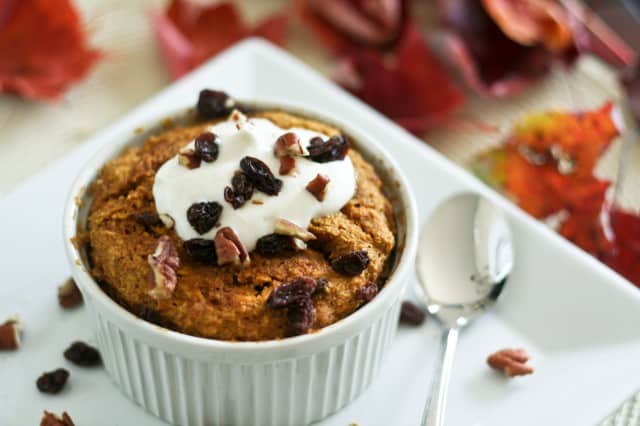 That recipe my dear friends is coming very soon to a blog near you!
But for now, I give you this:
Crazy Good yet Unbelievably Healthy Pumpkin Pie
Servings: 10
Ingredients
Filling
3 cups pumpkin puree
½ cup 0% fat Greek yogurt
1 cup 1% fat cottage cheese
1 cup buttermilk
2 whole eggs
½ cup egg whiles, or 4 egg whites
¼ cup maple syrup
2 tbsp blackstrap molasses
3 tsp cinnamon
1 tsp each: allspice, ginger, freshly grated nutmeg
½ tsp ground clove
½ tsp salt
Crumble (do NOT leave that out… it just adds so much to the pie)
Instructions
For the crust
Preheat oven to 375F

Add all the ingredients to food processor and process until well combined.

Transfer to a removable bottom deep pie dish and press to the bottom and sides of the pan to form a crust.

Bake in the oven for 10 minutes or until golden.

Set aside

Lower oven temperature to 350F
For the filling
Add all the ingredients to the bowl of your food processor and process until smooth and creamy, about one minute.

Transfer to the reserved pie crust.

Bake in 350F oven for 50-55 minutes, until filling is set.

Turn off the oven and open the door slightly. Allow pie to cool for a couple of hours, then take it out of the oven and let it cool completely before to transfer to the refrigerator, where you will leave it to cool for at least 4 hours, preferably overnight.
For the crumble
Preheat a small pan over medium high heat. Add the oats, pecans, salt and cinnamon and toast until fragrant and the oats start to turn brown.

Add raisins and maple syrup. Stir until well combined.

Set aside and allow to cool completely.

Sprinkle over pie.
Notes
Nutritional Information based on 10 servings
If you've tried this recipe, please take a minute to rate the recipe and let me know how things went for you in the comments below. It's always such a pleasure to hear from you!
You can also FOLLOW ME on PINTEREST, FACEBOOK, INSTAGRAM and TWITTER for more delicious, healthy recipes!