Buttercup Squash, Feta and Spinach Lasagna
Long week-end ahead for us Canadians! And they are forecasting gorgeous wheather. Boy, I am so excited! There's like a million things that I want to do in those 3 days.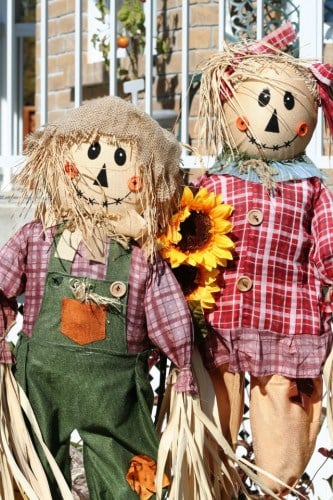 First off, I WILL be going to the orchard and pick me a couple [dozen] pounds of apples. Then I'll be heading to the bee farm, to stock up on honey for the whole year.
Of course, now that Sally is home, I will have to take good care of her, give her a good wax job, make her all pretty, have her strike the pose and take a couple of pictures to show you guys. After all this time, I think she does deserve a proper introduction!
Also, I want to take a couple of hours to work on the yard and make it all nice and festive, give it a little bit of fall flavours.
And of course, there will be cooking. There's always a lot of that happening at my house on the weekend, especially now that I can't really log any of what I make during the week, because Mr. Sun has suddenly decided to go to bed way too early. Party pooper!
Plus, certain dishes, like this lasagna, simply cannot happen on a week night.
I'm not going to lie to you, this one is quite extensive to make. It's the kind of dish that you need to get started on in the afternoon, or even on the previous day.
To be honest, I've made mine over the course of 3 days. Wait, wait, come back! I know, 3 days can be scary, but it's not that bad, trust me. It doesn't take THAT long to make. It's just that I couldn't afford to make mine in one go, so I made it easier on myself:
On the first day, I roasted my squash, then put it in the fridge until the next day.
On day 2, I made the sauce, then put that in the fridge to cool.
On day 3, I cooked the pasta and the spinach, then I assembled the lasagna, baked it and ate it. Oh, and I took pictures, too!
If you were to make that one from start to finish, you'd have to have a good 2 to 3 hours ahead of you, but most of that time you wouldn't be spending actively cooking. The oven does most of the work for you.
Now, I have to confess that this lasagna looks nothing like what I had in mind and I find that the pictures really don't do it justice. Still, I urge you to give it a try. It's very well worth the time and effort, trust me. It's unlike any lasagna I've ever had, and the flavor combination is just out of this world good.
I mean, hey, it passed the Felix test! My son despises squash, and, as you probably recall, cannot stand whole wheat pasta of any kind. Yet, he loved this lasagna! And not just 'cuz he was hungry. He actually liked it.
Seriously, it's creamy, it's velvety, it's sweet and salty, ooey and gooey, you just can't stop eating it. It is the most comforting lasagna I have ever had.
By all means, give it a chance!
BUTTERCUP SQUASH AND SPINACH LASAGNA
Oven Roasted Buttercup Squash
1 buttercup squash, seeded, peeled and cut into ½" cubes
1 tsp salt
½ tsp pepper
1 tbsp olive oil
1 tsp freshly grated nutmeg
1 tsp fresh rosemary, finely chopped
1 tbsp liquid honey
¼ cup water
Sauce
Oven Roasted Buttercup Squash (set 1 cup aside)
1 large onion, diced
2 fresh tomatoes, diced
1 tsp salt
½ tsp freshly grated nutmeg
1 tsp fresh rosemary, finely chopped
1½ cup water
Spinach Feta Layer
1 small onion, finely chopped
300g – 400g fresh baby spinach
Generous sprinkle of salt and pepper
2 tbsp water
Other ingredients
9 whole wheat lasagnas
200g Feta cheese, crumbled
200g low fat Mozzarella, grated
INSTRUCTIONS
Oven baked squash
Preheat the oven to 375F
Cut the squash in 4 pieces and remove the seeds. Cut each piece into 4-6 smaller pieces and remove the peel. This makes the job so much easier. Now cut each piece into ½ inch cubes.
Put the cubes to a large mixing bowl.  Add salt, pepper, nutmeg, rosemary, olive oil and honey. Mix to coat all the squash pieces evenly.
Transfer to a baking dish, add the water, cover with foil and cook in the oven for 20-25 minutes, until the squash is tender.
Pasta
Cook your pasta according to instructions on the package. Be careful not to overcook; in fact, you might want to slightly undercook them.
When your lasagnas are ready, drain and lay them flat on a clean dish towel to absorb excess water. They can wait there for a little while, you don't need to time this perfectly.
Sauce
When squash is ready, coat a skillet with cooking spray and heat over medium heat. Add the onion, salt and pepper and cook until translucent, about 2-3 minutes.
Add cooked squash (save about a cup to use in the spinach layer), tomatoes, seasoning and water
Stir and bring to a boil, then lower heat and simmer, stirring occasionaly for about 20 minutes, until sauce thickens. Set aside.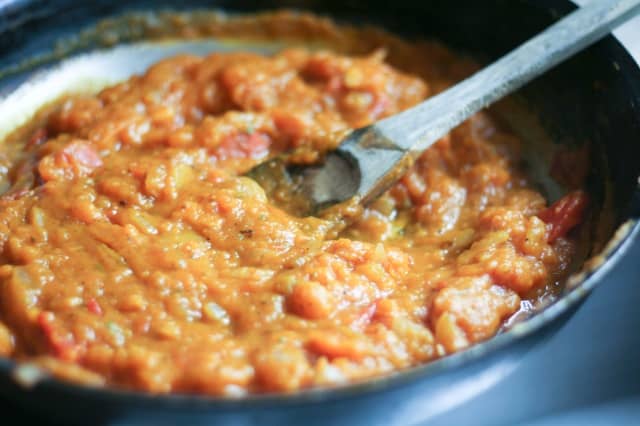 Spinach

Coat a skillet with cooking spray and heat over medium heat. Add the onion, salt and pepper and cook until translucent, about 2-3 minutes.
Add spinach, water and seasoning and toss gently until spinach is wilted, about 1-2 minutes.
Squeeze to remove excess liquid and set aside.
Assembly
If you've shut down the oven, preheat at 375F
Start by spreading a thin layer of sauce in the bottom of a baking dish, then lay 3 lasagnas side by side on top.
Add half of the remaining sauce, spread it evenly and top with another 3 lasagnas.
Spread spinach, reserved squash and crumbled feta evenly.
Top with the last 3 lasagnas, then spread the rest of the sauce.
Sprinkle cheese overtop and bake in the oven for 30-35 minutes, until cheese is nice and golden and lasagna starts to bubble.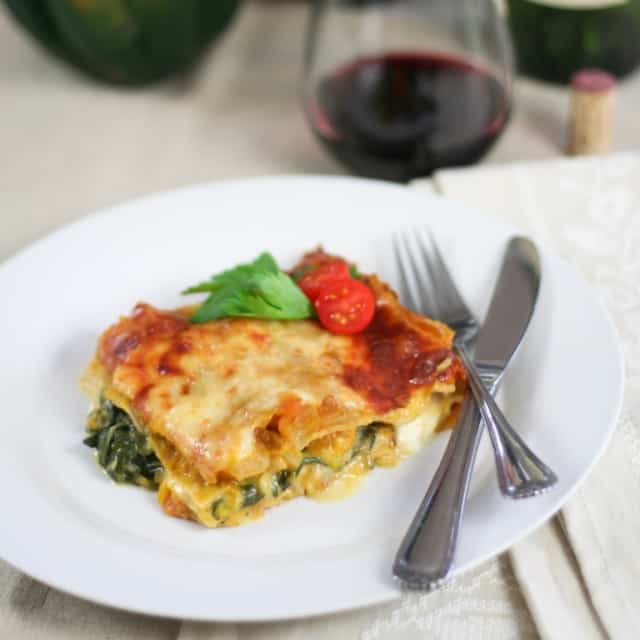 Hey, got room for dessert? Check this one out!
Tomorrow, I will finally give you the recipe to my crazy insane good yet super duper healthy pumpkin pie. It will seriously throw you!
GUARANTEED!
Say, what are YOUR plans for this beautiful Thankgsiving (or not!) week-end?