Paleo Pumpkin Pie – A healthy dessert option for you this Thanksgiving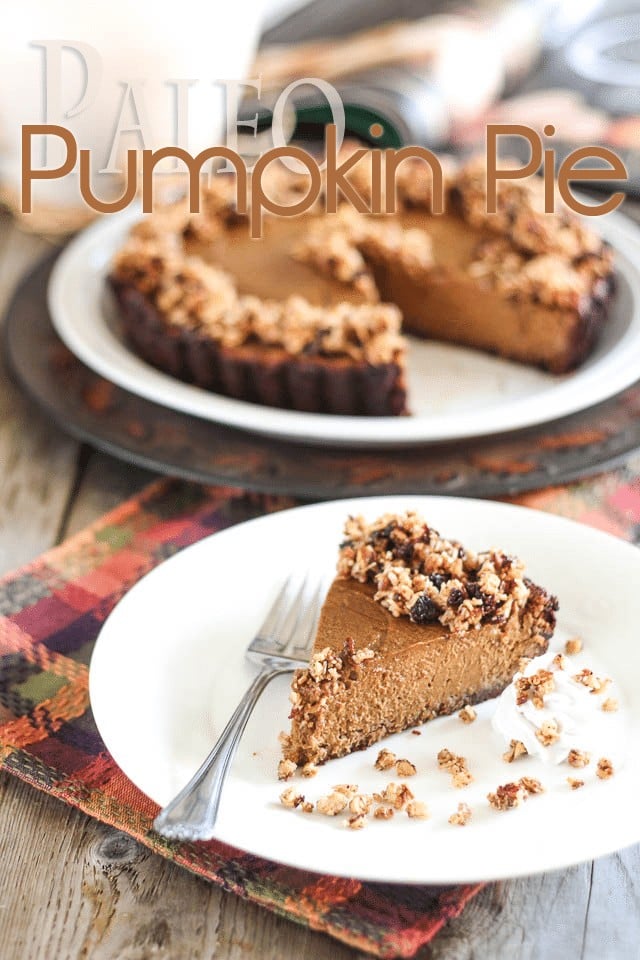 One of the things I have the most fun doing since going paleo is revisiting some of my old recipes, especially desserts.
Of course, it was only a matter of time before I went ahead and gave a little bit of a paleoification treatment to one of my most popular desserts ever: my better than sex pumpkin pie.
Now I'll be honest, It's already been a couple of years since I came up with the original version and I'd only had it this once so I don't remember exactly what it tasted like. All I remember is that it was crazy good. The kind of good that would make me roll my eyes backwards with pure ecstasy with every single bite.
I guess if I wanted to make a really accurate comparison, I'd have to bake both pies at the same time and have a slice of each.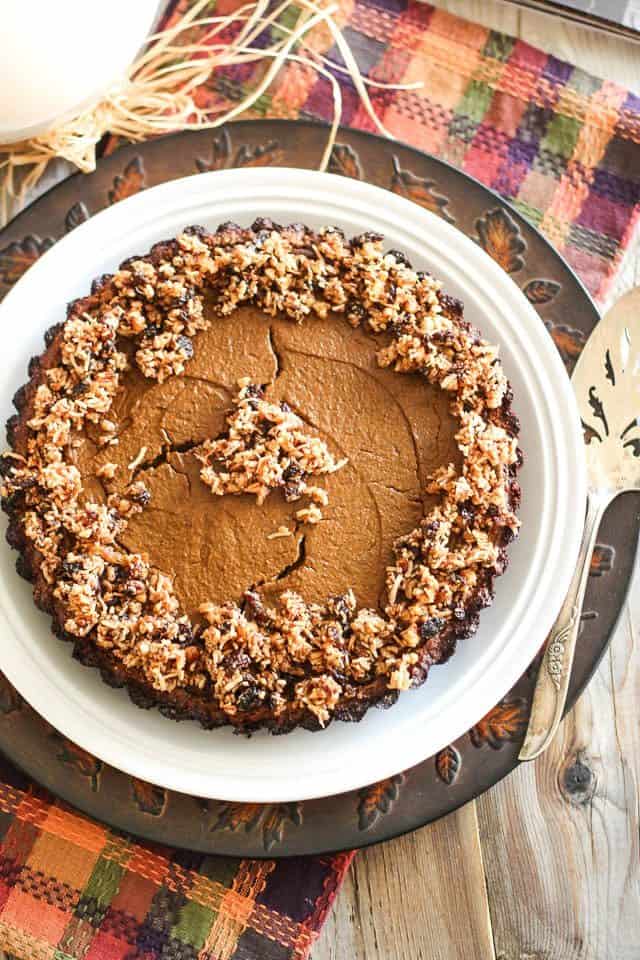 But you know what?
I don't think that will be necessary. For this new version I just created is WAY beyond satisfactory! So much so, I don't think I'll ever feel the need to revisit the original experience.
This new pie's filling is so, so creamy and smooth and velvety and spicy and sweet, it feels like it softly caresses every single cell in your mouth each time you take the fork to your lips. It's got a texture like that of a devilishly rich and unctuous custard combined with a thick, buttery and silky mousse. Yet, it doesn't feel heavy in the least. In fact, I'd even say it's quite refreshing!
And if many people found my original version to lack a little bit in the sweetness department, well let me tell you, this paleo guy will definitely not let you down in that capacity. Despite containing no refined sugar whatsoever, this one IS plenty sweet, trust me! Perhaps even a tad too sweet for my taste. But hey, this is a treat after all, isn't it?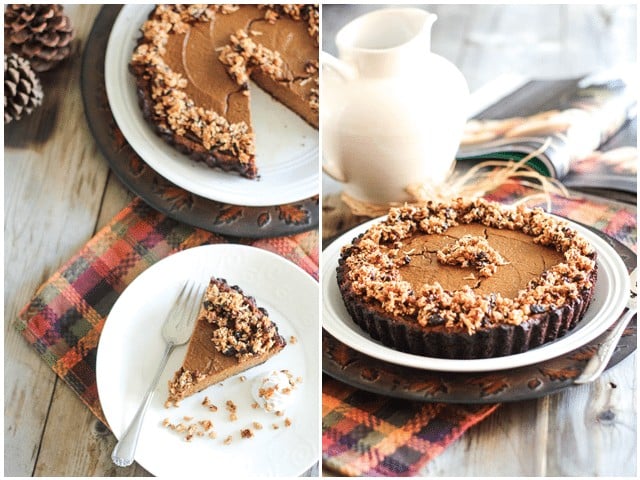 The crust I wasn't exactly convinced would work all that well at first…
Before it made it to the oven, it looked nothing like what you would expect from a typical pie crust. The dough came out really soft and had more of a batter consistency, so I pretty much had to spread it into the pie dish, as opposed to pressing it down like you kind of expect to do with that kind of crust.
I was highly skeptical that such a soft crust would ever be able to hold up to such a dense and heavy pie filling…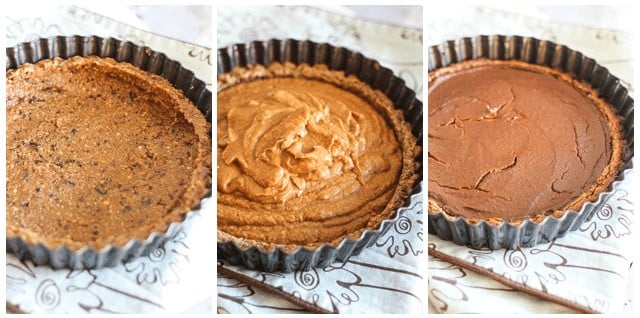 Much to my surprise, I think it turned out absolutely fantastic after all. It's nice and moist, yet crispy and kind of crumbly, a bit like a good graham cracker crust, only softer, and tastier! It's sturdy enough that you can hold a slice of pie in one hand, yet soft enough that you can very easily go right through it with a knife, or fork, or spoon, or whatever utensil you choose to use to consume your pie!
And above all, it complements the flavor of the pie to absolute perfection!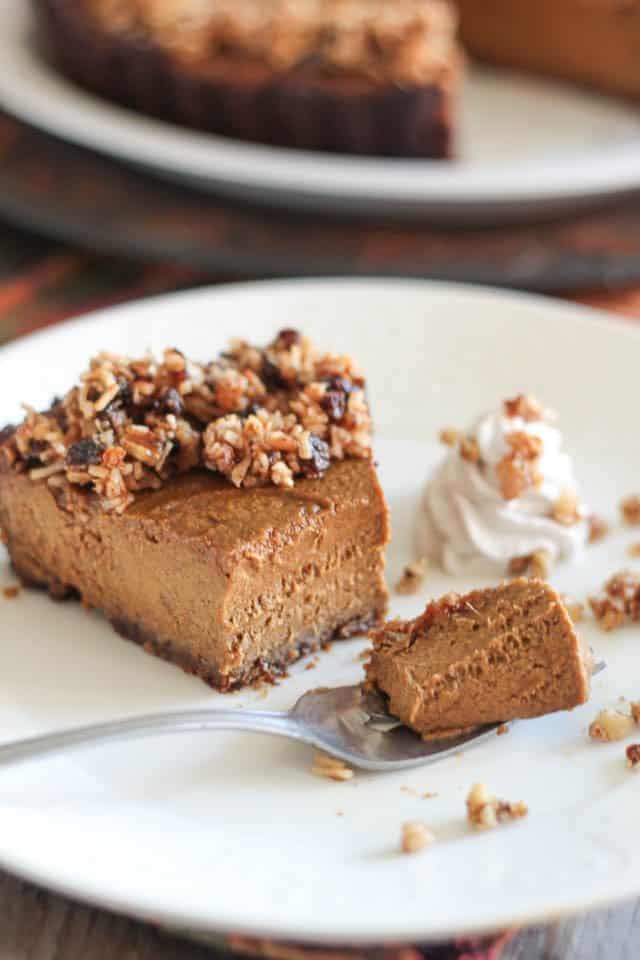 One word of advice, though: make sure that you grease your dish very VERY well because it is somewhat sticky and sweet and will want to adhere to any spot you might have forgotten. (Who, me? Noooooooo, I most certainly did not forget any spots…)
Oh, and DO use a pie dish with a removable bottom, unless you don't mind eating Pumpkin Crumble instead of pie. Mind you, it wouldn't be such a shame after all, because it would taste just as good…
How's about we try a slice? I say this looks pretty darn creamy and lusciously rich!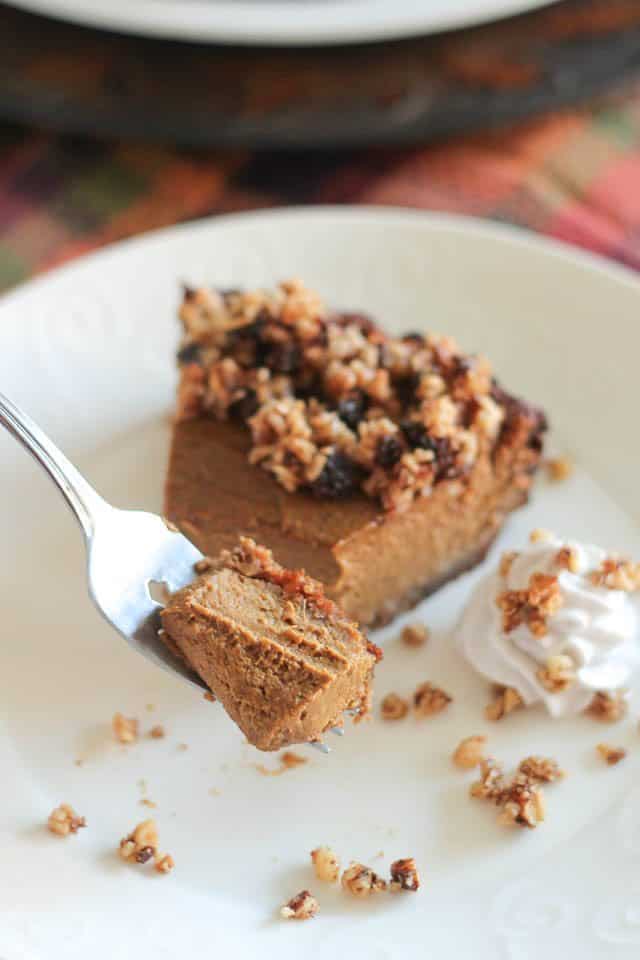 Paleo Pumpkin Pie
Paleo Pumpkin Pie heaven is here! A devilishly rich and spicy custard-like filling in a tender, crispy crust, topped with a crunchy honey sweetened crumble.
Servings: 12
Instructions
For the crust
Preheat oven to 350°F

Add all the ingredients to your

food processor

and process until well combined.

Bake in the oven for 10 minutes.

Remove from oven, reshape by pressing gently as needed (the crust might poof a little) with a

rubber spatula

. Set aside
For the filling
Add all the ingredients to the bowl of your

food processor

and process until smooth and creamy, about one minute.

Transfer to the reserved pie crust.

Bake in a 350°F oven for 35-40 minutes, until filling is set and top gets slightly darker.

Turn off the oven and crack the door open. Allow pie to cool for a couple of hours, then take it out of the oven and let it cool completely before transferring it to the refrigerator, where you will leave it to cool for at least 8 hours, preferably overnight.
For the crumble
Add shredded coconut, raisins, pecans, salt and cinnamon to your food processor and pulse a few times until the texture resembles that of raw oatmeal. Transfer to a small non stick pan and toast over medium heat until slightly fragrant, about 30-45 seconds

Add honey and stir until honey is completely melted and small clusters begin to form.

Remove to a plate and allow to cool completely.

Sprinkle over pie.
Nutrition
Calories: 309kcal, Carbohydrates: 25g, Protein: 6g, Fat: 23g, Saturated Fat: 9g, Cholesterol: 41mg, Sodium: 219mg, Potassium: 350mg, Fiber: 5g, Sugar: 14g, Vitamin A: 6423IU, Vitamin C: 2mg, Calcium: 74mg, Iron: 3mg
If you've tried this recipe, please take a minute to rate the recipe and let me know how things went for you in the comments below. It's always such a pleasure to hear from you!
You can also FOLLOW ME on PINTEREST, FACEBOOK, INSTAGRAM and TWITTER for more delicious, healthy recipes!