Darker than the Darkest of Secrets Paleo Chocolate Pudding
Breakfast hasn't been working too well for me these past few weeks.
More often than not, I found myself eating a plain coconut omelette topped with coconut butter and a side of coffee, or this very dreamy chocolate pudding.
Not ideal, I know!
But it seems they are the only things that my body would accept as nourishment this early in the morning. I played along for a little while, but now it's time to get real again.
Before I convince my brains back into eating real food for breakfast again, though, I decided to make this one last time this past week-end so I could share the recipe with you.
Besides, I promised one of my long time followers that I would share this recipe just for her, because she missed the "Greek Yogurt and Protein Powder days of The Healthy Foodie". Haha! Plus, I figured I owed her that much after making her mouth water by posting a few pictures of this puppy's brother on Instagram over the last few weeks.
Now about this chocolate pudding… a serious word of warning: this one is truly is for the dark, and I do mean REAL DARK chocolate lover. I'm not kidding when I say it's darker than your darkest secret.
To give you an idea of how dark I now like my chocolate, I now find 70% to taste WAY too sweet. I find it really lacks in flavor and intensity. In fact, I pretty much eat plain cacao liquor now and enjoy it very much.
If you're not quite at that level yet, there's a chance that you will find this pudding to be extremely bitter and will probably seek to add a little bit more sweetness to it. There are quite a few ways that you could do that. Of course, you could add a little bit of raw honey or pure maple syrup, or a little bit of date paste even. Speaking of date paste, if you don't care for fig seeds, you could very well replace the dried fig in the recipe with one or two dates or a few teaspoons of date paste.
Just play around with this. I highly trust that you will be able to adjust the level of sweetness to your liking.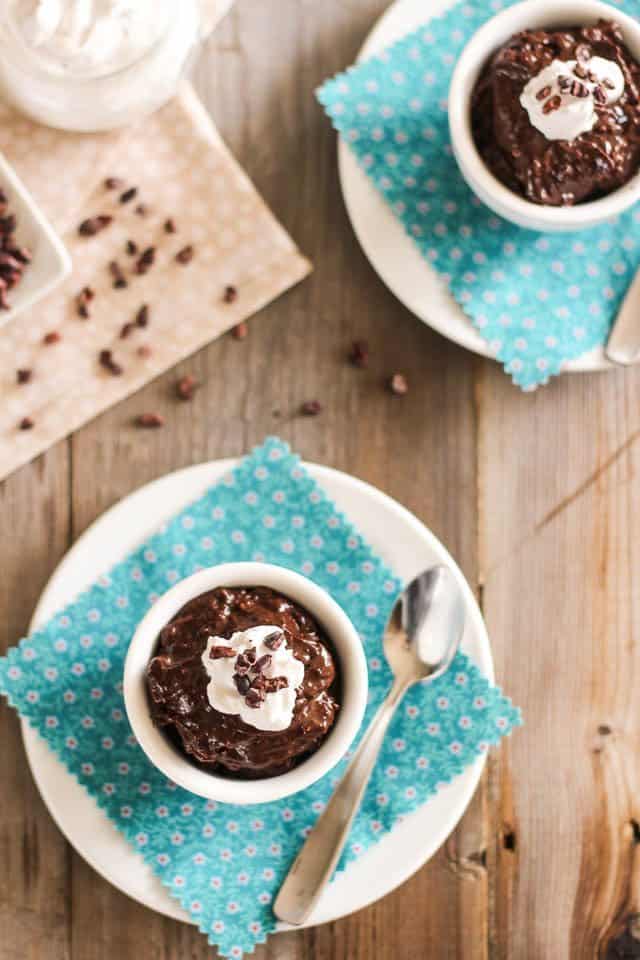 Likewise, if you prefer your chocolate a tad on the lighter side, you could reduce the amount of instant coffee powder or even simply omit it. Indeed, the coffee acts as an INTENSE flavor enhancer (and energy kicker!) but isn't absolutely necessary.
Also, the recipe calls for a raw egg. If you're not a fan of consuming raw eggs, you can very well leave it out and add an extra tablespoon or two of coconut milk, or a teaspoon of ground chia seeds mixed with a few tablespoons of water.
As for the protein powder, it is completely and totally optional. I chose to add it because I was having this for breakfast for the most part and felt the addition of some protein was desirable, to make this more nutritious, you know. But if you'd rather stay away from protein powder and plan on enjoying this as a snack or dessert, then by all means, simply leave it out.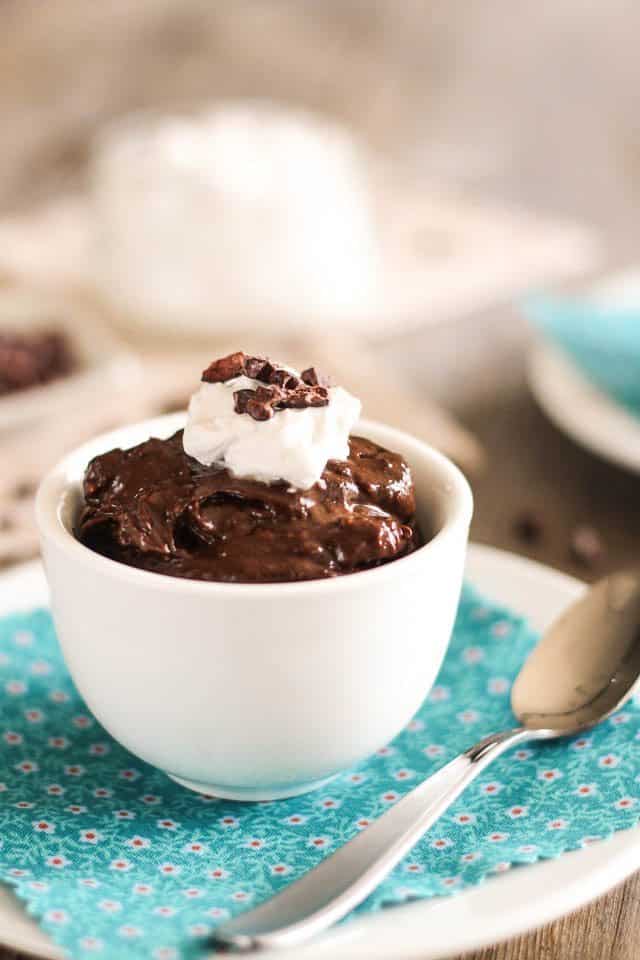 Oh, and one last thing. If you don't have any carob powder, simply use more cacao. Again, I find carob does a great job at fixing and enhancing the flavour of chocolate, but its presence is not absolutely mandatory.
Bottom line is you can really play around with this recipe, but if like me you are a huge fan of chocolate in its strongest, manliest form, then please, do yourself a favor and make it exactly as written.
You'll forever be grateful that you did (and your life might never be the same…)
Extra Dark Paleo Chocolate Pudding
Servings: 2
Instructions
Add the egg, avocado and coconut milk to a small food processor and process until very smooth and process until very smooth and creamy.

Add dried fig, cacao powder, carob powder, instant coffee, salt, cinnamon and protein powder and process again until well combined and creamy.

Add hazelnuts and shredded coconut and give a few extra spins until the hazelnuts are reduced to tiny little pieces.

Serve immediately or refrigerate until ready to serve.

Garnish with a little dollop of coconut cream and cacao nibs or shredded coconut and crushed hazelnuts.

This will keep in the refrigerator for a few days in an airtight container.
If you've tried this recipe, please take a minute to rate the recipe and let me know how things went for you in the comments below. It's always such a pleasure to hear from you!
You can also FOLLOW ME on PINTEREST, FACEBOOK, INSTAGRAM and TWITTER for more delicious, healthy recipes!