Orange Coconut Omelette
Strange combination you say?
Perhaps.
But I swear to God, it really, truly works. Nah, scratch that. It more than works: it totally DELIVERS!
So much so, if it wasn't for the fact that I am in the middle of a Whole30®, (well, more like a Whole62) I would definitely push the envelope and stuff this baby with pecans and caramelized apples and drizzle loads of maple syrup over the whole thing, too!
Pretty much as I would a crêpe.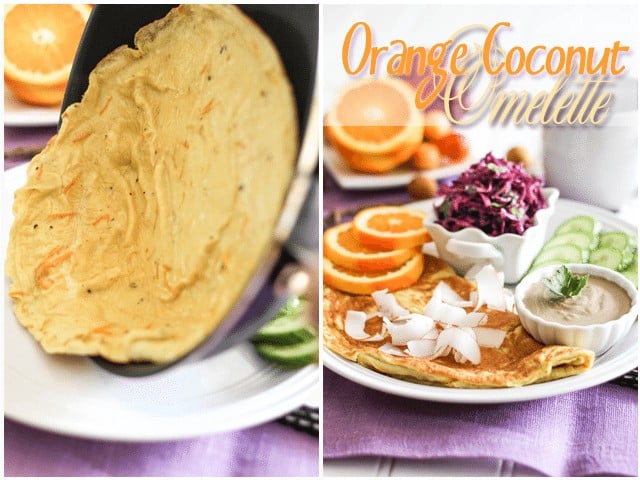 In fact, to me, this omelette happens to be some sort of a mix between an omelette and a crêpe… and for sure, next time I get a craving for crêpes, I will be making a super thin version of this, instead. I'm absolutely positive that it will more than satisfy!
Yes, it does taste very eggy. Obviously, since eggs are basically the only ingredient that the recipe calls for! 
But the addition of coconut milk and orange zest to the mix, as well as the use of coconut oil as a cooking fat really gives the final product some sort of a sweet and tangy little edge that is not at all unpleasant to the palate.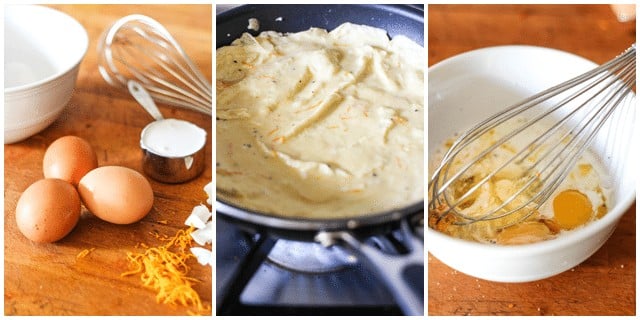 I get the feeling that I will be experimenting quite a bit with this one, too. But for now, I am really liking it just as it is, with a little bit of coconut shavings.
I am telling you, coconut and eggs work really, really well together.
So much so that, since I discovered that flavor combo, I started adding toasted coconut shavings to my scrambled eggs, too! But then again, I might have a slight addiction to coconut and tend to put it in everything, in some form or another…
But seriously, if you happen to like coconut too, you should definitely give it a try. It's surprisingly good.
Apparently, so are toasted almonds… I have yet to try that one!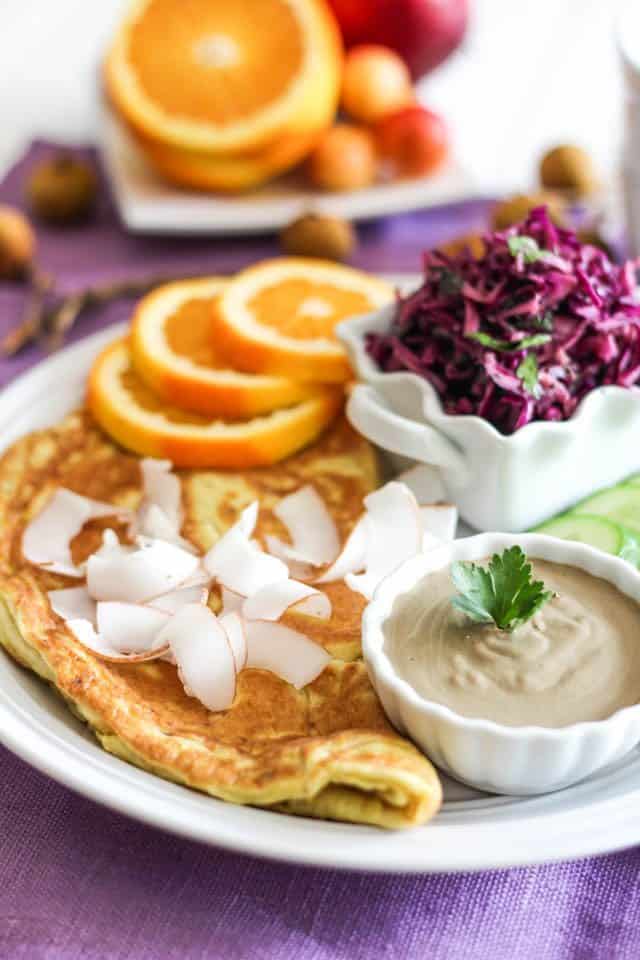 I'm telling you, the more I eat eggs, the more I love 'em.
I wonder how I managed to be without them for so long… 
Orange Coconut Omelette
Servings: 1
Instructions
Add coconut oil to a non-stick pan and heat over medium-high heat.

Meanwhile, add eggs, orange zest, salt, pepper and coconut milk to a small mixing bowl and give this a good whisk, until slightly frothy.

Pour that mixture into the preheated pan and swirl it around to spread your omelette evenly over the entire surface of the pan. Let the omelette settle for a few seconds then run a heat resistant rubber spatula around the edge to sort of break it down a little bit, then start swirling again. You want some of the uncooked eggs from the top to get under the omelette. Don't be afraid to break it up a little bit. Repeat that process 2 or 3 times until the top really starts to set. Remove from heat and let your omelette sit for a few minutes until the top is completely (or almost completely) set. You can cover it if you want to speed things up a bit...

Delicately slide your omelette onto serving plate, (fold it in half while doing so if desired) and garnish with fresh (or dry, or toasted) unsweetened coconut shavings.
If you've tried this recipe, please take a minute to rate the recipe and let me know how things went for you in the comments below. It's always such a pleasure to hear from you!
You can also FOLLOW ME on PINTEREST, FACEBOOK, INSTAGRAM and TWITTER for more delicious, healthy recipes!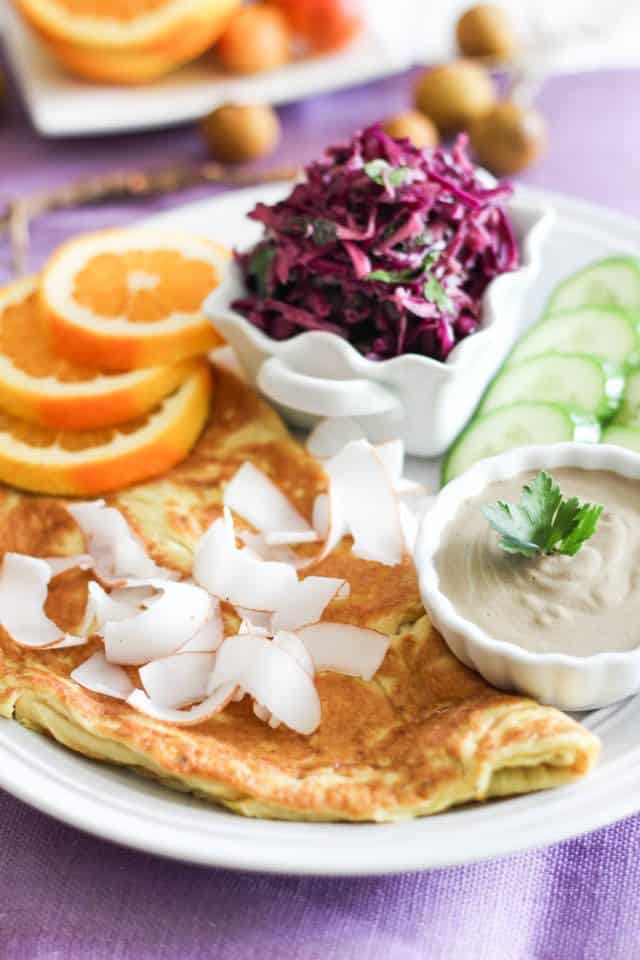 Look at how nice and golden and poofy this baby is!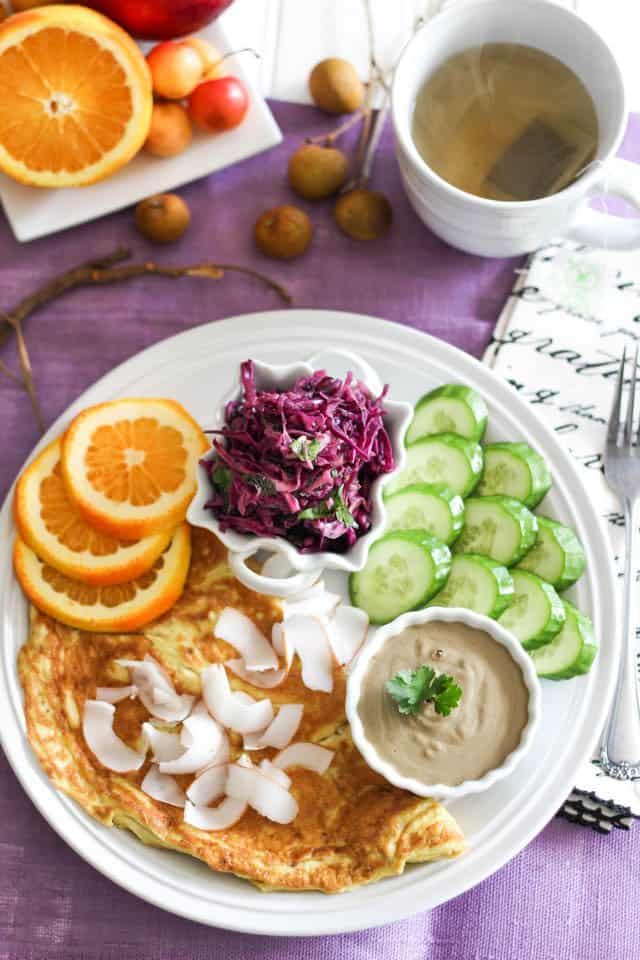 I served my omelette with a few fresh fruits, mini cucumbers, coleslaw and some of my delicious Liver Pâté.
Oh, and green tea, too! Let's not forget the green tea!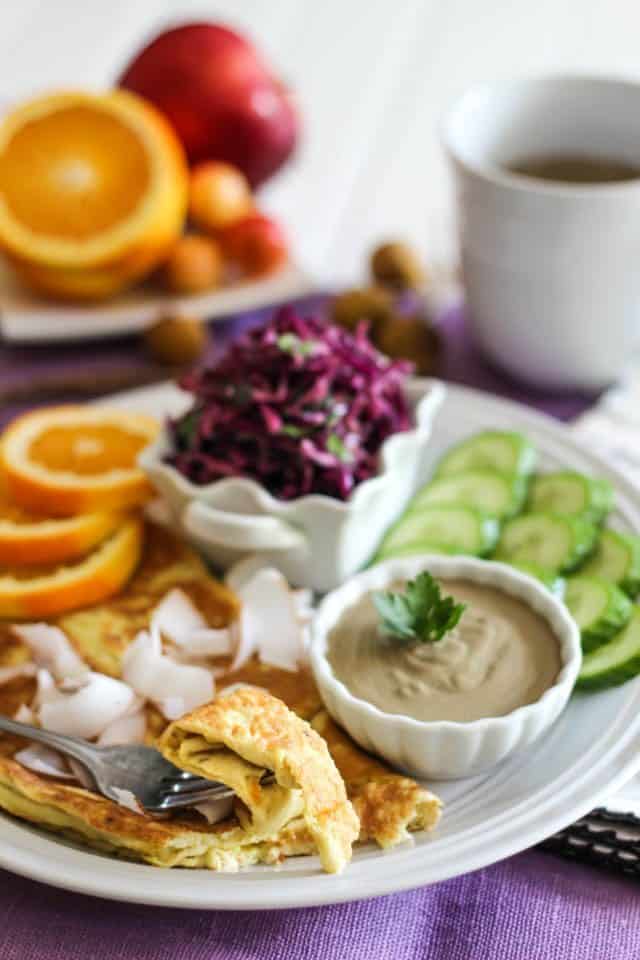 I love how you can still see the beautiful bright orange specks from the orange zest…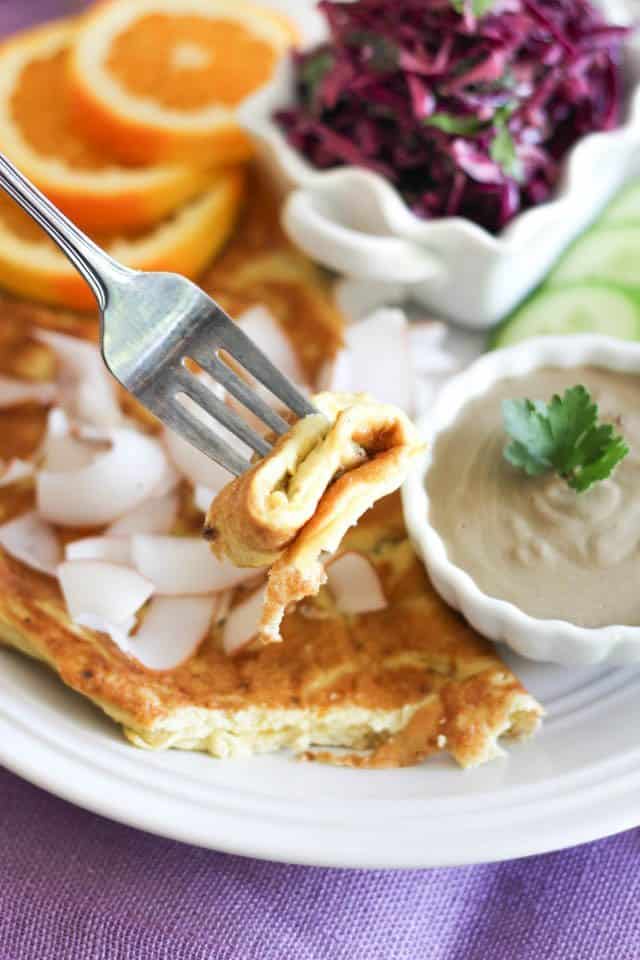 Here, try a bite, why don't you?