Liver Pâté – The Silkiest and Creamiest Chicken Liver Mousse Ever
I know  a few of you have been anxiously waiting for this one since I first posted it on Instagram as well as on Facebook last week…
So much so that I finally decided to move this one to the top of the pile in order not to keep you guys waiting for too long.
But to be completely honest, this Liver Pâté turned out so unbelievably good, I kind of considered holding on to the recipe for a while and saving it for an eventual cookbook, maybe…
But then I thought I couldn't do that. I figured it was so good AND so nutritious, I owed it to you to share this as soon as possible and reach as many people as possible, too!
I swear, people, when I was done transferring the mousse into individual ramekins, I licked the bowl just like a proud five year old would an empty bowl of chocolate cake batter.
Or a 40 year old an empty bowl of salted caramel ice cream…
Really. I'm not joking.
It's that good.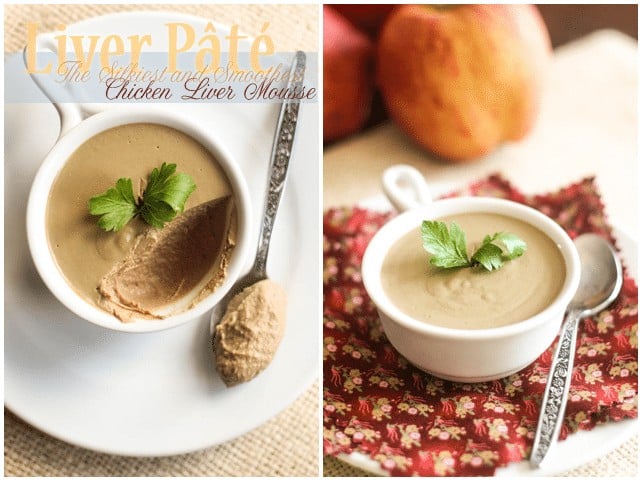 This was my very first attempt at making Liver Pâté and frankly, I don't think I'm even going to try and play with the recipe.
At least not until I've made it a few dozen times. And then a few more.
I sincerely think that I totally nailed it, even though I was a bit skeptical at first, ESPECIALLY about adding coconut in there. I thought surely coconut and liver couldn't be the best flavor combination in the world, now, could it?
Still, I had to give it a try. I wanted to add an element of healthy, fatty creaminess in there and coconut, for me, was the ultimate way to go. I HAD to attempt it.
Well, I assure you that it totally, completely, perfectly and thoroughly works!
But don't take my word for it. Let's make us a batch, shall we?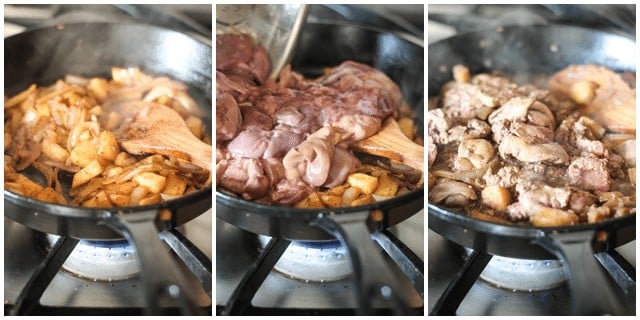 First, cook the onions until nice and caramelized.
Add the apples and continue cooking until soft, then add the chicken livers and cook until they become brown on the outside but remain a little pinkish still on the inside.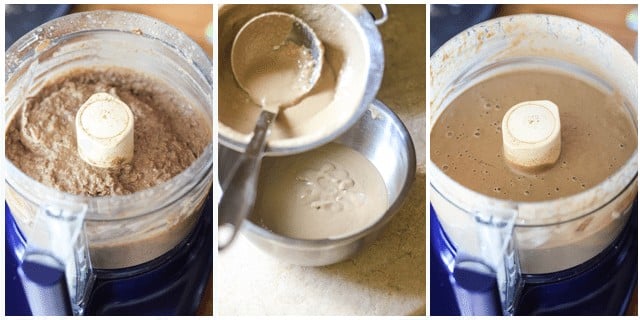 Process in a food processor, add coconut oil and coconut milk, process some more then strain through a fine mesh sieve for an extra smooth and silky consistency.
The liver mixture, no matter how smooth already, will not go through the fine mesh on its own. You will have to coax it a bit by pushing it down with a ladle. While this last step may not be pretty, or even necessary, trust me, it makes a huge difference in the final texture of the mousse.
And don't worry about losing too much of your precious pâté in the process: only a measly few tablespoons of the delicious mixture get left behind.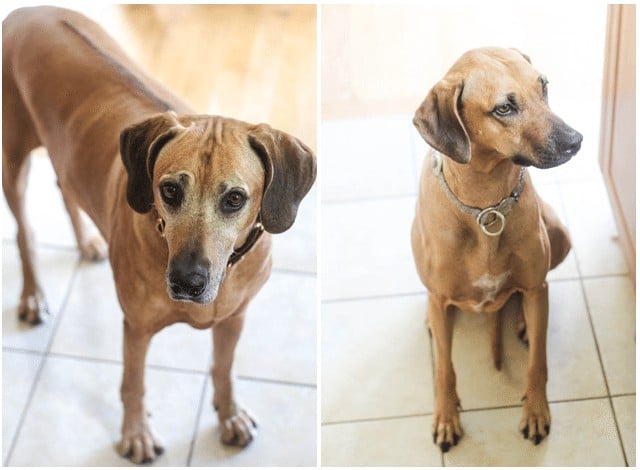 And  if you too, happen to have a couple of furry friends like these, I'm positive that they will be more than happy to get a taste of that which was left behind.
And talk about a nutritious treat!
Mine sure devoured it. Mind you, they do appear to have a very soft spot for liver.
Can't be a bad thing, can it?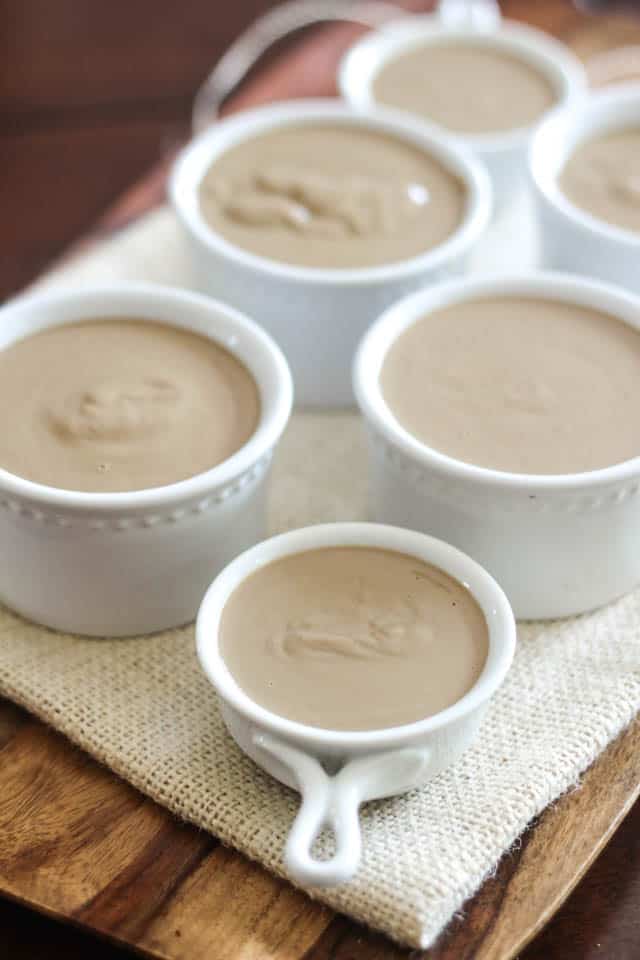 Alright, enough about my canine friends, let's get back to making Liver Pâté…
Once the mixture has been strained, pour it into individual ramekins and place in the fridge to set for 4-6 hours.
If you're gonna leave it in there for longer than that, cover it loosely with a plastic film to prevent the tops from drying out!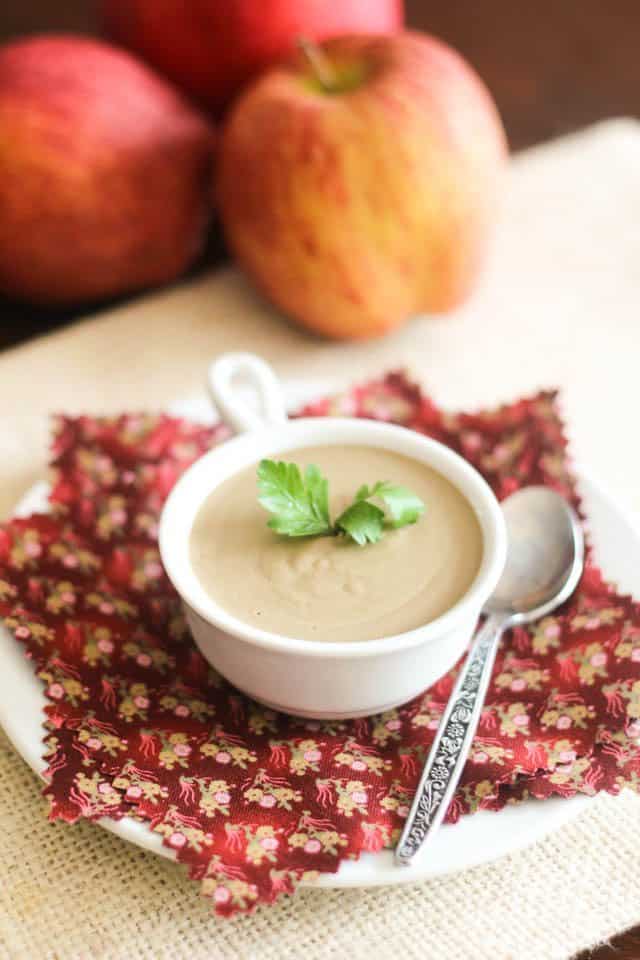 At the moment of serving, garnish with a beautiful fresh parsley leaf (or basil, or mint, or whatever fresh herb you happen to have on hand)
It just makes it that much more prettier!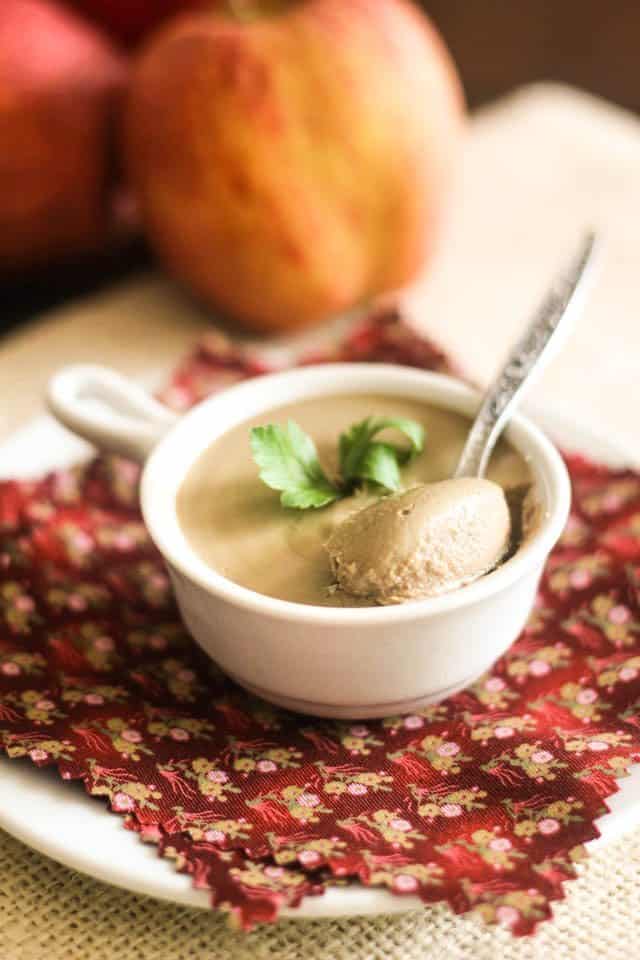 And just you look at that beautiful texture. Creamy enough for you? Just like ice cream, I tell you.
That's savory dessert for you! And it honestly tastes so good, you could very well eat it just like that: by the spoonful.
Although you can and probably should serve this with fresh crudités.
I tried it with baby cut carrots, raw cauliflower, cucumbers (not the best), fresh coconut… and my favorite of all: apples!
The two of them are absolute magic when paired together.
Trust me. You have to try it.
Yes, go now. You can thank me later. 
CREAMY DREAMY & VELVETY SMOOTH CHICKEN LIVER PÂTÉ
Servings: 6
Ingredients
700 g chicken livers
2 medium onions, sliced
1 cooking apple, peeled, cored and chopped (I used a Cameo)
About 6-8 tablespoons of water
½ tsp salt
½ tsp white pepper
Generous grating fresh nutmeg, I used half a nut
½ cup full fat canned coconut milk
½ cup coconut oil
Instructions
Place a heavy bottomed skillet (cast iron preferred) with one or two tablespoons of coconut oil to heat over medium high heat.

When the pan is hot enough, add the sliced onions and cook, stirring occasionally, until they become soft and golden, about 10 minutes. Add a few tablespoons of water as necessary when the onions start attaching to the pan a little too much.

While the onions are cooking, rinse the chicken livers under cold running water. Drain well, pat dry and remove white connective tissue, if any. Set aside.

When the onions have taken a nice golden coloration, add the salt pepper, nutmeg and apple. Continue cooking for 4-5 minutes, until the apple becomes soft and tender. Again, add a little bit of water as necessary if you find the mixture attaches too much.

Add the chicken liver (just make sure that the liquid is completely evaporated before you add the liver). Continue cooking for an additional 5 minutes or so, until the liver is brown on the outside but still slightly pink on the inside. Kill the heat, cover and let stand for about 5 minutes.

Transfer the mixture to the bowl of your food processor and give that a few spins on pulse, just to break everything down.

Start the motor again and this time, while the blade is turning, drizzle in the melted coconut oil, followed by the coconut milk. Let that spin for an extra 30 seconds, then strain the mixture through a fine mesh sieve. You might want to help it through by swirling it around with a ladle (while this step is entirely optional, it is what will make your pâté extra creamy and velvety smooth, so I think it's really worth it. Don't worry too much about wasting some of your precious concoction in the process: only a few tablespoons end up being left behind, and you can always munch on that, or give it to your furry friends as a nutritious treat!)

Pour the mixture into 6 individual half cup ramekins and place in the refrigerator to set for at least 4-6 hours.

Cover loosely with a plastic wrap if keeping for an extended period of time, to prevent the top from drying out.

This pâté will keep for about 3-4 days in the refrigerator and it also freezes very well. Just take it out of the fridge the night before and it'll be good to go by morning.
If you've tried this recipe, please take a minute to rate the recipe and let me know how things went for you in the comments below. It's always such a pleasure to hear from you!
You can also FOLLOW ME on PINTEREST, FACEBOOK, INSTAGRAM and TWITTER for more delicious, healthy recipes!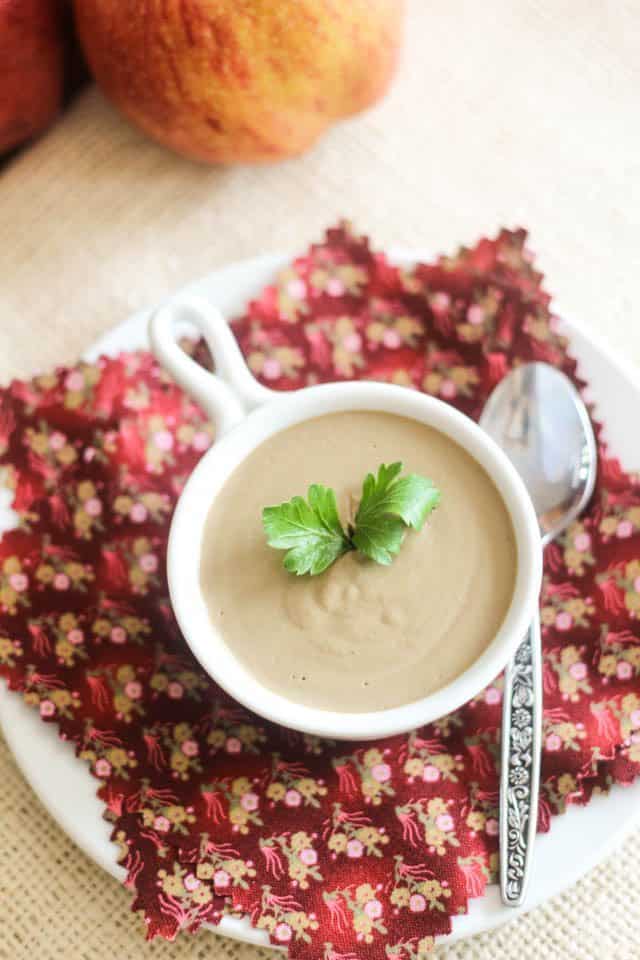 Now on day 45 of a [planned] 62 day challenge!