Beef Liver with Caramelized Peaches and Onion Compote
Peaches are in season! YAY!
I'm sure you could think of a million delicious ways you could put this sweet and juicy fruit to good use.
Most of you are probably thinking dessert, right? Like cakes, crumbles, muffins, ice cream…
Me? I chose to pair it with beef liver! And what a magical combination this was.
If you've never tried it, you should. Take my word for it. It's DELICIOUS.
Especially with the little bit of a zing that the ginger brings and the sweet nutty flavor of the caramelized onions.
And speaking of nuts: had I not been in the middle of a Whole30® where I had set a No Nut Policy for myself when I made this, I would've totally added a handful of toasted hazelnuts to this dish.
Oh, and a splash of white wine, too. Hey, white wine is paleo, right?
Right!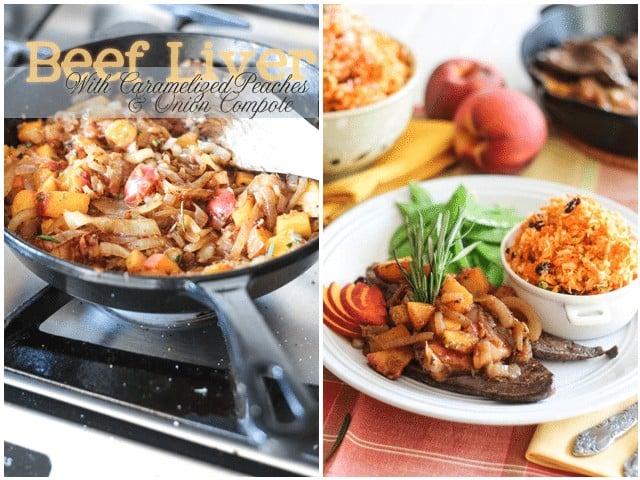 And hey, if you think you're not a fan of liver, maybe you just need to give it another try…
Really.
I'd never been a fan myself (read: couldn't STAND the stuff) but there are 2 things that I learned in the past few months which really played a big role in my recent change of heart.
One: Something really has to be said for marinating the pieces of meat in lemon juice or vinegar for at least 8 hours prior to cooking them. It really makes a big difference in both taste and texture.
Two: Liver HAS to be cooked just right. Cook it too little and its texture is so unpleasant, I won't even try to describe it… Besides, if I did, there's no way you'll even be tempted to give it a try. Cook it too much and it becomes dry, chewy, grainy and leathery. Again, not something I would say is pleasant in the mouth. But cook it just right and it's actually very tender and melt-in-your-mouth…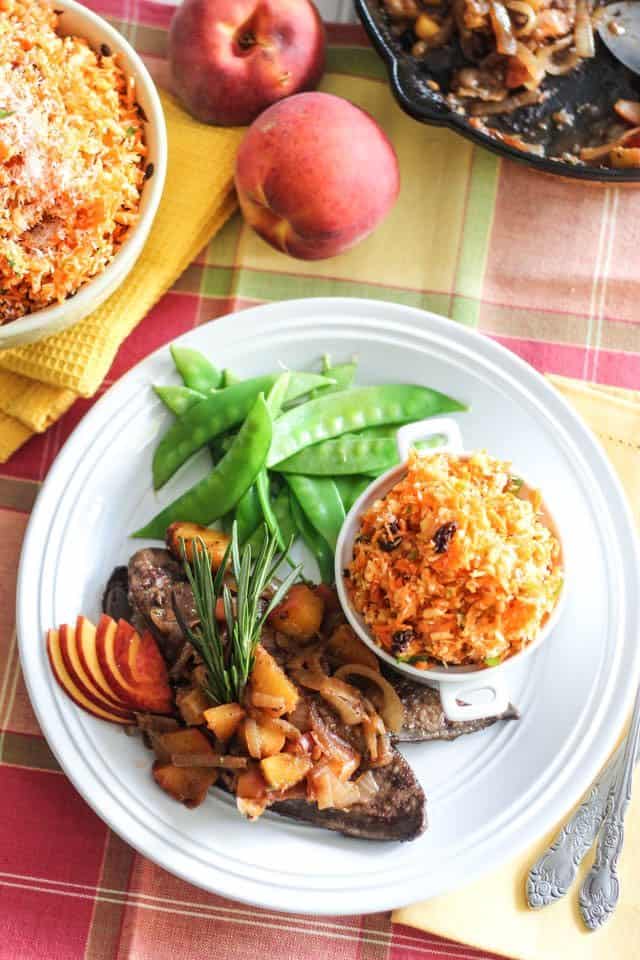 Oh, and three: Liver really is SUPER good for you and you should positively make it a part of your regular diet.
So if you need to coax your brain a little bit (or a lot), pairing it with a bunch of winning flavors and tasty ingredients like this should greatly help you in your quest!
I know it has helped me a lot!
Hey, I even managed to leave the bacon out this time!
And seriously, you can't say that this dish doesn't look super elegant and appetizing, now can you?
Just tell your brain that. No doubt it will believe you!
Beef Liver with Caramelized Peaches and Onion Compote
Servings: 4
Ingredients
375 g beef liver, sliced
¼ cup apple cider vinegar, to marinate liver
2 tsp arrowroot flour
½ tsp Himalayan or unrefined sea salt
½ tsp freshly cracked black pepper
2-3 tbsp coconut oil, to pan fry
2 large onions, sliced
2 ripe peaches, diced
2-3 tbsp fresh ginger, grated
¼ tsp Himalayan or unrefined sea salt
½ tsp freshly cracked black pepper
2 sprigs fresh rosemary, chopped
2 tbsp white wine vinegar
1/4 cup water
Instructions
In a non-reactive sealable container, marinate the beef liver in apple cider vinegar for at least 8 hours (or up to 24 hours).

Rinse the beef liver slices under cold running water and pat them real dry.

In a shallow bowl or plate, combine the arrowroot flour, salt and pepper. Mix thoroughly with a fork or whisk until very well combined.

Dredge the liver slices in the arrowroot mixture and shake well to remove any excess. Set aside in a plate.

Place a heavy bottomed skillet (cast iron preferred) with one or two tablespoons of coconut oil to heat over high heat.

When the pan is really nice an hot, add the liver slices and sear for about 45 seconds to one minute per side, just long enough for them to get a beautiful dark brown and crispy exterior. You might have to work in batches, depending on the size of your skillet.

Remove the liver to a plate, cover loosely to keep it warm while you work on the onion and peaches compote.

Put your skillet back over the heat source and lower heat to medium-high; add another tablespoon or so of coconut oil and throw the sliced onions right in.

Let the onions caramelize for about 10 minutes, stirring occasionally. When the onions have taken a nice golden coloration, add the peaches, ginger, rosemary, salt, pepper, vinegar and water. Continue cooking for 2-3 minutes, until the peaches become soft and creamy and the liquid is completely evaporated.

Kill the heat and place liver slices on top of the compote. Cover loosely and let sit for about 5 minutes just to warm up the liver and allow all the flavours to mingle happily.

Serve with your choice of side.
If you've tried this recipe, please take a minute to rate the recipe and let me know how things went for you in the comments below. It's always such a pleasure to hear from you!
You can also FOLLOW ME on PINTEREST, FACEBOOK, INSTAGRAM and TWITTER for more delicious, healthy recipes!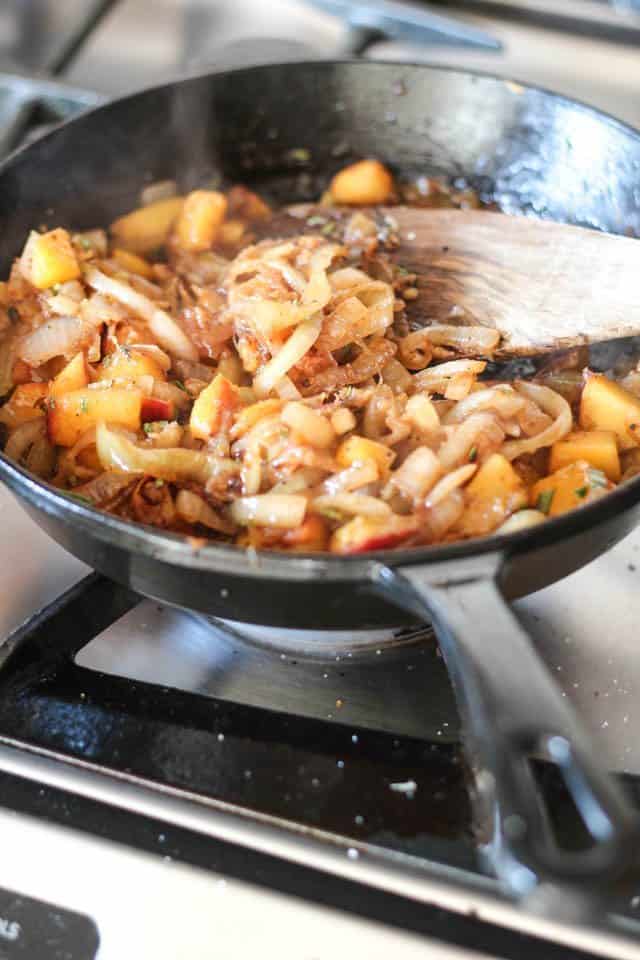 The Caramalized Onion and Peaches Compote is ready to accept the Liver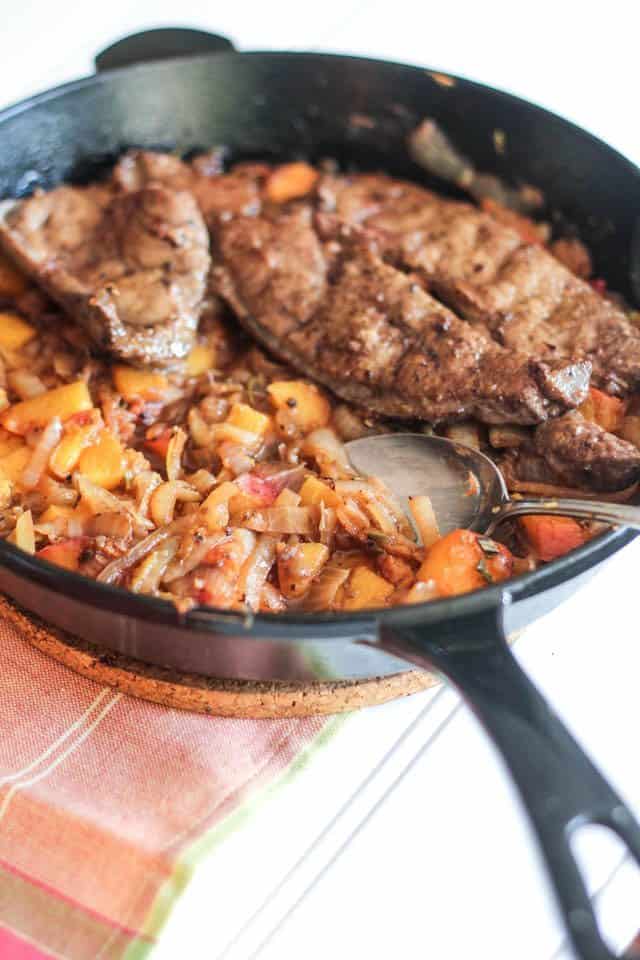 All good and ready to serve…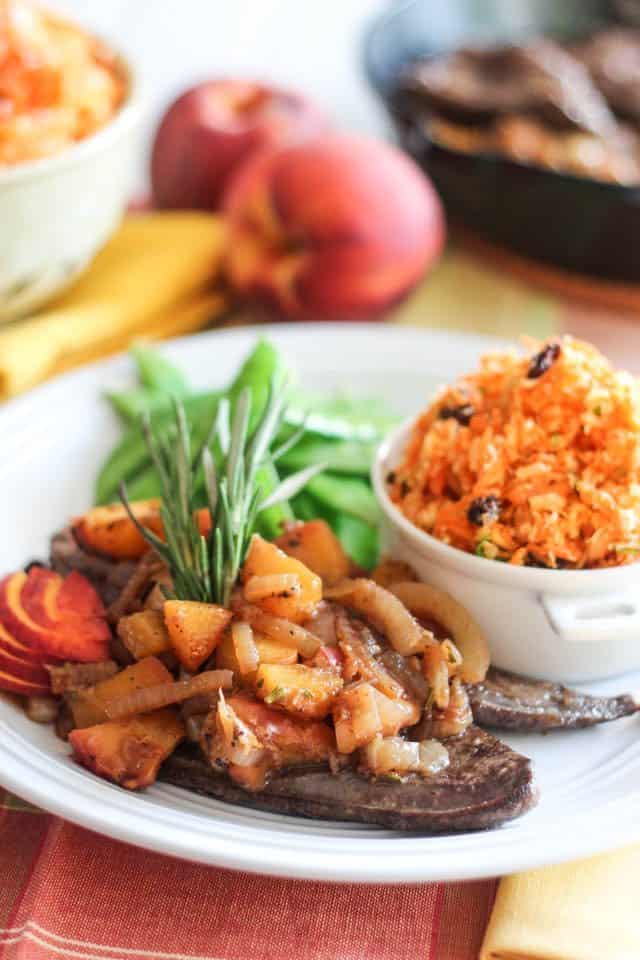 Now is that pretty or what? 
Peaches will make anything look and taste good!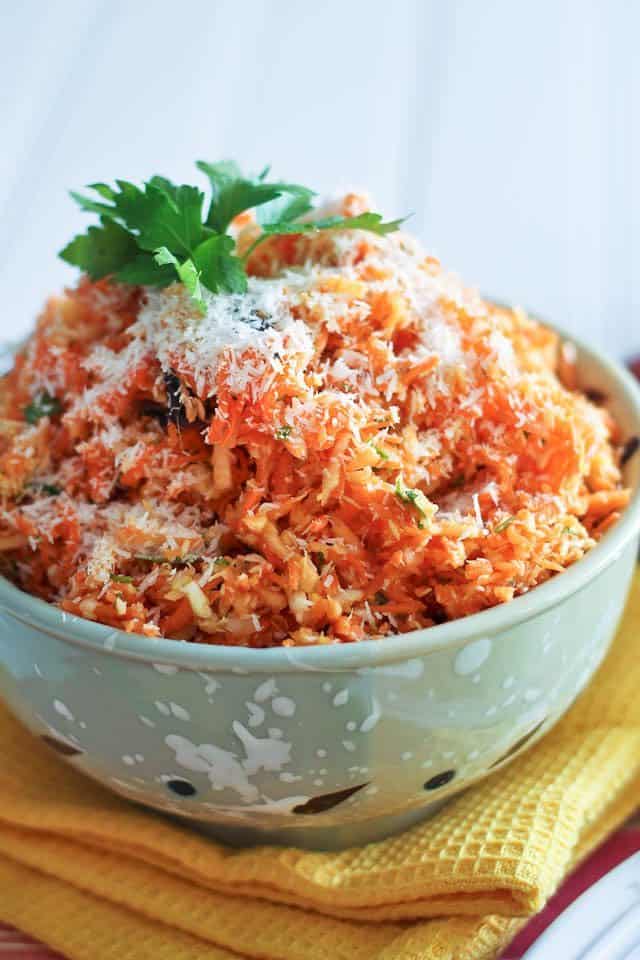 I chose to serve this with a side of Carrot Salad
Not just any Carrot Salad… a LOADED Carrot Salad!