So I was in the mood for a big, fat, juicy hamburger with all my favorite fixin's: pickles, lettuce, tomatoes, avocado, mayo, mustard… you name it!
Oh, bacon would've been nice too. But I didn't have any in the fridge.
Pff. Boo for that! Guess I was gonna have to do without.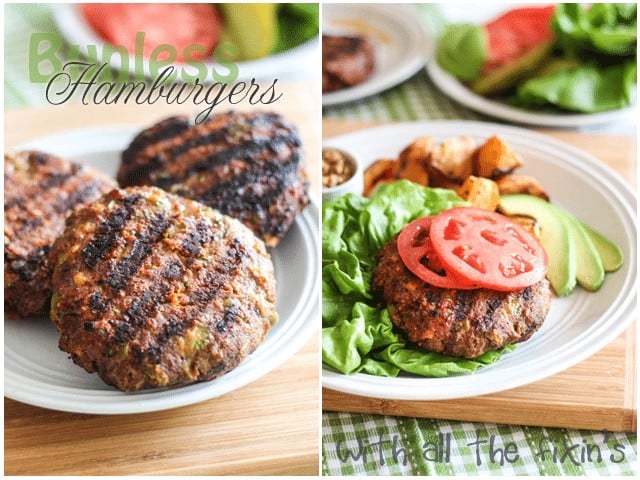 What's funny is I didn't necessarily crave the bun, or even the notion of a bun. What I really wanted was the meat.
A THICK, BEEFY, TASTY, JUICY MEAT PATTY.
With all the fixin's.
Let's not forget the fixin's!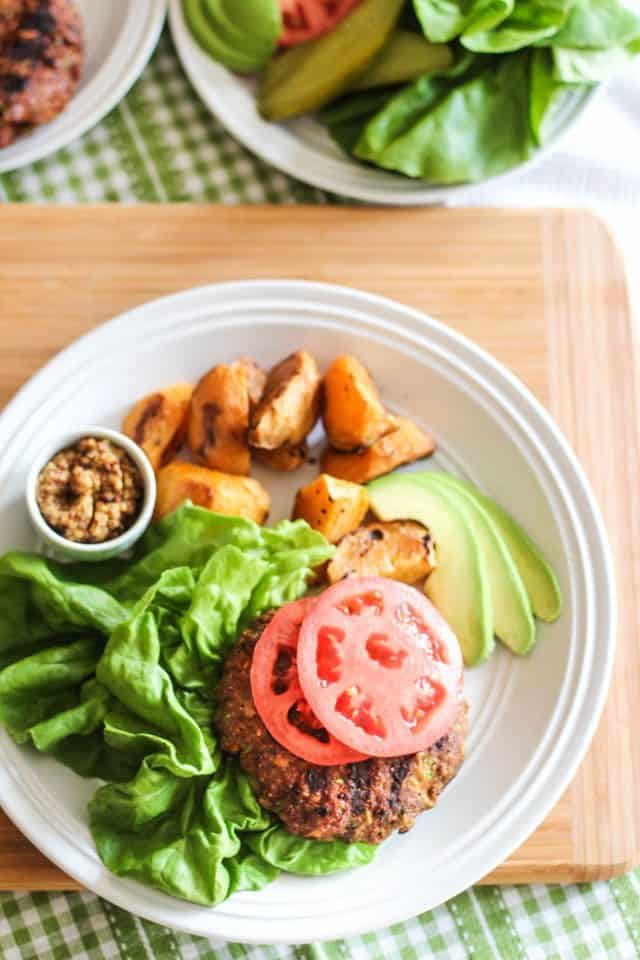 And so that's exactly what I did!
Made me a beautiful batch of hamburger patties, which I then ate with a bunch of beautiful fresh veggies.
Oh, and mayo, and mustard.
Unfortunately, I had to leave the pickles out as they were not Whole30® compliant. But I didn't even miss them all that much.
After all, I had the most important part of the burger right there in front of me…
And let me tell you, these burger patties are so full of flavor, they don't need much of anything!
And they sure hit the spot!
Bunless Burger
Serves:
Makes 3-4 patties
Ingredients
450g ground grass fed beef
¼ cup fresh parsley, chopped
2 tbsp sliced green olives, chopped
2 tsp capers
1 tbsp fresh horseradish, grated
1 tbsp whole grain mustard
1 tsp garlic powder
1 tsp smoked paprika
1 tsp ground coriander
¾ tsp salt
½ tsp ground white pepper
½ tsp ground smoked chipotle pepper
½ tsp freshly grated nutmeg
1 whole egg
¼ cup coconut flour
Instructions
Add all the ingredients to a mixing bowl and knead delicately with clean hands until all the ingredients are uniformly distributed.
Divide the meat into 3 or 4 equal portions and shape into patties. You can cook the patties immediately or cover and refrigerate them for later use)
When ready to cook the patties, preheat your outdoor grill to high.
Once grill is nice and hot, lower the heat to medium and place the patties on the grill; cook for about 3-4 minutes per side or until the patties are done to your liking.
Serve with your favourite fixin's and sides.

Nutrition Information
Serving size:
NF based on 1 of 3 patties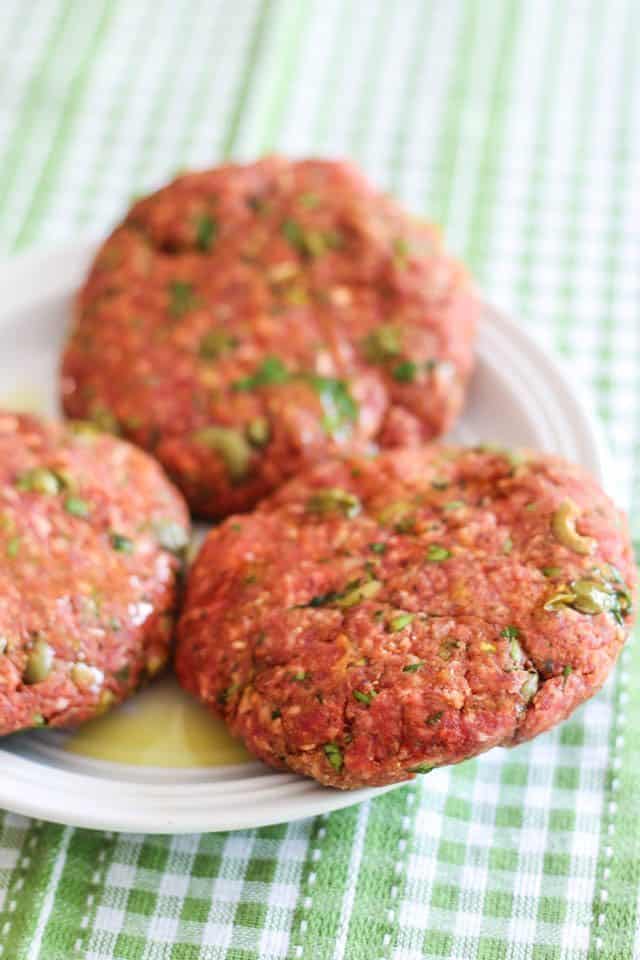 Start with some beautiful, fresh meat patties…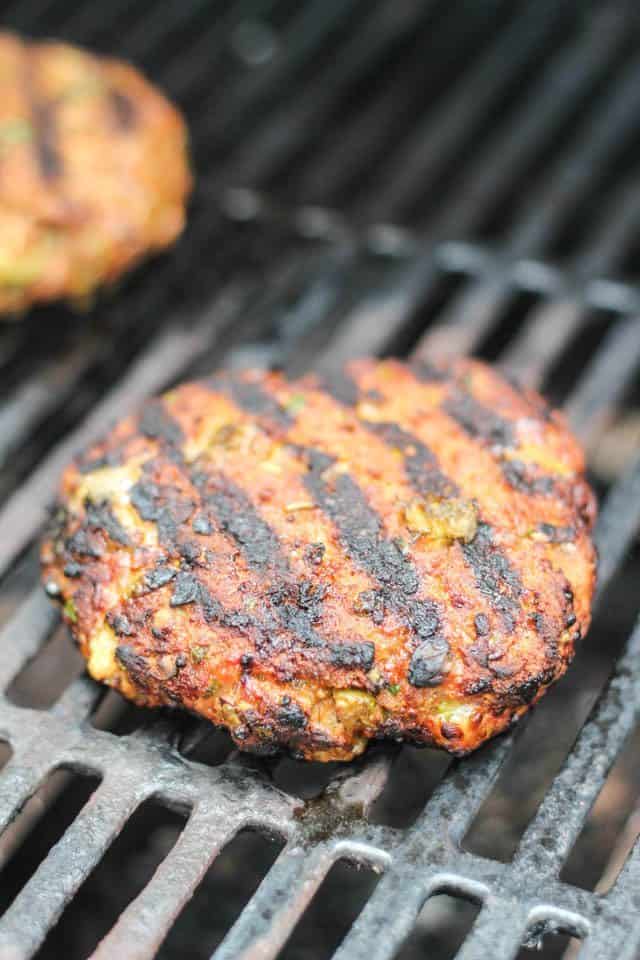 Throw them on the barbie…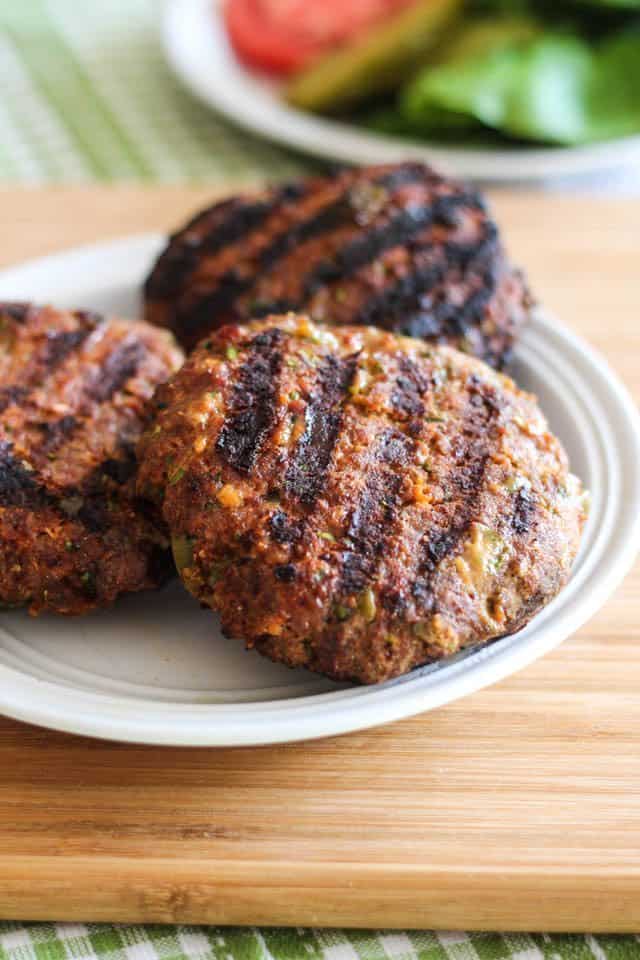 Take them inside on a plate…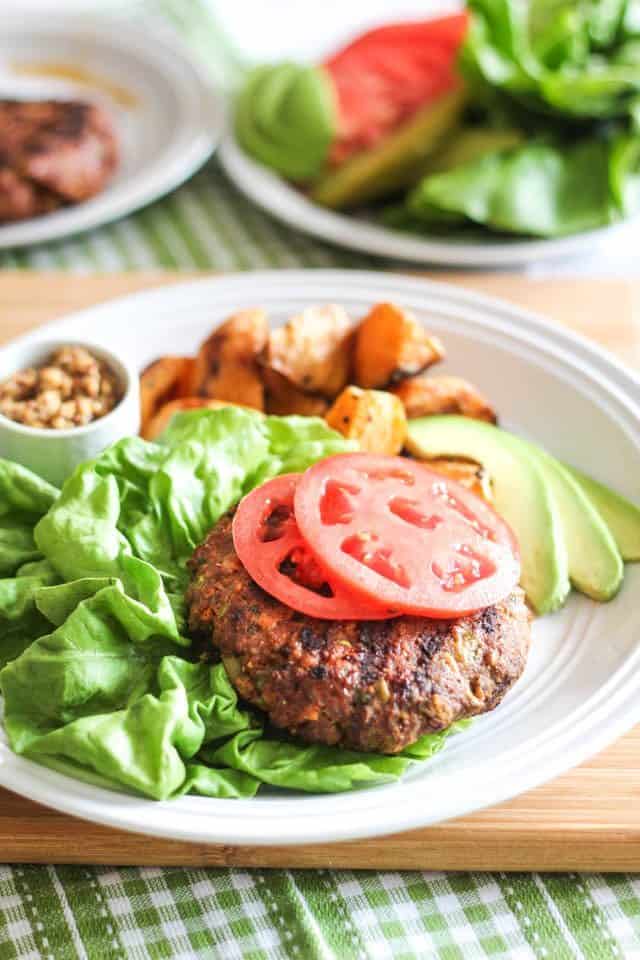 And garnish as you please! 
Bun, or no bun!