Homemade Grainy Mustard
Looks like I'm making a habit of giving you guys non-recipes, am I not?
But hey, I hope you don't mind, 'cuz I get the feeling that I will be using them non-recipes more and more, as I am pretty much planning on making all my own condiments from now on…
You see, while I was doing the Whole30, I got into the habit of scrutinizing every single label, for I was to ban everything and anything that contained added sulfites, MSG, carrageenan or well of course… sugar!
I was shocked to find out just how insanely often these nasties get sneaked into our food!
For instance, did you ever read the labels on Balsamic Vinegar? You'd be surprised at how many of them contain added sulfites, food coloring, sugar, or even CARAMEL! Seriously! Caramel.
Sadly, this was NOT the exception. I actually had a hard time finding a bottle that did not contain any of the aforementioned nasties.
Same goes for mustard.
TONS of them contain added sulfites, alcohol and / or sugar!
SERIOUSLY??? What's a girl to do?
Make her own, that's what!
While making my own balsamic vinegar at home would be feasible, that might be pushing it a bit. I would take a heck of a chunk of time before it was ready to use!
Mustard, on the other hand…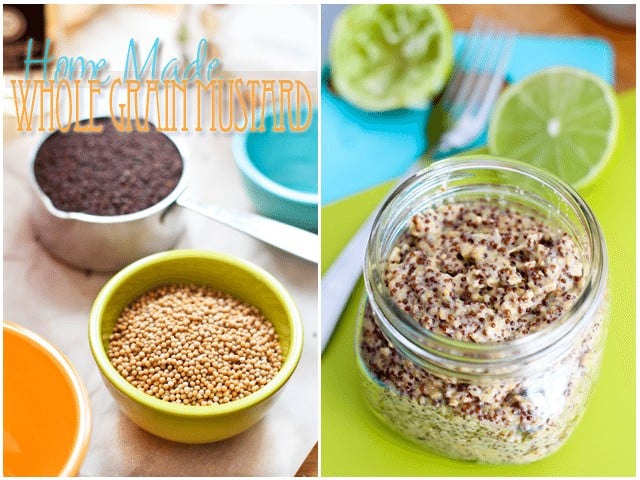 Now that was a whole different story!
It's  like SO easy to make, and OMG SOOOOOO much better than the storebought stuff, you can't even begin to imagine. You wouldn't believe how sweet it is, and tangy, and STRONG! I love it so much, I just want to eat that stuff by the spoonful!
Of course, one of the great benefits of making your own mustard at home is you can flavor it which ever way you want…
Add herbs and spices, such as fresh rosemary, dill, thyme or terragon…
Throw in a handful of sun dried tomatoes, or maybe a few moroccan olives…
Play with your vinegar; try different kinds, like apple cider, white balsamic, white wine or even rice vinegar, why not?
And if you do booze, a good splash of beer, like a dark chocolate stout or a bold red ale, or a little drop of white wine, even…
I'm thinking maybe even fresh ginger, with a hint of vanilla could be extremely interesting.
And of course, there's always the classic: honey!
Bottom line is, home made mustard is so much fun and easy to make, I could not not share this non-recipe with you…
So here goes the basics: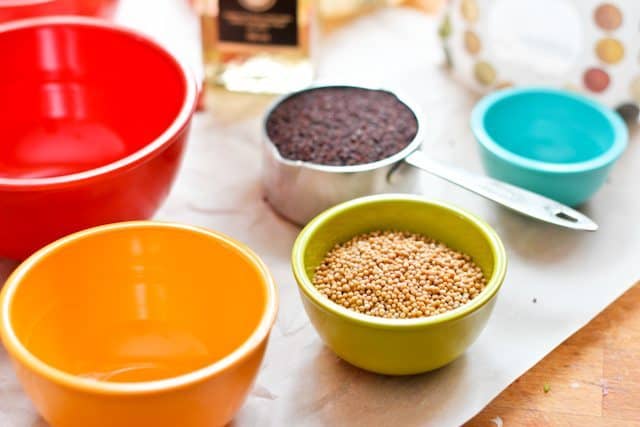 Start with an equal ratio of mustard seeds to vinegar.
You can play with the ratio of black or brown to yellow seeds if you want. Just make sure you keep the vinegar to seeds ratio at roughly 1:1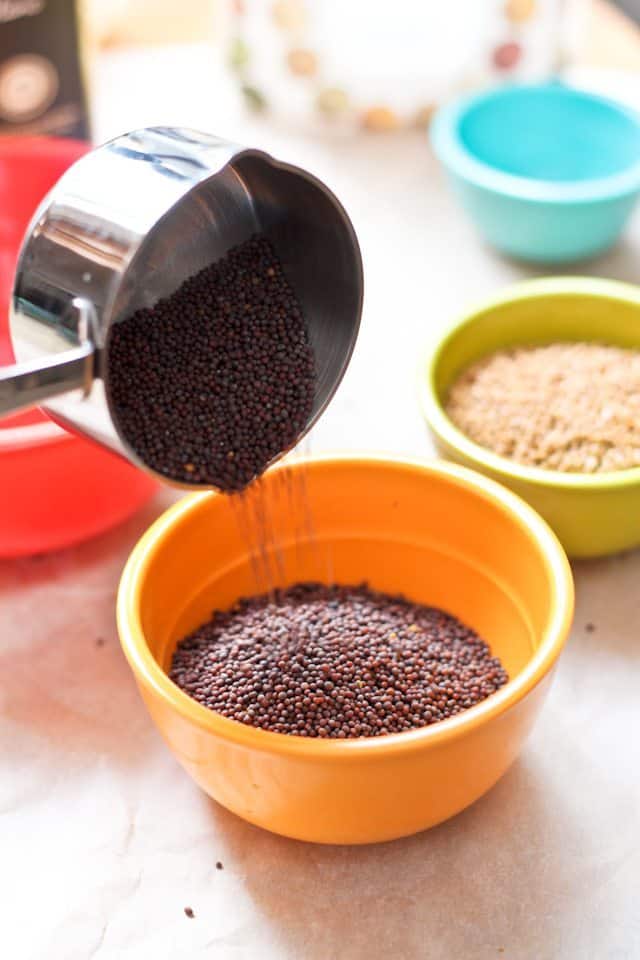 I used ½ cup black seeds…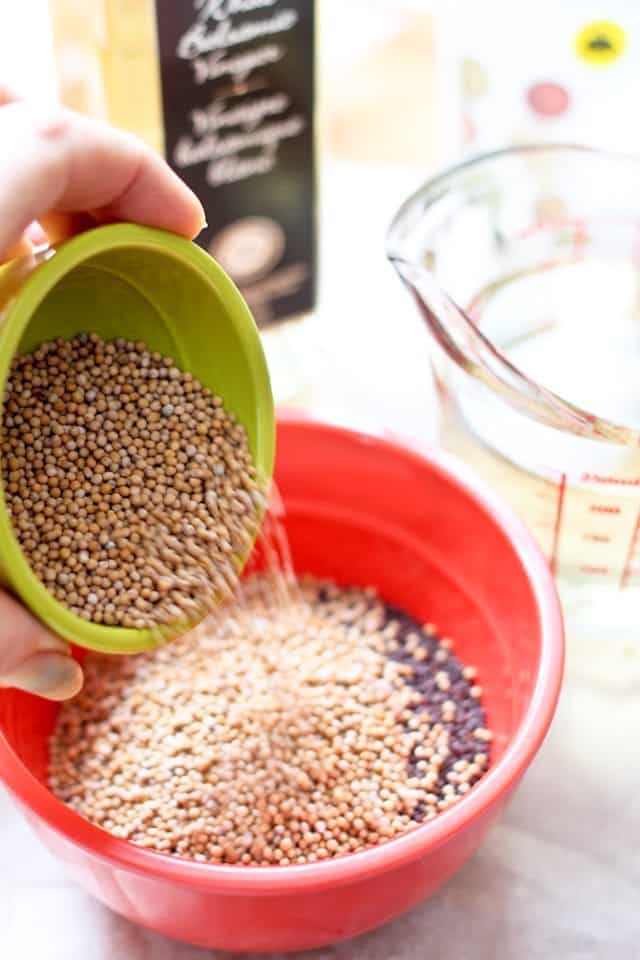 ½ cup yellow seeds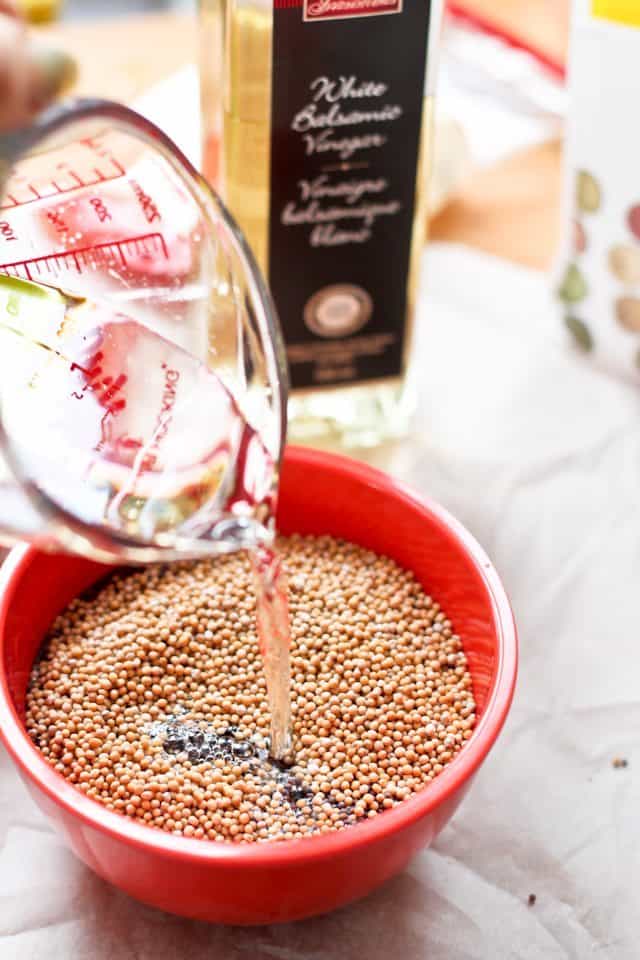 1 full cup White Balsamic Vinegar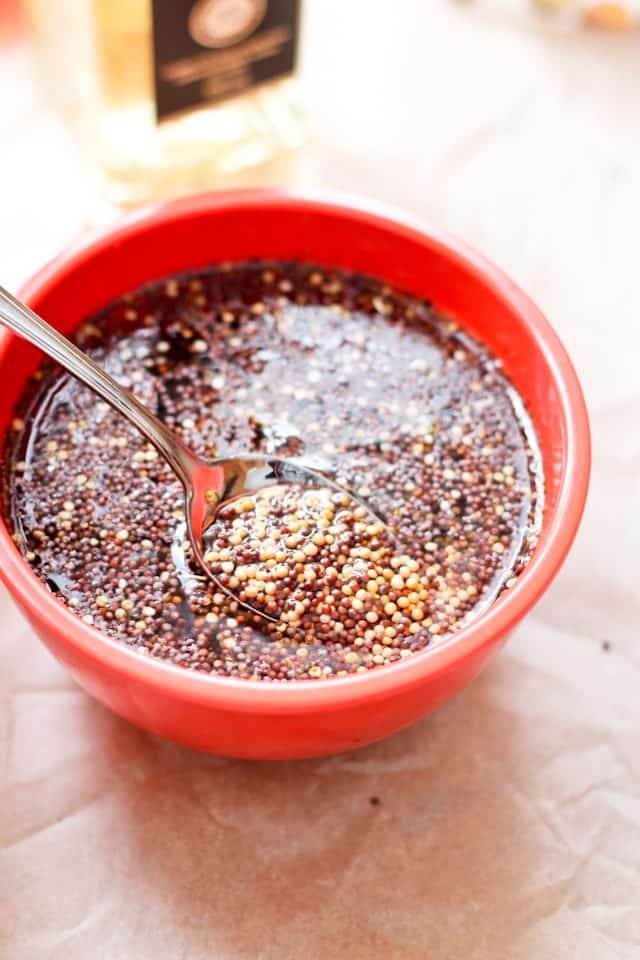 Gave that a quick stir…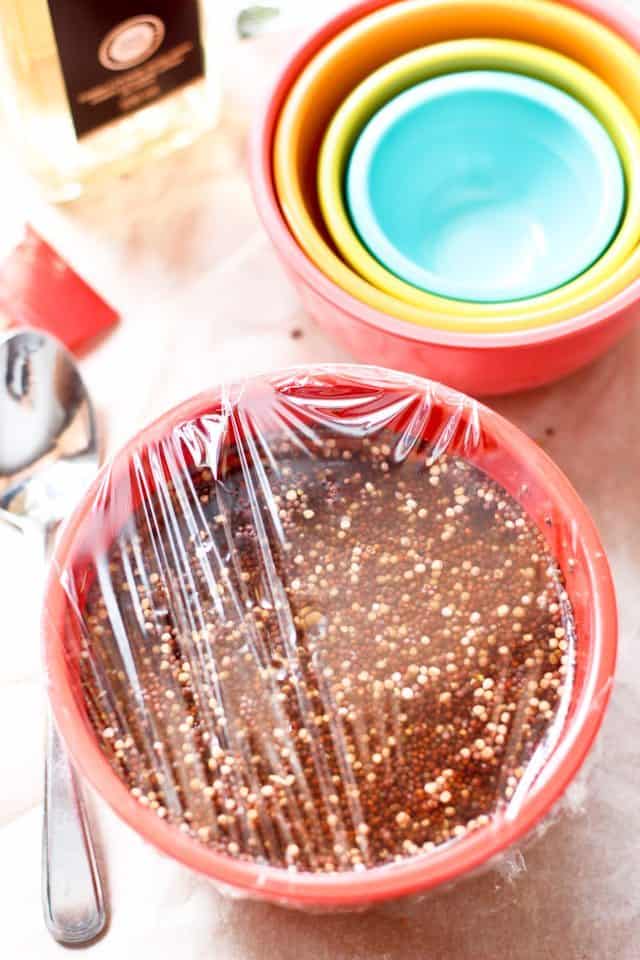 Covered with plastic film and let that stand overnight
(that stayed on the counter for a full 24 hours)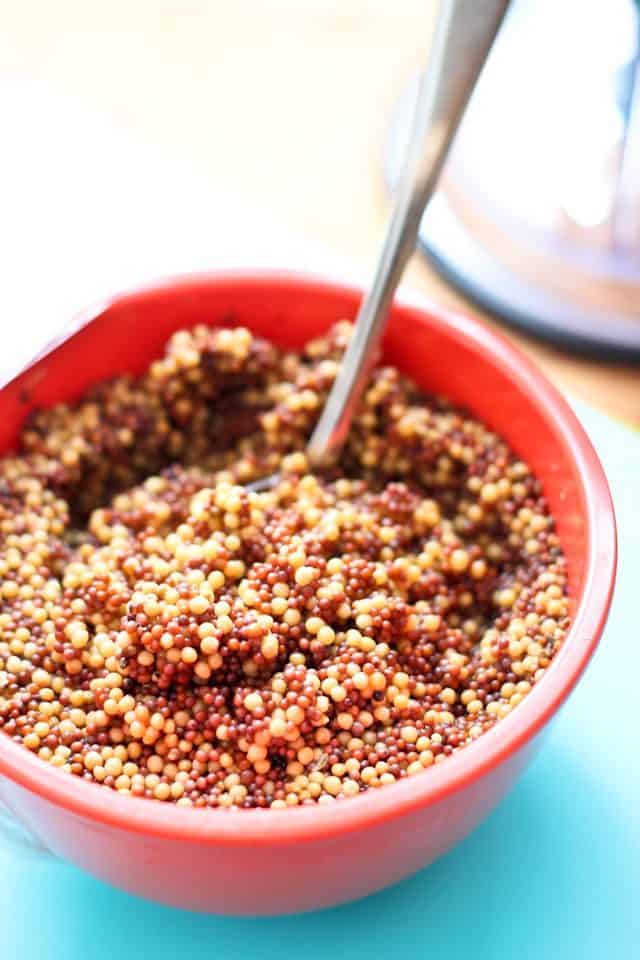 When the mustard seeds have absorbed all of the vinegar, you're good to go…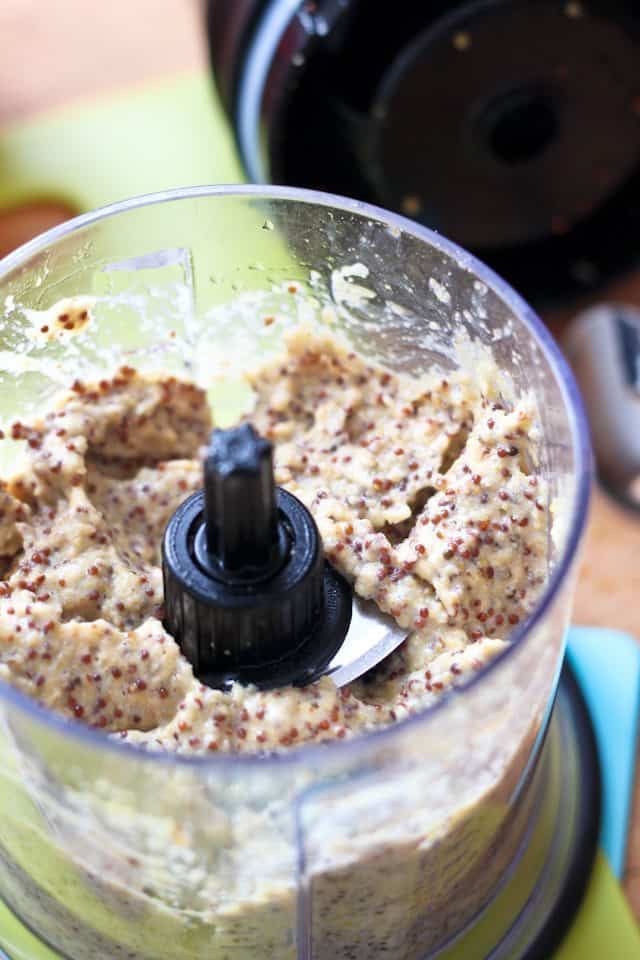 Throw them in a small food processor, add ¼ tsp of salt and the juice of half a lime and process until fairly creamy.
As you can see, the yellow seeds will completely break down, whereas the darker ones sort of remain whole for the most part.
Oh, and if you want to add herbs and other flavorings, now would be a good time to do that!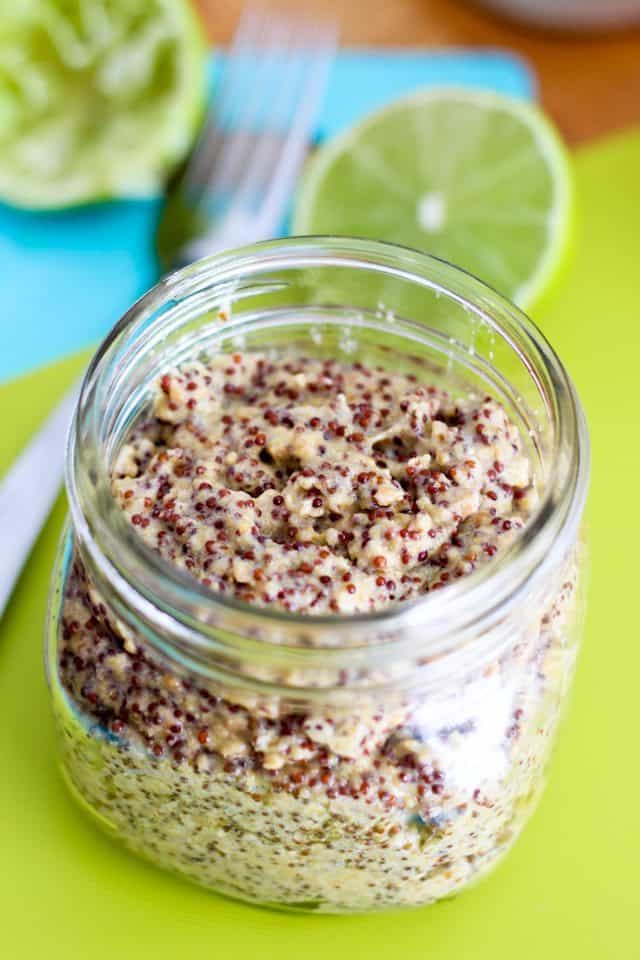 Transfer the mustard to a glass jar and place it in the fridge to macerate for a couple of days…
It'll only get better, trust me!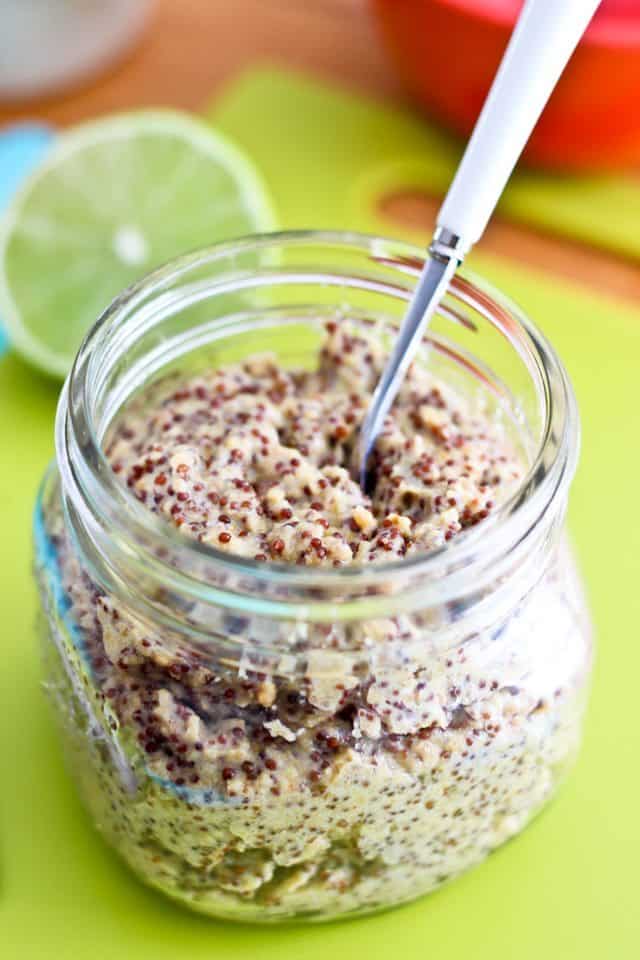 Of course, if you're very impatient like me, you could also use it right away…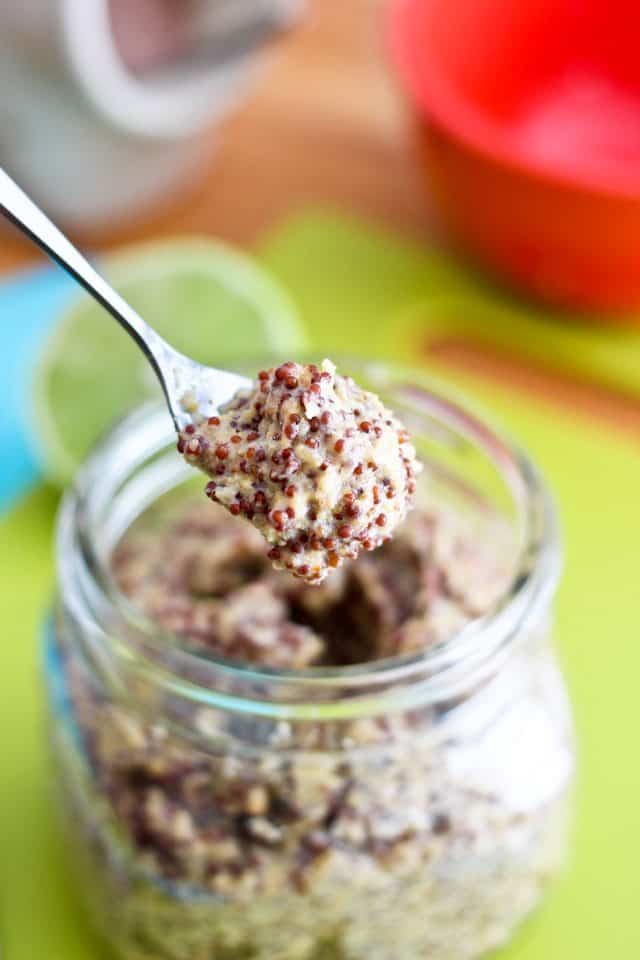 And even eat it by the spoonful…
Oh yeah, it's that good, really!
Best mustard I ever had!