Green Apple and Carrot Minute "Sauerkraut"
Yeah yeah yeah…
I know what you're thinking.
Well, OK. You might not be thinking it just YET, but you will soon enough!
You'll be looking a the recipe, checking out the instructions and go:
– WHAT? Sonia, c'mon! This needs to sit on the counter for hours, yet you dare call it a "MINUTE" sauerkraut?
Well… er… yes. I do!
But hey, hear me out! Considering that real sauerkraut takes weeks, if not months to make, a couple of hours seems like mere minutes in comparison, doesn't it?
And I'm telling you, if you are craving sauerkraut in a pinch, this will VERY MUCH do the trick.
Granted, it doesn't have all the health benefits that true fermented cabbage has, but I still think it beats a lot of the ready made stuff that you can find in most food stores! More often than not, that stuff hasn't even been fermented either, anyway! It's only been sitting in salted vinegar to make it look like it's been fermented.
Hmpft!
So until I finally get to make my very own sour cabbage at home, I think that this will be a very good alternative for me.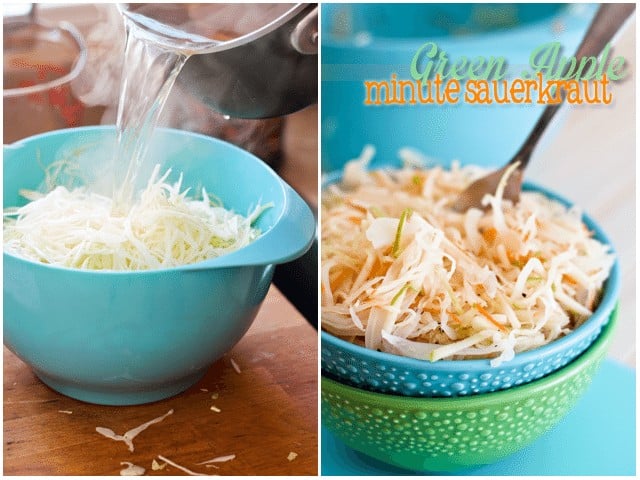 Oh, and of course, when I DO make the real thing, I will be taking tons of pictures and taking tons of notes so that I can share with you guys.
OOOOH! I CAN'T WAIT!!!
But, seeing as how I want to get my hands on somewhere in the neighborhood of 40 pounds of cabbage to get a REAL batch started, I *think* that I will wait until cabbage is in full season and can be purchased for mere  pennies a pound… Not only will it make it a lot cheaper to get sauerkraut on my table if I wait, but the finished product will also be that much tastier.
Eat with the seasons, right?
Right!
Until then, I'll stick with good ole slaw to curb my seemingly insatiable appetite for cabbage…
Or… I'll make more of this "minute" kraut!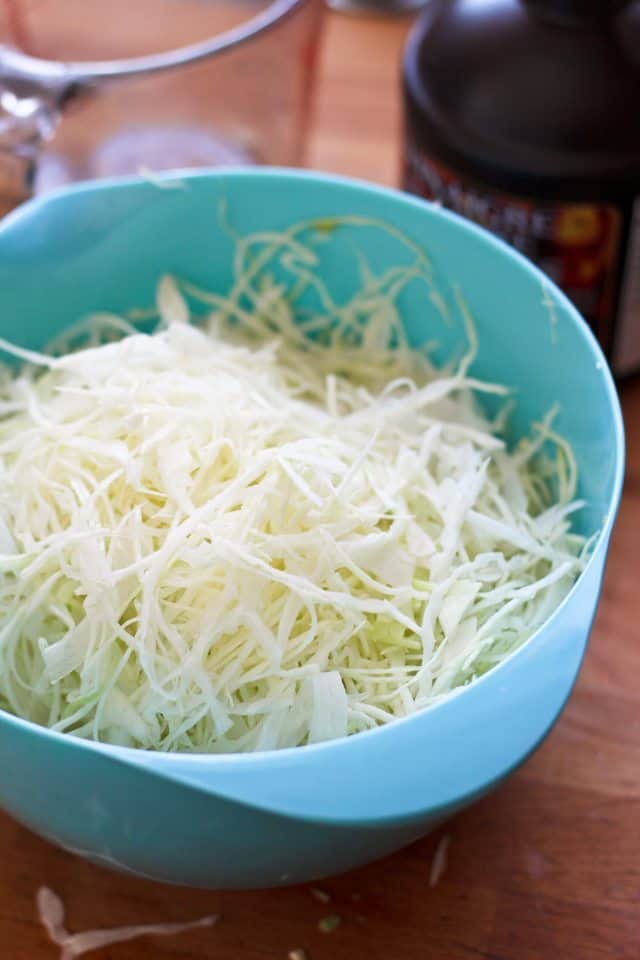 Start with roughly 2 pounds of shredded cabbage.
FINELY shredded cabbage.
I strongly suggest you use a mandolin to get the job done, but it's not absolutely necessary…
Pour 3 cups of boiling water mixed with 1 cup of apple cider vinegar.
You could totally use white wine vinegar or white balsamic vinegar, but I find the apple cider conveys a great, sweet flavor to this.
Plus, it totally complements the Granny Smith matchsticks that we're gonna add later!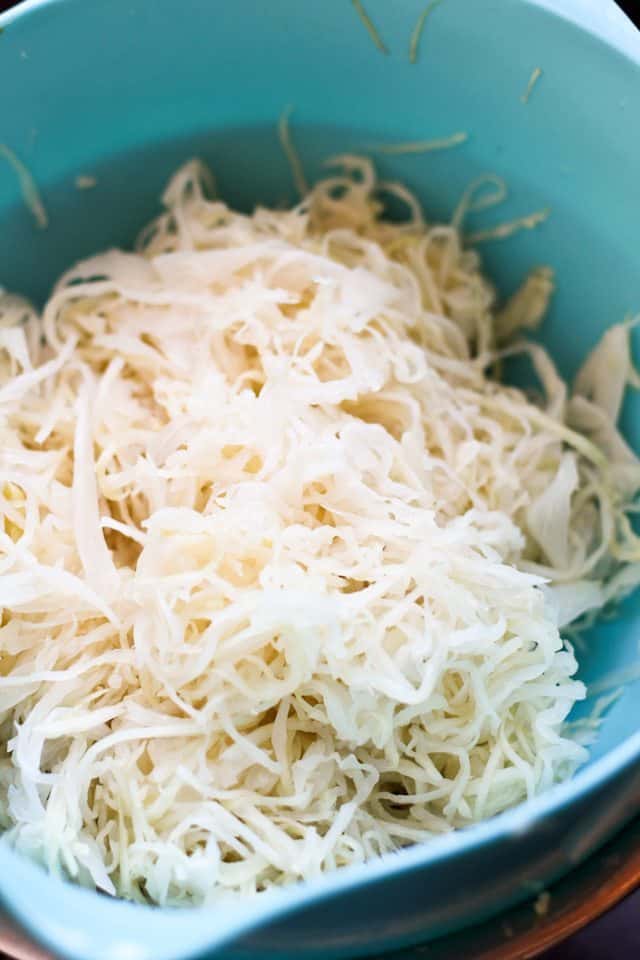 Drain and squeeze out as much of the liquid as you possibly can.
Doesn't this look like sauerkraut to you?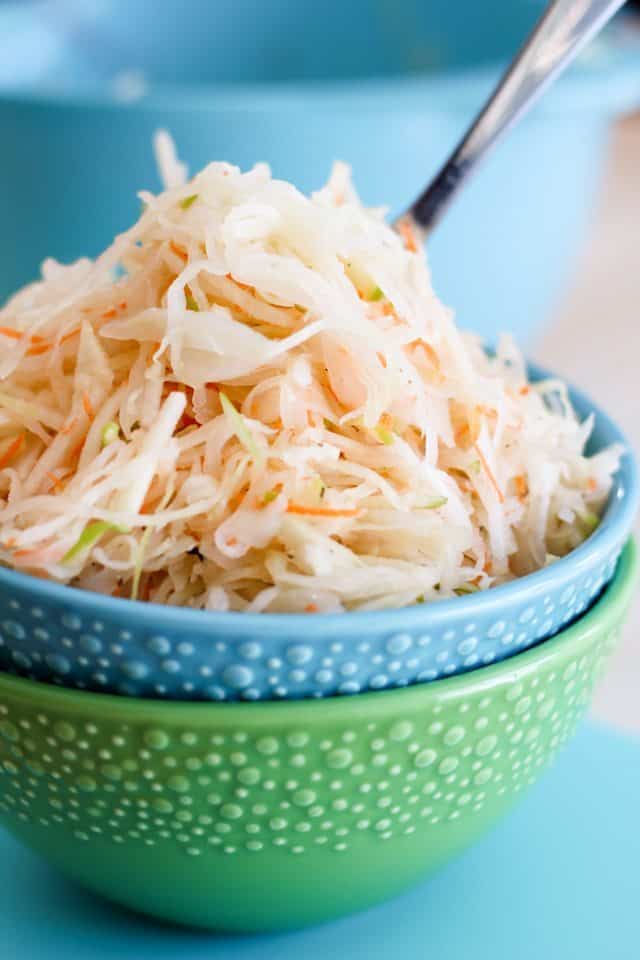 Add the rest of the ingredients, mix well and enjoy!
Easy enough for ya?
Green Apple and Carrot Minute Sauerkraut
Servings: 4
Ingredients
Part I
900 g cabbage, finely shredded
3 cups water
1 cup apple cider vinegar
1 tsp Himalayan or unrefined sea salt
Part II
2 granny smith apples, finely julienned
1 carrot, peel on, finely grated
Freshly cracked black pepper to taste
Instructions
Bring water, salt and cider vinegar to a boil; Pour over shredded cabbage, cover loosely and let that sit at room temperature for 3-4 hours.

After cabbage has nicely wilted, strain it through a fine mesh sieve and squeeze it real good to get as much moisture out as possible.

Transfer back to mixing bowl, add julienned apple, grated carrot and cracked pepper.

Mix to combine and serve immediately or chill for a few hours to allow flavors to combine.

This "sauerkraut" will keep in the fridge for a couple of days.
If you've tried this recipe, please take a minute to rate the recipe and let me know how things went for you in the comments below. It's always such a pleasure to hear from you!
You can also FOLLOW ME on PINTEREST, FACEBOOK, INSTAGRAM and TWITTER for more delicious, healthy recipes!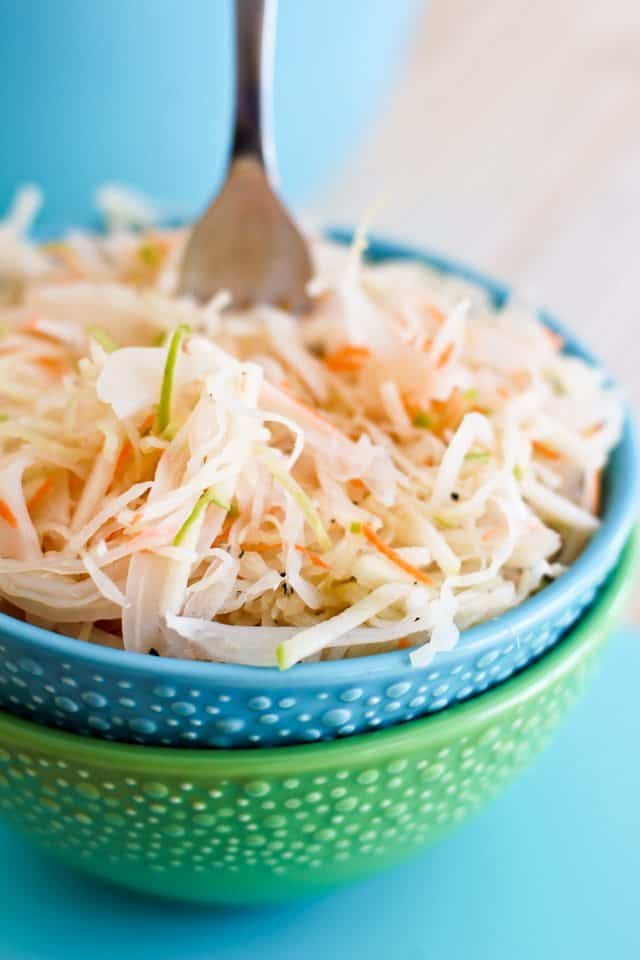 Care for a bite?