Mini Chocolate Cookie Tarts
Wow are you guys ever patient!
I'm really sorry to have kept you hanging for so long; I promise never to do that again, alright?
Well… er… maybe!
Not THAT long anyway!  😉
So FINALLY, I give you the second dessert that I made for Easter this year.
Yes, yes. You read that right. I did happen to make TWO desserts for the one, same occasion.
For a girl who doesn't want to do desserts all that much anymore, I really went all out, didn't I?
Well, to my defense, I did happen to stumble upon two incredibly delicious looking dessert recipes *just* before Easter, and I couldn't decide which of the two I wanted to try most.
So I opted to do both. Besides, I was going to have company that day, so it's not like I was gonna be stuck eating all these to myself!
Plus hey, despite making two desserts, I STILL was an incredibly good girl, you know why?
Let me take a minute to tell you about it.
I had invited my mom and her boyfriend to have dinner with us on Easter night.
Since my birthday was going to be only a few days away, my mom wholeheartedly suggested that they would take care of dessert. Now, something you should know is that my mom's boyfriend not only happens to be a certified pastry chef and chocolatier, but he also used to be… my teacher back in the days when I was in pastry school myself!
So let's just say the guy knows a thing or two about the art of making decadent desserts!
Well… tough as it may have been and even though I felt really bad about it, I respectfully declined their generous offer.
It had been 6 weeks since I'd last had anything with any kind of sugar in it and I was feeling so good, so free that I didn't want to have to face the evil temptation. I knew that if I was gonna have cake placed in front of me, I wouldn't be able to resist. I was going to break.
It was inevitable.
Plus, hey, it would've been rude not to eat at least ONE piece of a cake that had been made especially for me, now, wouldn't it?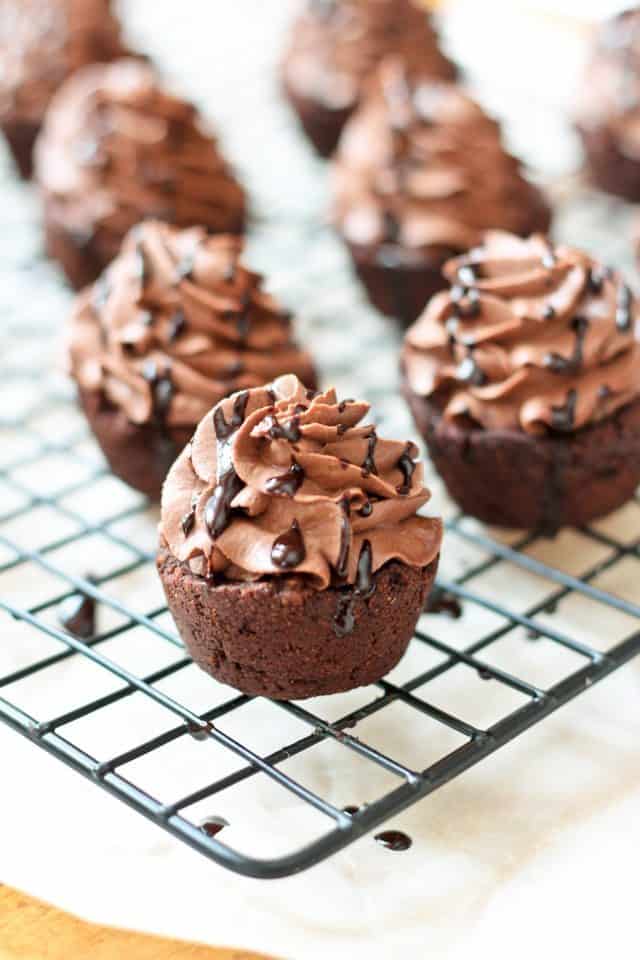 So I stuck with my initial plan and made these little guys, which were inspired by Leanne's super cute and adorable Grain-Free Lemon Cookie Tarts, as well as the Coconut Magic Brownie Bars, which had been inspired by Juli's incredible looking Magic Brownie Bars.
Just like I couldn't decide which one I wanted to try the most, I can't decide which of the 2 I liked the most.
One thing I can say, however, is that I wouldn't change one single thing about these little Chocolate Cookie Cups.
I love how dense and chewy and intensely chocolate-y the cookie cup part is, and how beautifully it contrasts with the fresh and rich and creamy, melt-in-your-mouth chocolate cream.
Again, this is a dessert that contains no sugar whatsoever, save for that which is naturally present in the dates, so it's not overly sweet.
If you're a fan of milk chocolate, these might not be your favorites. But if, like me, you love your chocolate really, REALLY dark, then you will definitely fall for them head over heels.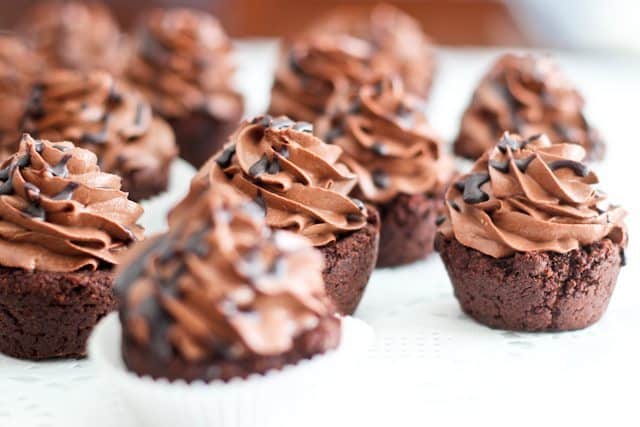 Oh, one word of advice if you are going to make these: make sure you get the full fat canned coconut milk. The higher the coconut content, the better. The one that I used is 70% coconut milk, 30% water.
Coconut milk always separates into cream and water when left undisturbed for a while and the cream portion becomes REALLY firm when chilled for a few hours.
For this recipe, you'll want to use both components separately, so make sure you don't shake the can, refrigerate it overnight and turn it upside down right before you open it. That way, the water will sit right on top of the cream and you'll be able to easily pour it into a separate container.
And by all means, IF you happen to have a little bit too much of that water, don't throw it out. Just drink it or use it in some other recipe.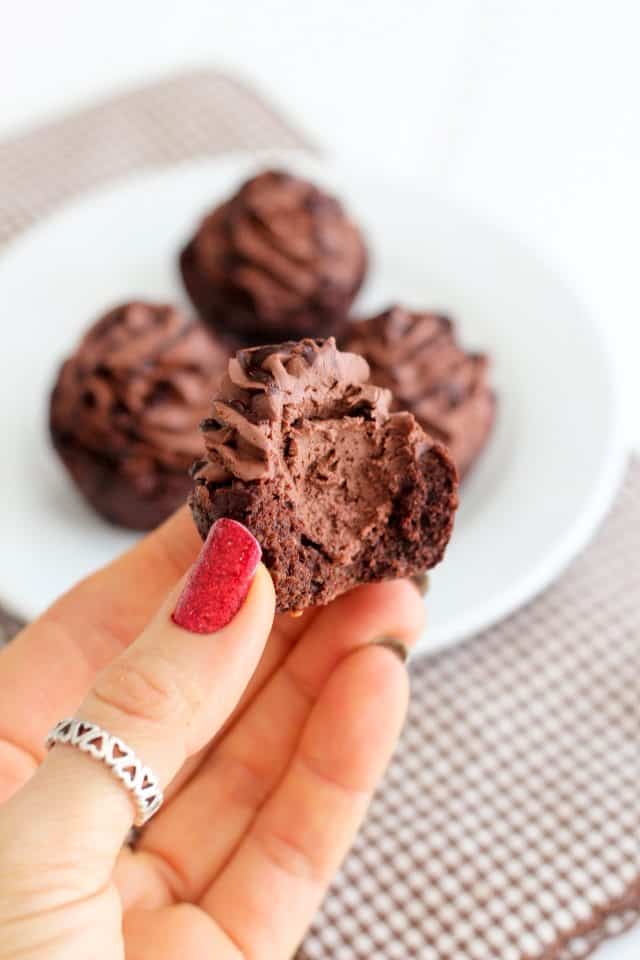 And finally, one last thought…
You *might* want to keep these in the back of the fridge… like WAAAY in the back.
You just might not want to see their pretty face all that often.
Because you might just appreciate it a tad too much!
Just sayin', ya know! 😉
Mini Chocolate Cookie Tarts
Servings: 20 cookie cups
Ingredients
For the cream
1 can, 14oz full fat coconut milk, chilled overnight
1/4 cup dark cocoa powder
1 tbsp all natural hazelnut butter
1/4 cup water from refrigerated coconut milk
1/4 cup date paste
Pinch Himalayan or unrefined sea salt
For the drizzle (totally optional)
Instructions
For the cookie cups
Preheat oven to 350F; Lightly grease mini muffin tins with coconut oil.

In the bowl of your food processor, combine the avocado, date paste and egg and process until smooth and creamy.

Meanwhile, in a separate bowl, combine almond meal, ground hazelnuts, cocoa powder, coconut flour, salt and baking soda, Mix with a whisk until very well combined.

Add the dry ingredients to the wet that are already in the food processor and process on pulse until just incorporated, no more.

Press this dough into 19 mini muffin cups (I know, weird number!) then, using a rounded object, such as the end of a large wooden spoon or small pestle, gingerly press into the center of each "cookie" to make a nice round indentation.

Bake in preheated oven for 12 minutes. Cool in the pan for 5 minutes, then gently remove the cups from the pan; Place them on a cooling rack and let cool completely.
For the cream
Flip your can of coconut milk bottom side up and carefully open it. Transfer the water that's on the surface to a small bowl. Reserve the cream.

Measure ¼ cup of the water and add that to your small food processor. Add cocoa powder, hazelnut butter, date paste and salt and process until smooth and creamy.

Add reserved chilled coconut cream and resume processing until well incorporated.

Transfer that cream to a piping bag and top each cookie with a nice chocolate-y swirl.
For the drizzle
To make the drizzle, mix cocoa powder, melted coconut oil and honey together in a small mixing bowl until smooth.

Transfer that chocolate sauce into a squeeze bottle. Place chocolate cookie cups on a rack and drizzle chocolate sauce all over them.

Keep refrigerated in an airtight container. These cups will keep for up to a week (and only seem to get better with each passing day…)
If you've tried this recipe, please take a minute to rate the recipe and let me know how things went for you in the comments below. It's always such a pleasure to hear from you!
You can also FOLLOW ME on PINTEREST, FACEBOOK, INSTAGRAM and TWITTER for more delicious, healthy recipes!