Creamy Seafood Chowder
Remember how after making my Cream of Mushroom and Wild Rice Soup I said that I wanted to try my hand at making a lovely Seafood Chowder using the creamed cauliflower technique?
Or was it after I'd made the Creamy Chicken and Vegetable  Soup that I said that?
Either way…
Doesn't really matter when I said it, does it? I guess what really DOES matter is that I actually was true to my word and did it!
And man, was that soup ever good!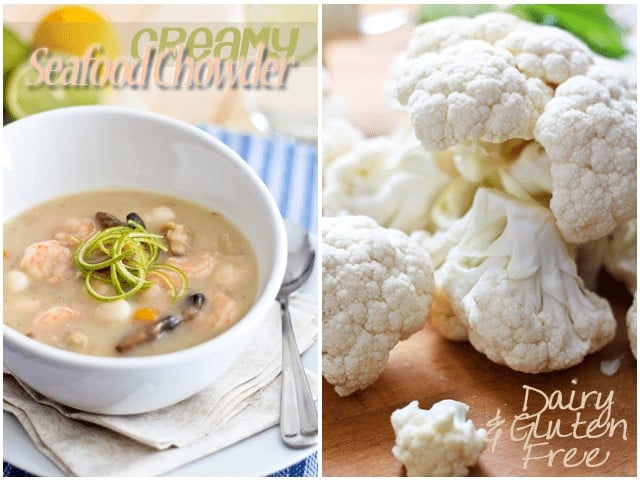 I am definitely addicted, completely hooked on that "cauliflower" technique.
I have to admit that I was somewhat skeptical that it would actually work all that well with seafood, and especially coconut, but after making Creamy Coconut Shrimp over Zucchini "Pasta", I was absolutely convinced.
Cauliflower can be used to make just about ANY kind of creamy soups and sauces. I mean seriously, if you can make cauliflower work with coconut, then I guess you can make it work with just about anything.
It made seafood seem like such an easy challenge. In fact, I'd even call it a easy match.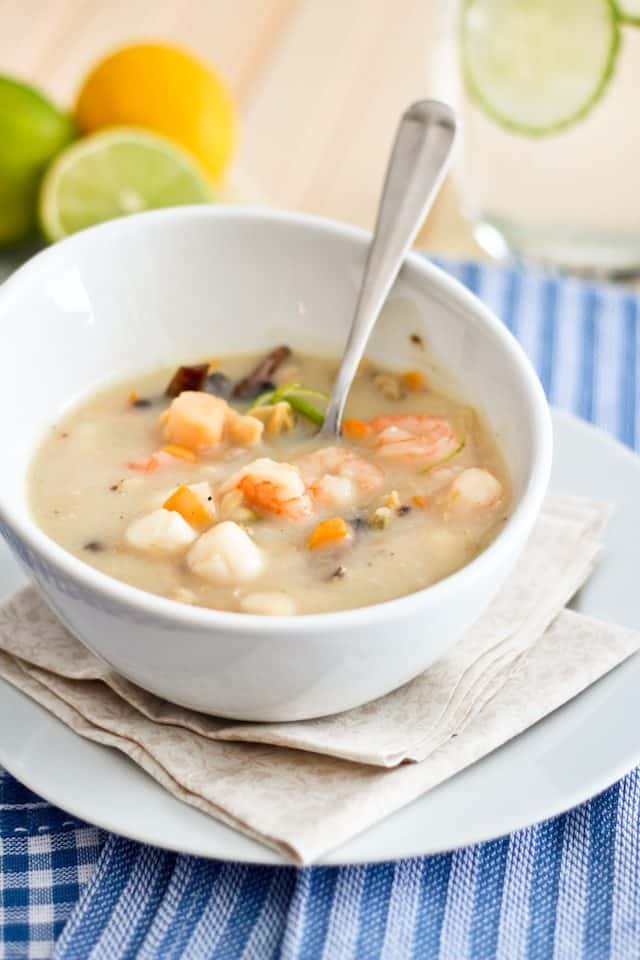 Honestly, I don't think that I'll ever be making creamy soups, or anything creamy, for that matter, without using cauliflower.
Even after 4 different recipes with it, I still can't get over how smooth and creamy and silky it gets.
And seriously, you can't even taste the cauliflower at all.
I mean, really. You can't. It seems to simply vanish into thin air.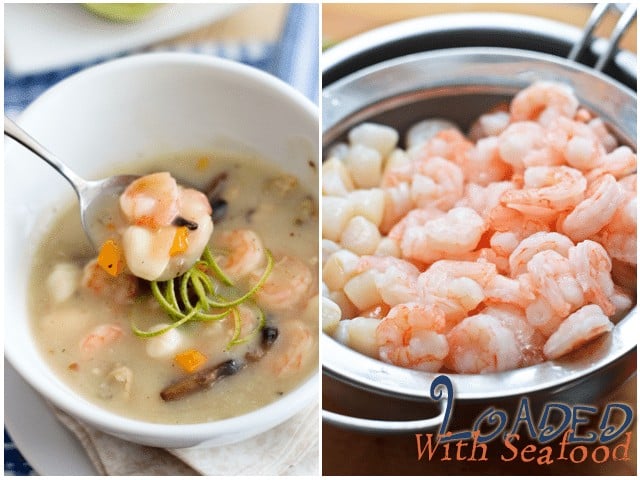 Mind you, this soup has so much seafood in it, it would be hard for anything to completely mask its flavor, however light and subtle it may be.
And to help give it an even more intense "food of the sea" flavor, I held on to all the liquids that escaped from the shrimp and scallops as they thawed.
Also, I chose not get rid of the water that the clams were "swimming" in.
Perfect way to save the day when you don't have any fish stock on hand!
Of course, if you happen to have some fish stock or prefer to make your own, feel free to do that and ditch all of those liquids…
It'll only be that much better.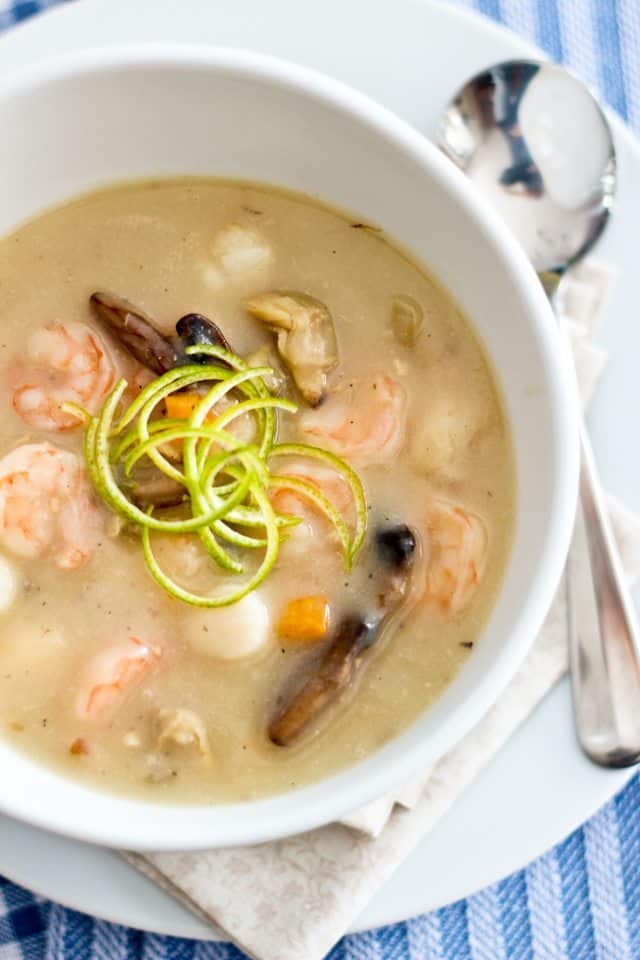 But if you are in a pinch and have no time to make stock, this recipe really works wonders and won't fail to satisfy your taste  buds.
Plus, providing that you get your seafood out of the freezer one or two days ahead of time, this soup really comes together in no time at all.
It also happens to reheat superbly well, which makes it a fantastic option for a quick lunch.
Now… I can't help but wonder…
Do you think that one can make Crème Anglaise out of cauliflower?
Leave it to me to test that theory!  😉
Creamy Seafood Chowder
Servings: 4
Ingredients
1 large head cauliflower, coarsely chopped (800g)
2 cups water
2 cups chicken stock
Liquid from scallop, shrimp and clams
227 g mushrooms, sliced
1 small onion, chopped
½ orange bell pepper, finely chopped
½ tsp salt
¾ tsp black pepper
450 g frozen cooked white shrimp, thawed *
340 g frozen bay scallops, thawed*
1 can baby yellow clams, drained (do not discard liquid)
Few grinds fresh nutmeg
Few grinds star anise
Lime zest and juice to garnish
Instructions
*Thaw the shrimp and bay scallops overnight in the refrigerator; make sure to collect the liquid that will drain from the seafood as it thaws. A good way to do this is to place them in a colander or sieve sitting over a bowl. It also helps to place a little bit of weight on them if you can, but that is not entirely necessary. You can always squeeze them gently once they are completely thawed.

Add cauliflower, water, chicken stock, liquid from shrimp, scallop and yellow clams to a large stockpot. Bring to a boil, lower heat, cover and cook until the cauliflower is really soft and tender, about 5-7 minutes.

Meanwhile, cook the mushrooms in a large skillet over medium-high heat until golden on both sides. Lower the heat, add onion, bell peppers, salt and pepper and continue cooking until fragrant and onions start to turn translucent, about 2-3 minutes. Reserve.

Ladle the cauliflower mixture into your blender and process on high speed until super smooth and silky in consistency. You might have to work in several batches

Return that soup base to the stockpot and add the nutmeg, star anise, shrimp, bay scallops, baby clams and reserved vegetables.

Bring back to a boil, reduce heat and simmer until the bay scallops start to lose their translucency and the shrimp are heated through, about 4-5 minutes.

Serve immediately and hit with a splash of lime juice. Garnish with a little bit lime zest.
If you've tried this recipe, please take a minute to rate the recipe and let me know how things went for you in the comments below. It's always such a pleasure to hear from you!
You can also FOLLOW ME on PINTEREST, FACEBOOK, INSTAGRAM and TWITTER for more delicious, healthy recipes!