Creamy Chicken and Vegetable Soup
You know how sometimes, you're in the mood for soup so thick, you almost need a knife to cut through it?
Well, this Creamy Chicken and Vegetable Soup would be just the soup you need when that craving arises!
I kid you not, this soup is so thick and creamy, so tasty and crazy loaded with all sorts of yummy chunks of chicken and vegetables, you could almost turn it into a healthy chicken pot pie simply by covering it with a piece of dough and throwing it in the oven.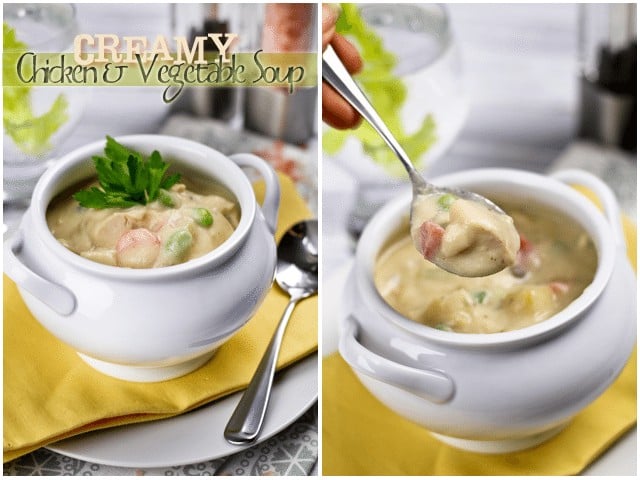 That baby would be the second born in the "cauliflower" series. I told you after I made my Cream of Mushroom and Wild Rice Soup (thanks again for that, Leanne!) that I would be coming up with all sorts of creamy cauliflower soups.
I wasn't lying… and this holds even more true now that I have made a second experience.
This has to be the best darn cream of chicken I've ever eaten in my entire life.
So smooth and creamy and velvety, incredibly filling and oh! so satisfying, yet, it contains virtually no fat and is very low in carbs too!
The dream, I tell you!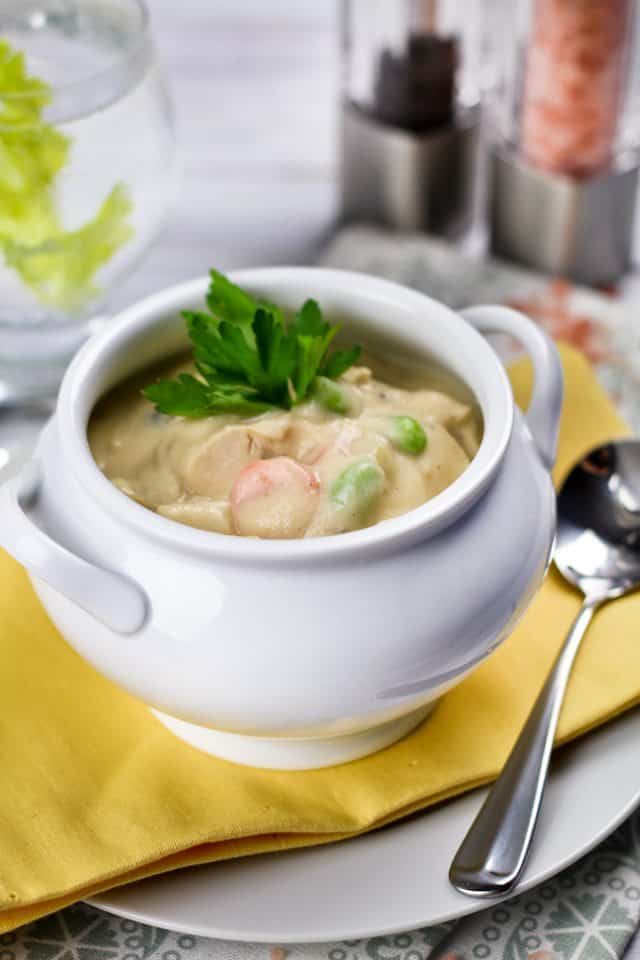 There's absolutely nothing but good things in this one. It even comes with a bit of a cheesy flavor, thanks to the addition of nutritional yeast.
I'm telling you, after you try this soup, you will never want to crack open another can ever again in your whole entire life.
Oh, and if you can't find edamame, or don't like them, feel free to use green peas instead.
You're not gonna hurt the soup's feelings, I swear.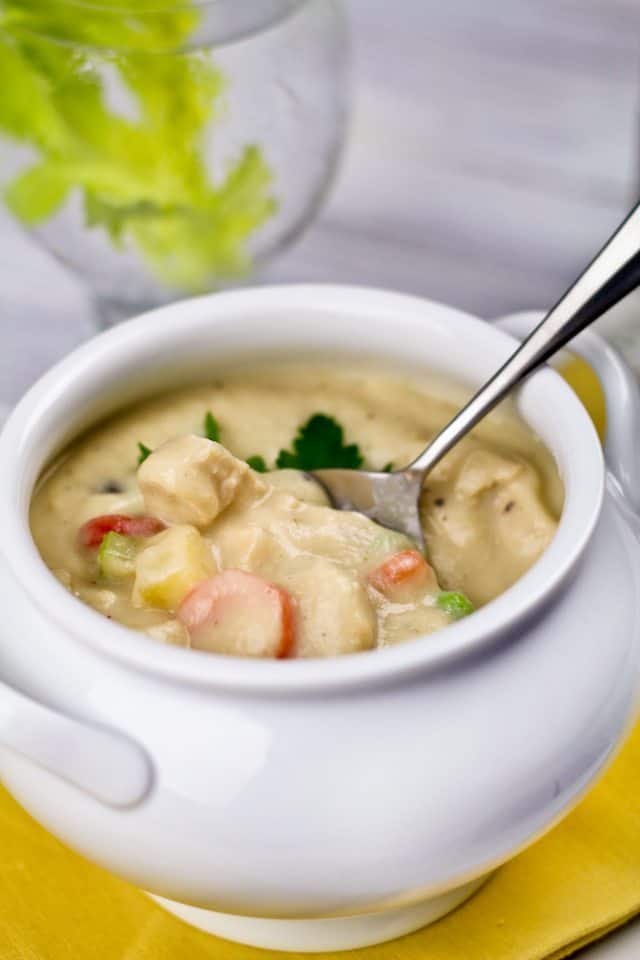 Hey, I'll let you in on a little secret…
I've got 3 huge heads of cauliflower sitting in my fridge right now… Yes, THREE!
And a whole bunch of shrimp in the freezer!
I'm thinking the third born will be some sort of a seafood chowder.
What say you? Yum?
YUM!
Creamy Chicken and Vegetable Soup
Servings: 4
Ingredients
550 g cooked chicken breast meat
1 large head cauliflower, coarsely chopped
1 onion, chopped
2 cloves garlic, minced
2 celery ribs, chopped
2 carrots, sliced
250 g turnips, cut into small cubes
1 cup frozen edamame
4-5 cups water, depending on how thick you want your soup to be
¾ tsp salt
¾ tsp black pepper
1 tsp granulated garlic
1 tsp onion powder
Few gratings fresh nutmeg
Few gratings star anise
1 cup fat free Greek Yogurt + 1 cup water
¼ cup nutritional yeast
2 tbsp arrowroot flour
Instructions
Add onions, garlic, salt and pepper to a medium saucepan. Cook over medium heat for one or two minutes, just to soften up the veggies a little bit.

Throw the cauliflower in and continue cooking for a minute or two.

Add water, granulated garlic, onion powder, nutmeg and star anise and bring to the boil; Place steamer basket over that saucepan and add celery, carrots and turnips to the basket. Cover, lower heat and cook until the cauliflower and steamed vegetables are fork tender, about 5-7 minutes. Alternatively, you can cook the vegetables in a medium pan with a tiny little bit of water in it over medium heat until fork tender.

Ladle the cauliflower mixture into your blender and process on high speed until super smooth and silky in consistency. You might have to work in several batches

Return that soup base to the saucepan and add the cooked chicken, frozen edamame and steamed vegetables.

Bring back to a boil, reduce heat and simmer until the edamame and chicken are good and hot, about 4-5 minutes.

Meanwhile, mix the water, yogurt, nutritional yeast and arrowroot flour together in a small mixing bowl. Add that to the soup and stir until well incorporated; bring back to a simmer once more then turn off the heat and serve.
If you've tried this recipe, please take a minute to rate the recipe and let me know how things went for you in the comments below. It's always such a pleasure to hear from you!
You can also FOLLOW ME on PINTEREST, FACEBOOK, INSTAGRAM and TWITTER for more delicious, healthy recipes!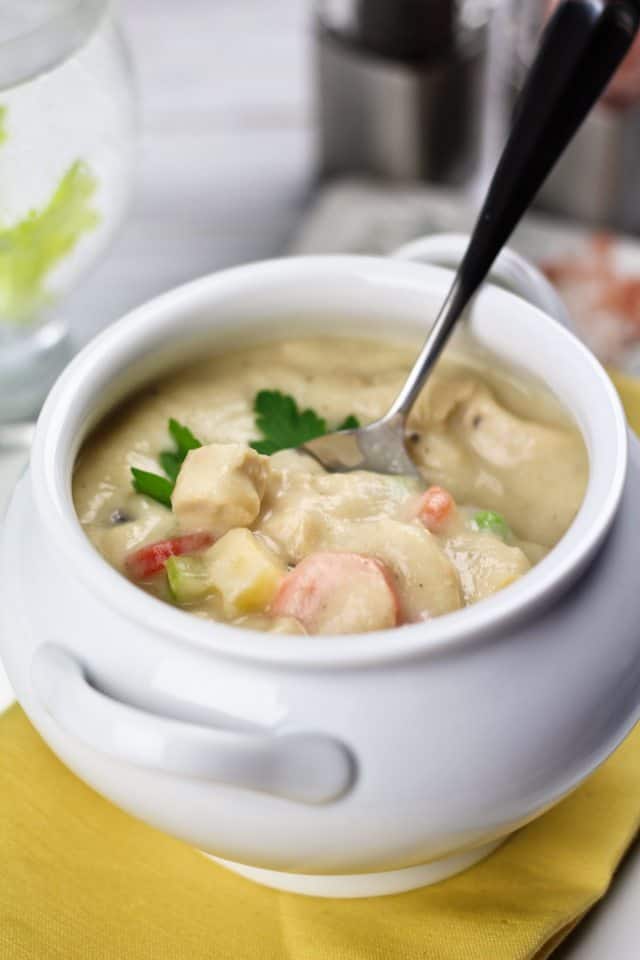 Thick enough for you?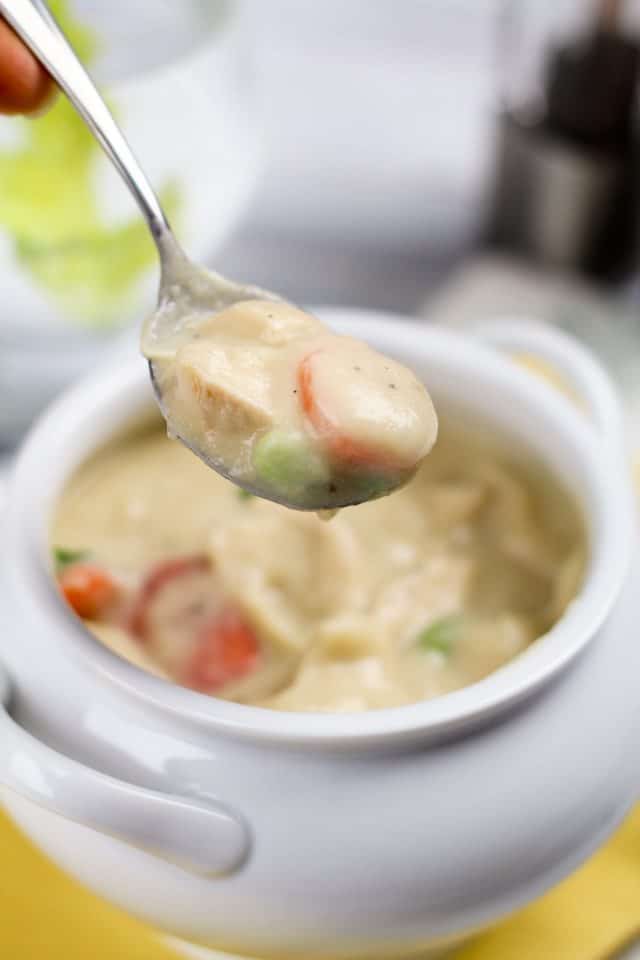 So what will it be, spoon or knife?