Chestnut & Hazelnut Instant Breakfast Cake
Lent has officially begun. (OOF!)
And what better way for me to kick off this year's Lent Challenge than to present you with a recipe that has absolutely nothing in it that I could be eating today, or even this entire month, for that matter.
Am I like trying to torture myself or something?
Bah, maybe I am a little bit of a masochist, but the fact that I can't have this doesn't meant that I'm not allowed drooling and dreaming about having it, right?
Plus, it's not 'cuz I can't have it that it necessarily means that YOU can't have it! In fact, I think YOU should definitely have some of this and have a bite or two for me while you're at it! 😉
You would do that for me, wouldn't you?
It had been an awful long time since I'd made an instant breakfast cake.
No, let me rephrase that. It had been an awful long time since I came up with a new variety of Instant Breakfast Cake that I could share with you guys.
I still do have my favorites, the Chocolate Cherry Buckwheat and the Choco-Raspberry, on a regular basis.
But, as much as  I like them, I figured I was well overdue for a new flavor, so after I made my Chestnut & Hazelnut Cheesecake and was happily stuck with a few leftover ingredients, it was a no-brainer to me that I should use them to make a delicious Instant Breakfast Cake.
Delicious would be an understatement! This is just plain decadent!
The texture of this new creation is just out of this world incredible: Fudgy dense and silky smooth.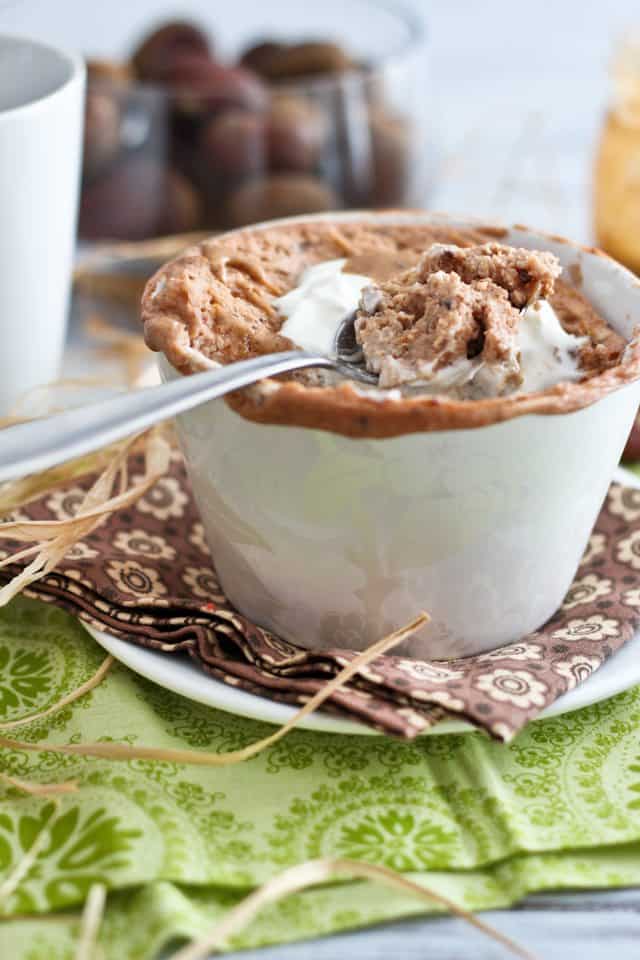 And the flavor. Oh! The flavor. Crazy good is what it is!
Let's just say you'll want to stop time so you can keep on eating this cake for eternity…
I'm telling you, as soon as the dairy and grains restrictions are lifted, I'm having this one again!
Only a few weeks to go. It'll be over before I know it! 🙂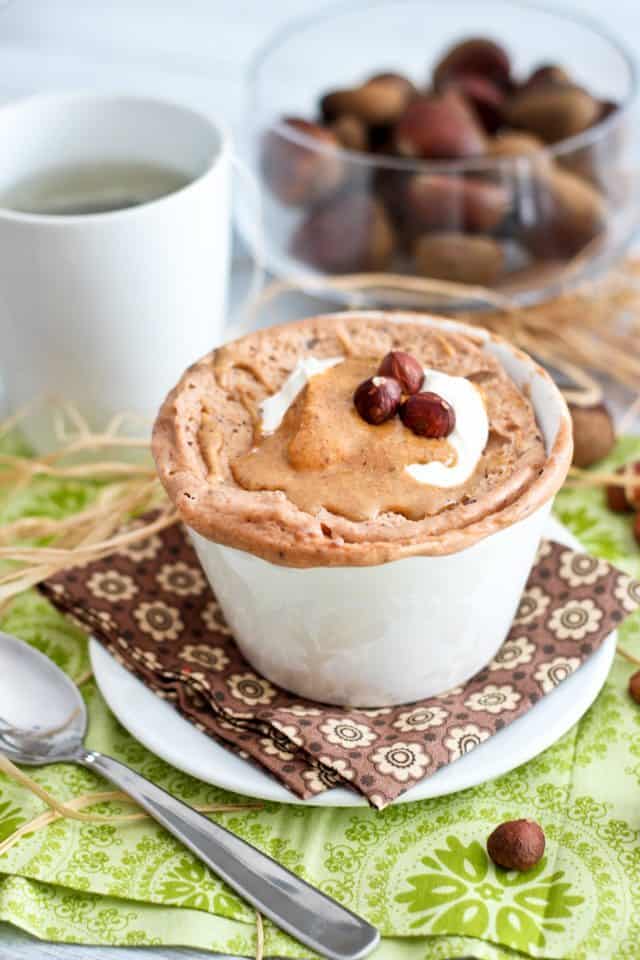 At least I hope so… 
My first day hasn't been what I would call a walk in the park: I'm just crazy tired and can only think of one thing now: my bed!
I mean really? Can this really be caused by the slight little changes that I made to my diet?
So quickly?
Is my body really THAT addicted to caffeine?
I gotta give this a few days… the first few days are always the toughest. Can't wait for the week-end!
Hopefully by then I can come up with a few interesting yet "Lent Challenge Approved" recipes.
Until then… g'night peeps! I'm off to bed!
Chestnut Hazelnut Instant Breakfast Cake
Servings: 1
Ingredients
Wet Ingredients
½ cup unsweetened chestnut puree
2 tbsp water
2 tbsp fat free Greek Yogurt
2 tbsp 1% fat cottage cheese
1 tbsp date paste
2 egg whites
Pinch salt
Dry Ingredients
¼ cup spelt flour
½ scoop vanilla flavored whey protein powder
¼ tsp baking soda
½ tsp cinnamon
¼ tsp freshly grated nutmeg
1 tbsp hazelnuts, toatsted and chopped
Instructions
In a small food processor, combine all the wet ingredients and process until smooth and well combined.

In a seperate bowl, combine all the dry ingredients and mix with a whisk until well incorporated.

Add wet ingredients to the dry ingredients and mix with a wooden spoon or spatula until well incorporated.

Transfer to a microwave safe bowl (allow room for rising, your cake will pretty much double in volume) cover with a paper towel and cook in the microwave on high for about 3 minutes.

As soon as your cake comes out of the microwave, garnish with a dollop of plain yogurt, a drizzle of hazelnut butter and a few hazelnuts if desired and serve immediately.
If you've tried this recipe, please take a minute to rate the recipe and let me know how things went for you in the comments below. It's always such a pleasure to hear from you!
You can also FOLLOW ME on PINTEREST, FACEBOOK, INSTAGRAM and TWITTER for more delicious, healthy recipes!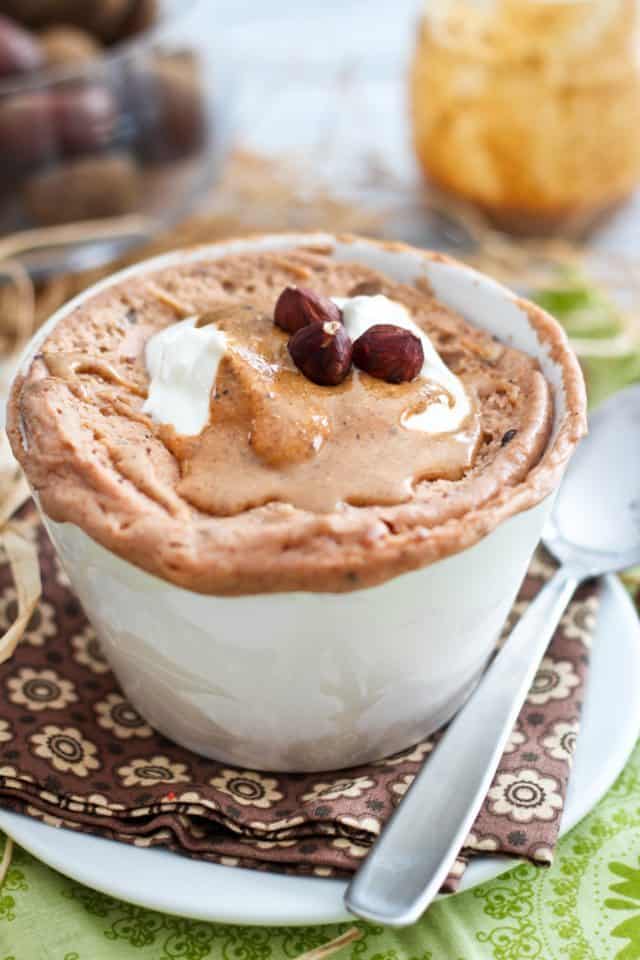 Yummers! Can't wait to have this again!