Healthy Pizzeria Style Ground Beef and Green Olives Pizza
Back in the days, this was one of my favorite pizza combinations…
Whenever I'd order pizza, this would be my number one choice. Only back then, there would also be bacon on it… and loads of it!
Oh, how I used to LOVE this.
For some reason, about a month before Christmas, I got a huge, insane craving for one such pizza, and the craving plain refused to leave me alone. For weeks, every single night I'd consider stopping by the pizzeria on my way home and get one for dinner .
I think what saved me from actually doing it is the fact that I have never sampled pizza from any of the pizzerias near where I live now. Having no idea what to expect, I just didn't want to risk being disappointed.
But the craving never subsided. It sort of faded a little bit after the Holidays but still, every 4-5 days the craving would hit me again, so hard that I could taste the darn thing and the thought of stopping by the pizzeria would come right back to me.
It was becoming clear to me that this craving was not about to go away and that I was gonna have to do something about it. I was gonna have to find a way to satisfy my pizza hungry  brain.
Then one day, it just hit me: why not simply reproduce that pizza at home? If I was ready to "sin for it" and get that pizza from a local joint, then surely I could stretch the boundaries of my healthy habits and make me a pizza at home that would taste just as good but wasn't going to be quite as unhealthy as the restaurant stuff. 
Whoa! Talk about a genius idea! Why had I not thought about it earlier?
It wasn't long before I got busy and recreated it in my mind.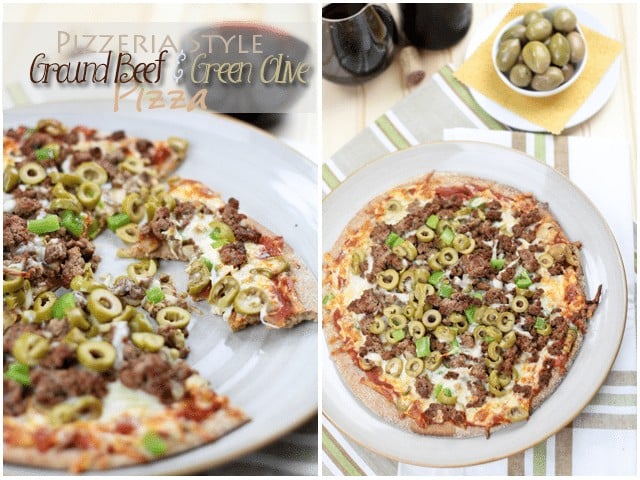 I already had some of my favorite Whole Wheat Pizza Crust in the freezer. AH! That was gonna save me some time! 
And I had a top round beef roast in the fridge that I could use to make ground beef. I found a can of tomato pizza sauce in the cupboard (yes, yes, tomato sauce!). GREAT! The pepperoni would have to be left out, but that didn't bother me one bit… I never was extremely big on the stuff anyway.
I figured that by adding a little bit of fennel seeds to my ground beef, it would help me get back some of that distinctive flavor that pepperoni has.
As for the bacon? Well, there was nothing I could do about it. I would have to sacrifice it. But even though it used to be one of my favorites, I can't say I miss it all that much… and I certainly didn't miss it one bit on that pizza.
Not one tiny little bit.
After all, I still had my ground beef and LOADS of it, as well as my precious olives. So really, I was more than fine!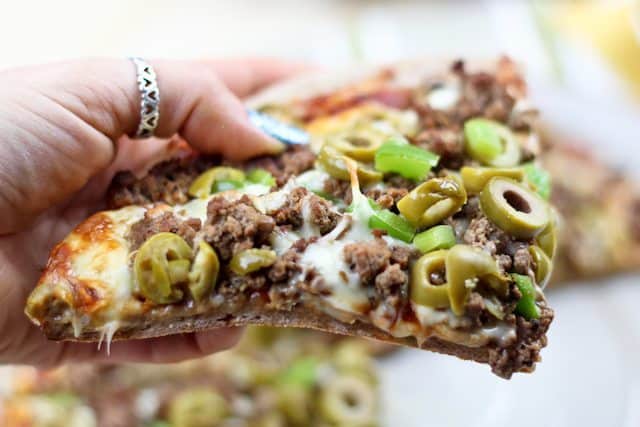 And you know what the funniest thing about all this is?
When all was said and done, I realized that this pizza turned out to be pretty darn healthy! Much, much more than I ever thought it would be.
And it was even better than the pizzeria stuff!
And you know what else?
Back in the days, this would have been my idea of an almost ideal Valentine's Day dinner (Hey, big pizza fan, here. Don't judge!)
Only I would've ordered the greasy stuff from the local pizza joint…
Today, I think this would still make for a more than acceptable Valentine's Day dinner… only this time, I would totally make this splendid, much tastier, much healthier version at home!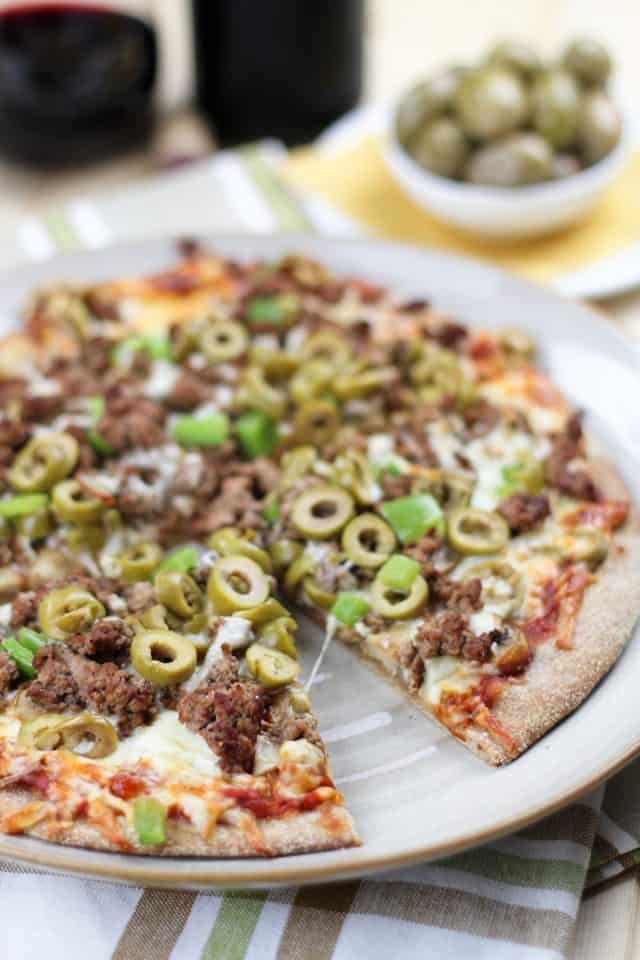 However, I'm afraid none of this is going to happen this year… As some of you might remember, every year, I use Lent as an excuse to create new healthy habits for myself by coming up with all sorts of new challenges and changes in my diet plan.
This year will be no exception and might very well be my toughest challenge so far.
I'll be posting my plan tomorrow, for those of you who are interested in checking it out.
But for now, let's indulge in some insanely good pizzeria style Ground Beef and Green Olive Pizza, shall we?
You really oughta try this one out and have a slice for me, alright?
Trust me, you won't regret it. It's so heavenly delicious, you'll almost feel guilty eating it, even though you'll have absolutely no reason to.
Not a single one.
Ground Beef and Green Olive Pizza
Servings: 2
Ingredients
¼ pizza dough recipe
¼ cup tomato sauce, I used Eden Organic
100 g mushrooms, sliced
¼ green bell pepper, diced
200 g beef from top round, ground
½ tsp onion powder
½ tsp garlic powder
½ tsp fennel seeds, crushed
Pinch Himalayan or fine sea salt
¼ tsp freshly cracked black pepper
100 g light mozzarella cheese, grated
4 tbsp sliced green olives
Instructions
Preheat oven to 500F.

In a small non-stick pan that's been preheated over medium-high heat, add ground beef, onion powder, garlic powder, crushed fennel seeds, salt and pepper and cook until beef turns nice and golden brown. Transfer the beef to a plate or bowl and add the mushrooms to the hot pan; cook until golden on both sides. Turn off the heat and reserve.

On a well-floured surface (I like to use cornmeal), roll the pizza dough into a thin 10-12 inch disc and lay it on a baking sheet.

Spread tomato sauce evenly on the dough; top with mushrooms and half the bell peppers; add ¾ of the mozzarella cheese, followed by the ground beef, the rest of the bell peppers and sliced olives. Finally, add the rest of the mozzarella cheese.

Bake in the oven for about 10 minutes, until cheese is melted and the crust starts to color on the edge.
If you've tried this recipe, please take a minute to rate the recipe and let me know how things went for you in the comments below. It's always such a pleasure to hear from you!
You can also FOLLOW ME on PINTEREST, FACEBOOK, INSTAGRAM and TWITTER for more delicious, healthy recipes!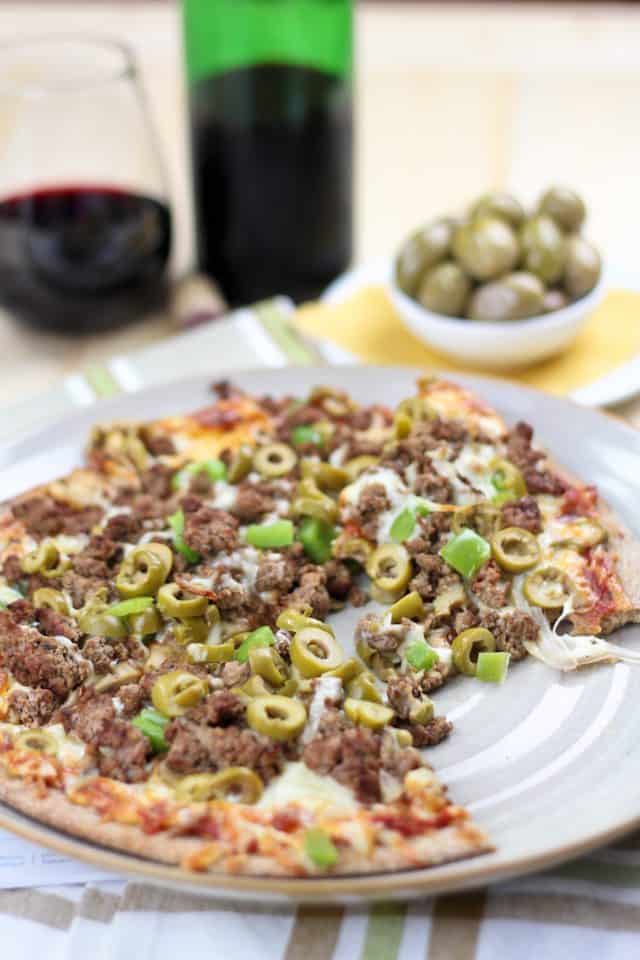 Look at all that meat… and talk about olive overload!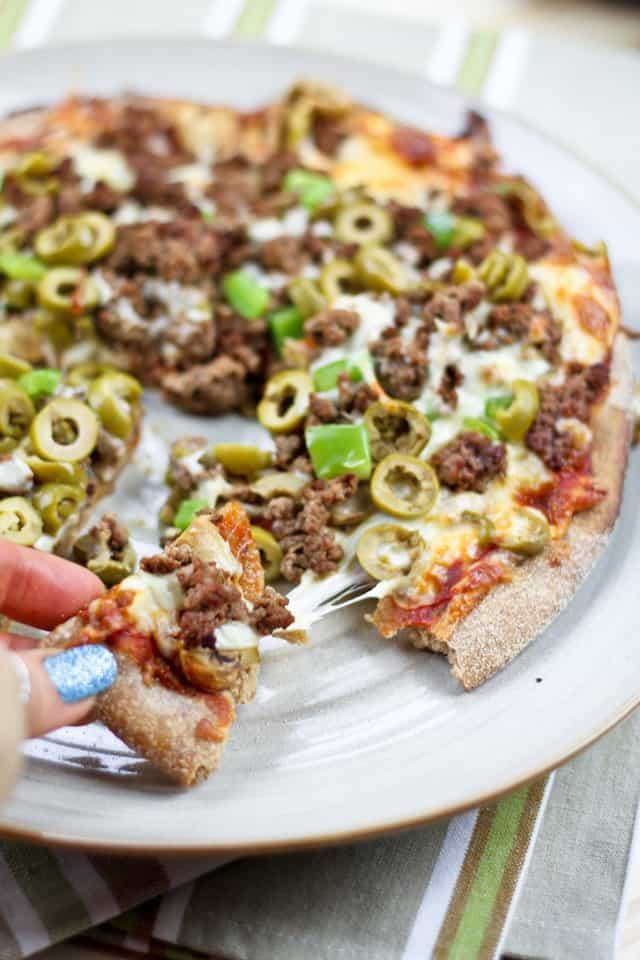 I'm so stealing a piece… Shhhhh! Don't tell anyone!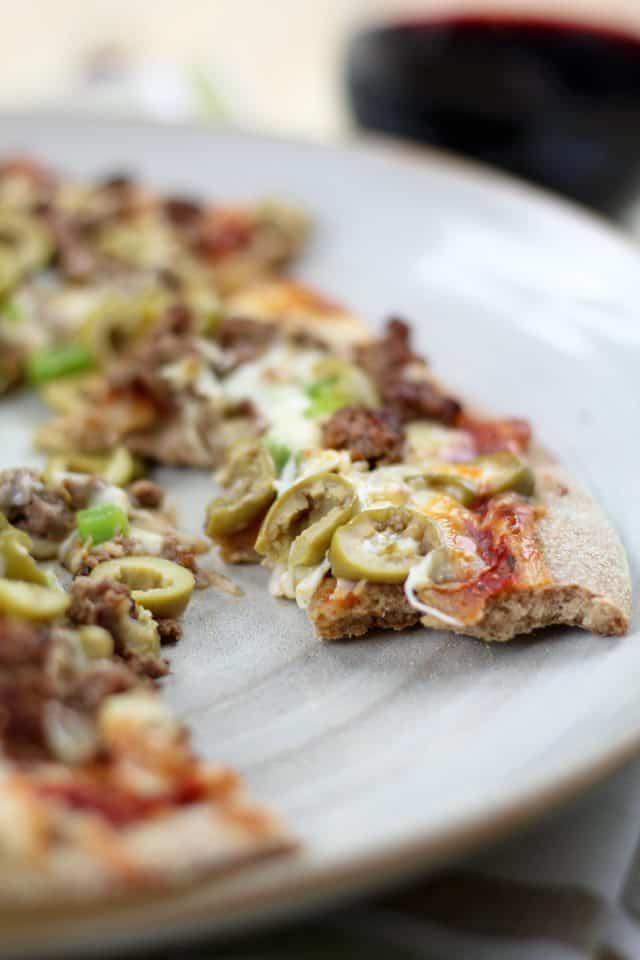 I don't usually go for thin crust, but it worked beautifully this time!