Shrimp Cocktail with Mango Avocado Salsa
Looks like I'm making a habit of posting quick and easy recipes on the week-ends…
This week-end will be no exception and this time, I'm proposing a recipe which, despite being rather simple, has enough elegance and distinction to make it worthy of being served on special occasions.
Follow me here?
Special occasions…
As in Valentine's Day maybe?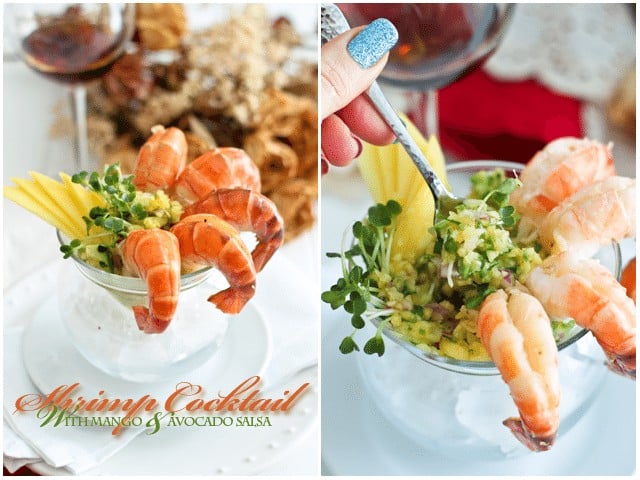 Shrimp cocktail would be a classic for Valentine's Day, I know. I haven't reinvented anything here.
However, you probably know by now that I really don't care for anything ketchupy-sauce-like, and shrimp cocktail sauce is no exception. In fact, this probably represents the worse combination ever for me. Most cocktail sauces have such a strong flavor that they literally take over and cover the delicate taste of the shrimp.
You might as well eat the cocktail sauce with a spoon and leave the shrimp!
For that reason, I decided to create a different kind of salsa to go with my shrimp. I gave this one a bit of a tropical flare by adding mango and avocado to it. I find those flavors marry very well with that of the shrimp without overpowering it.
And this salsa, you're probably gonna want to eat with a spoon, but only 'cuz it's that good!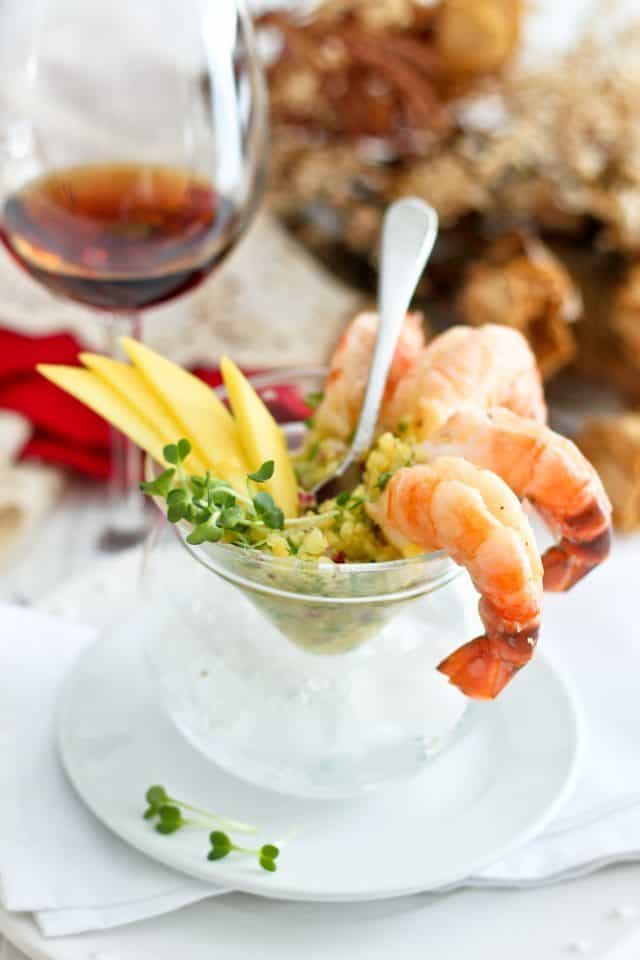 But hey, if you're traditional and would rather go with good old tomato cocktail sauce, go ahead and do that. You're not gonna hurt my feelings!
But you HAVE to give this poaching technique a try. It's totally worth it!
It's a technique that I just recently learned by watching the very sexy Michael Smith on TV.
The resulting shrimps are simply delicious, incredibly tender and oh so moist. It's simply the perfect shrimp cooking technique if you ask me!
And the beauty of this recipe is that you can make it a couple of hours in advance and have everything ready when comes time to eat.
In fact, the shrimp you DO have to cook ahead of time to allow time for cooling. But you could very well poach them the day before and let them cool overnight; they'll only be that much better!
As for the salsa, it can very well sit in the fridge for a couple of hours and would probably benefit from it too. Don't make it too long ahead of time, though. You wouldn't want the avocado to turn yucky and brown on you!
I don't think your cherished one would be too impressed either if that were to happen!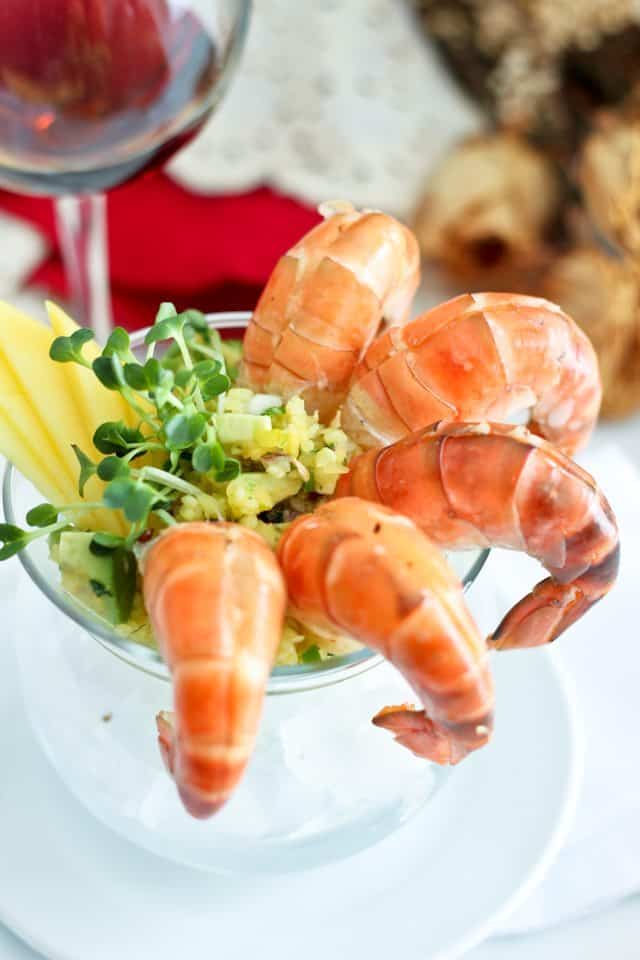 As for me, well, seeing as how I don't have a Valentine to share this with, I ended up eating it all by my lonesome, sitting at the corner of a real messy table, right after the shoot.
Not too romantic, I know. 😉 But it was so good, I didn't really mind!
Hopefully, you won't have to do like I did and will have a chance to make this and share with a special someone in your life.
But if like me you don't have a Valentine to share this with, I say you should totally make it still and treat yourself to it.
You're very well worth it, are you not?
Shrimp Cocktail with Mango Avocado Salsa
Servings: 2
Ingredients
Poached Shrimp
1 onion, sliced
2 cloves garlic, coarsely chopped
5-6 whole juniper berries
5-6 whole jamaican peppers
1 whole star anise
2 tbsp whole mustard seeds
1 tsp whole fennel seeds
½ tsp Himalayan or fine sea salt
½ tsp whole black peppercorns, or cracked pepper
2 bay leaves
3 cups water
The zest and juice of one orange
10 raw jumbo shrimp, cleaned, in shell (size 8-12)
Mango Avocado Salsa
1 ripe mango, peeled and pit removed
½ avocado, cut into small cubes
2 tbsp red onion, very finely chopped
1 jalapeno pepper, very finely chopped
2 tbsp fresh parsley, finely chopped
1 tbsp fresh ginger, grated
The juice of one lime
¼ tsp Himalayan or fine sea salt
Garnish Ideas
Slices of mango
Slices of avocado
Fresh flat parsley
Green sprouts
Slice of lime
Finely chopped jalapeno peppers
Instructions
Poached Shrimp
In a medium saucepan, add the onion, garlic and spices. Cook over low-medium heat until fragrant and the onions become translucent, about 4-5 minutes.

Add the water, zest and orange juice and bring to the boil. Reduce heat and continue cooking for a few minutes so the flavors can build.

Add the shrimp, stir and cover. Turn off the heat and let the shrimp rest for about 10 minutes.

Remove the shrimp and transfer to the fridge until completely cool, at least 2 hours.
Mango Avocado Salsa
Chop the mango into large chunks, and process it on pulse in a small food processor until it's broken down into tiny little pieces, just before it becomes a puree.

Transfer to a small mixing bowl.

Add the rest of the ingredients and mix well.
Assembly
Divide the salsa between 2 cocktail glasses and place 5 shrimps around the rim (you can shell the shrimp or not, your decision)

Garnish as desired and serve icy cold.
If you've tried this recipe, please take a minute to rate the recipe and let me know how things went for you in the comments below. It's always such a pleasure to hear from you!
You can also FOLLOW ME on PINTEREST, FACEBOOK, INSTAGRAM and TWITTER for more delicious, healthy recipes!