Chicken Pot-Au-Feu… Or how to warm up from the inside out on a crazy cold winter day!
Now that we've prepped some beautiful chicken breasts and made a delicious Low Fat Chicken Stock, we might as well just keep going and put all of that to good use, shall we not?
So how's about we continue right where we left off and make a super nutritious, slow cooking, warm-you-from-the-inside-out, Chicken Pot-Au-Feu?
I totally vote for that!
Can you think of anything better to warm your bones up on this über cold February day?
I can't.
For this, to me, would be the very definition of comfort food.
Nothing says home, or family meal, quite like a good Pot-au-Feu.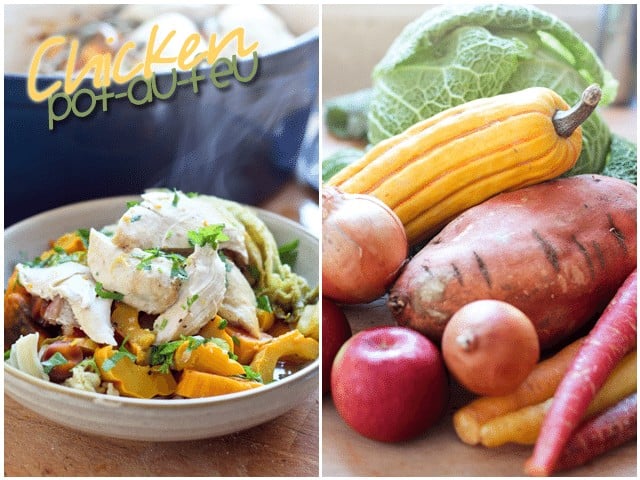 Even as a kid, this was a big favorite of mine.
I just loved how my dad added big wedges of cabbage to it. And the entire house smelled soooooooo good!
His version was quite different though and always included white potatoes, turnips, carrots, green beans (fresh from the garden, thank you very much!) and a huge, super thick slab of really fatty beef…
I remember how we use to soak up all the juices at the bottom of our plate with a nice piece of crusty whole wheat bread (hey, if there's one thing mom ALWAYS insisted on, it was that the bread be whole wheat! Thanks for that, Mom!) or by smashing our potatoes in it.
Such fond memories…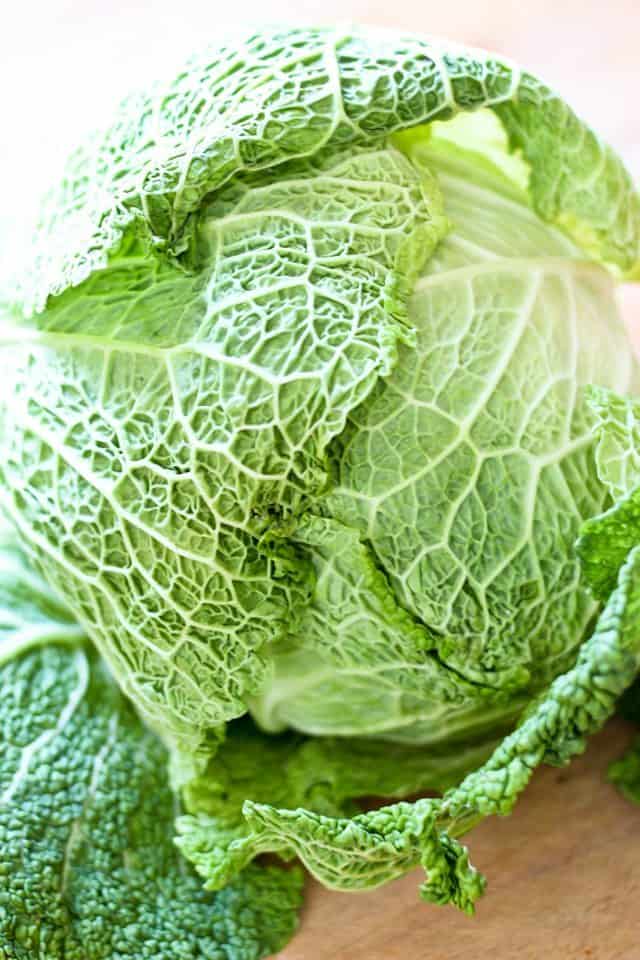 To me, this guy has always been the true star of this dish: a beautiful, fresh and crisp Savoy Cabbage.
Oh, how I love me a nice big wedge of cooked cabbage, infused with all the beautiful flavors of that precious cooking liquid.
For as far as I can remember, it's always been my favorite part of Pot-au-Feu.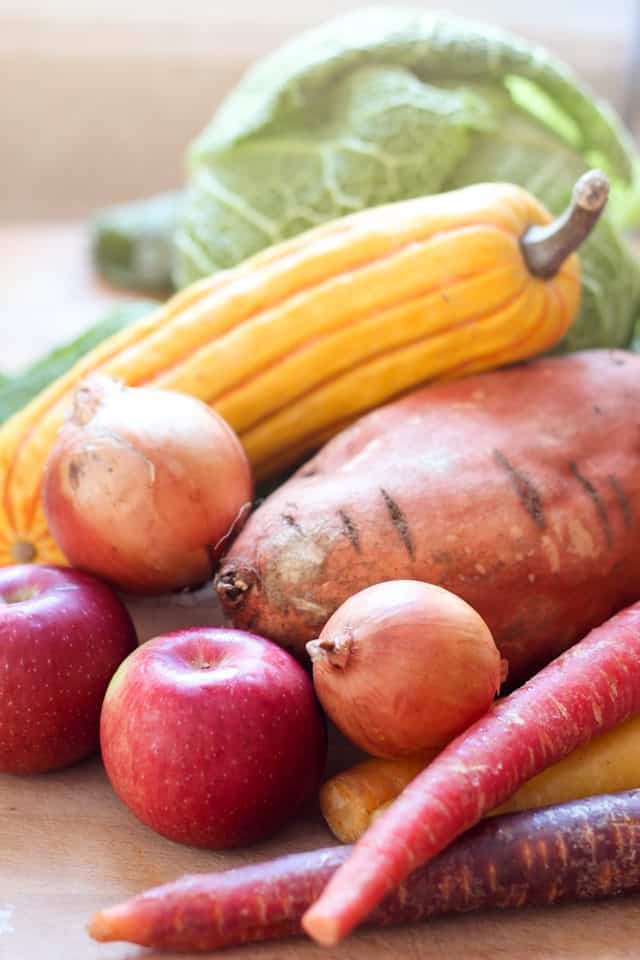 Of course, you need a few more players to make this dish complete. And while cabbage is an absolute must, to me at least, you can really have fun and build all kinds of unique flavors by playing around with the rest of the ingredients.
This time, I chose to add a few red apples, multicolored carrots, yellow onions, a beautiful bright orange sweet potato as well as the very pretty yellow fleshed delicata squash.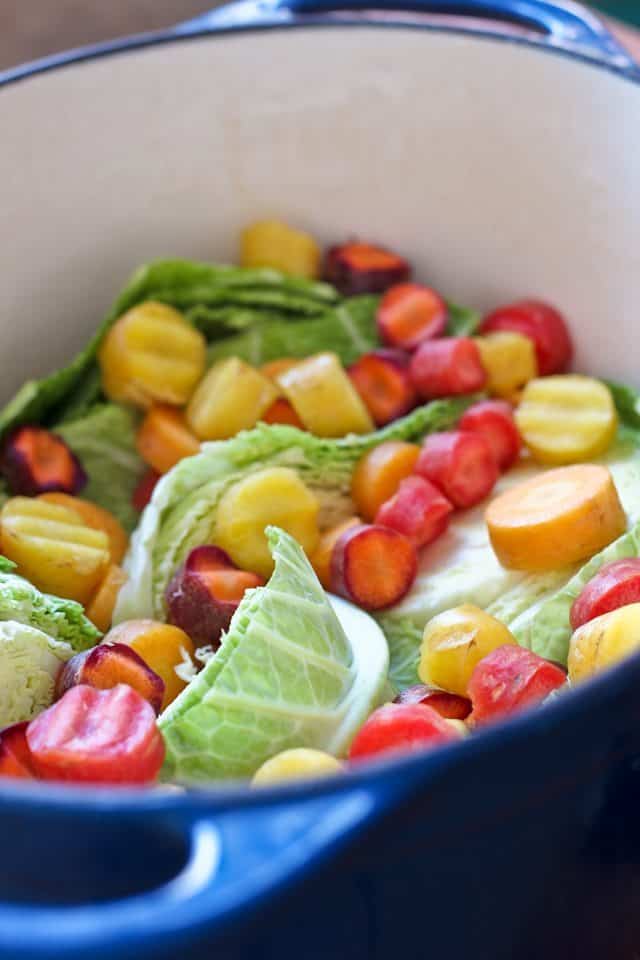 I like to start by laying the cabbage wedges at the bottom of my Dutch Oven.
I then continue with the carrot slices. Aren't those multicolored carrots absolutely spectacular?
It already looks SO good!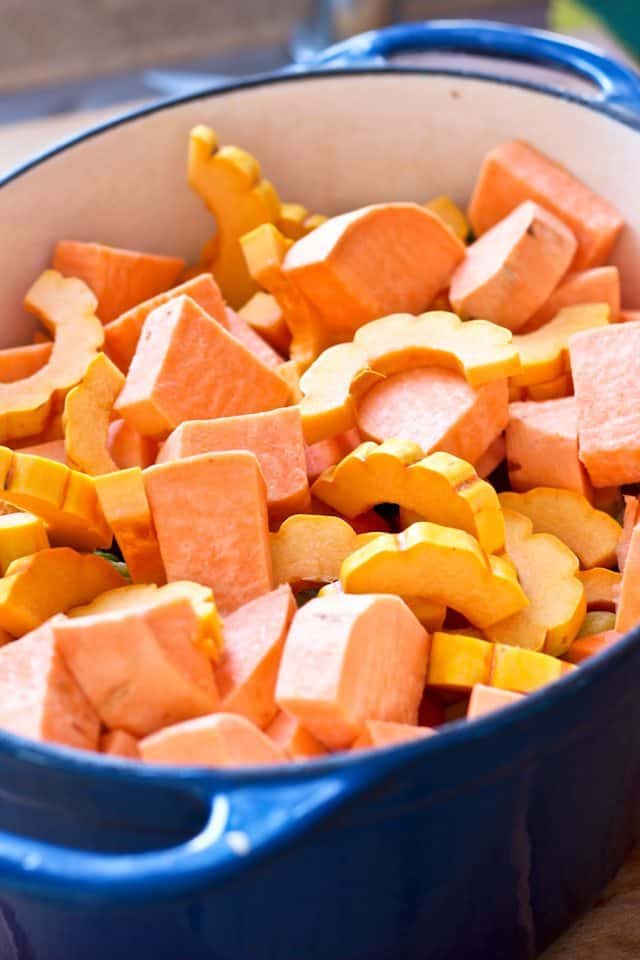 I then threw in the sweet potatoes and delicata squash. They look like little slices of sunshine.
Now, if you're not familiar with delicata squash, know that the skin is entirely edible. Although it might look a bit tough in its raw state, the skin is does soften up after it's been cooked and becomes completely unnoticeable.
That means you don't even have to bother peeling it! How cool is that?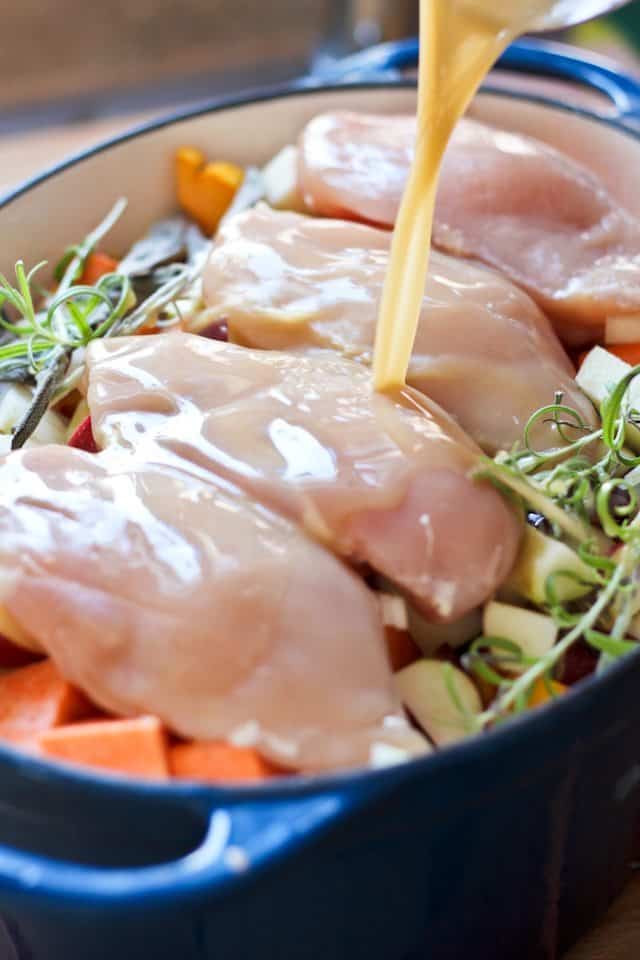 The rest of ingredients went in, including the onions, apples, herbs, and chicken breasts.
Finally, that wonderful cooking liquid got to add the final touch.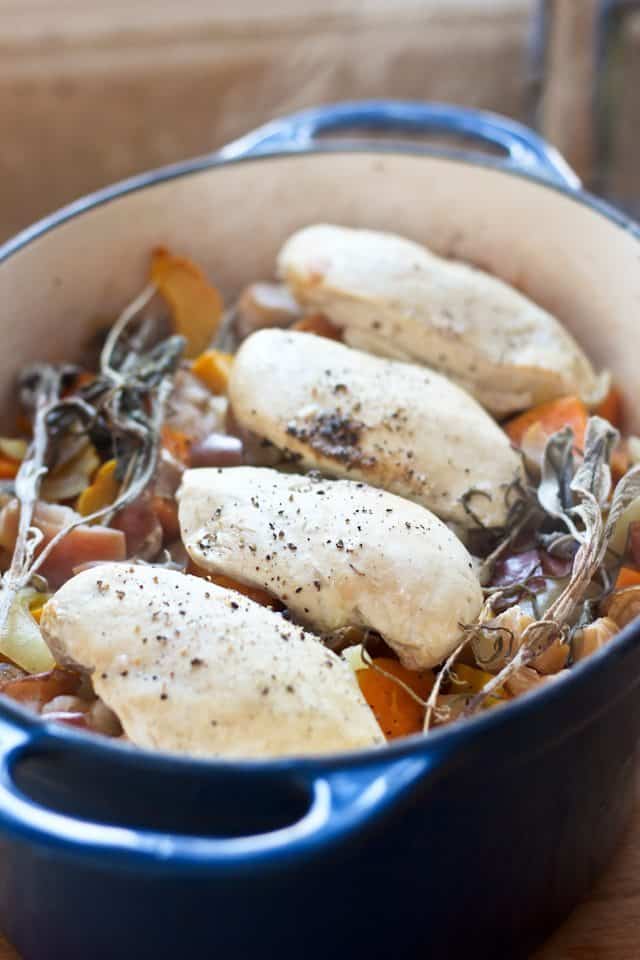 After an hour or so in the oven, this is what you get.
BRILLIANT!
I just want to dig right in. Quick, I need a plate!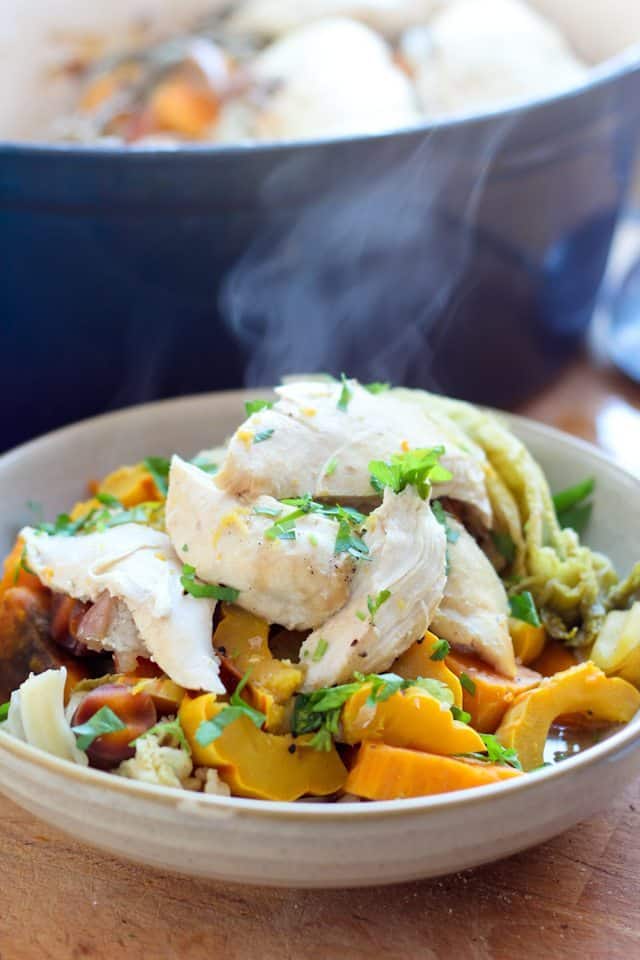 Aaaaaaah! This is what I'm talking about. Gorgeous, steamy hot and ready to eat.
Steam bath anyone?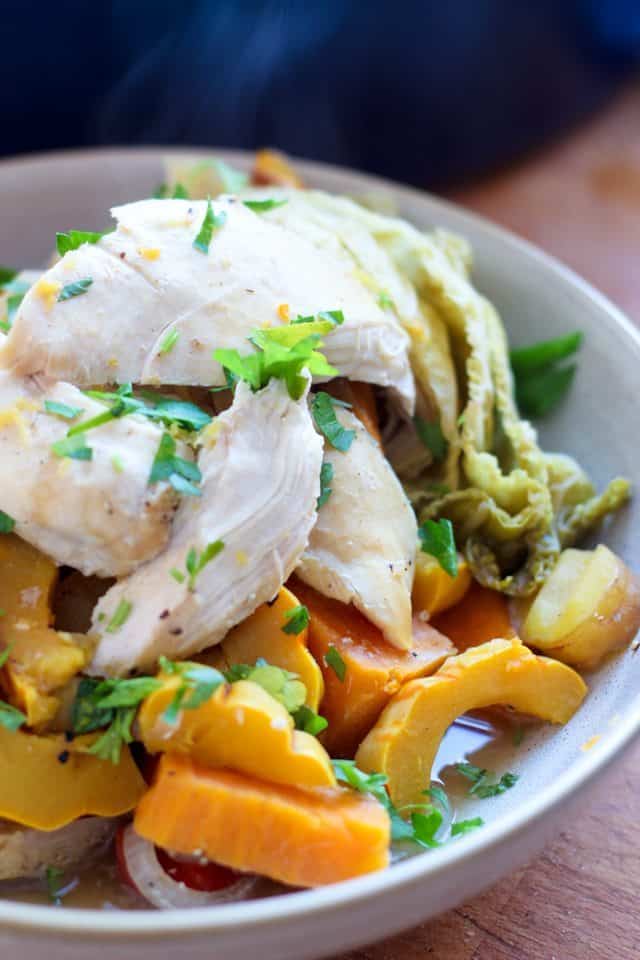 Oh, I wish you could smell this…
The entire house was smelling crazy good, unreal.
Hey, who needs air fresheners? Just get busy cooking! That'll do the trick! 😉
Chicken Pot-au-Feu
Servings: 4
Ingredients
4 medium skinless, boneless chicken breast
1 large savoy cabbage
1 large sweet potato
1 large delicata squash
2 small yellow onions
2 red apples
4 carrots, I used multicolored
4 cups low fat chicken stock
¾ tsp Himalayan or fine sea salt
¾ tsp black pepper
2 tbsp Dijon mustard
a few sprigs fresh herbs, rosemary, tarragon, sage or thyme work beautifully
Instructions
Preheat your oven to 375F

Remove but don't discard the outer leaves from the cabbage; cut it into 8 equal wedges.

Peel the sweet potato and cut it into large chunks.

Cut the delicata squash in half lengthwise; scoop out the seeds with a spoon and cut it into approximately ½" thick slices.

Peel and slice the onions; brush the carrots under running water, remove the ends and cut them into nice thick slices.

Cut the apples in half, remove the core and cut them into fairly large chunks.

In a large measuring cup (or other container equipped with a spout) mix the chicken stock, salt, pepper and Dijon mustard with a whisk; reserve

In a large Dutch Oven (or large oven safe stock pot), lay the cabbage wedges at the bottom in a single layer.

Add, in layers, carrots, sweet potatoes, delicata squash, onions and apples.

Top with chicken breasts and a few sprigs of fresh herbs.

Pour in reserved stock and cover with reserved outer cabbage leaves to help keep moisture in.

Put the lid on and cook in a 375F oven for an hour to an hour and a half, until the vegetables are fork tender.

Plate, garnish with a little bit of fresh parsley and serve steaming hot!
Nutrition
Calories: 450kcal, Carbohydrates: 55g, Protein: 49g, Fat: 6g, Saturated Fat: 1g, Cholesterol: 120mg, Sodium: 1798mg, Potassium: 2168mg, Fiber: 15g, Sugar: 24g, Vitamin A: 18705IU, Vitamin C: 99mg, Calcium: 181mg, Iron: 3mg
If you've tried this recipe, please take a minute to rate the recipe and let me know how things went for you in the comments below. It's always such a pleasure to hear from you!
You can also FOLLOW ME on PINTEREST, FACEBOOK, INSTAGRAM and TWITTER for more delicious, healthy recipes!