Maple Glazed Spicy Apple Roasted Turkey [and taking a bit of a load off…]
I have a confession to make: I really suck as a food blogger.
Big time!
I mean, sure, I can come up with fairly interesting recipes and post them here on a regular basis. I'm also capable of taking somewhat decent pictures in an effort to portray said recipes under their best light.
So basically, I know how to write and publish a post… Woopty Doo!
But that's about where it ends.
I am absolutely useless when it comes to all the technical "behind the scene" stuff.
After a couple of years of playing it by ear, I sort of feel like this place has become a complete mess and I have no idea how to clean it up efficiently. I now REALLY need to start reading up on the subject; there's like a million things that I HAVE to learn and I just can't put it off no more. But sometimes, I feel like the task at hand is so overwhelming, I almost feel like plain giving up on the whole thing.
The problem is I simply don't have the patience for learning all this. It's all like gibberish to me and my not catching any of it makes me feel like I'm a complete ignorant.
To be honest, I don't have much interest for it either. I wish I could just hire someone to do it for me. Perhaps it's because I'm afraid. I'm afraid that if I dare touch the slightest little thing, the whole site will come crumbling down on me.
Or plain cease functioning.
Or worse… vanish into thin air!
Would you believe me if I told you that I wouldn't even know how to back-up my own blog? Seriously! I've never, not once, performed a back-up of my site. I imagine that this is being done automatically, but I can't even be sure of it.
Yeah! It's that bad! Scary, I know.
I think I need some serious help, and SOON. Guess I'm gonna have to spend a little bit less time blogging and more time learning how to blog.
And just to help matters, I feel like I'm way behind on everything…
Emails seem to be piling up in my inbox, I can't keep up anymore (sorry to all of you who are waiting for an answer on my part… I'm trying my best to get back to you, I swear!)
Seriously, I'm so behind, I'm not even done sharing all of my Easter recipes.
I think I might have a little too much on my plate… 😉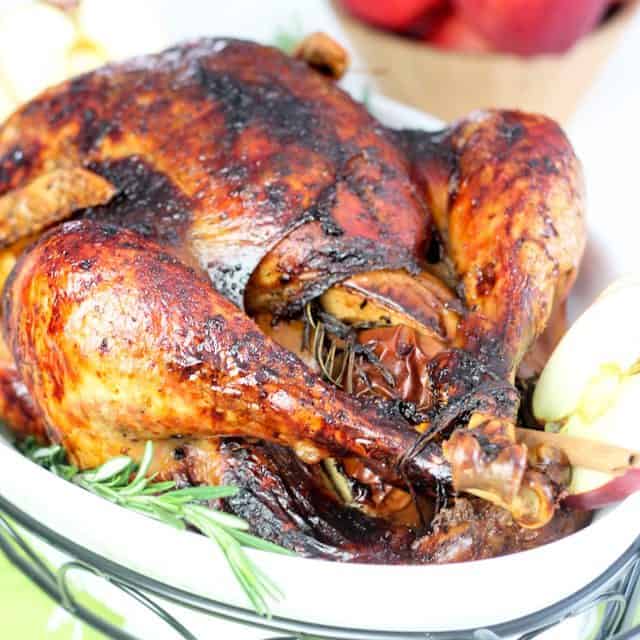 So anyway, enough jabbering for tonight; Thanks for listening, though. I feel much better just having talked about it.
But let's get on with the foods, shall we?
After all, this post was supposed to be about a Spicy Apple Roasted Turkey, was it not?
And about that, I need to apologize for the poor quality of the pictures that I'm sharing with you today…
As you can see, my guests had already arrived by the time I got ready to shoot and I felt it was sort of rude to be snapping away at my food while they were actually eagerly waiting to regale on it.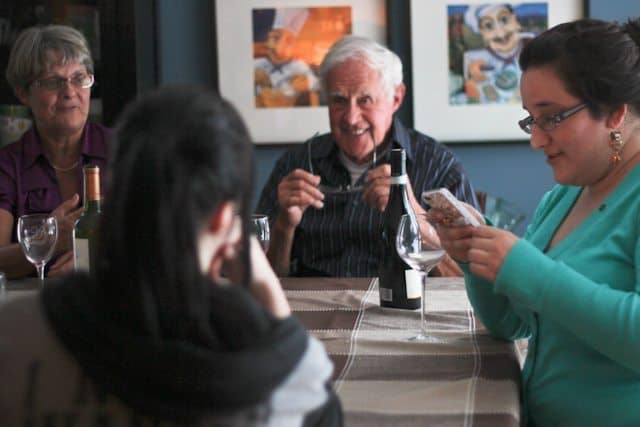 So I cut the photo session a little way short and kept things to a bare minimum…
Doesn't mean that the food wasn't good though.
It sure got my daughter's seal of approval!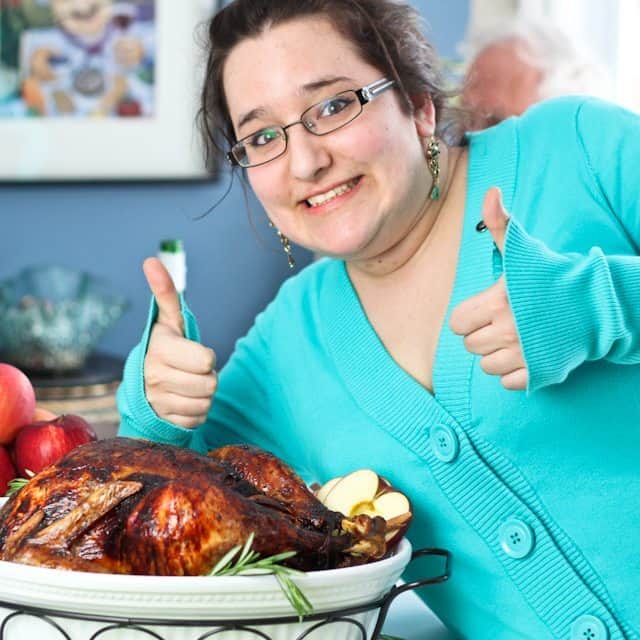 And I honestly think that her thumbs spoke for the rest of us…
I don't think I need to add anything here.
Tasha said it all!
Maple Glazed Spicy Apple Turkey
Ingredients
1- 10 to 15 pound fresh turkey
For the wet rub
2 tbsp pure maple syrup
1 tsp Himalayan or unrefined sea salt
1 tsp freshly cracked black pepper
½ tsp chai spice, see this post for the mix
1 tsp fresh rosemary, finely chopped
To stuff the cavity
3-4 large red apples, cut into quarters (I used Fuji)
2-3 sprigs fresh rosemary
To be added to the roasting pan
½ cup pure maple syrup
2 cups all natural, unsweetened apple juice
2 whole star anise
2 whole cinnamon stick
Instructions
The previous day, combine the ingredients for the wet rub in a small mixing bowl. Stir with a spoon until well combined.

Pat the bird dry and carefully loosen the skin from the breast by delicately sliding your fingers under it from the neck end until you reach the end of the breasts. Be careful not to break the skin. Rub half of the spice mixture between the flesh and skin. Rub the other half all over the bird's skin, including breasts, thighs and wings.

Cover the turkey with plastic film and set it in the fridge to rest until the next day.

Preheat oven to 325F

Remove turkey from the fridge and place it on a rack in a roasting pan.

Stuff quartered apples as well as a few sprigs of fresh rosemary in the cavity. Tie legs neatly together.

Add maple syrup, apple juice, star anise and cinnamon stick to the bottom of the pan. Sprinkle bird generously with salt and pepper. Tent loosely with foil and roast in a 325F oven for about 20 minutes per pound or until a thermometer inserted into the thickest part of thighs registers 180F

Remove the foil for the last hour of roasting.

When turkey is done, take it out of the oven, place tent back over the bird and let it rest for 20-30 minutes before carving.

Oh, and by all means, do not chuck those baked apples; eat them. They are absolutely spectacular!
If you've tried this recipe, please take a minute to rate the recipe and let me know how things went for you in the comments below. It's always such a pleasure to hear from you!
You can also FOLLOW ME on PINTEREST, FACEBOOK, INSTAGRAM and TWITTER for more delicious, healthy recipes!