Coconut Magic Brownie Bars
OMG, guys.
Are you as excited as I am?
It's been so long since I last posted a dessert recipe, I'd almost forgotten how very enthusiastic they make me feel!
Or maybe it feels so special this time essentially BECAUSE it's been so long?
Or maybe I'm so excited because this recipe is so particularly awesome?
I know I've been teasing you with these for a while now… and you all know that I know that you know that I've got another amazing dessert recipe coming, too…
But we do have to start with one, don't we?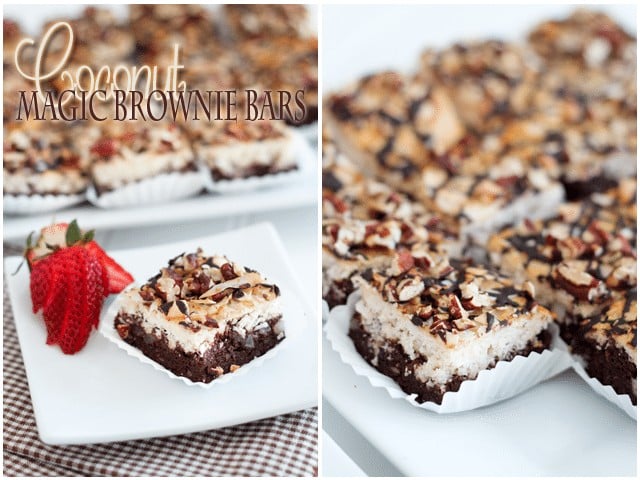 So I've decided to start with the brownies.
Save the best for last? Or start with my favorite?
Honestly, between the two, I couldn't decide.
One thing I can tell you though is the minute I set eyes on the picture that inspired these brownies, I KNEW that I would have to try them, and the sooner the better.
That held so very true that despite the fact that I had originally planned on making crazy decadent brownies, (complete with Nutella, Condensed Milk and Chocolate Chips) to break my "Lenten Fast", I opted on making these guys instead.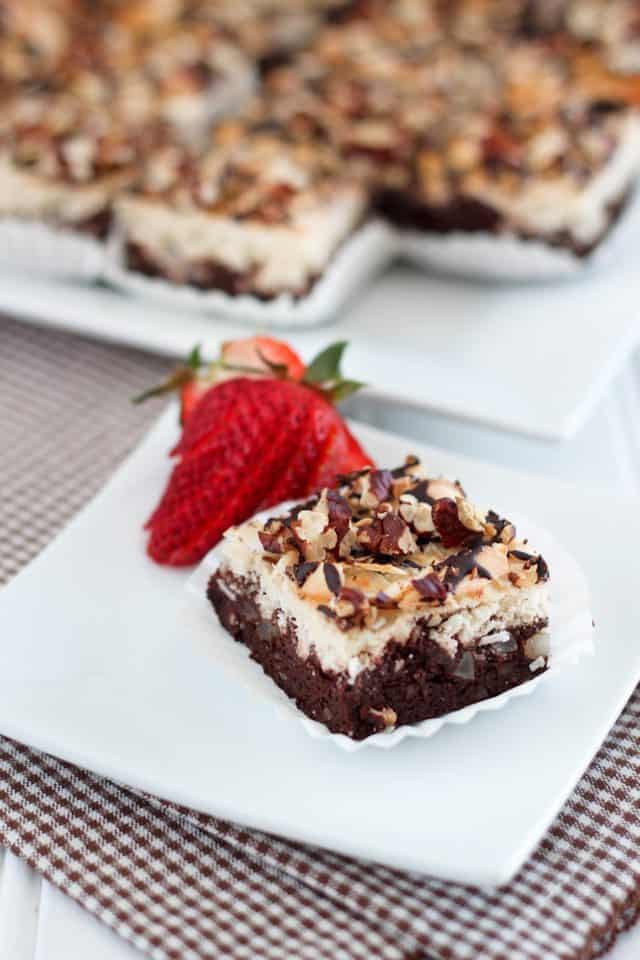 And I did not regret my decision one tiny little bit.
First off, it was MUCH better for my health, of course!
And seriously, these brownies, I swear, they ARE as good as they look.
Although they turned out to be a little bit more cake-y than I normally care for (I like my brownies REAL dense and fudge-y), these little squares of heaven really delivered in the taste department!
They have such an amazing and intense chocolate flavor that is ever so brilliantly and generously completed with that of the coconut.
Can you say Almond Joy? Oh yeah! Trust me, you do get LOADS of coconut with every bite.
And that coconut not only adds flavor, but also plays a major role as far as texture goes…
Look at how thick that top layer is!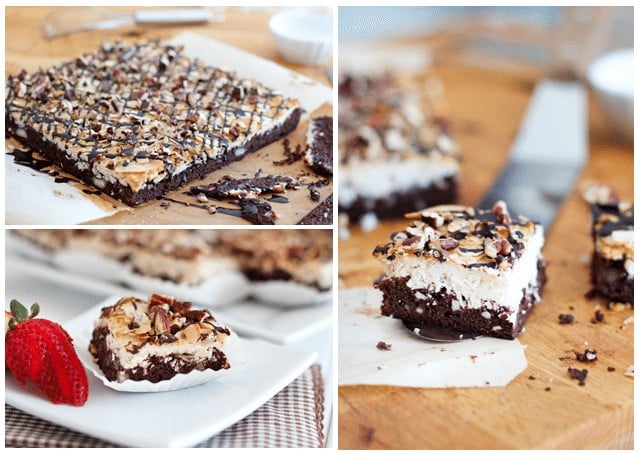 Although it might look awfully thin and insufficient when you first spread it, that coconut layer seems to just poof up in the oven and just like that, turns into that tick, super satisfactory layer of awesome chewy tasty goodness.
For a little bit of extra crunch, I chose to add macadamia nuts to my chocolate batter. I also opted to top the bars with a little bit of toasted pecans and a drizzle of chocolate, mostly for looks!
Everything looks that much better with a drizzle of chocolate, doesn't it?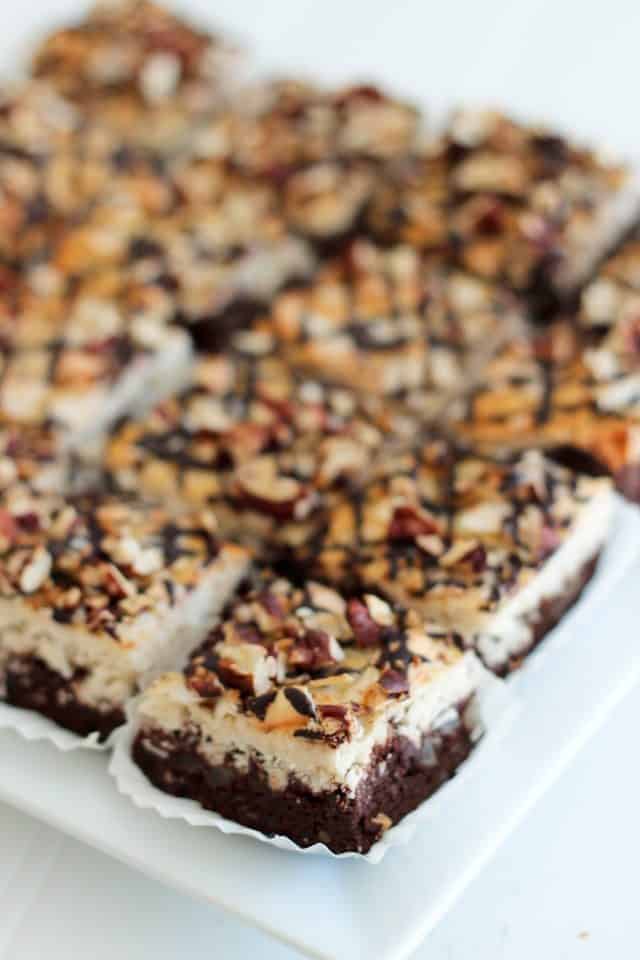 All in all, I say this is one brilliant brownie recipe, a definite keeper!
And don't be put off by how extensive and time consuming this recipe appears to be , they are actually quite easy to make.
I think the hardest part, really, is to wait patiently until the brownies have chilled long enough to be cut into squares.
And you know what?
I get the feeling that these guys would be equally good served warm…
So there you go, I just cut off the hardest step for ya!
Can't say I'm not good to you now, can you? 
Coconut Magic Brownie Bars
Servings: 16 brownies
Ingredients
For the drizzle
1 tbsp extra dark cocoa powder
1 tbsp extra-virgin coconut oil, melted
1 tsp unpasteurized liquid honey
Instructions
Preheat your oven to 365F. Lightly brush a 9" square baking pan with coconut oil and line pan with parchment paper, leaving enough extra to extend over the sides.

In the bowl of your food processor, combine date paste, avocado, eggs, honey and vanilla and process until smooth and creamy.

Meanwhile, in a separate bowl, mix together with a whisk the coconut flour, cocoa powder, salt, cream of tartar and baking soda.

Add this flour mixture to the food processor and process until all ingredients are well incorporated, no more.

Add macadamia nuts and pulse a few times just to break them into sligthly smaller pieces and mix them in with the batter. Pour that batter into your prepared pan and spread evenly; set aside.

Now we need to work on the top layer. In the bowl of your food processor (you might want to rinse it first) add the shredded coconut, coconut oil, coconut butter, and honey and process to combine.

In a medium clean bowl, whisk the egg whites until they become very frothy, like soft peak consistency; Fold in the shredded coconut mixture and pour that over the reserved chocolate layer.

Again, spread as evenly as you possibly can while being careful not to disturb the bottom layer.

Place brownies in the oven and bake for approximately 20-22 minutes or until top is nice and golden.

Set brownies on a wire rack to cool for about an hour then finish cooling in the refrigerator for at lest 6 hours, preferably overnight.

To make the drizzle, mix cocoa powder, melted coconut oil and honey together in a small mixing bowl until smooth.

Transfer that chocolate sauce into a squeeze bottle. Carefully lift brownies from pan and drizzle chocolate sauce all over them. Sprinkle chopped pecans and cut into squares.

These will keep in the refrigerator in an airtight container for up to a week. (If you are able to keep them that long, that is!)
If you've tried this recipe, please take a minute to rate the recipe and let me know how things went for you in the comments below. It's always such a pleasure to hear from you!
You can also FOLLOW ME on PINTEREST, FACEBOOK, INSTAGRAM and TWITTER for more delicious, healthy recipes!