Stuffed Bell Peppers [or meatloaf in a bell pepper]
Since we're already on the subject of stuffed things, thanks to the Egg, Avocado and Bacon Stuffed Fresh Tomatoes that I just served you, I figured why not keep going in that same direction and do Stuffed Bell Peppers this time?
It makes for some sort of a continuity, doesn't it?
Mind you, while my tomatoes looked really elegant and sophisticated, I find it's darn near impossible to make stuffed bell peppers look stunningly pretty.
Unless you don't cook them all that much, that is… for raw bell peppers do look pretty yummy.
But put them in the oven for an hour or so?  There's just no way they're gonna come out of there looking all nice and fresh and plump and colorful and bright.
They invariably get kind of soft and wrinkly, on top of losing much of their vibrant color.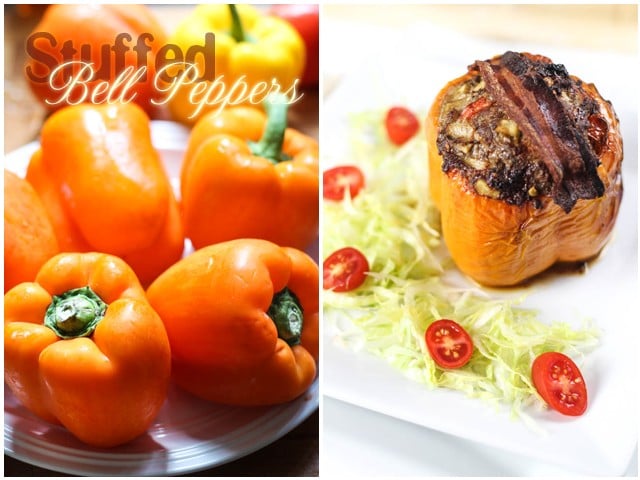 In fact, I find they come out of there looking so ill equipped in the looks department that I'm not even sure bacon can really help save 'em poor things.
At least not as far as presentation is concerned…
I think they probably looked better before they were cooked, as you can see in this picture that I shared on Instagram just as I was about to put them in the oven.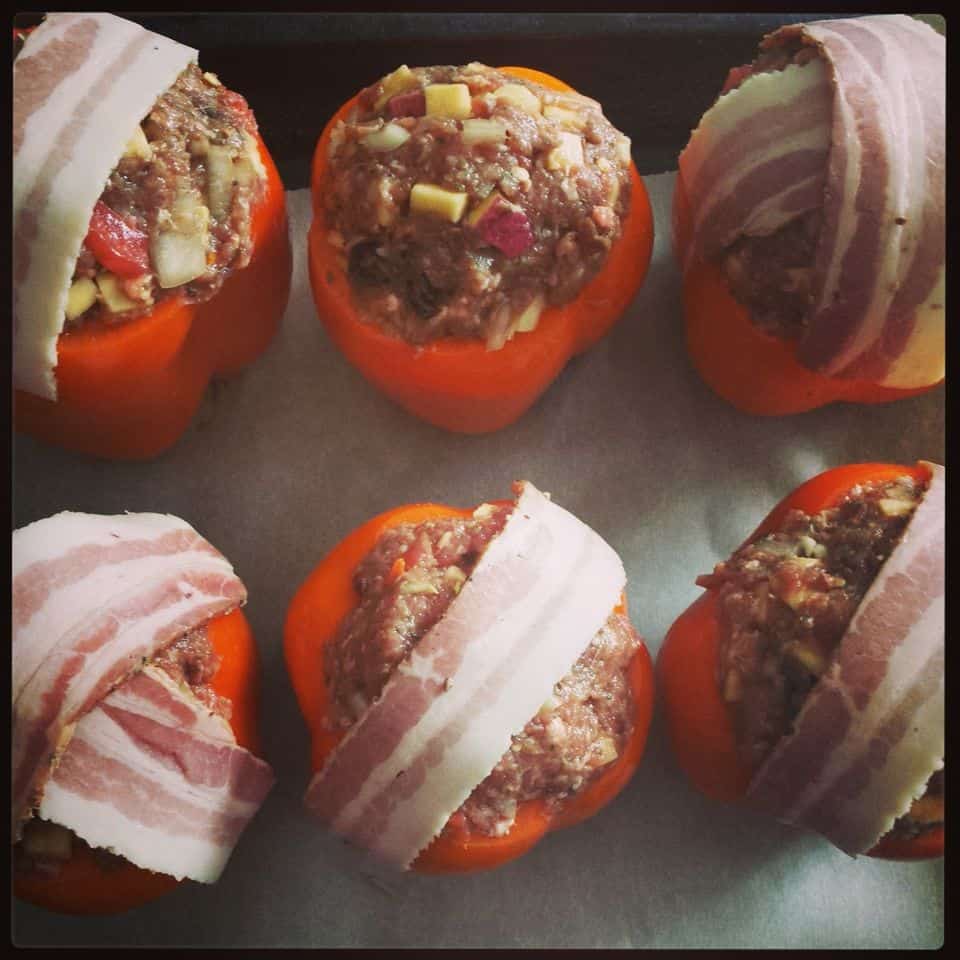 Flavor wise, though, the presence of bacon is a whole different story!
For really, bacon will make ANYTHING better, won't it? And yeah, perhaps even prettier, too… perhaps!
Unfortunately, it doesn't give these poor fellows their color back, though.
Don't you find it fascinating how peppers can go from the bright orange pictured above to the very yellow yellow portrayed below?
Not that there's anything wrong with yellow, mind you, but I bet if you hadn't seen the raw orange peppers, you'd swear I'd used yellow bell peppers to start with.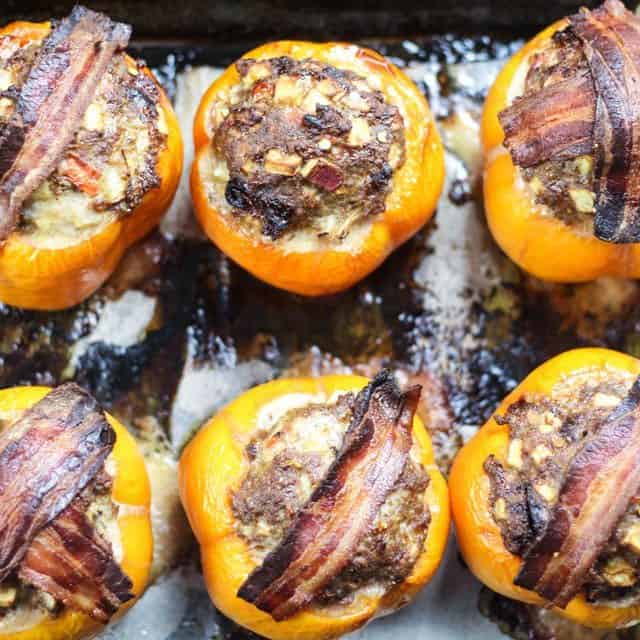 But hey, no matter what color or how wrinkly they become, something has to be said for bell peppers that spent close to an hour in the oven… They do, after all, become really soft and sweet and almost creamy in consistency; they sort of melt in your mouth.
And that beautiful creamy sweetness contrasts wonderfully well with the beefiness of the meat that's inside them.
While most people prefer to cook their meat before stuffing it in the peppers' cavities, I like to stuff mine with raw meat and pack it rather tightly, too. This results in something resembling a meatloaf that's been cooked inside a bell pepper.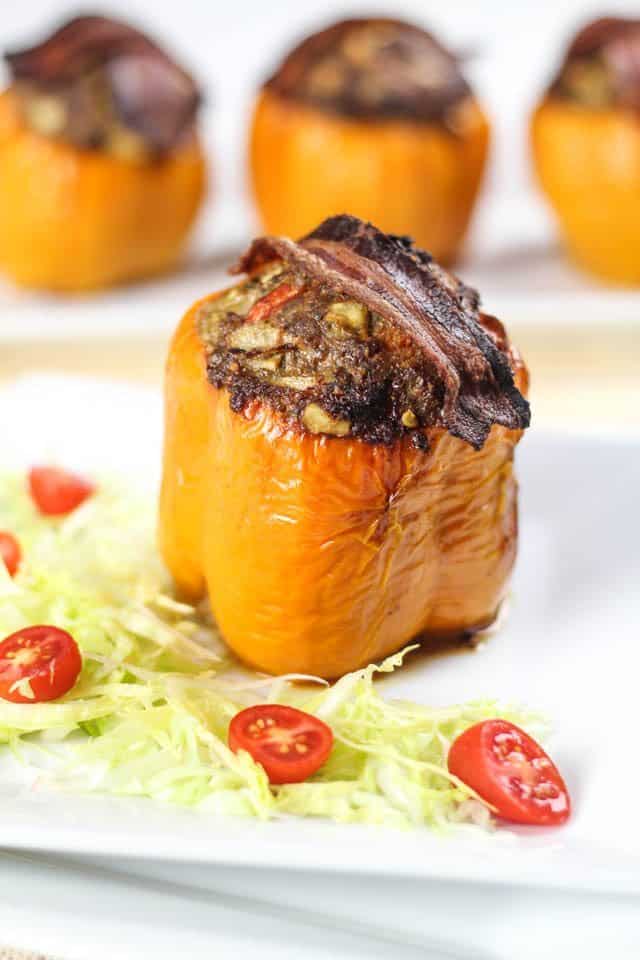 Meatloaf in a bell pepper? I say that, can't be bad.
Especially not if you are going to top it with bacon.
And hey, even if you happen to be short on bacon like I was, don't go running to the market to buy more. For you see, even the poor little guy that didn't get his share of bacon got to be eaten.
And it was liked just as much as all the other guys, too.
Only it didn't get to be saved for last…
Stuffed Bell Peppers
Servings: 6 stuffed peppers
Ingredients
900 g ground grassfed beef
1 medium onion, finely chopped
1 red sweet potato, cut into tiny cubes (the standard orange variety would also do the trick if you can't find the red)
1 fresh tomato, cut into small cubes
3 cloves garlic, minced
1 tsp salt
½ tsp white pepper
1 tsp onion powder
3 tbsp Dijon mustard
½ tsp chili pepper flakes
2 tbsp dried oregano
1 tbsp dried thyme
2 tbsp dried parsley
1 tbsp ground coriander seeds
Generous grating fresh nutmeg, a little more than half a nut
¼ cup sun dried tomatoes, chopped
¼ cup extra virgin olive oil
2 whole eggs
6 bell peppers, I used orange but you can use whatever color you like
6 slices pastured bacon, cut in half crosswise
Instructions
Preheat the oven to 375F

In a large mixing bowl, add all the ingredients except for the bell peppers and bacon; mix really well with your hands, kneading until very well combined. Set aside.

Cut the tops off each pepper and pull out the stems and seeds. Cut off a very thin slice off the bottom of each pepper to level it so it stands up straight. Be careful not to cut a hole in the pepper: you really don't need to remove much at all!

Stuff the meat mixture into the cavity of each bell pepper, making sure that you pack it down real tight. Don't worry if you have too much stuffing, you can shape little mounds on top of your peppers; they'll only look that much better!

Top each stuffed pepper with 2 half slices of bacon, in a cross pattern, then place the peppers in a shallow baking dish lined with parchment paper.

Bake in the oven, uncovered, for 45 minutes then kill the heat and let the peppers sit in there for 10-15 minutes before serving.
If you've tried this recipe, please take a minute to rate the recipe and let me know how things went for you in the comments below. It's always such a pleasure to hear from you!
You can also FOLLOW ME on PINTEREST, FACEBOOK, INSTAGRAM and TWITTER for more delicious, healthy recipes!
Remove the tops and a very thin little slice off the bottom of the peppers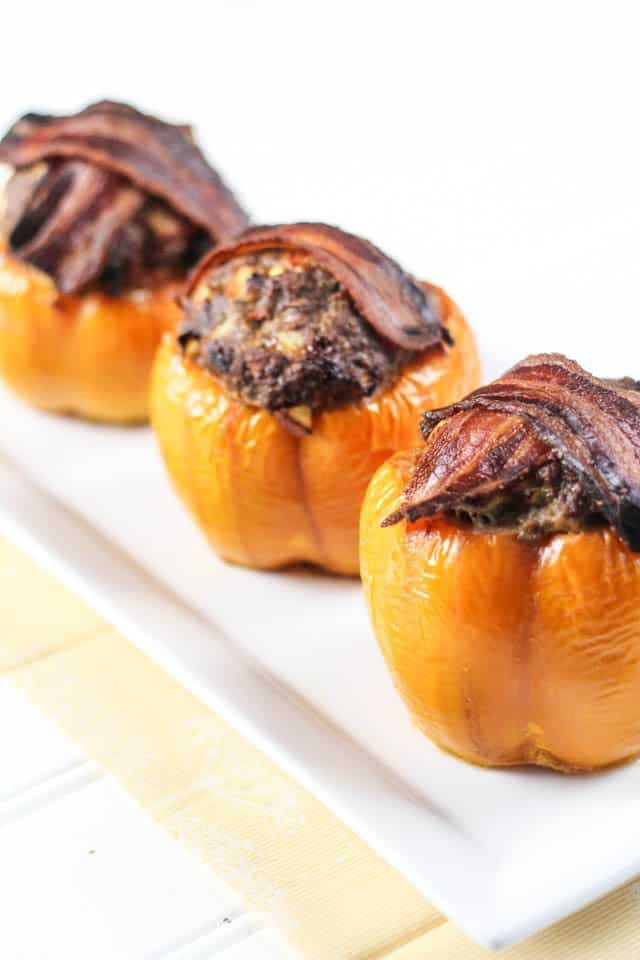 Showing their best side…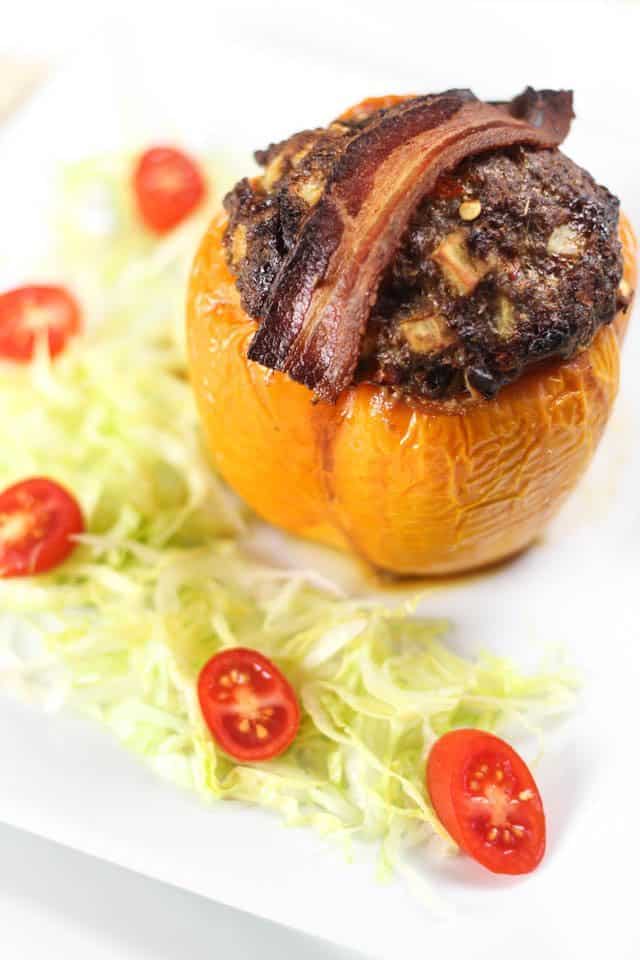 Can't say that beautiful crispy meaty top and BACON don't look yummy!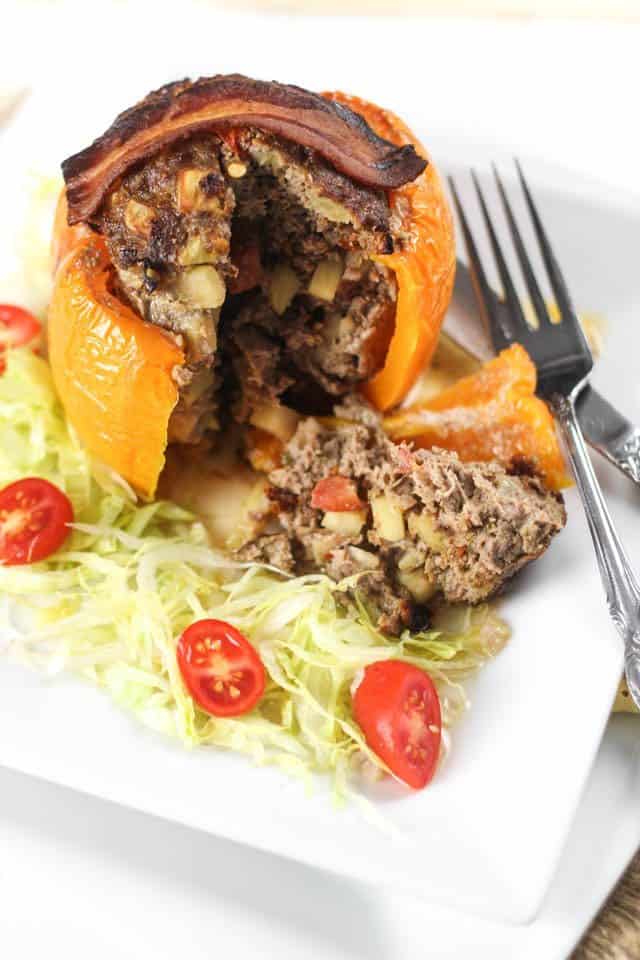 And look at all those pieces of sweet potatoes in the meat stuffing. 
That's meatloaf in a bell pepper for ya! 
I'm currently on day 39 of a [planned] 62 day challenge… and still going strong!