Fresh Stuffed Tomatoes – or the day California Tomato Farmers saved the day!
Life has a twisted sense of humor sometimes…
You see, I was one of the lucky few that got selected by the fine folks over at California Tomato Farmers  to try their delicious fresh tomatoes and create an original recipe that would really showcase the freshness and tastiness of their beautiful field grown fruits
Of course, they provided me with a sample of their precious crop. The goods were to be shipped to me all the way from sunny California where they'd had a chance to grow under the hot California sun, an environment that is so very well suited to growing tomatoes.
The precious shipment was initially scheduled to get here early in July, but there had been some delay, so I got them mid-July instead. Just in time for that memorable week-end where, you might remember, I was stuck without power for a little over 45 hours after a major storm hit the entire province of Québec.
Great. Now that was JUST GREAT! Exactly what I needed.
How was I supposed to come up with a decent recipe when I barely had any food to cook with, no running water and had to open the fridge as little as possible if I was hoping to save the little bit of food that I had left in there? Thank goodness AT LEAST I have a gas range!
Initially, I figured I would wait it out and hopefully, the power would be back soon enough for me to work on this assignment.
But it seems like faith saw things differently. It soon became clear to me that I would have to make do with the situation and come up with some kind of idea as to how to make tomatoes shine under less than ideal life circumstances.
Since I had to use whatever food I had in the fridge (which really wasn't much) I started making a mental list of what I had in there and came up with a plan!
Not just any plan… A brilliant plan.
And, you know what?
California Tomatoes might very well have ended up saving the day that day, after all!
For take a look at the delicious dinner I got to enjoy that night!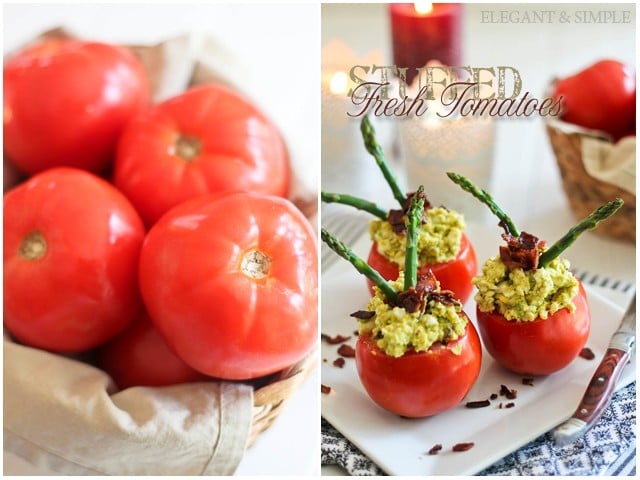 A few hard boiled eggs mashed together with a creamy ripe avocado, to which I added a few pieces of crumbled bacon. I stuffed all of that into some fresh tomatoes which I'd emptied out, garnished the whole thing with a few spears of asparagus, and I got dinner that was so fancy, you'd never guess that it was an "emergency meal".
In fact, I think it would make a very suitable appetizer for a romantic dinner for two.
Mind you, maybe it's the candlelight setting that I was forced to use that night that planted the idea into my mind… but still, you gotta admit this looks highly elegant and refined. Wouldn't you be delighted if your loved one to served this to you as a prelude to a delightful romantic dinner for the two of you?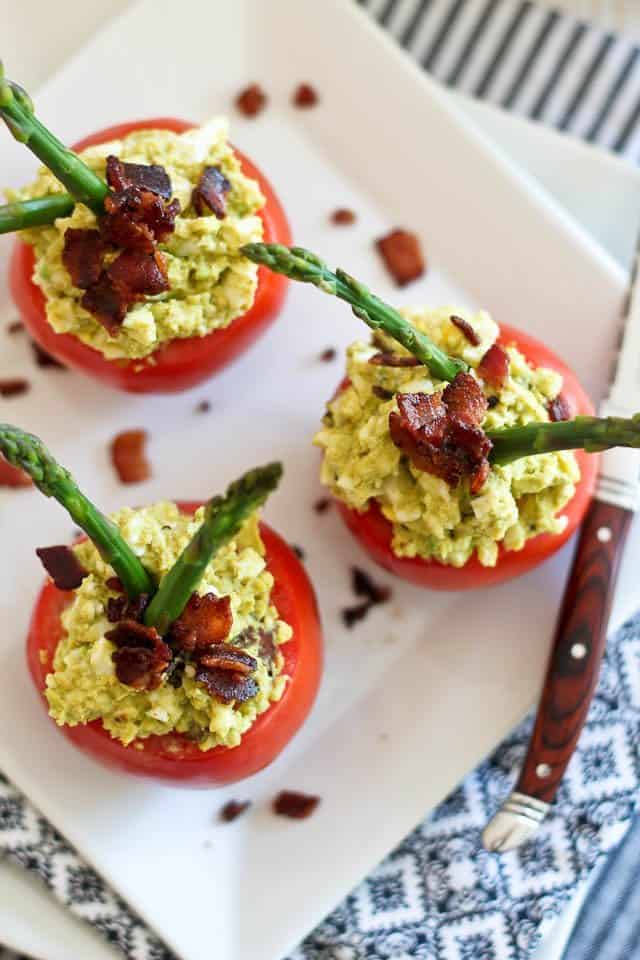 Only seriously, this is so crazy easy to make, you're probably gonna end up wanting to eat this all the time. Can you see what a fabulous breakfast this would be?
Simple, elegant, tasty and nutritious!
WIN!
Hey, who says you need to spend hours in the kitchen to come up with a fancy and delicious meal?
Nonsense. You don't even need electricity.
All you need are a few California Tomatoes! 😉
Now before you go, California Tomato Farmers  wants to give you a chance to win a cool serrated tomato knife and cutting board!
Want in on that?
Find out how at the end of this post…
Fresh Stuffed Tomatoes
Servings: 3 stuffed tomatoes
Ingredients
3 ripe medium California Tomatoes
4 hard boiled eggs
1 ripe avocado
1 cup baby spinach leaves, chopped
4 slices pastured bacon, cut crosswise into 1/4" pieces
6 asparagus tips, very lightly steamed and cooled
1 tbsp extra virgin olive oil
¼ tsp salt
¼ tsp freshly cracked black pepper
¼ tsp garlic powder
¼ tsp smoked paprika
Instructions
Cut-off the very top of the tomatoes and scoop out the flesh and seeds, being careful not to pierce the skin. Sprinkle salt and pepper in the cavity and drizzle a little bit of olive oil. Reserve.

In a heavy skillet set over medium heat, cook the bacon until nice and crispy. Remove to a plate lined with paper towel to absorb excess fat. Drain fat in a separate bowl, keeping about a tablespoon in the pan.

Add the spinach to the pan, sprinkle with salt and pepper and cook until wilted, about 30 seconds.

In a small mixing bowl, add the avocado, salt, pepper, garlic powder and paprika and mash with a fork or potato masher until smooth and creamy.

Add the hard boiled eggs and mix them in with the avocado mixture, using your fork or masher, until well incorporated. Stir in the bacon, but keep a few pieces to garnish your stuffed tomatoes.

Distribute the spinach between the 3 tomatoes and pack lightly.

Fill the rest of the cavity with the avocado egg mixture.

Garnish with the asparagus tips and the remaining bacon bits.

Serve immediately, candle lights optional!
If you've tried this recipe, please take a minute to rate the recipe and let me know how things went for you in the comments below. It's always such a pleasure to hear from you!
You can also FOLLOW ME on PINTEREST, FACEBOOK, INSTAGRAM and TWITTER for more delicious, healthy recipes!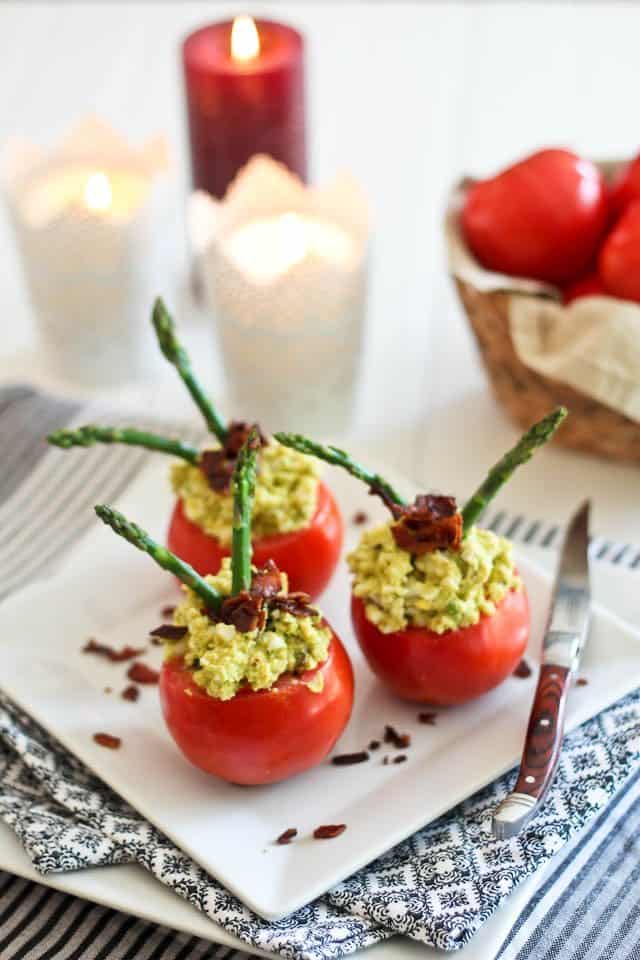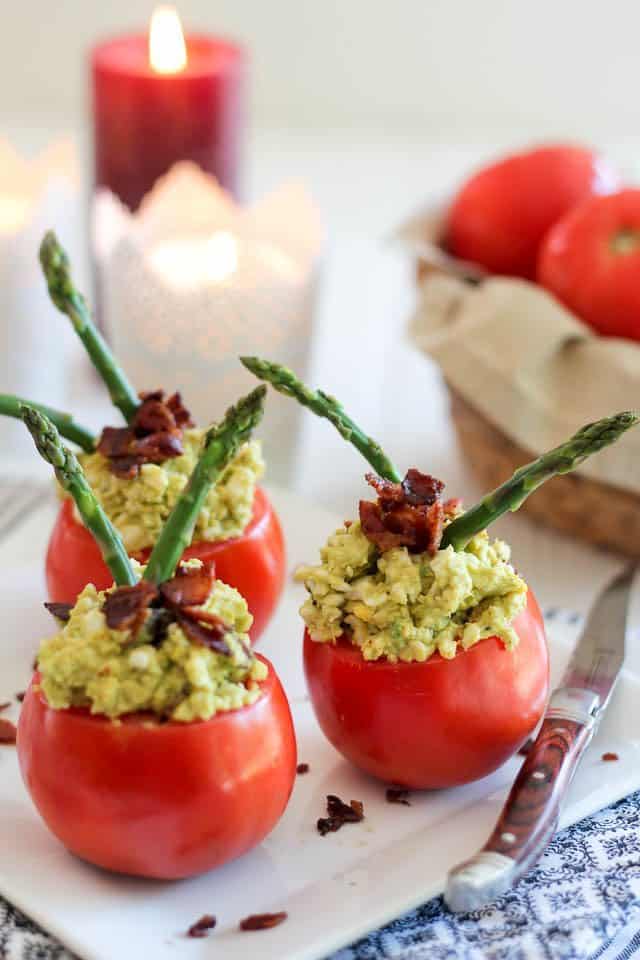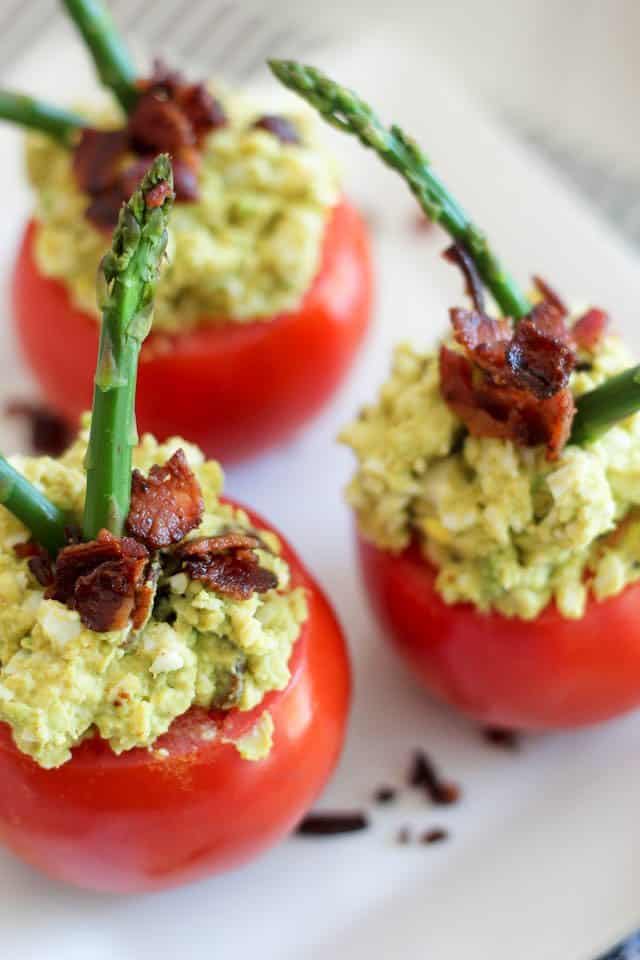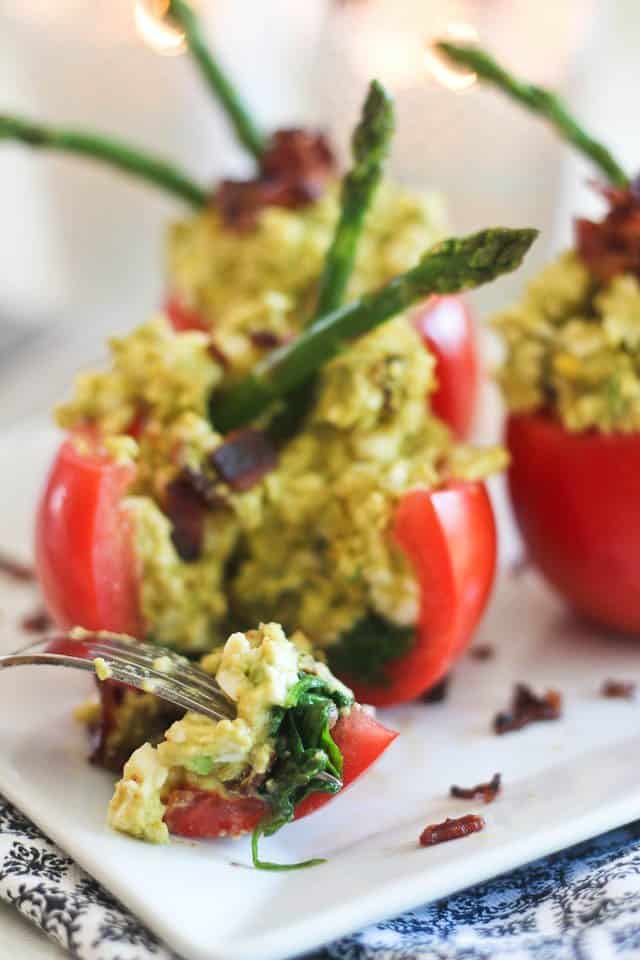 Rules:
No duplicate comments.
You may receive (2) total entries by selecting from the following entry methods:
a) Leave a comment telling us what recipe you like to make that showcases beautiful fresh tomatoes, or, if you'd rather have someone else cook for you, what's your favorite recipe that uses fresh tomatoes.
b) Tweet (public message) about this promotion; including exactly the following unique term in your tweet message: ""#SweepstakesEntry""; and leave the URL to that tweet in a comment on this post"
c) Blog about this promotion, including a disclosure that you are receiving a sweepstakes entry in exchange for writing the blog post, and leave the URL to that post in a comment on this post
d) To enter without commenting, read the official rules to learn about an alternate form of entry.
This giveaway is open to US and Canadian Residents (excluding Quebec) age 18 or older. Winners will be selected via random draw, and will be notified by e-mail and will have 72 hours to respond, otherwise a new winner will be selected.
The Official Rules are available here.
This sweepstakes runs from 8/6/2013 – 8/31/2013
Be sure to visit the California Tomato Farmers Page on BlogHer.com where you can read other bloggers' reviews and find more chances to win!
Like CTF on Facebook
Follow CTF on Twitter