Egg Casserole with Rapini and Prosciutto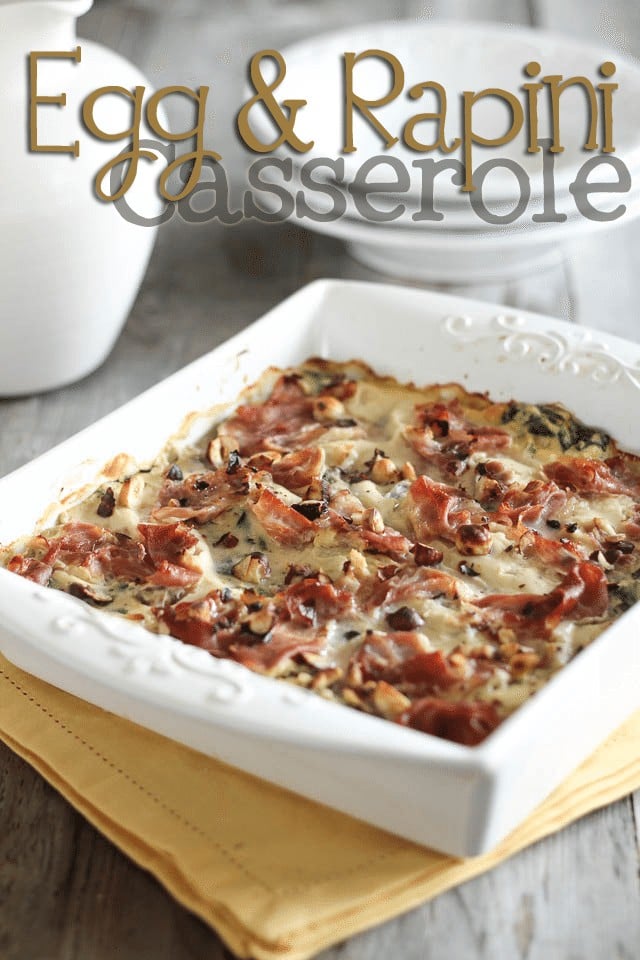 In an effort to gently coax my brains back into eating real food for breakfast again, instead of the Chocolate Pudding it's been craving demanding lately, I decided to treat it to a dish that reminds it a lot of our childhood: Egg Casserole in Bechamel Sauce.
Ha! now there's a dish that is deliciously warm and creamy, super comforting and real easy on the palate. Yes, even at 6 in the morning. I mean, hey, it's got eggs in it. And prosciutto! And a creamy white sauce!
All "breakfast" foods, right?
Soft eggs + cured ham + creamy sauce = warm and comforting dish = winning breakfast combination!
Don't you think? Yeah. I really thought so, too!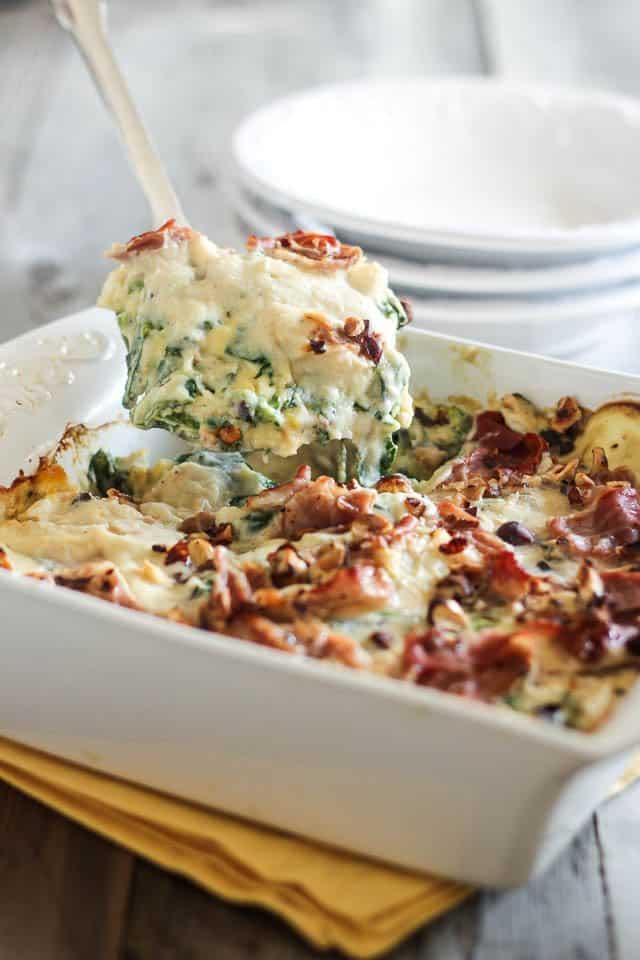 My brain and I have been eating this baby for 3 days straight now and when we go to bed at night, we envision that dish sitting in the fridge and look forward to getting up in the morning so we can enjoy a delicious serving.
VICTORY! I think my trick really worked!
Mind you, the trick might very well end up being on me because now my brain and I are enjoying this so much that I think I'll have no choice but to make it a part of my regular rotation.
Not that I have a problem with that… far from there. You see, the dish itself is fairly easy to make and doesn't take much time or effort at all. So I'm cool with that!
It's the egg peeling part that's a bit of a challenge for me. I'm telling you, there is something with me and hard boiled eggs. I think I must be jinxed or something. I almost NEVER manage to peel them easily and perfectly. It's ALWAYS a total disaster. No matter what I do or what trick I use, the shell seems to systematically cling to the egg and refuses to let go. I have to rip it off, minute piece by minute piece, which is a very daunting, time consuming and dangerously nerve-wracking task that I would very gladly do without.
See for yourself! I'm sure many of you can relate, judging by the response I got when I posted this on Facebook. Glad to know I'm not alone!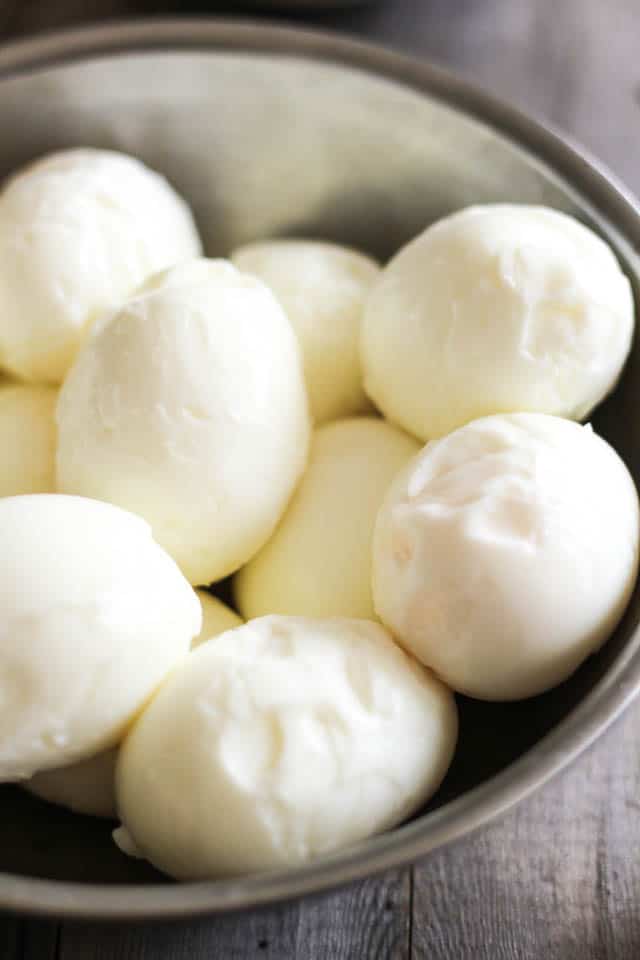 Reading through the comments, I came to the conclusion that the most probable reason for my having such a hard time peeling my eggs is the fact that they are too fresh. I always knew that fresher eggs were harder to peel, but I'd never really established a connection between the fact that I used to peel eggs super easily back when I bought the standard supermarket eggs, but now that I buy the fresh local eggs, it seems like I couldn't get a perfectly peeled egg if my life depended on it.
Next time, I'll be giving Michelle's technique a try. Piercing a whole in the shell is the only thing I haven't tried thus far. Fingers crossed that it actually does the trick for me. Oh, and just to be on the safe side, I'll let the eggs age for at least 2 weeks before attempting to cook them.
Hopefully, I'll get my perfect eggs this time!
But even if I don't, it's not going to be a problem, for you don't need your eggs to look perfect to make this dish. No one will even notice, so don't lose sleep, or your sanity over this…
Just peel them as best you can. And take breaks between eggs if you have to. Lots of breaks!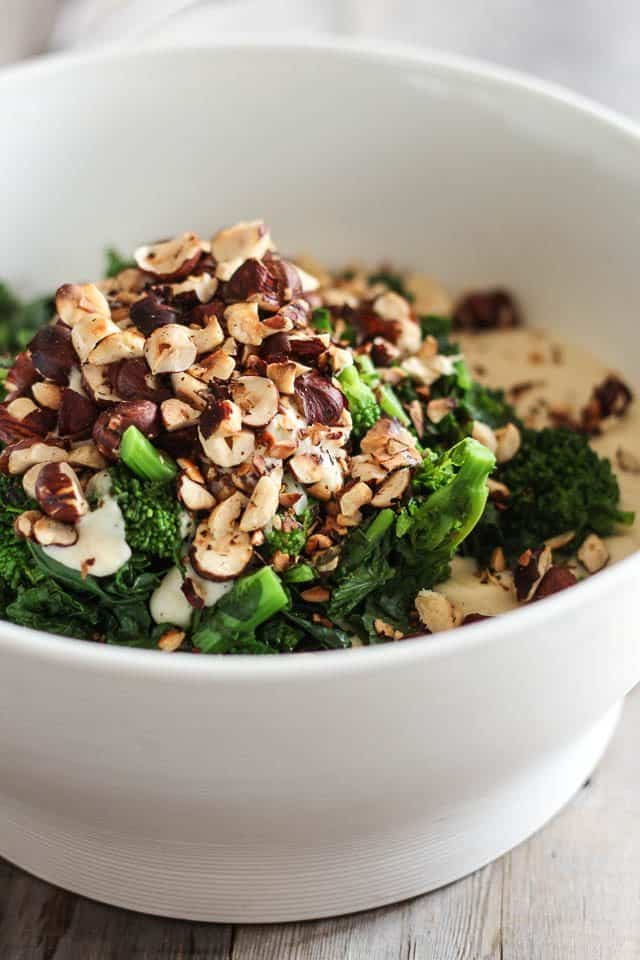 Once you've got the eggs out of the way, the rest is pretty easy to do. First, you need to make a "Bechamel" out of cauliflower, then you have to steam a bunch of rapini, toast some hazelnuts and finally, you just delicately mix everything together.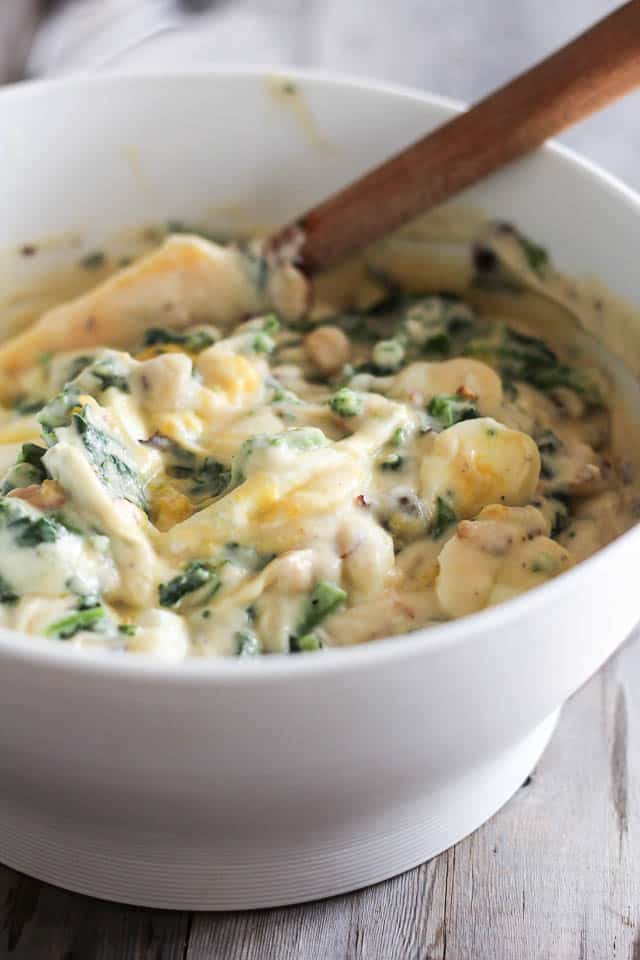 Like so. Looking good already, isn't it?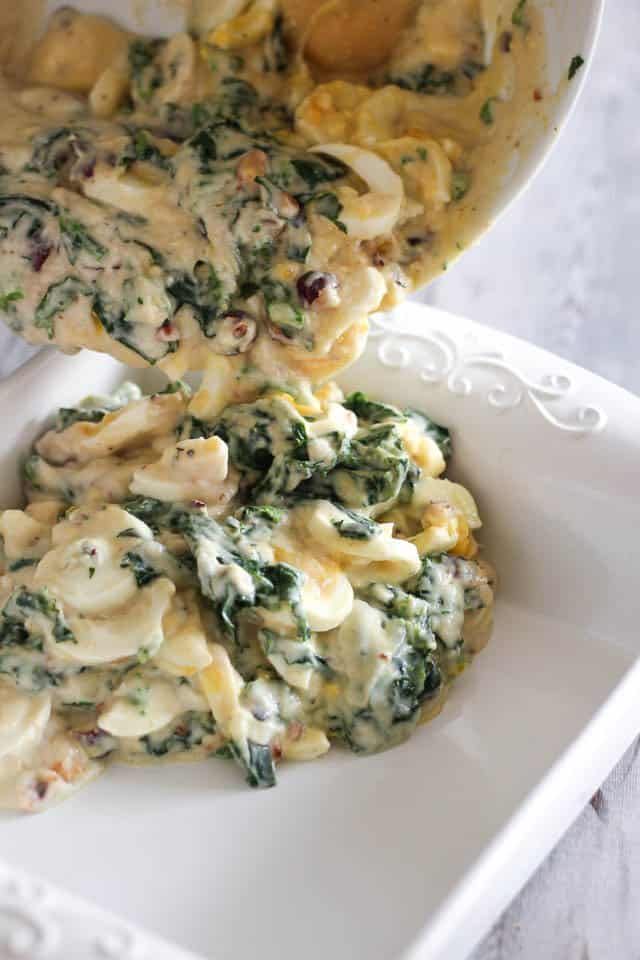 Transfer that beautiful mixture to an oven safe dish. No need to even grease it!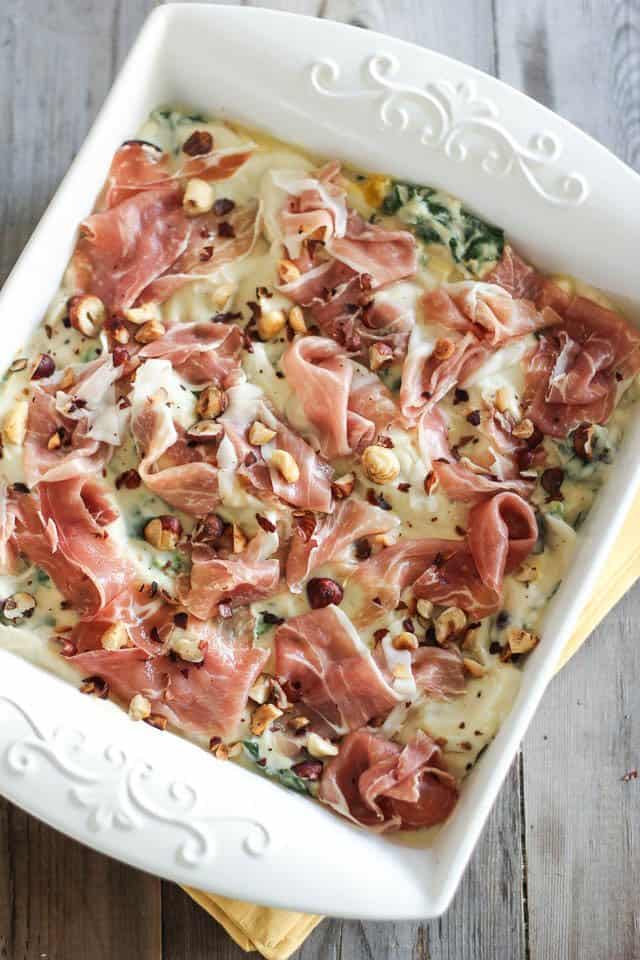 Top with a few slices of prosciutto and an handful more toasted hazelnuts…
Throw that in the oven for a whee bit and Voilà! You're all good to go! Wouldn't you say yes to that for breakfast? I know I would.
You could even count me in for lunch, or dinner for that matter!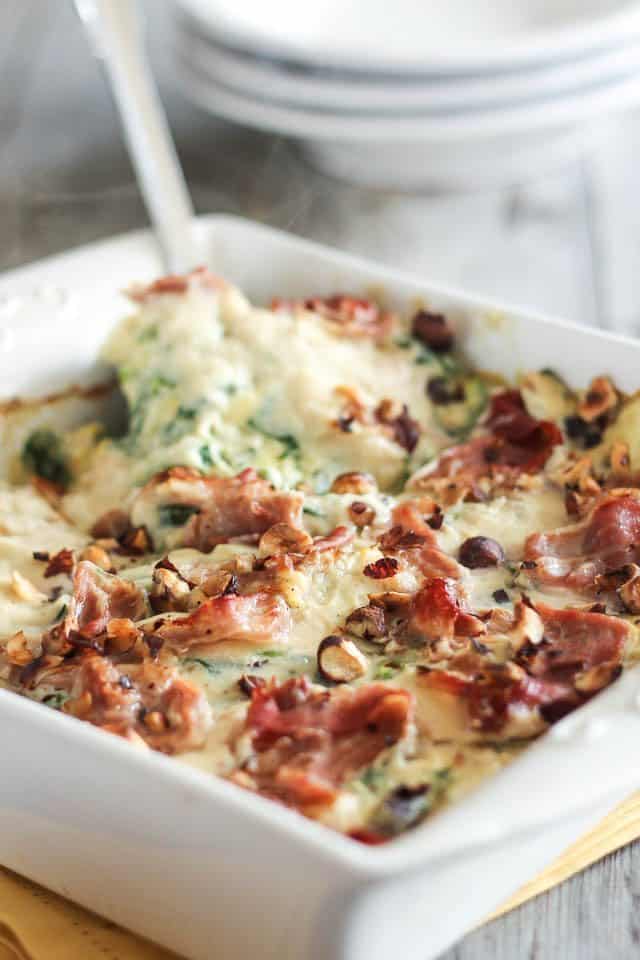 Egg and Rapini Casserole
Hard boiled eggs, toasted hazelnuts and steamed rapini are combined in a lusciously creamy, dairy free Bechamel sauce and topped with bits of crispy prosciutto.
Servings: 4
Ingredients
1 small onion, chopped
2 cloves garlic, minced
½ tsp Himalayan or fine sea salt
½ tsp ground black pepper
1 large head cauliflower, roughly chopped
2 cups chicken stock
¼ cup ghee
1 tbsp Dijon mustard
2 tbsp nutritional yeast
8 hard boiled eggs
200 g rapini, roughly chopped
½ cup crushed hazelnuts
5-6 very thin slices of prosciutto
Instructions
Preheat the oven to 375°F

Cook and peel the hard boiled eggs according to your favorite method.

Add onion, garlic, salt and pepper to a medium saucepan. Cook over medium heat for one or two minutes, until fragrant and slightly softened.

Throw the cauliflower florets in and continue cooking for a minute or two.

Add chicken stock, cover and bring to the boil; lower heat and continue cooking until the cauliflower is tender, about 5-7 minutes.

Ladle the cauliflower mixture into your blender; add ghee, Dijon mustard and nutritional yeast and process on high speed until super smooth and silky in consistency. Set aside.

Steam the rapini for 30 seconds to a minute, until slightly softened and bright green.

In a small skillet, dry roast the hazelnuts over medium heat until they become fragrant and take a nice golden coloration.

Slice the hard boiled eggs and add them to a large mixing bowl, followed by "Bechamel" sauce, rapini and three quarters of the hazelnuts. Mix very delicately until well combined and transfer to an oven safe dish.

Tear the prosciutto into smaller pieces and arrange them on top of the dish. Sprinkle with the rest of the hazelnuts.

Cover with foil and place in the oven for 20 minutes; after that time, remove the foil and set the oven to broil for a 2-3 minutes or until the prosciutto becomes nice and crispy and takes a nice golden coloration.

You could also make this ahead of time and place it in the fridge after you have covered it with foil (although you might want to let it cool a bit beforehand). In this case, you'll want to increase oven time to about 45 minutes, at 375°F.

This also reheats extremely well in the microwave and will easily keep for 4-5 days in the refrigerator.
Notes
*If you don't care for rapini, you could very well use broccoli or kale or even spinach instead.
Nutrition
Calories: 494kcal, Carbohydrates: 17g, Protein: 27g, Fat: 37g, Saturated Fat: 13g, Cholesterol: 410mg, Sodium: 646mg, Potassium: 896mg, Fiber: 7g, Sugar: 6g, Vitamin A: 1831IU, Vitamin C: 83mg, Calcium: 162mg, Iron: 4mg
If you've tried this recipe, please take a minute to rate the recipe and let me know how things went for you in the comments below. It's always such a pleasure to hear from you!
You can also FOLLOW ME on PINTEREST, FACEBOOK, INSTAGRAM and TWITTER for more delicious, healthy recipes!