Spelt Banana Bread, or the last banana bread recipe you'll ever need!
I can already hear you guys go: -"Banana bread, heh?" (mind you, most of you aren't Canadians, so there probably wouldn't be a "heh?" at the end of that sentence…)
-"Seriously? There have to be at least a gazillion banana bread recipes out there. Come on, Sonia, you can be more creative than that, can't you?"
You're right, I know…
BUT! Hear me out…
This is no ordinary banana bread. This is seriously THE BEST banana bread I have eaten in my entire life! It's just soooo moist, so tender, sweet and chewy, it's just like a super decadent cake, only it's good for you!

From now on, this is my go to banana bread recipe! Until I try and come up with a gluten free version. But even then, this is the recipe that I will use as a base. It's just plain amazing, I tell you.
And I have my good friend Heidi, over at  Food Doodles, to thank for it. As soon as I saw it on her site, I didn't waste any time and tried it right away. After all, I conveniently had a bunch of ripe bananas on the counter, just waiting to be used up, and I was planning on making a fresh batch of peanut butter that week-end.
Can you think of a better combo than peanut butter and banana bread?
I thought not!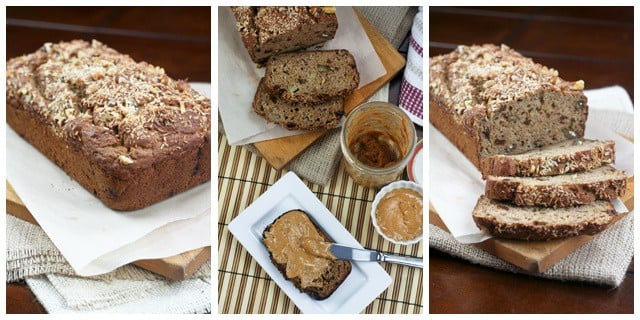 I have to admit that I was a tad sceptical when I saw the incredible amount of cinnamon that the recipe called for, and lord only knows I LOVE me some cinnamon, but really, it works great! I also decided to add a little bit of almond extract and a handful of raisins, which just elevated the flavors even more!
Of course, I had to try it toasted, with a nice, thick layer of peanut butter, and it was quite simply the bomb!
Plain and simple?
I am in love.
Spelt Banana Bread, or the last banana bread recipe you'll ever need!
Servings: 12
Instructions
Preheat oven to 350F; Prepare a loaf pan by spraying with oil or non-stick spray and set aside.

In a small bowl mix flour, cinnamon, baking soda, baking powder and salt. Mix in walnuts and raisins and set aside.

In a larger bowl, loosely mash the bananas. Add eggs, buttermilk, applesauce, vanilla and almond extract.

Add the dry ingredients to the banana mixture and mix with a rubber spatula until well combined, no more.

Pour the batter into the loaf pan and sprinkle with coconut and chopped walnuts. Place in the oven and bake 55-60 minutes, until a toothpick inserted into the middle of the loaf comes out clean.

Remove the loaf pan from the oven and let the loaf cool in the pan for 5-10 minutes before turning it out and cooling on a cooling rack completely.
If you've tried this recipe, please take a minute to rate the recipe and let me know how things went for you in the comments below. It's always such a pleasure to hear from you!
You can also FOLLOW ME on PINTEREST, FACEBOOK, INSTAGRAM and TWITTER for more delicious, healthy recipes!