Totally Loaded Egg White Omelette – My Ultimate Quick Meal
This, right here, has got to be the one thing that I ate the most often in the past year.
Yet, for some reason, I must have had it at least a gazillion times before it finally occurred to me that MAYBE, I could take pictures and share it with you guys?
I mean, really. We're all looking for quick-and-easy-yet-super-nutritious-meals to make on those nights when we're either not inspired or a bit short on time, aren't we?
Well, to me, egg white omelettes are the ultimate go-to solution when that happens.
For starters, I am a big fan of egg white omelettes, even the plain variety. For real! I like them even better than the whole eggs version. There's something about their texture that I simply can't get enough of.
I also happen to think that they taste a lot better, too.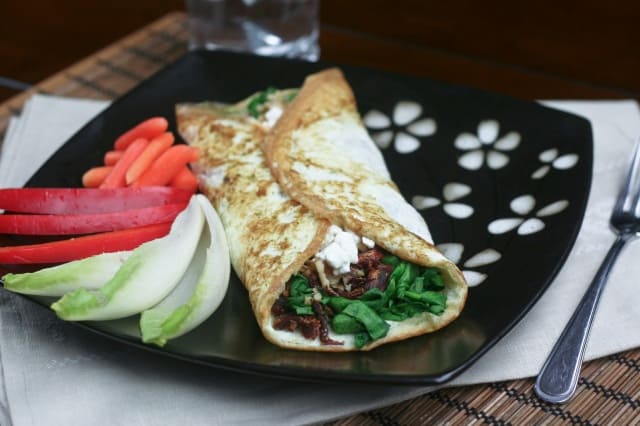 Maybe I'm just not a fan of egg yolks, except when they're all nice and runny… I find cooked egg yolks to be a tad hard on my stomach, sometimes, too. So might as well not risk it and plain leave them out…
Egg whites are also a great way to get a hefty dose of protein into you, without also racking up on the calories. You're looking at about 3½g of protein and only 15 calories per egg white! Not too shabby, if you ask me.
Omelettes are just so unbelievably convenient, so quick and easy to make, and you can garnish them with whatever ingredients you have on hand… or even turn them into a fancy sandwich! 
I happen to like this combination a lot, but that's probably because this is the one absolute sure shot combo for me. Those are ALL ingredients that I ALWAYS have at home. In fact, that's probably why I came up with this recipe in the first place.
But of course, you can feel free to improvise and stuff your omelette with whatever ingredients tickle your fancy…
So long as you keep it healthy! 😉
Spinach, Walnut and Sun Dried Tomato Egg White Omelette
Servings: 1
Ingredients
¾ cup pasteurized egg whites, that's 6 egg whites
½ tsp salted herbs, or pinch salt and pepper
About 2 cups baby spinach leaves, coarsely chopped
About 40g sun dried tomatoes, chopped
About 20g walnuts, chopped
3-4 tbsp low fat cottage cheese
Pinch salt and pepper
Instructions
Coat a medium (10") non-stick pan with cooking spray and heat over medium heat

Add the egg whites and salted herbs (or salt and pepper) into a small mixing bowl and give this a quick whisk with a fork (or mini whisk, if you have one) until slightly frothy

Poor that mixture onto the preheated pan and swirl it around a little bit to spread your omelette evenly over the entire surface of the pan. Cover loosely (a pizza pan works wonders for this) and cook for about 5 minutes, until almost completely set and opaque.

Meanwhile, place the spinach in the microwave and cook on high heat for about 30 to 45 seconds, until they just start to wilt.

Spread the wilted spinach in a strip down the middle of your omelette. Top with cottage cheese, walnuts and sundried tomatoes, sprinkle with salt and pepper. Fold one edge of the omelette over this filling.

Delicately slide omelette onto serving plate, folded side first, then fold remaining edge over filling and slightly press it down.

Serve with a few fresh vegetables of your choice.
If you've tried this recipe, please take a minute to rate the recipe and let me know how things went for you in the comments below. It's always such a pleasure to hear from you!
You can also FOLLOW ME on PINTEREST, FACEBOOK, INSTAGRAM and TWITTER for more delicious, healthy recipes!