Homemade Salted Herbs
Salted herbs are very popular here in Québec and can be found on the shelves of just about every grocery store. When I first started using them, I thought for sure that they were just as readily available in every part of the world, but apparently, I was wrong.
To be honest, I will never understand why that is… they're so easy to make and they pack so much flavor! No one should ever be without them.
I had a friend visit from the States a while ago and I sent him home with a bag of goodies from my home, among which were Pure Maple Syrup and Salted Herbs. He totally fell in love with the herbs, got addicted to them even, but sadly, was never able to find them anywhere in his part of the world.
So, I took it upon myself to make some at home and share the recipe with you all so that you, and my friend, could make your own, and get addicted too.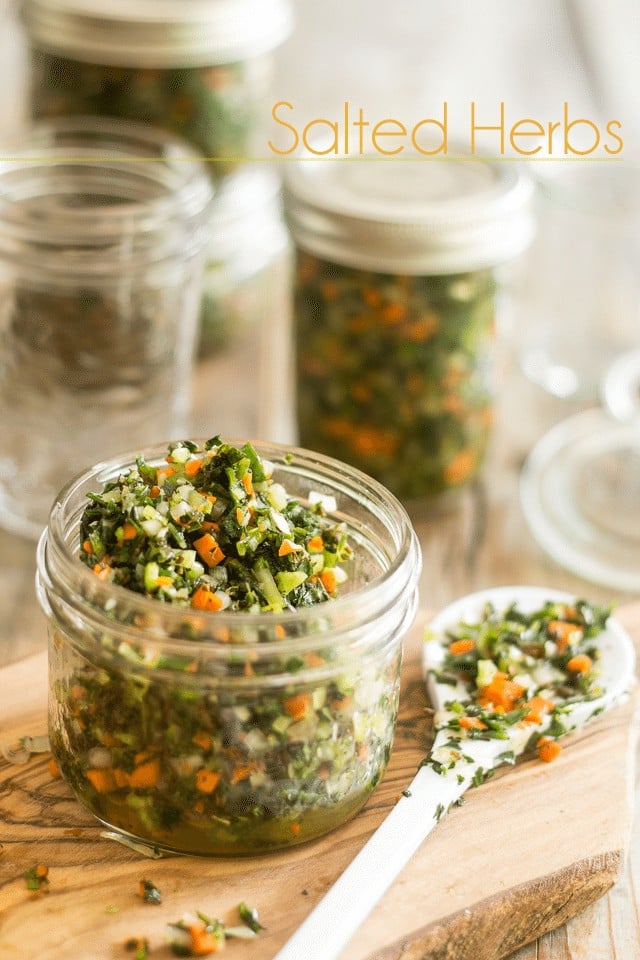 Before I got to making my first batch, I was absolutely convinced that I would need to get my hands on like A TON of fresh herbs, so I figured it would be best to wait until they were in full season, else I would've ended spending a small fortune.
However, I was pleasantly surprised to realize that it doesn't require that much herbs at all, and since the bulk of it consists in mainly parsley, leeks, carrots, celery and onions, the entire batch ended up costing almost nothing to make. Much less than the price of *one* jar of the ready-made stuff, in fact.
And just you wait until you start using these herbs. OH! They add so much flavor to just about any dish. Use them instead of salt in your favorite recipes, I think you'll be extremely pleased.
They taste just like summer in a jar!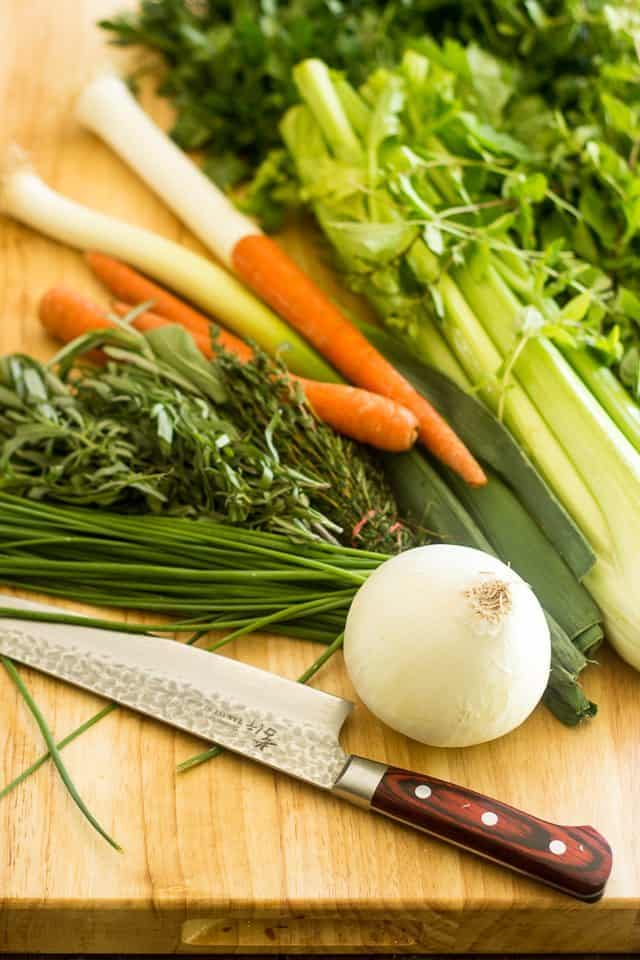 Start with a bunch of fresh herbs, some carrots, celery, onion and leeks… and take your very best knife out, too! You will be doing a lot of chopping.
Although I suppose you could also do this in a food processor, if you wanted to. Just make sure you don't turn your veggies and herbs into mush in the process… Just do one or two ingredients at a time and give them a lot of quick pulses as opposed to few longer ones.
As for me, I very much enjoy using my knife. There's something I find relaxing and almost therapeutic about chopping stuff…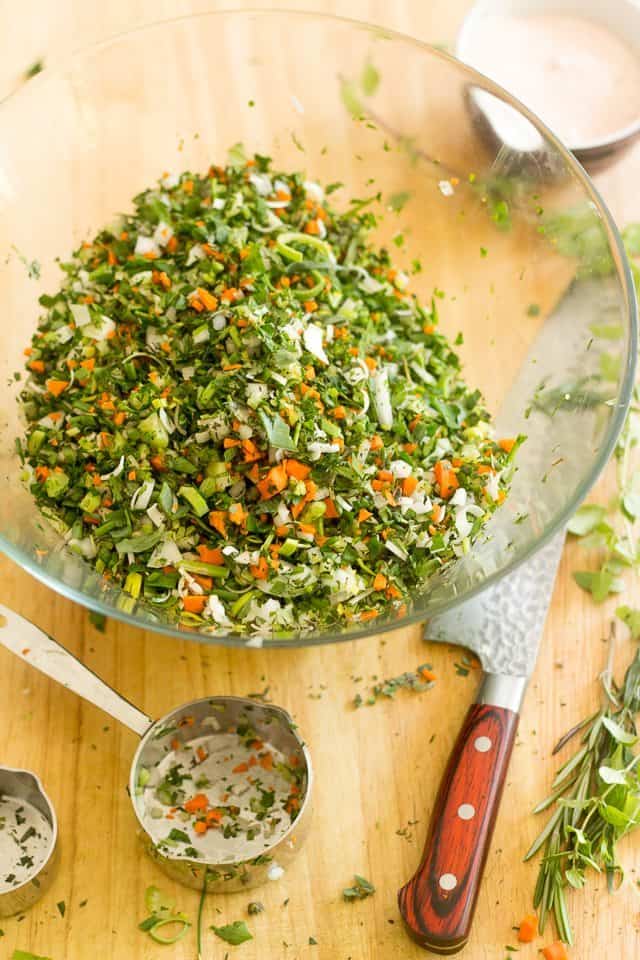 Once all your chopping (or processing) is done, add all your herbs and veggies to a large bowl and give everything a good stir.
Mind you, it might be a good idea to dump them in there as you go…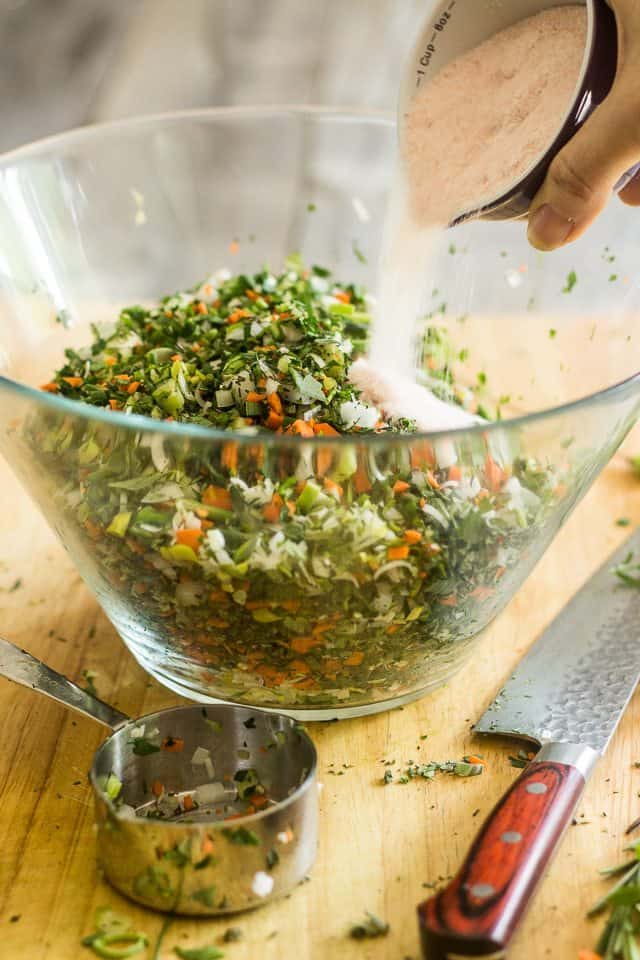 Now time to add the salt, and lots of it. After all, these are SALTED herbs we are making!
We're gonna need 3/4 of a cup of the best salt you can get. I personally always use Himalayan Pink Salt, but if you don't have that, make sure that you at least use a good, Natural Sea Salt. You definitely do not want to be adding any chemicals or anti-caking agents to this flavorful condiment. Let's keep it real.
Oh, and I know, I know it says 1 cup on my measuring cup, but really, I only added 3/4 of a cup, promise! Don't let that confuse you…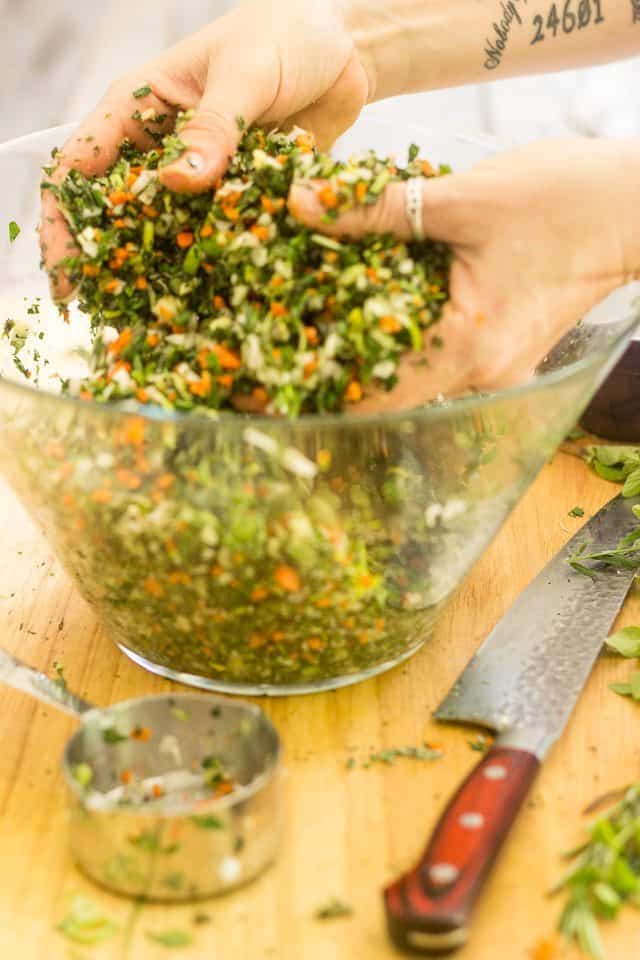 Time to mix all that salt in. The best tool you can use for this is your hands! You want to kind of massage and rub your herb mix to sort of bruise it a little and get it to release some of its water.
Again, don't go turning it into mush, but do give everything a little bit of a squeeze.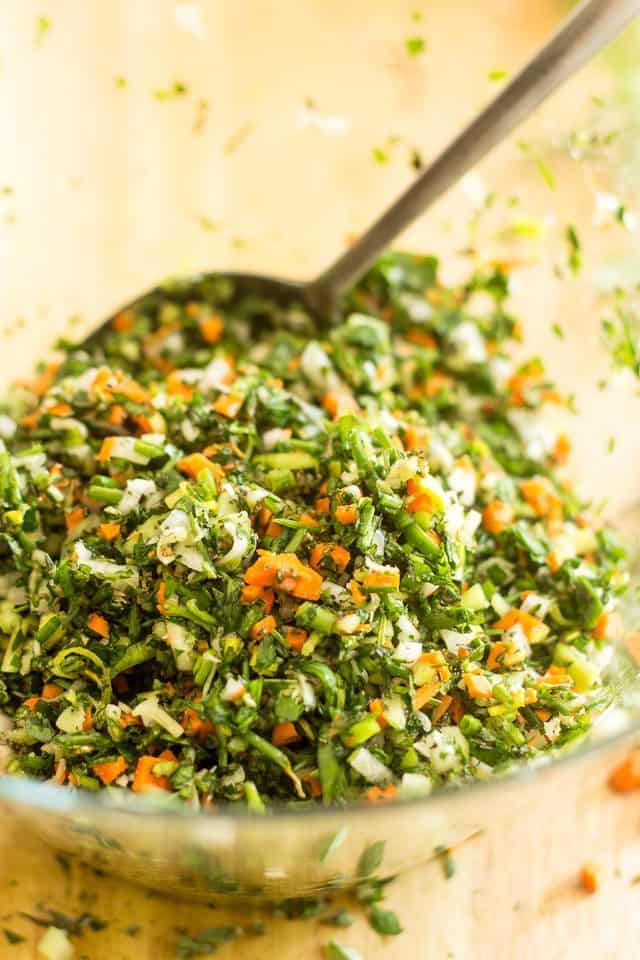 See how beautiful? I really wish you could smell it, too!
Aren't you dying to add some of that to your favorite recipes? I know I am.
It will have to wait, though, for this mixture now needs to rest and chill for a full week. You'll want to transfer it to a large container with fitting lid, throw it in the fridge and give it a good stir every single day for 7 days.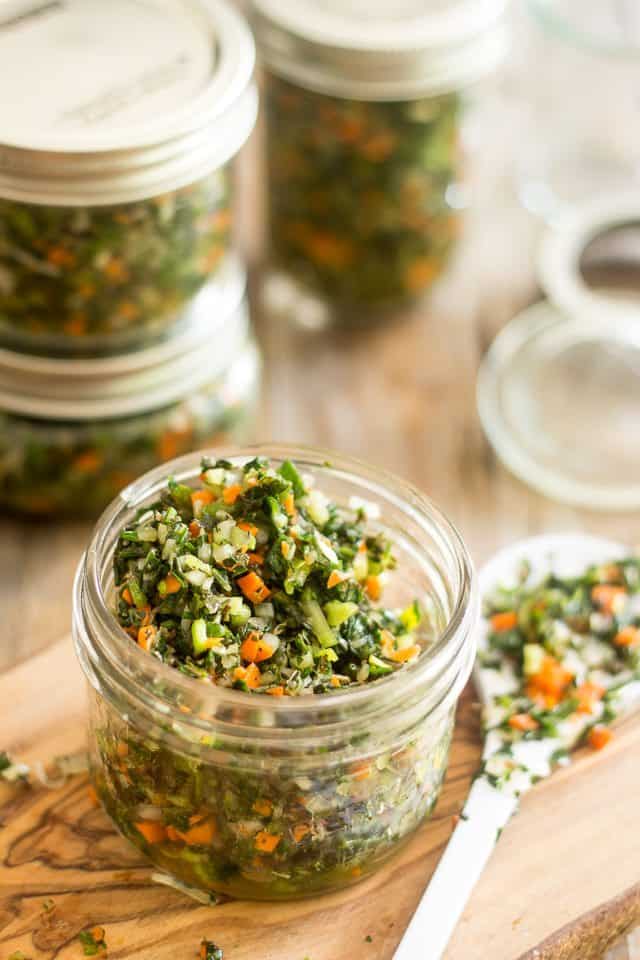 Then and only then will you transfer your salted herbs to airtight glass containers. Your herbs are now ready to be used and will keep for up to 6 months in the refrigerator. But I doubt they will make it that long.
I feel you'll be adding these to just about all of your culinary creations, from now on!
Salted Herbs
Servings: 64 ±4 cups
Ingredients
1-1/2 cup fresh parsley, finely chopped
1-1/2 cup leeks, finely chopped (about 1 medium)
1 cup carrots, peeled and finely diced (about 2 medium)
1 cup white onion, finely chopped (1 small)
1 cup celery, finely chopped (2 medium stalks)
1/2 cup fresh chives, finely chopped
1/4 cup fresh tarragon, finely chopped
1/4 cup fresh oregano, finely chopped
3 tablespoons fresh thyme, finely chopped
2 tablespoons fresh rosemary, finely chopped
1 tablespoon fresh sage, finely chopped
3/4 cup Himalayan salt
Instructions
Add all the ingredients to a large mixing bowl and mix until very well combined, then gently pound or massage your herbs to bruise them a little and get some moisture out. You don't want to completely destroy them, just get them to release a little bit of their water.

Transfer your herbs to an airtight container with fitting lid and refrigerate. Give them a good stir every day for the next 7 days, then store in the refrigerator in Mason type glass jars for up to 6 months.
If you've tried this recipe, please take a minute to rate the recipe and let me know how things went for you in the comments below. It's always such a pleasure to hear from you!
You can also FOLLOW ME on PINTEREST, FACEBOOK, INSTAGRAM and TWITTER for more delicious, healthy recipes!