Beanless Chili
I love, love, love me a good bowl of super spicy and piping hot chili. In fact, chili would probably be the only reason why I sometimes miss legumes… because let's face it, remove the beans from chili and what you're left with is basically spaghetti sauce with a Mexican twist!
So when the craving for chili recently struck, I wracked my brains long and hard as to how I could possibly replace those beans. Spaghetti sauce was not what I was after. I wanted, demanded that there'd be some kind of bean in my bowl, or at least some kind of substitute that would provide a somewhat similar visual and gustatory experience.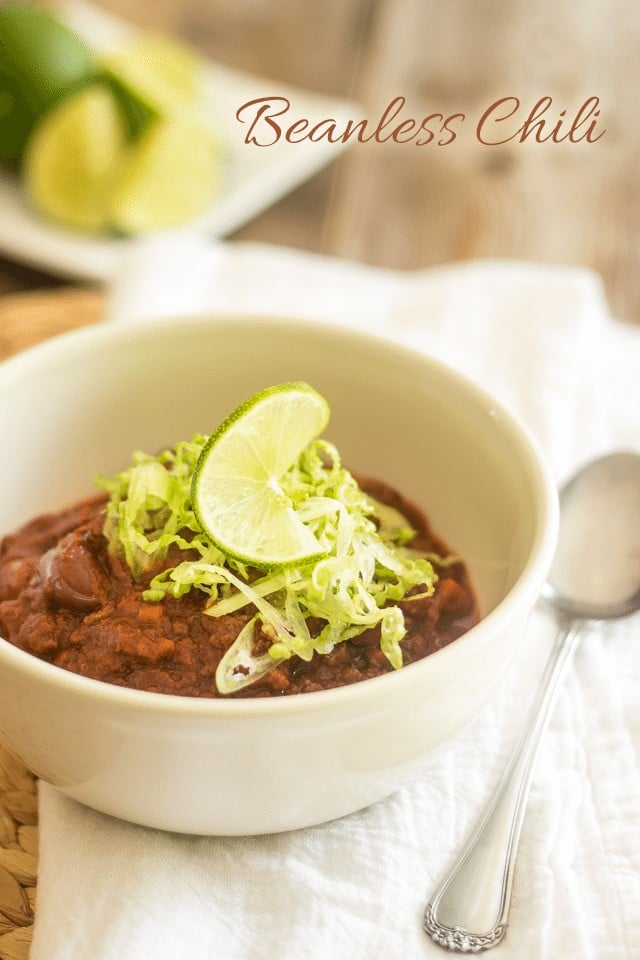 After mentally reviewing a not very long list of potential contenders (there really weren't that many that I could think of) I decided to give kalamata olives a try. Their shape is fairly similar to that of kidney beans, so I figured they would most certainly fit the bill as far as visual replacement was concerned.
The flavor factor, however, I wasn't all that convinced would work so well. After all, kalamatas are very pungent, salty and acidic whereas kidney beans are extremely mild and neutral in taste. I was afraid that the olives would end up completely stealing the show and pretty much destroying the whole Mexican essence of the dish.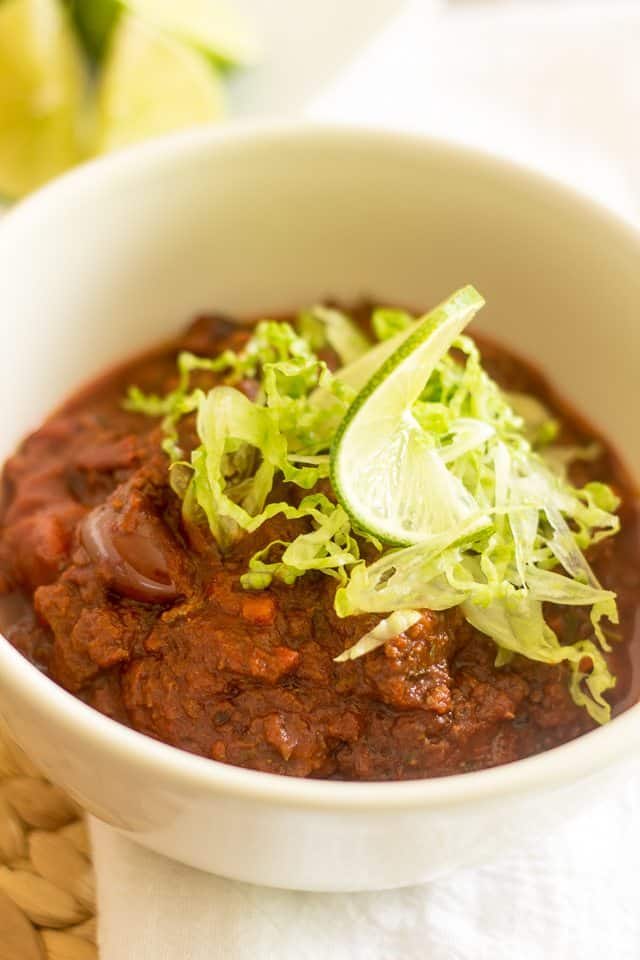 Boy was I wrong!
Honestly, I think that the olives do an even better job at adding to this dish than the beans do. For starters, their texture is much softer and creamier than that of the beans and, as an added bonus, you don't run the risk of ever biting into one (or several) that, for some obscure reason, stubbornly refused to cook and remained super duper firm, half-determined to destroy your teeth for good when you bite on it. Must be another one of their tricky defense mechanisms…
Secondly, and more importantly, the very distinct, slightly smokey and vinegary taste of kalamata olives works EXTREMELY well with the Mexican flavor profile of the chili. It's like it was simply meant to be.
I don't think I'll be missing legumes again anytime soon! Well, not until craving for luciously creamy hummus strikes, that is…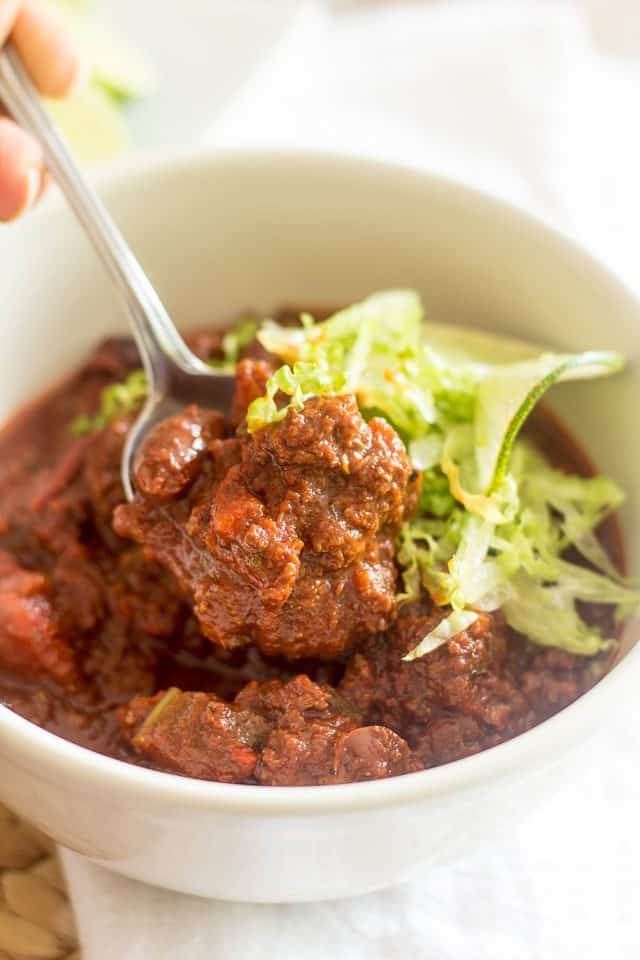 I think I now have my official go-to Chili Con Carne recipe!
Although next time, I might very well go all out with the olives and double the amount!
And maybe add mushrooms, too…
Beanless Chili
Servings: 8
Instructions
In a large stockpot set over medium heat, melt some heat stable cooking fat (such as

ghee

,

lard

or

coconut oil

) and add the onions, garlic, celery and bell peppers. Cook stirring frequently until the veggies are softened and fragrant and the onions turn slightly translucent, about 5 minutes.

Add the ground beef and salt and continue cooking until the meat turns a nice golden brown. Add the cacao powder as well as the rest of the seasonings and stir until combined. Stir in water and simmer for about 5 minutes, then stir in carrots and olives.

Add the canned tomatoes, bring to a boil then reduce heat and simmer partly covered for about 2½ to 3 hours, stirring from time to time. Adjust seasoning as needed.

When the chili is fully cooked, stir in the chopped parsley and lemon juice and then serve piping hot, garnished with shredded lettuce and a slice of lime, diced avocado, or better yet, a big dollop of

fresh guacamole

.
If you've tried this recipe, please take a minute to rate the recipe and let me know how things went for you in the comments below. It's always such a pleasure to hear from you!
You can also FOLLOW ME on PINTEREST, FACEBOOK, INSTAGRAM and TWITTER for more delicious, healthy recipes!