Quick and Easy Guacamole
Well, apparently tomorrow is National Guacamole Day. Hey, I'm a fan!
After all, guacamole is as good to eat as it is good for you, so it certainly deserves to get its very own celebratory day. And I figured why not take this opportunity to share my very own version of this delicious "dip" with you.
Oh, I'm sure this is probably the last thing that you need, for chances are you probably already have a favorite recipe, one you can call your own… In fact, there are probably as many different guacamole recipes  out there as there are fans of the dish.
But hey. Maybe you'll be in the mood for a change, one day, and will feel like giving my version a whirl.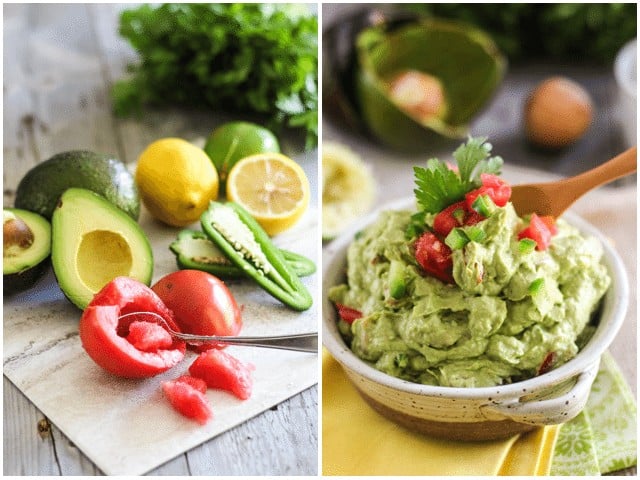 I guess we all have our own personal little tweaks and preferences when it comes to making guacamole.
I, for one, like mine to be really smooth and creamy but still have little chunks of avocado and tomato in it, as well as a little bit of a kick in the form of jalapeño peppers.
In order to achieve that, I make it in 2 very distinct steps.
First, to make the really creamy part, I add 2 avocados, along with a few other select ingredients and spices, to the bowl of my food processor and process that until it gets really, really smooth and creamy.
Then, I transfer all that to a mixing bowl, add a 3rd avocado which I've previously diced, along with some tiny pieces of tomato, garlic and, of course, jalapeño peppers.
Dreamy!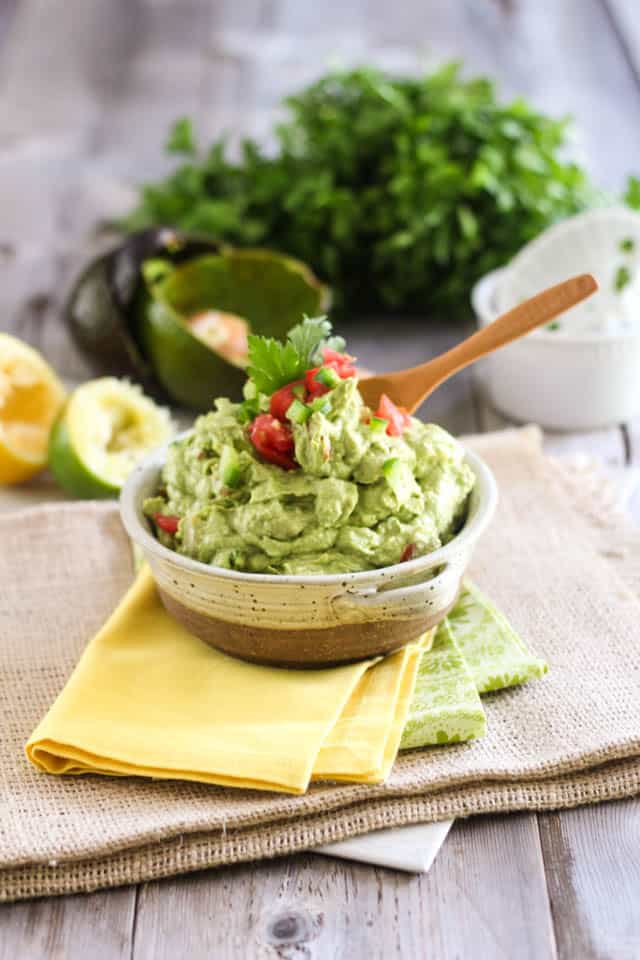 To think that I used to avoid eating guacamole 'cuz I thought it was way too high in fat. In fact, I would eat avocado only occasionally for that very reason.
Boy have I been missing out!
Not a day goes by now without me enjoying at least half an avocado, and sometimes a full one or even two!
And guacamole is just a glorious way for me to be enjoying this new favorite food of mine.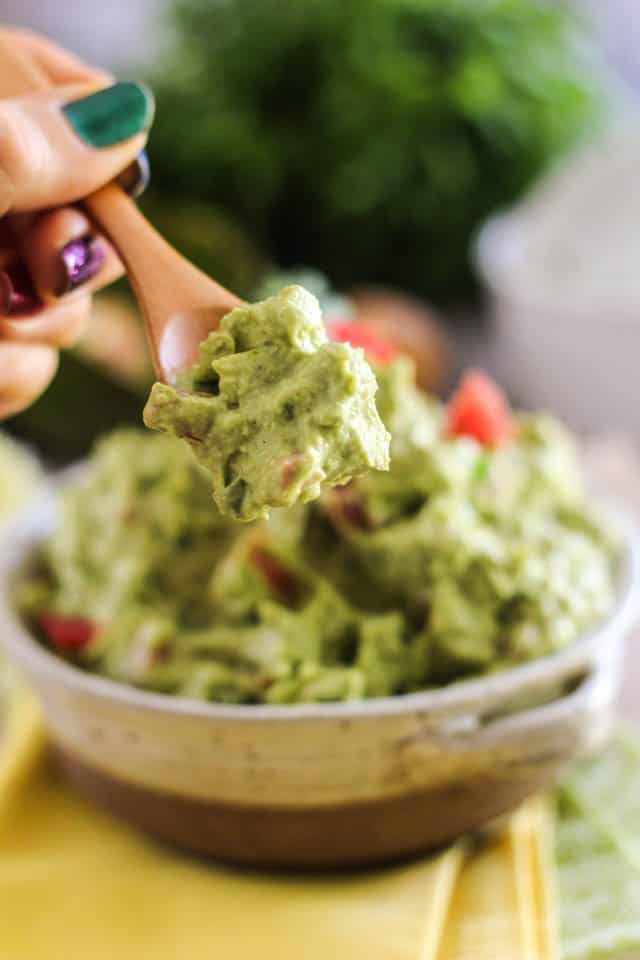 And hey, you know what? Guacamole doesn't *have* to always be enjoyed as a dip with tortilla chips, you know. It's also absolutely delicious eaten by the spoonful, as a side, or even as a condiment, why not?
Ever tried topping a juicy beef burger patty or grilled chicken breast with a healthy serving of guacamole? Oh my! Talk about good!
And it can't be all that bad on a nice thick salmon fillet either, with an extra squirt of lemon juice…
So by all means, enjoy the guacamole but toss the tortillas once in a while. Trust me, you won't even miss them!
There are probably about a million other ways you can enjoy your holy guacamole!
Honestly? I think a spoon is still my personal fave!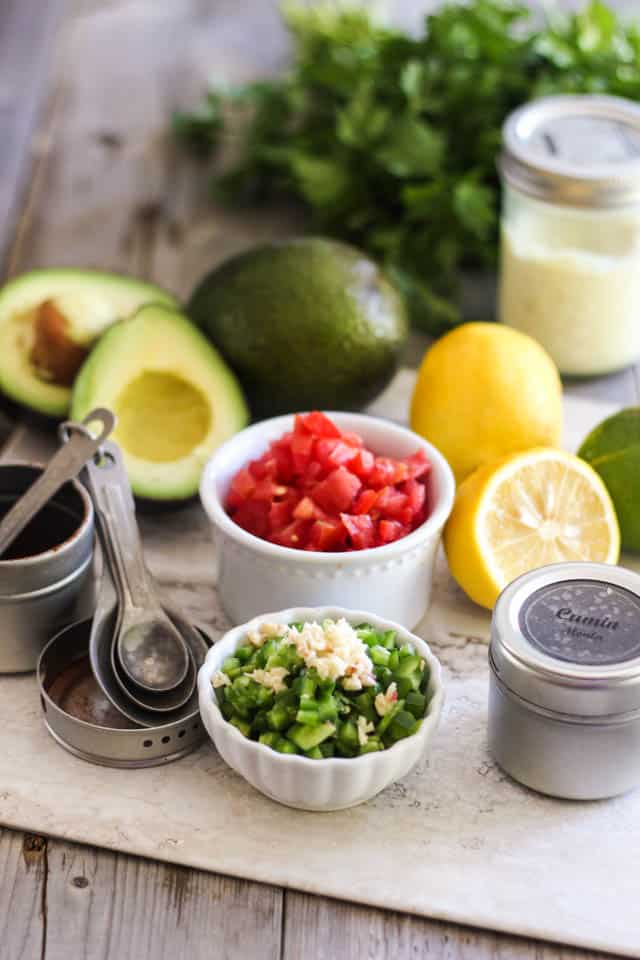 Prep all your ingredients ahead of time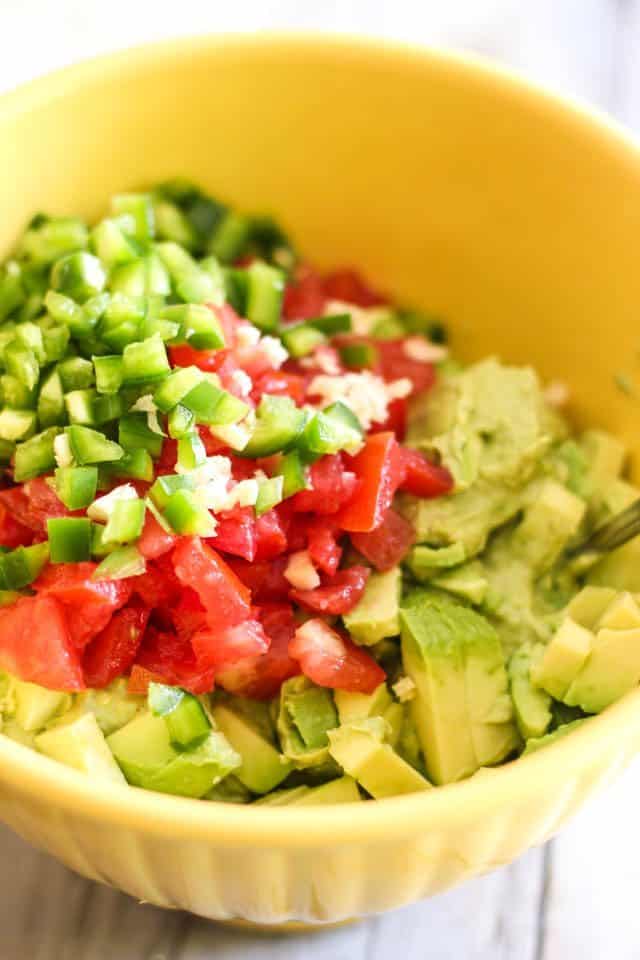 Adding all the chopped veggies to the creamy avocado mixture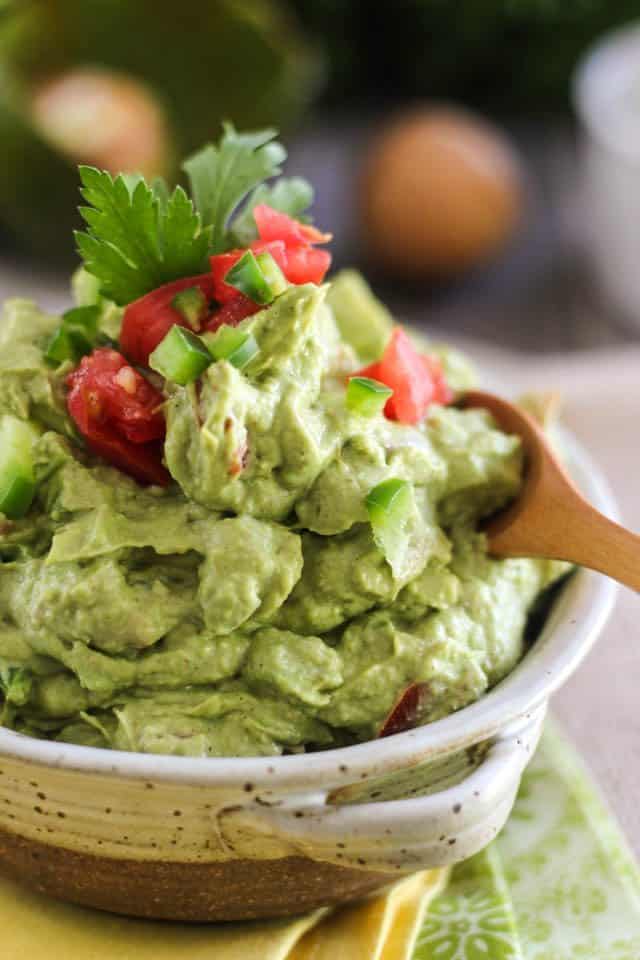 How creamy and dreamy does that look to you? 
Quick and Easy Guacamole
So quick and easy to make, guacamole is as delicious to eat as it is good for you. Ever thought of using it to garnish a hamburger or grilled chicken breast?
Servings: 6
Ingredients
3 ripe avocados
1 tomato, seeded and finely chopped
1 jalapeño pepper, seeded and finely chopped
1 garlic clove, minced
the juice of 1 lime or lemon
¼ cup vegan mayonnaise
½ tsp cumin
¼ tsp ground ancho chile
¼ tsp Himalayan salt
¼ tsp ground white pepper
Instructions
Process until very smooth and creamy.

Transfer to a large mixing bowl. Dice the 3rd avocado and add it to the bowl, along with the chopped tomato, jalapeño pepper and minced garlic. Mix until well blended.

It is best to serve guacamole immediately, but it will keep in the refrigerator for a couple of days. Just make sure you prevent any and all contact with air, otherwise, your beautiful bright green dip will turn an unappealing shade of khaki brown. The best way to prevent that is to keep it in an air tight container AND apply a piece of plastic film right against the entire surface of the dip before to put the lid on the container.
Nutrition
Calories: 227kcal, Carbohydrates: 11g, Protein: 2g, Fat: 21g, Saturated Fat: 3g, Sodium: 160mg, Potassium: 536mg, Fiber: 7g, Sugar: 1g, Vitamin A: 367IU, Vitamin C: 16mg, Calcium: 14mg, Iron: 1mg
If you've tried this recipe, please take a minute to rate the recipe and let me know how things went for you in the comments below. It's always such a pleasure to hear from you!
You can also FOLLOW ME on PINTEREST, FACEBOOK, INSTAGRAM and TWITTER for more delicious, healthy recipes!