Paleo Chocolate Chunk Shortbread Cookies [with homemade honey sweetened chocolate chunks]
While cookies aren't necessarily your optimal healthy food choice, I think we all need to indulge in a nice little treat from time to time, don't we?
And if we're gonna do that, might as well do it in a way that won't disrupt our body and/or gut in the process, right?
Right!
I knew you'd agree.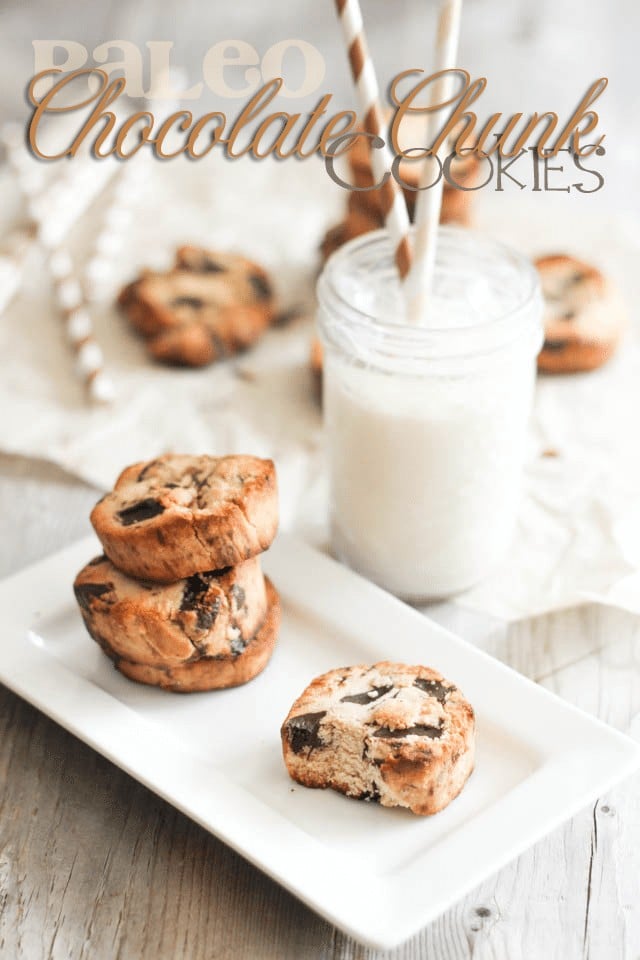 That being said, you might remember that, while I was taking my last Whole30® challenge (which ended up being a Whole62 after all), my good friend Mike over at The Iron You, posted this recipe for some of the most delicious looking Chocolate Chunk Cookies I had ever seen in my life.
From the very moment I laid eyes on his pictures, my brains started drooling internally and I knew I would know no rest until I got to sink my teeth into one of these babies.
Patiently, I waited. For many, many, many days. Almost a full month, in fact, for my second Whole30® had barely just begun when Mike posted DARED post this recipe.
The wait, I tell you, was pure mental torture…
Until finally September came, which meant I'd successfully completed my two back-to-back Whole30® challenges.
At long last, I got to whip me up a batch of delicious cookies!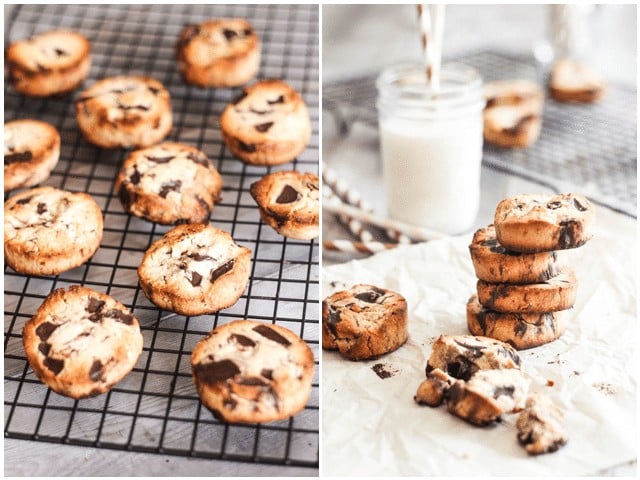 Since I never was a fan of the fact that commercially prepared chocolate always seem to contain some form of cane sugar, which in my mind is pretty much synonymous with refined sugar, I decided to try my hand at making my own chocolate chunks at home, using honey as a sweetener.
The experience turned out FAN-TA-STIC! I'd even say that it far exceeded my expectations.
What I did is I used pure cacao paste, which is basically unsweetened chocolate, and carefully melted it in the microwave. I then added a little bit of unpasteurized honey to it, as well as a few grains of salt (just to bring out the flavor that much more) and placed that chocolate to set in little candy molds, which I then cut into chunks.
It was perfect, I tell you. PERFECT!
I get the feeling that I'll be experimenting some more and that from now on, I will always be making my own chocolate at home.
First, I'll need to make my own version of Lindt's insanely delicious Excellence Fleur de Sel – Dark. Oh yeah! This would be my ultimate favorite chocolate in the whole wide world.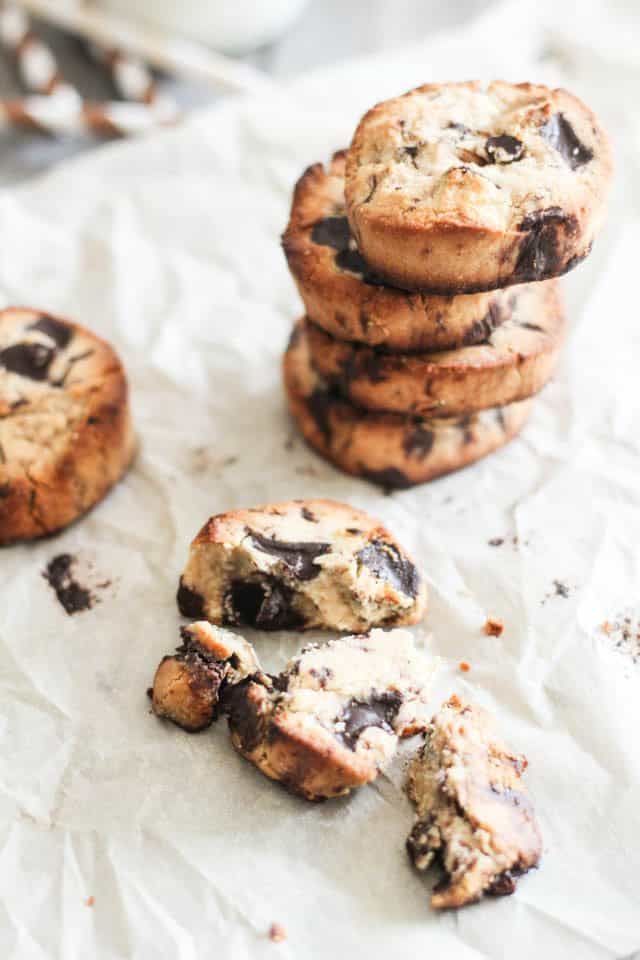 As for Mike's cookies, I'm afraid I'll never know how good they really were after all, for you know me, right?
I failed miserably at following the recipe verbatim.
I think I managed to create a pretty darn amazing version of a Paleo Chocolate Chunk Shortbread Cookie, though.
These were chunky, tasty, intensely chocolaty, dense but light at the same time, you know, like super delicate and just a tad on the dry side… just the way a good shortbread cookie should be.
How I managed not to eat the whole batch in one sitting is still a mystery to me!
In fact, I was a VERY good girl and stopped at two. Then I saved 2 for later and gave the rest of them away. *Sigh* I nearly shed a tear when my daughter walked out the door, her little doggy bag in hand…
I shall have to make more. But next time, I think I'll use ghee instead of lard and coconut oil. And I'll add chopped pecans. And maybe even a little bit of toasted coconut.
Oh my! Be.Still.My.Heart.
I think my brain just started drooling all over itself again…
Paleo Chocolate Chunk Cookies
Servings: 18 cookies
Ingredients
For the chocolate chunks* (see notes)
100 g cacao paste, finely chopped
1 tbsp unpasteurized honey
Pinch Himalayan or unrefined sea salt
Instructions
To make the chocolate chunks from scratch
Start by melting the cacao paste in the microwave. Chocolate is very fragile and burns very easily, so you want to be extra careful when you do that. First, make sure that your chocolate is very finely and evenly chopped (the finer it is, the quicker it will melt) and place it in a microwave safe bowl (glass preferred). Then, place it in the microwave on high but make sure that you check on it and stir well every 20 seconds or so, until it's completely melted. This is very important as you do not want to burn your chocolate, and that can happen very quickly in a microwave. Chocolate will fully melt long before it gets truly hot, so do check on it often, and STIR!

When the chocolate is fully melted, add the salt and honey and stir delicately until smooth.

Transfer the chocolate to some kind of mold (use candy molds or small paper cups) and place it in the fridge to set. Once it's completely set, simply cut it into chunks.
Time to start working on the cookies.
Over a large mixing bowl, sift the almond, coconut and arrowroot flours together with salt and baking soda. Set aside.

In the bowl of your food processor, cream the

lard

, honey and vanilla extract.

Add the dry ingredients and process on pulse until the ingredients are well combined and resemble very coarse sand. Pulse in the coconut oil, one tablespoon at a time, until the dough just barely comes together.

Transfer this batter to mixing bowl, add chocolate chunks and knead delicately until a soft dough forms.

Turn that dough over onto a piece of plastic wrap, form it into a 10-12 inch long cylinder and refrigerate until firm, at least 4 hours, or better yet, overnight.

Preheat oven to 375oF

Take the cylinder out of the fridge and cut it into 12 to 18 roughly ¾" thick cookies. Don't worry if the cookies crumble and break up a little bit, just press the pieces back together. In fact, this will only result in a nicer, more rustic looking cookie.

Place on a baking sheet that's been lined with parchment paper and bake for 6-8 minutes, until the cookies take a nice golden coloration.

Let cookies cool on the baking sheet for 2-3 minutes, then remove them to a cooling rack and let cool completely…

If you can!
Notes
Greatly inspired by Mike The Iron You's fabulous Paleo Chocolate Chunk Cookies
*Alternatively, you could also skip the whole making your own chocolate chunks part and simply use 100 grams of good quality dark chocolate (70% and over) and chop it into chunks.
If you've tried this recipe, please take a minute to rate the recipe and let me know how things went for you in the comments below. It's always such a pleasure to hear from you!
You can also FOLLOW ME on PINTEREST, FACEBOOK, INSTAGRAM and TWITTER for more delicious, healthy recipes!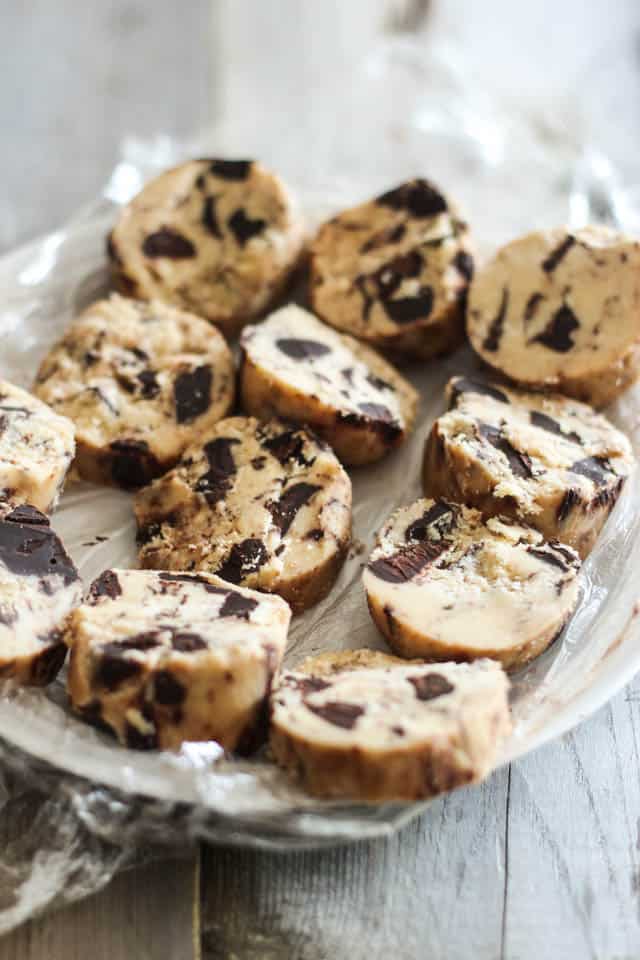 The cookies, right before they hit the oven.
I don't know how on earth I resisted eating one or two right there, in their "cookie dough" state. 
Mmmmm… I looove cookie dough!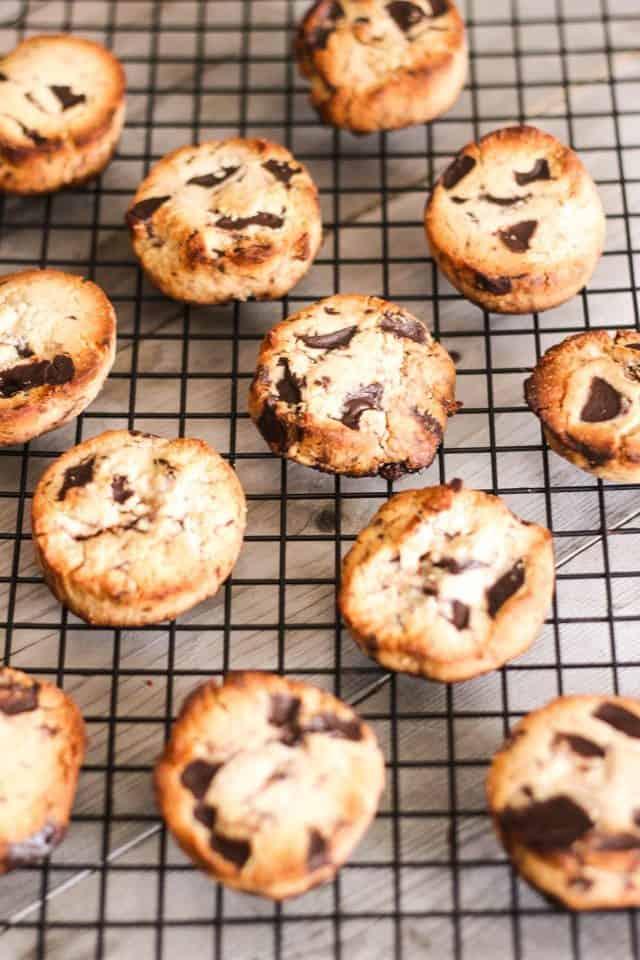 The cookies, cooling on a rack… 
Again, not sure how I resisted and managed to wait for them to cool down some!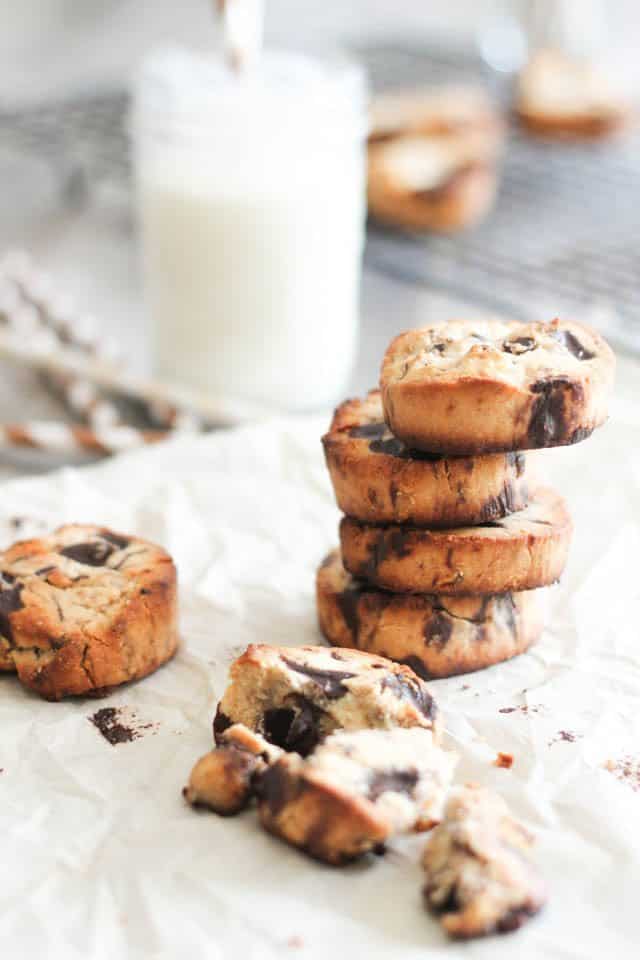 The cookies, all piled up, standing nice and tall. 
Couldn't resist any longer. 
One of them fell victim to my hankering.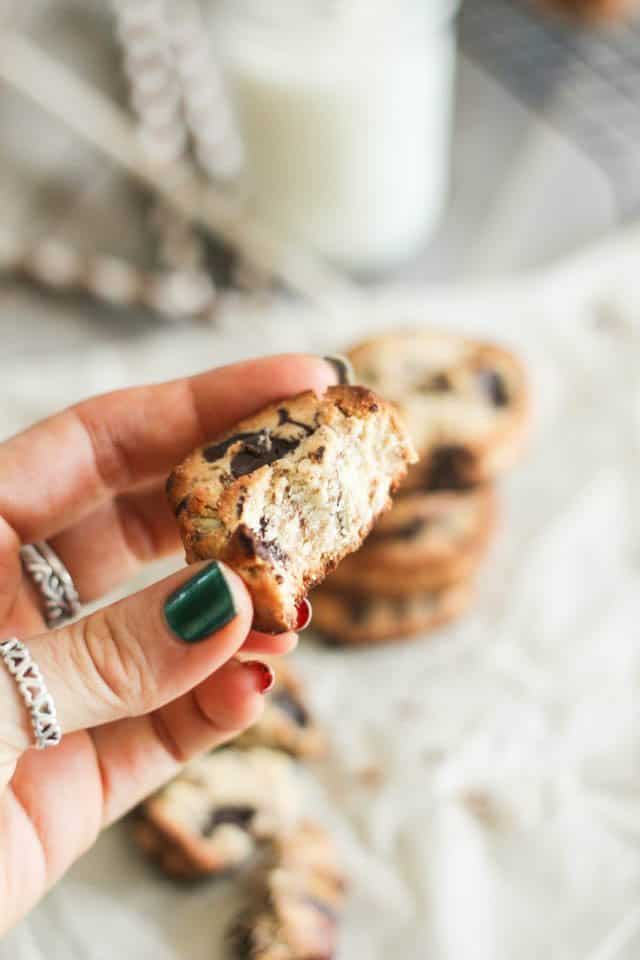 Hey, there's only so much a girl can take! 
After all, I'd been waiting well over a month for this…