How to render your own Lard
If someone had told me a few months ago that I would soon be dedicating an entire blog post to the art of rendering your own lard, I would've called them crazy.
Yet, here I am today, dedicating an entire post to the art of rendering your own lard.
Oh, I'm not saying that I am an expert in the matter, far from there.
But ever since I got to read Beyond Bacon (which I highly recommend, by the way), I've been dreaming of having access to good quality lard so that I could cook and bake with it.
So I went on a quest to find me some good pork fat (because I hadn't read the book prior to ordering my side of pork, so I didn't ask for the fat) and proceeded to render me some lard. And I figured since I would be using it a lot in my recipes, I might as well share the experience with you so that you too, can stock up on this great, versatile and healthy fat.
Yes, I'm already in love and don't know how I have been without it for so long.
And I haven't even started baking with it yet!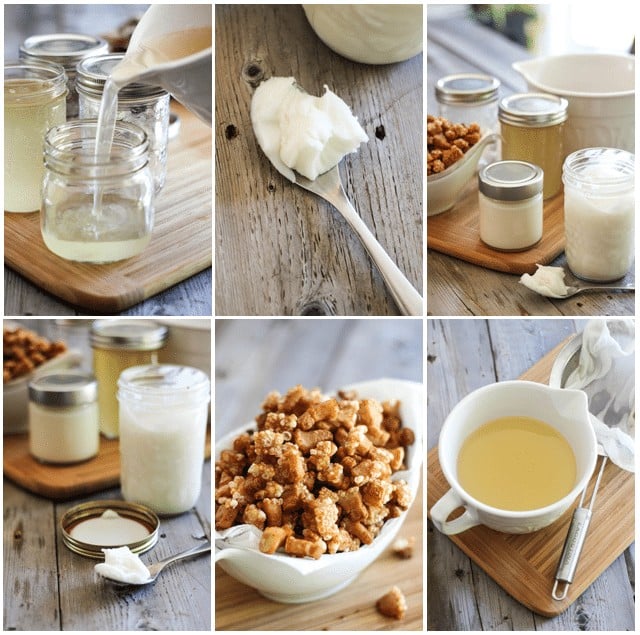 Now it is imperative, when selecting your pork fat, that you purchase the highest quality that you can get your hands on, since that is precisely where all the nasties wind up being stored.
That means if you buy fat from a pig that has been fed all sorts of nasties, you will be getting a concentration of those nasties in the fat that you will be rendering.
And you don't want that in your body now, do you? You want pure, beautiful fat from a healthy and well cared for animal.
100% pastured would be best if you can find it, but if you can't get your hands on it, make sure you at least get organic, hormone and antibiotics free.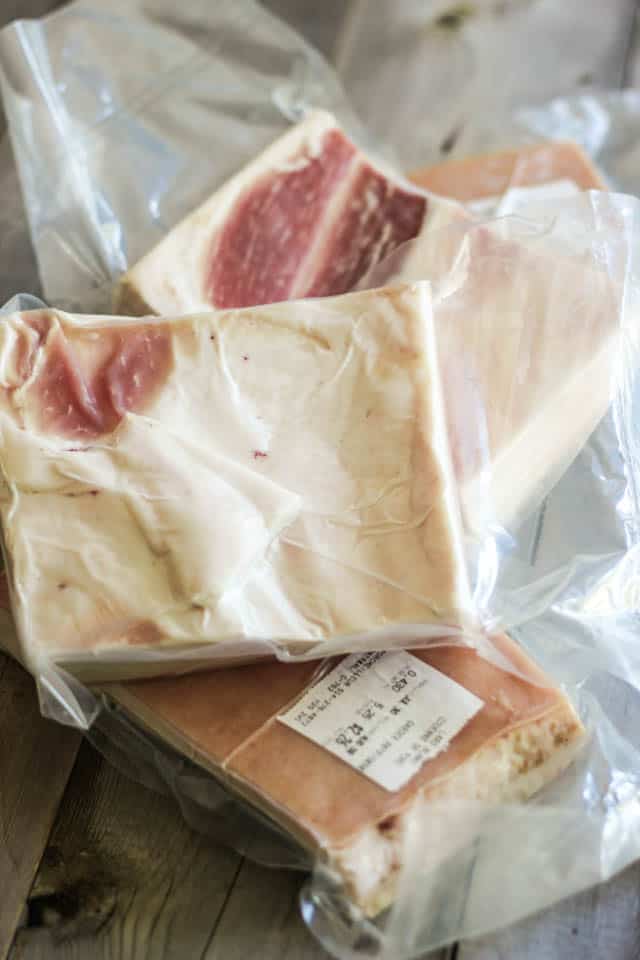 This batch here I made with back fat, but you can also use leaf fat if you wanted to. The process is pretty much the same, although I found leaf fat to melt a little bit faster. Also, the lard from leaf fat is somewhat finer, a tad lighter in color and has less of a pork or meaty flavor to it, which makes it ideal for baking.
But both types are extremely suitable for cooking, though, as they can withstand pretty intense heat! Lard would be the perfect fat for deep frying, especially since it's really not that expensive. If you look closely on the label above, you will see that $2.26 got me close to a pound of fat.
All in all, I spent $14.40 for 4 packages of back fat and 3 packages of leaf fat, which yielded a total of 13 cups of pure, top quality lard.
Oh, and I got Crispy Lardons as an added bonus, but we'll get back to this later.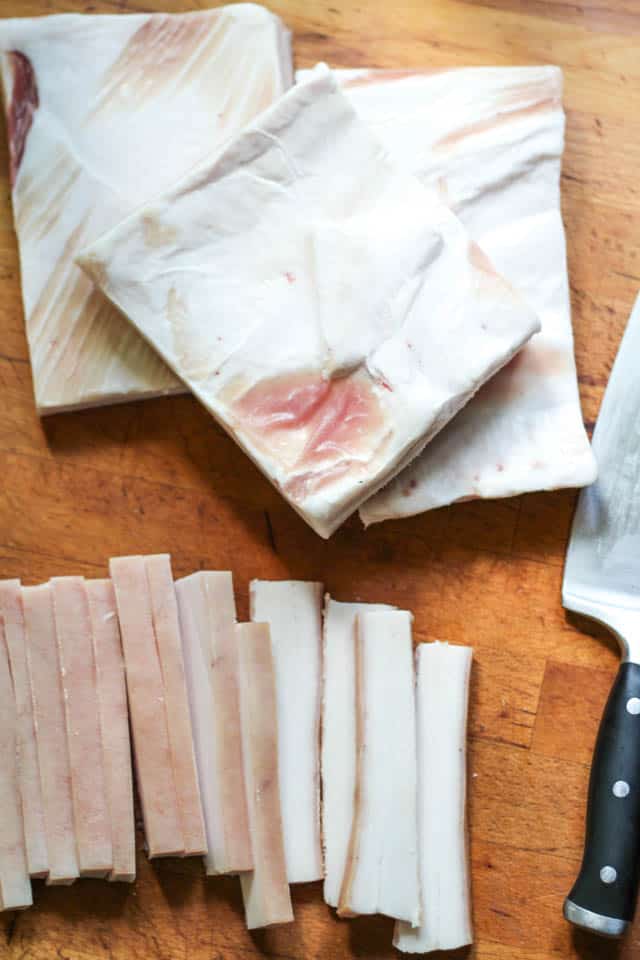 Now, I chose to take the basic route to get the job done and used a simple knife to cut my fat. You'll notice that the back fat that I got still has the skin attached and that is a little bit on the tough side, so I suggest using a very sharp knife and getting a very good grip on it. This will require quite a bit of pressure and you don't want to end up hurting yourself.
I personally haven't been able to find any, but I know for a fact that this also comes in sheets with the skin removed, which would no doubt make it so much easier to chop.
But the thing is, you see, that skin becomes so puffy and crispy after spending a great deal of time frying in its own fat, it's insanely delicious.
But we'll get back to this later!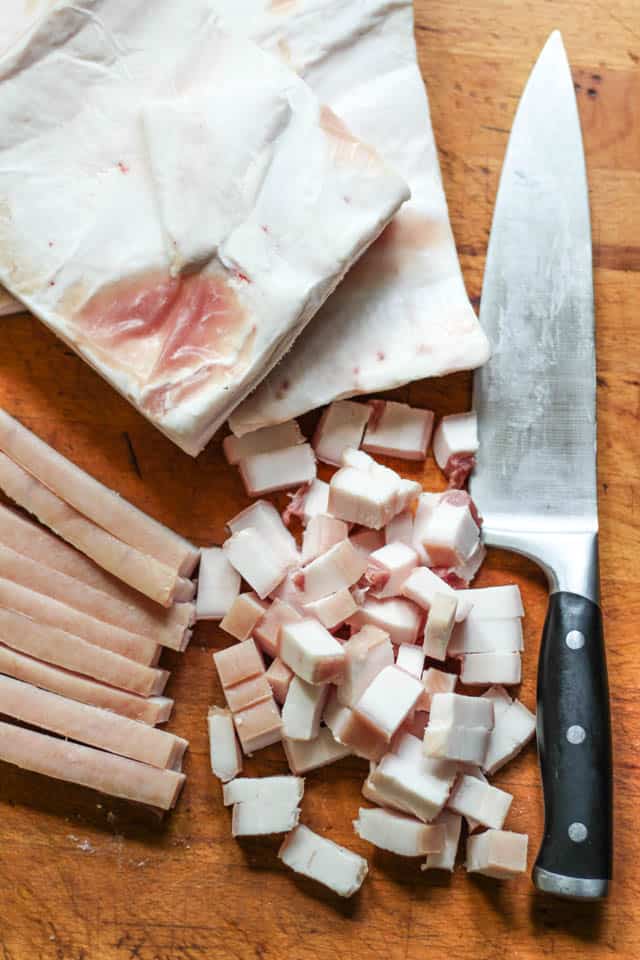 After you're done cutting the strips, you want to cut them again into tiny little dice.
Make sure you keep your pieces as tiny as possible,too for the smaller they are, the more fat you will render.
You could even pass them through a meat grinder if you have one, or throw them in the food processor and give them a couple of spins on pulse.
Make sure you work in small batches, though, for this stuff is really stiff and you wouldn't want to end up burning the motor!
And don't go too small either, 'cuz then the lardons might not be quite so yummy!
But we'll get back to this later…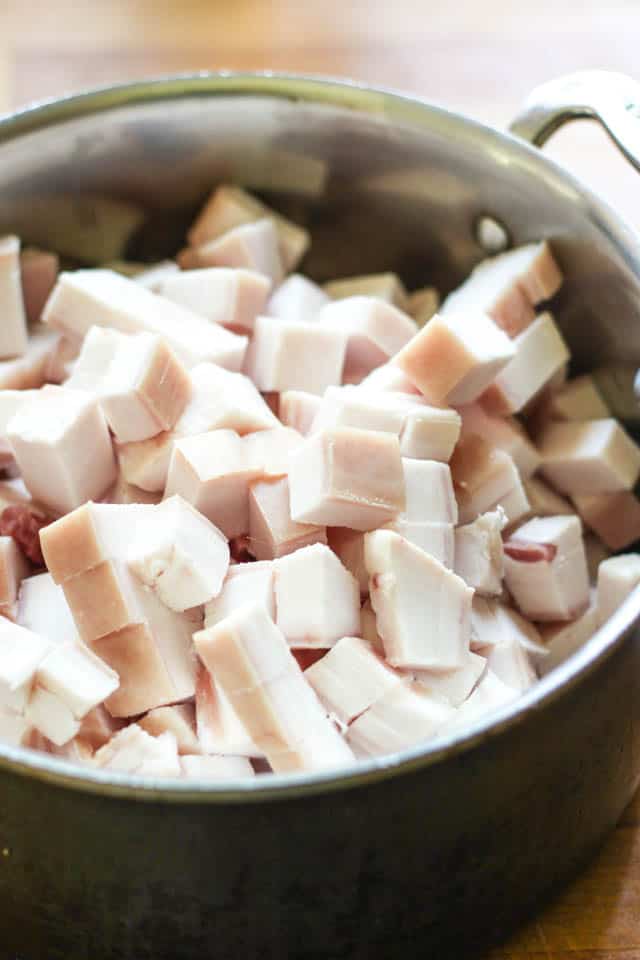 Throw all your fat in a large stockpot and put it to heat slowly, delicately, over medium heat.
Lard will burn fairly easily and you do NOT want your precious fat to burn, so don't go set the temperature too high in the hopes of getting the job done quickly…
That's NOT the way it goes… This is a food of love, guys.
Slow and low, that is the tempo!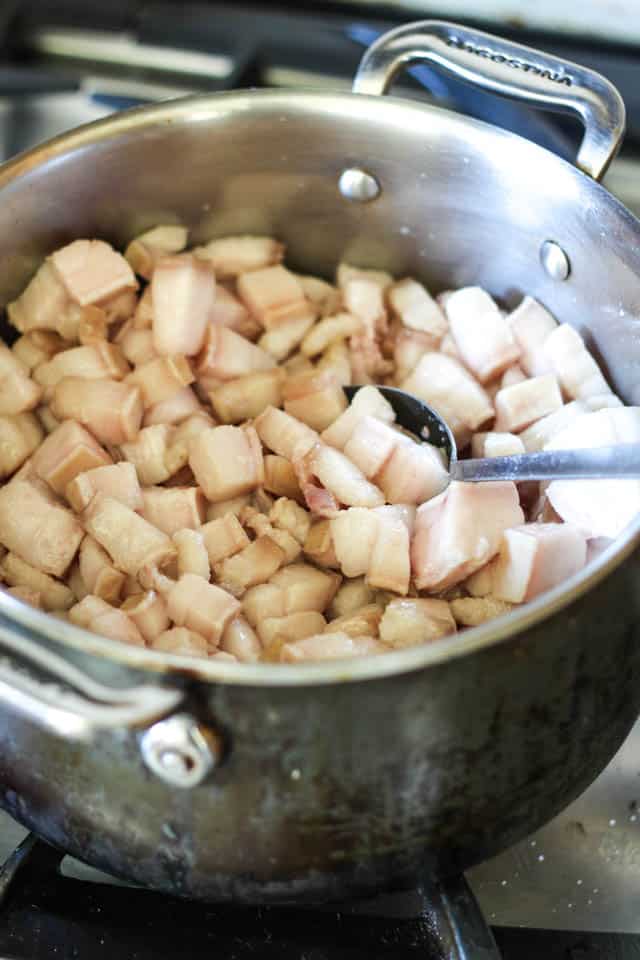 At first, you're going to feel like this is going nowhere. The fat will only very slightly melt and become a tad more translucent. It will remain like this for a little while too, say 5 to 10 minutes.
Just stir the fat at regular intervals and keep a very close eye on it.
Do not despair, this WILL happen eventually. I guarantee it.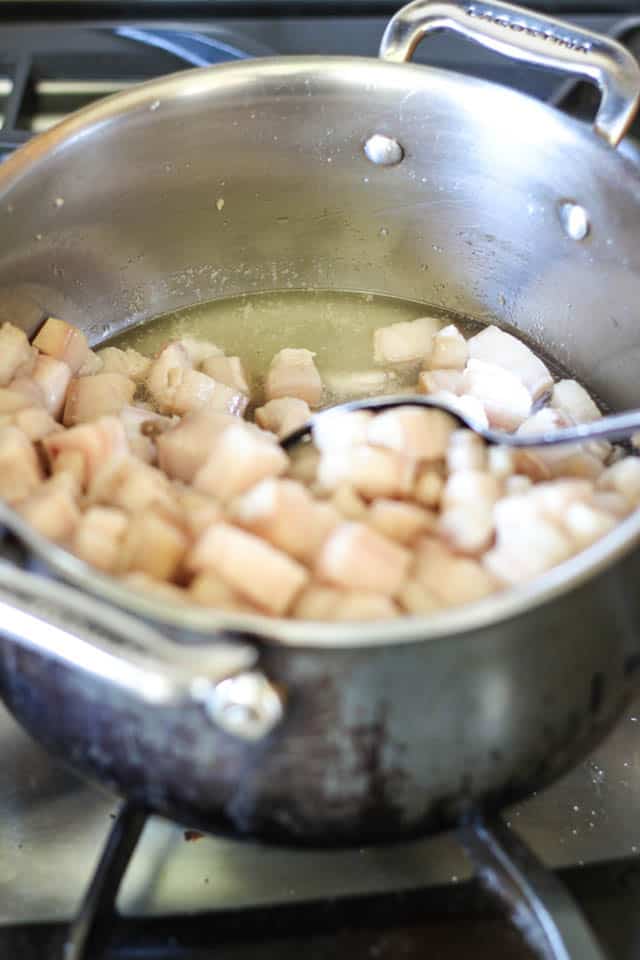 Then, slowly but surely, you'll see a small amount of liquid fat starting to appear at the bottom of the stockpot.
Some of the beautiful fat is finally being rendered!
Keep stirring and after a few more minutes, you will see the level of liquid fat slowly start to raise.
It would be a good idea to strain that rendered fat regularly, just in case you would inadvertently burn it somewhere down the road.
This would at least insure that you don't end up burning the entire batch.
This is the point at which I decided it was time to strain some of that fat. I was probably about 30 minutes in the process.
You might feel more comfortable starting to strain sooner, or you might feel confident letting it go a little bit further.
But remember: the more often you strain, the less you run the risk of ruining your batch of precious lard.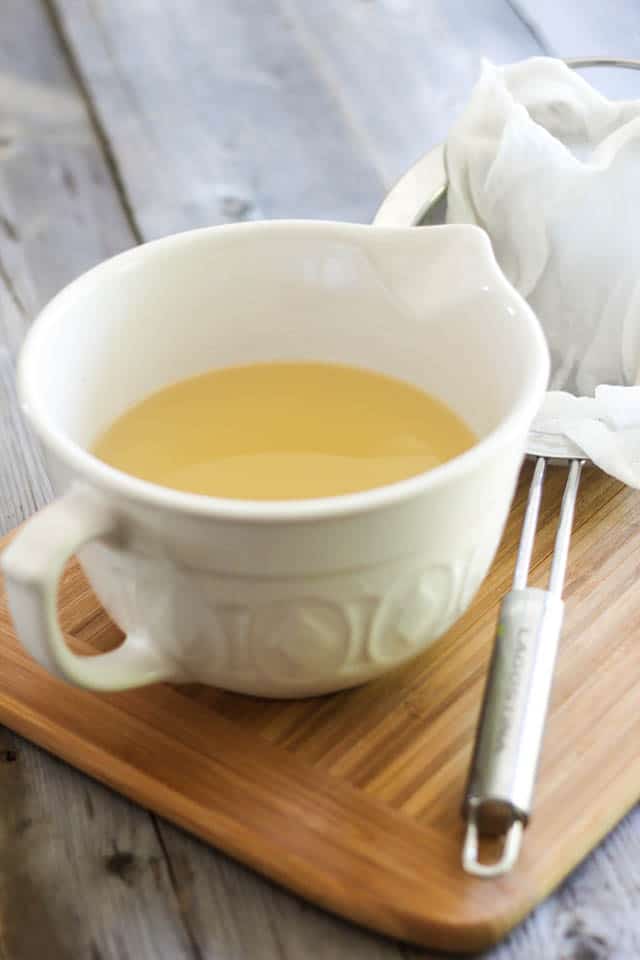 Strain the liquid fat through a fine meshed sieve. I opted to line mine with a piece of cheesecloth to make sure I got all of the tiny little brown bits out, even the minuscule ones, but this is entirely optional.
A fine mesh sieve alone will suffice, if you don't have the cheesecloth.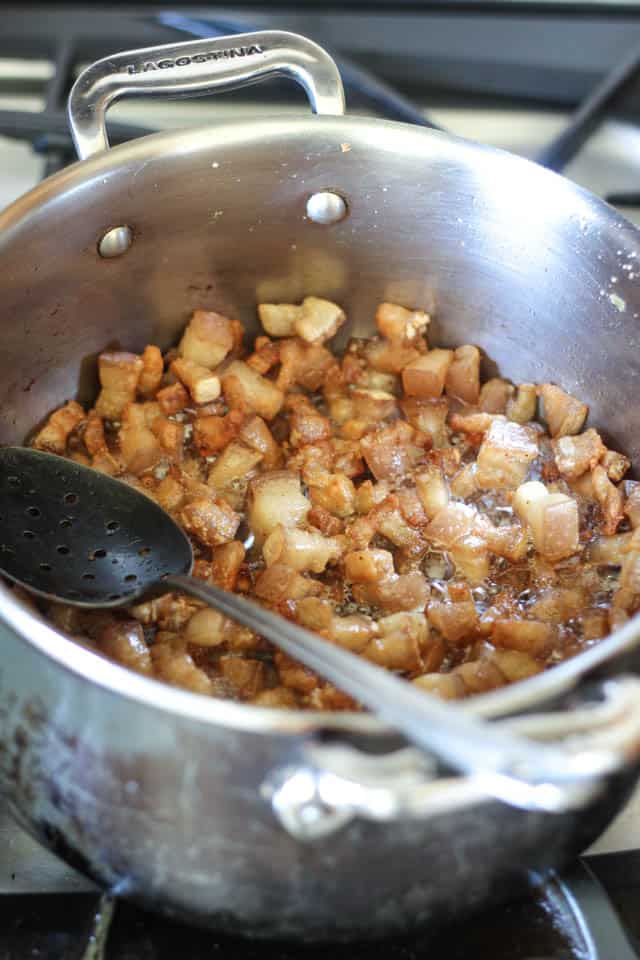 Put the fat back over the heat source and continue cooking over medium heat.
The lardons will start getting smaller and turn golden brown as the fat is becoming less abundant.
They are literally starting to fry in their own fat.
That is not a bad thing, but when that starts to happen, you might also want to start straining more often…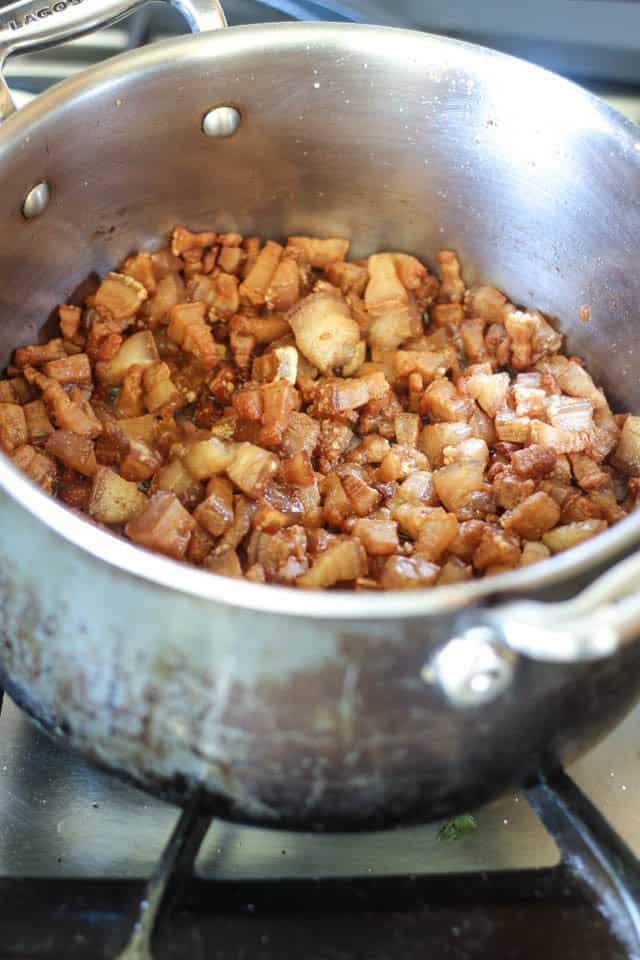 Eventually, the lardons will become somewhat dry and will stop rendering fat. They will only get darker, and will start to smell real good.
Make sure you don't let them burn!
'Cuz these things are GOOD! Whatever you do, do not let them go to waste.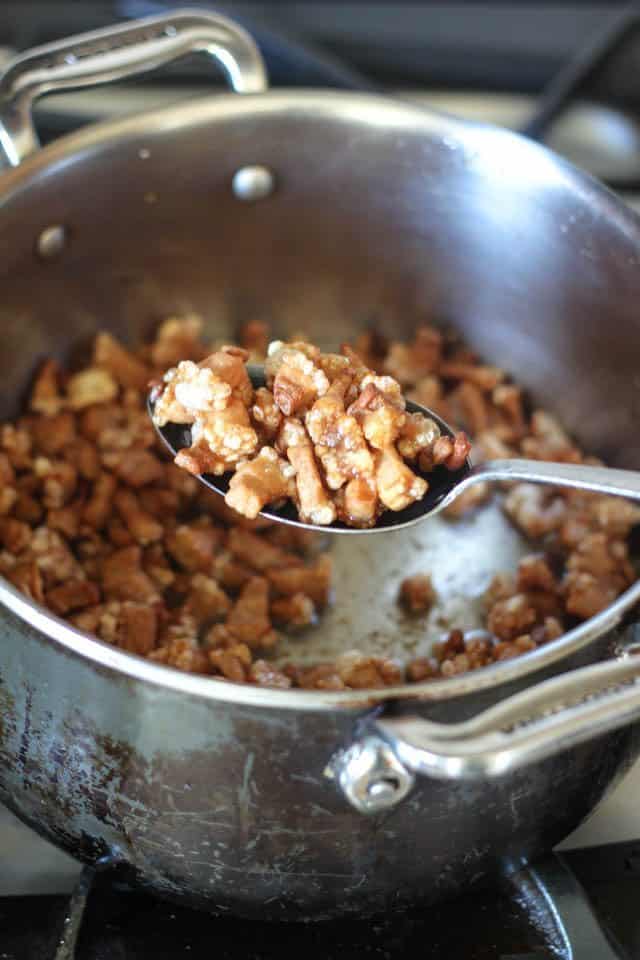 Eventually, they will just completely stop to render fat at all.
At that point, the skin will start to puff up, almost as if it were popcorn.
And THAT's when we get to the Crispy Lardons!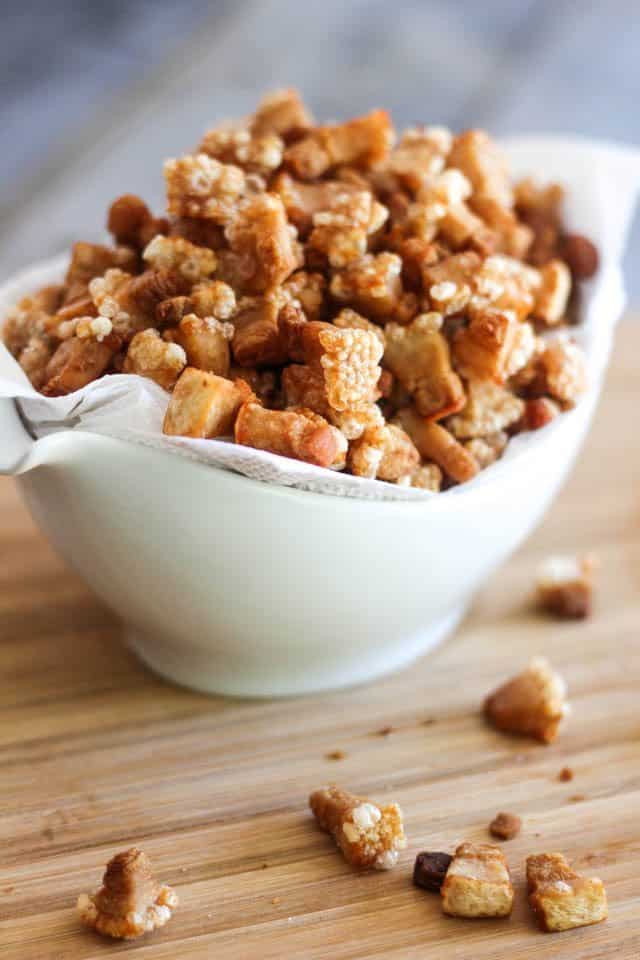 This, my friends, is just crazy delicious. It's like Pork Fat Popcorn.
Just sprinkle a little bit of sea salt on these puppies and get ready to have your mind blown.
Of course, though, you're not going to want to eat all of these in one sitting…
Apparently, they will keep in the fridge for quite a few weeks, so you can save them and enjoy a few pieces here and there with your meals. They reheat very well in a pan and go very well alongside your morning eggs!
Also, I like to throw mine in the food processor and turn then into the tastiest, crispiest fat I've ever eaten, which I then add to meatballs and beef patties. They add so much flavor, it's not even funny.
I'm sure I'll find a million use for them and will run out of those WAY before I run out of lard…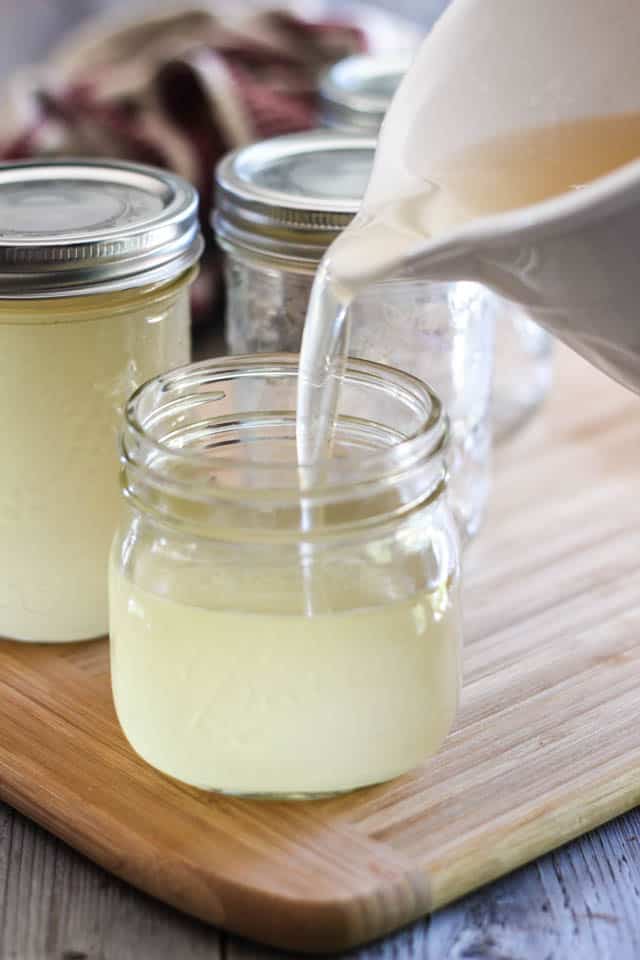 Once you're done snacking on the crispy lardons, it's time to transfer your strained fat to clean glass jars.
Look at how pure, how beautiful!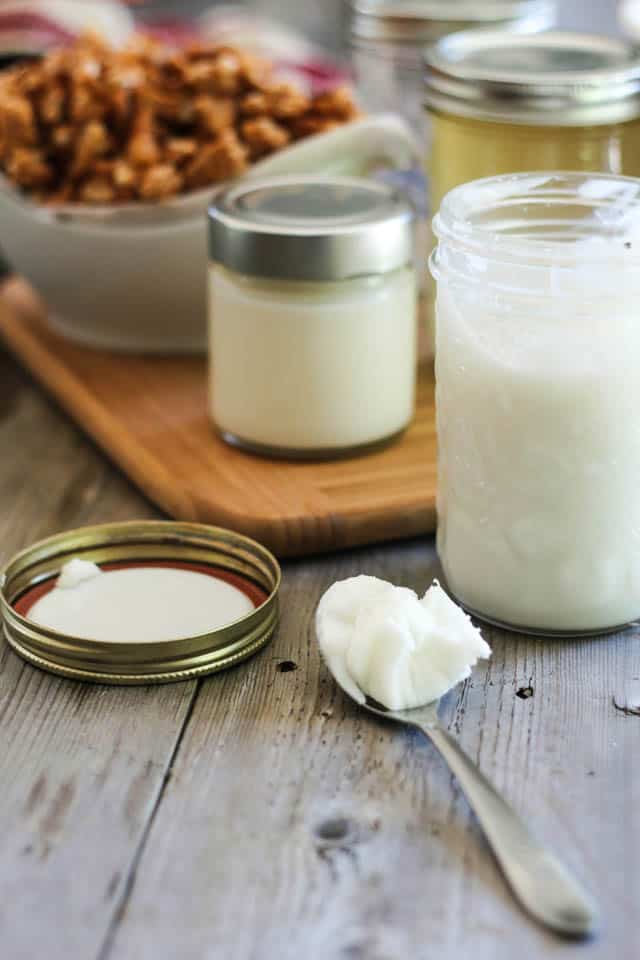 After a few hours, your lard will set and turn beautifully opaque.
Honestly, I never thought I'd ever think of lard as being "pretty", but looking at this, I have to admit that it sure can be a lovely thing to look at!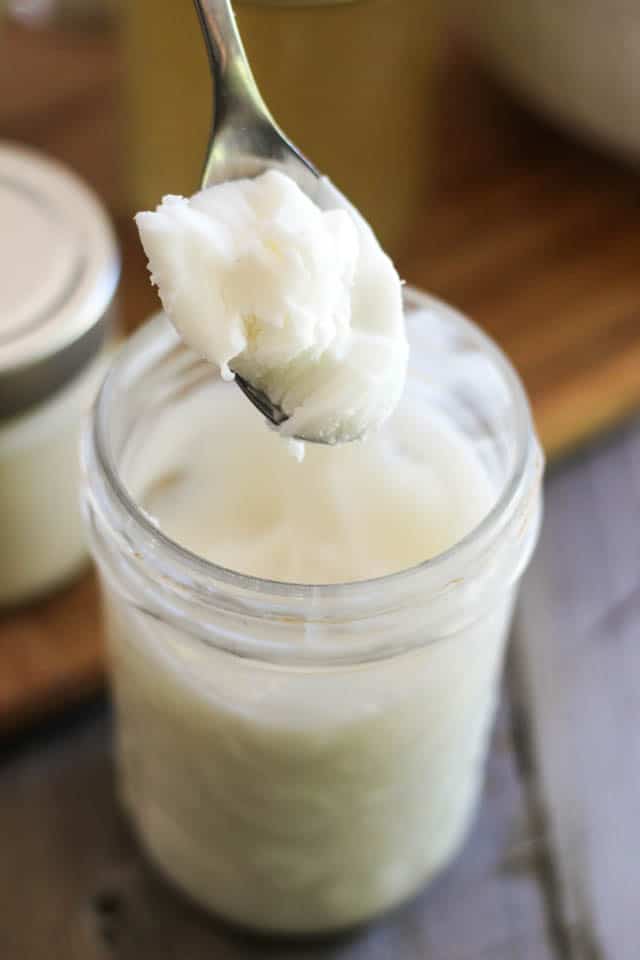 Can you imagine yourself cooking with this?
It immediately became my favorite cooking fat.
Can you blame me?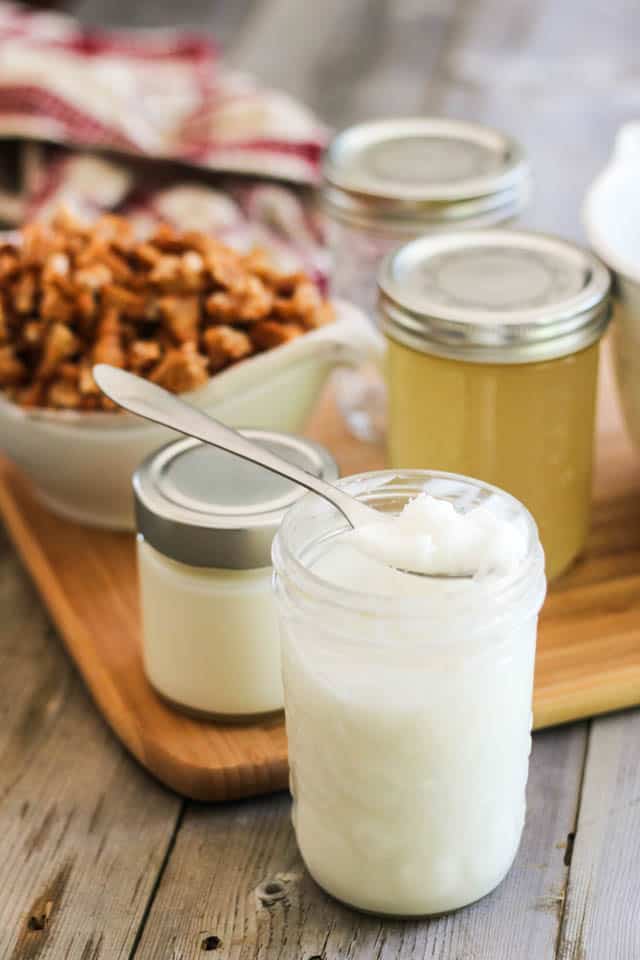 Oh, I so can't wait to start baking with this.
I get the feeling that my Christmas menu will be particularly copious this year… thanks to a freezer full of pork and cupboards full of lard!
So be on the lookout for tons of glorious, delicious and most of all, nutritious Holiday recipes!