Coconut & Shrimp Patties with Avocado Mayo Dipping Sauce
I have officially entered the final week of my second Whole30® challenge.
Including today, I've only got 6 more days to go.
YAY!
Not that it being over is going to change much in the way I eat, but at least, I will finally get to bake!!! And boy has the baker in me been itching to bake those last 8 weeks.
You want to know what I'll be baking first? These absolutely decadent looking Paleo Chocolate Chunk Cookies. I've been dreaming about drooling all over them ever since Mike posted them a few weeks ago.
Pffft! What a meanie, this guy: posting decadent looking dessert recipes while I'm Whole30ing away…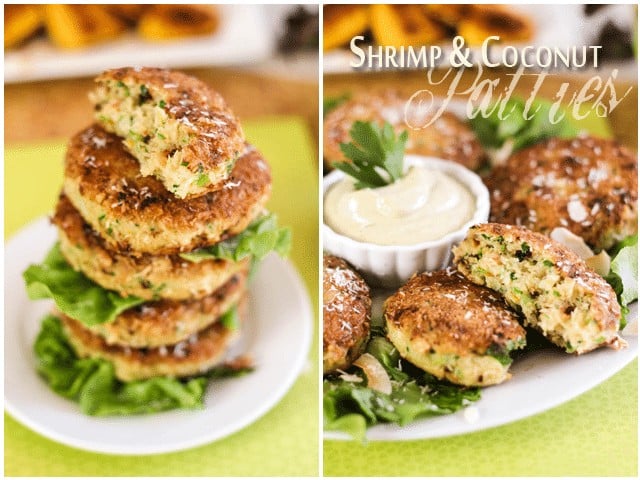 But hey, at least I got to make some kind of "cakes" as in Coconut Shrimp "Cakes". But they're not the same as real cake, you know.  😉
In fact, they're more like a patty… So there. In an effort to keep my baking-obsessed mind at ease, I'll call these "patties", how's that?
But whatever you choose to call them, if you're a fan of crab cakes or tuna fish patties, or any kind of fish nuggets for that matter, I think you're gonna fall in love with these Coconut Shrimp Patties.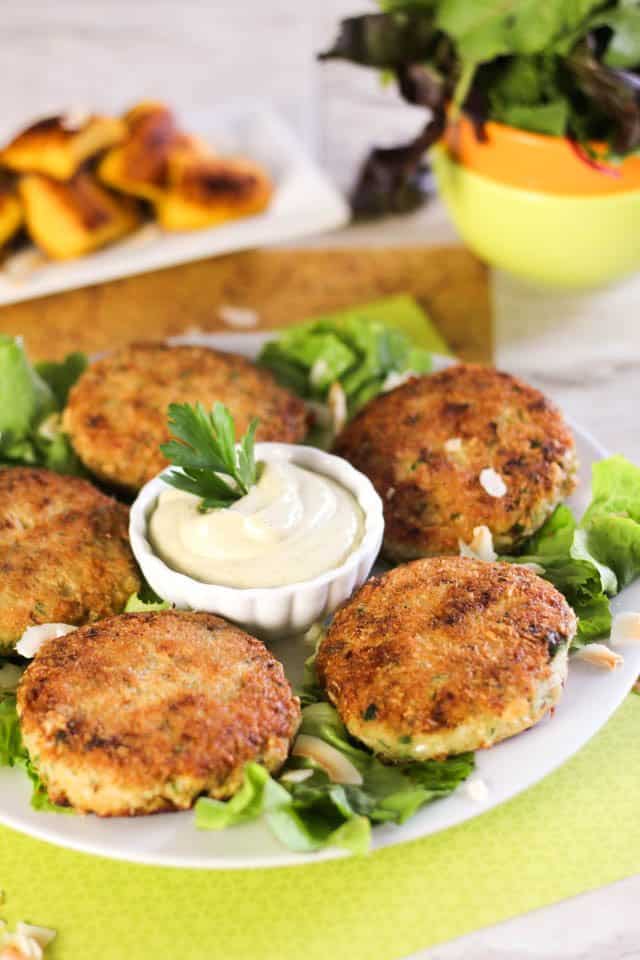 I got the inspiration for these babies from Natalie, over at Perry's Plate (seriously, isn't her kid adorable sitting in the dishwasher like that?).
Boy am I ever so glad I subscribe to her blog. It got me this recipe delivered straight into my inbox, and had I not received it, I'd have been missing on a great addition to my regular meal rotation.
I mean, I've had shrimp cakes before in my life, but not one that ever came close to being as good as these ones.
Trust me, you HAVE to give them a try!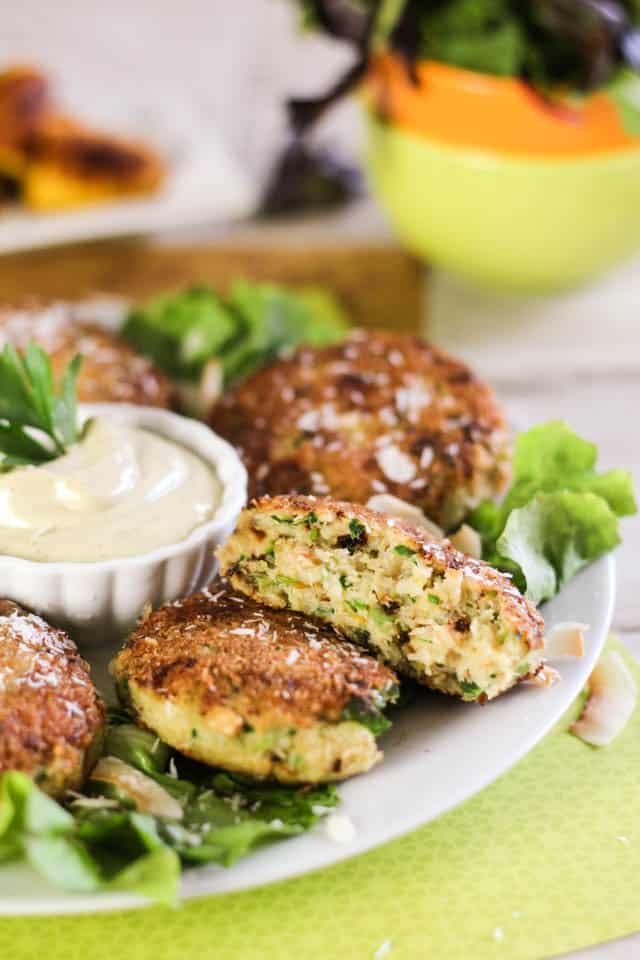 Oh, and the slightly piquant avocado mayo sauce that I made to go with these turned out to be a match made in heaven.
And the addition of ancho chile to both the cakes and the sauce really brought the whole experience to the next level.
If you can't get your hands on ancho, maybe try chipotle instead, or cayenne any other kind of chile that you happen to have on hand. Keep this in mind, though: ancho isn't all that hot and has a kind of fruity, smoky flavor to it. Be sure not to go overboard if using something more intense.
And if you're not a fan of heat, you can leave that out altogether.
I swear, you're not gonna hurt my feelings!
And I guarantee your cakes are still going to be delicious…
Coconut & Shrimp Patties and Avocado Mayo Dipping Sauce
Servings: 8 patties
Ingredients
For the shrimp patties
400 g raw shrimp, shelled, cleaned, tails removed
½ cup dried, unsweetened coconut
2 tbsp coconut flour
¼ cup chopped parsley
2 green onions, chopped
2 garlic cloves, minced
Zest and juice from ½ lime and ½ orange
1 tbsp Dijon mustard
1 whole egg
1 tsp finely chopped ancho chile
¼ tsp Himalayan or fine sea salt
¼ tsp ground white pepper
To bread and cook the patties
½ cup dried, unsweetened coconut
Coconut oil, for frying
Instructions
Place all the ingredients for the patties in a food processor and process on pulse until finely chopped and almost paste-like.

Place the ½ cup of shredded coconut in a shallow dish or plate. Form the shrimp mixture into 6 to 8 patties and press both sides of the patties into the coconut.

Add enough coconut oil into a large, heavy skillet to coat the bottom well and heat over medium-high heat until the oil is nice and hot and splatters when you flick water into the pan.

Fry the patties until they're golden brown on both sides. You might have to work in batches, depending on the size of your pan. Transfer the cooked patties to a plate lined with paper towels to drain excess fat and keep warm.

To make the sauce, add all the ingredients to a small food processor and process until smooth.
If you've tried this recipe, please take a minute to rate the recipe and let me know how things went for you in the comments below. It's always such a pleasure to hear from you!
You can also FOLLOW ME on PINTEREST, FACEBOOK, INSTAGRAM and TWITTER for more delicious, healthy recipes!
In the making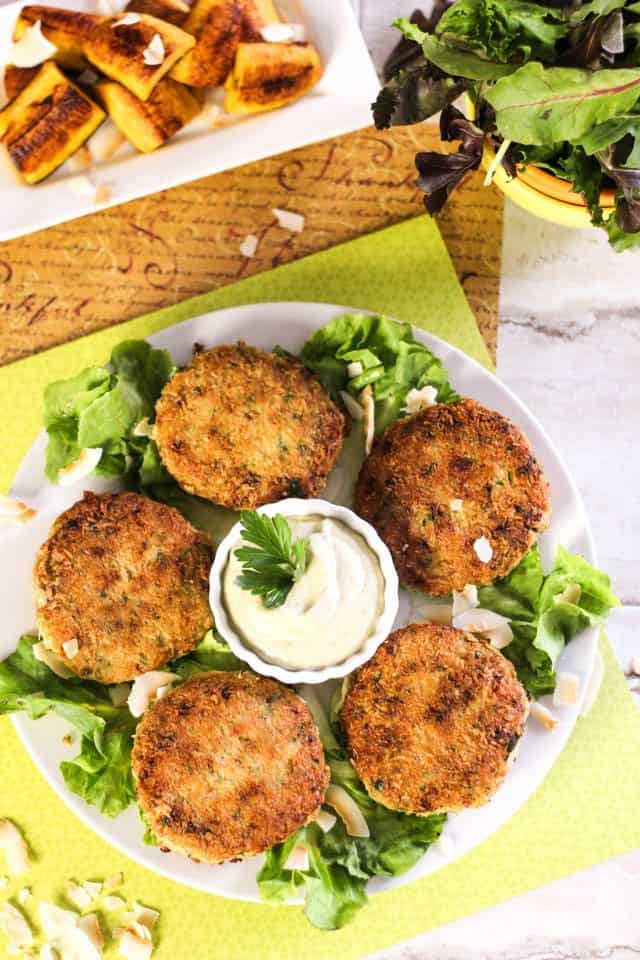 Rounds in round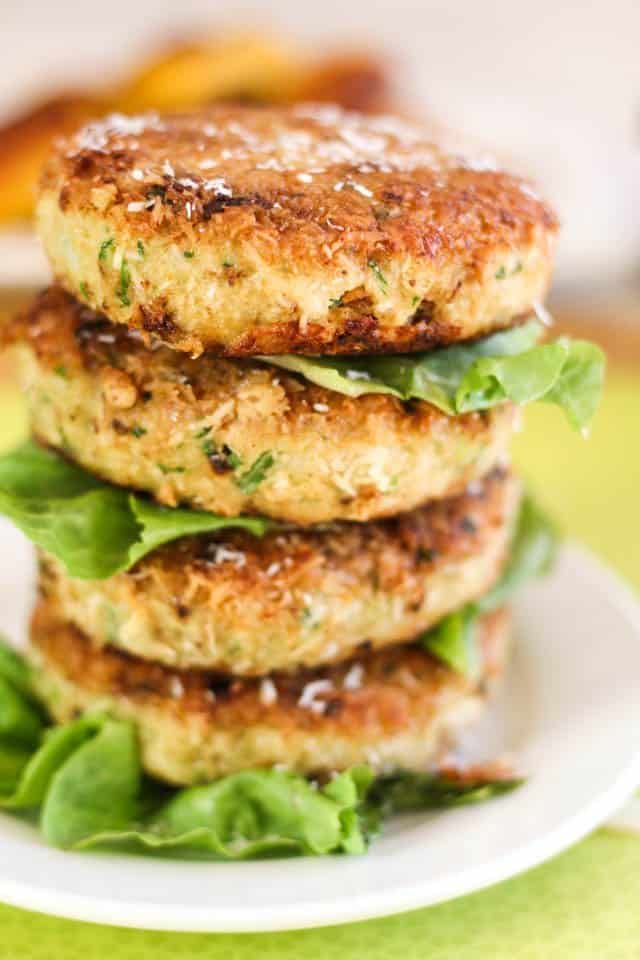 Mile high stack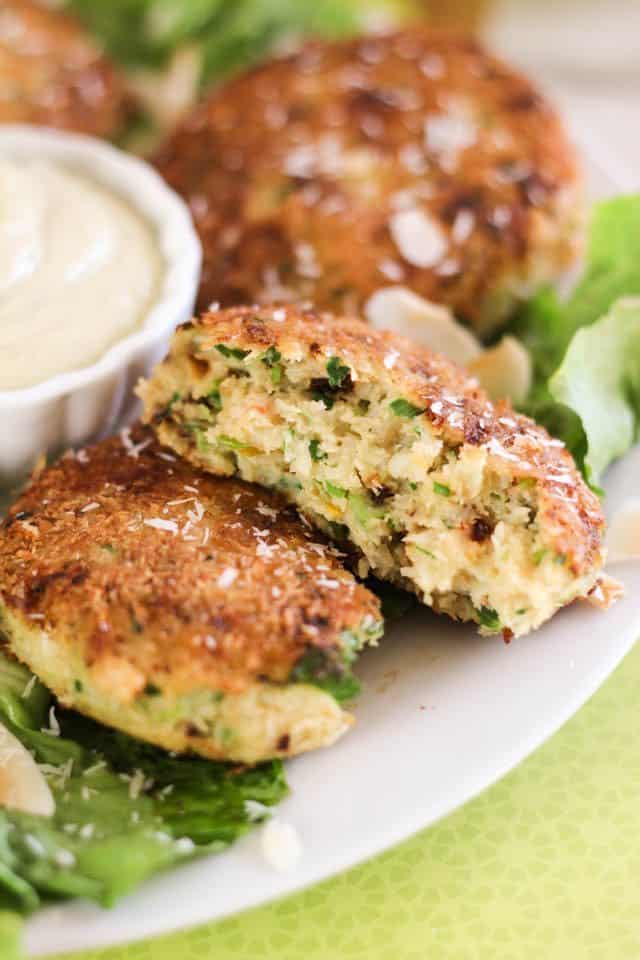 So moist and tasty…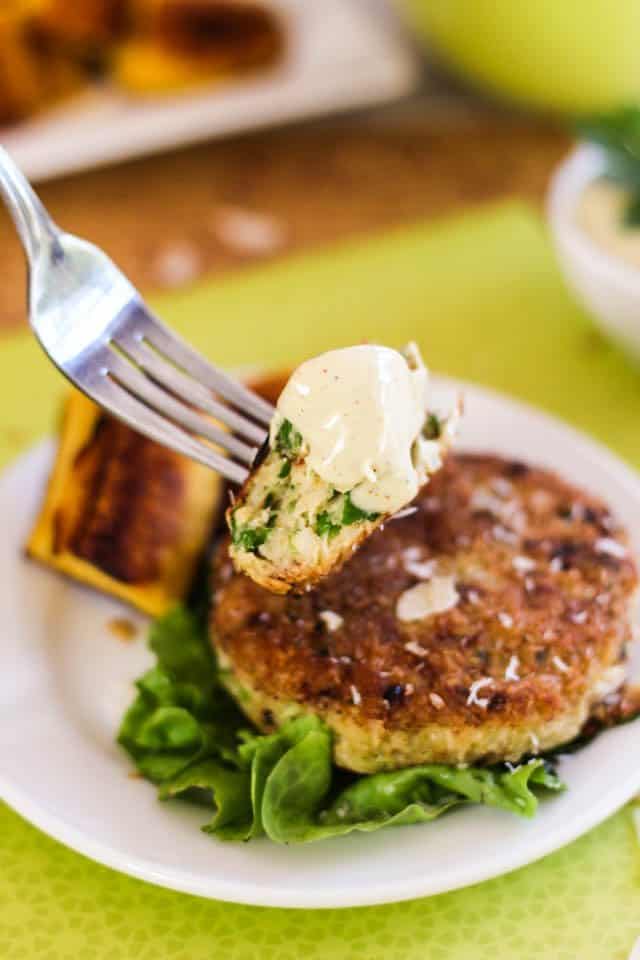 Try 'em with a bit of sauce, why don't you? 
57 days in. After today, there'll be only 5 more to go!