Ground Beef & Butternut Squash Breakfast Skillet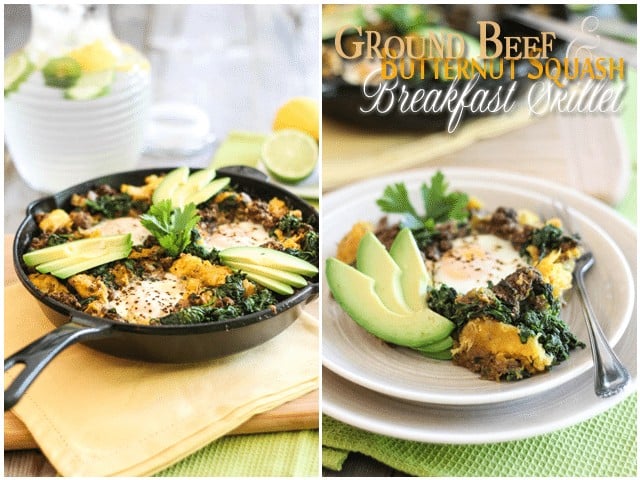 A couple of weeks ago, George Bryant, aka The Civilized Caveman, posted this delicious, mouth watering picture on his Instagram account.
I immediately wanted to eat this so bad, I had to do something about it right then and there. There was no time to wait for the recipe to be posted!
Besides, I'm so lousy at following recipes that it wouldn't have served much purpose to wait that long.
And chances are, I wouldn't have had all the necessary ingredients on hand, anyway, so I would've had to make a few substitutions.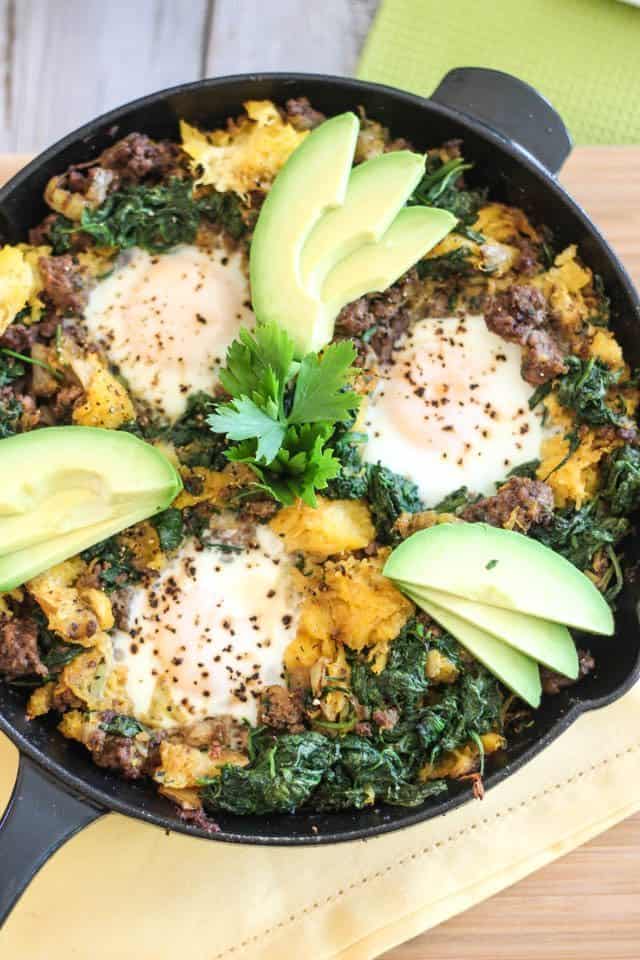 I started to mentally retrace the contents of my fridge.
Conveniently, I had half a cooked butternut squash in there, as well as a whole one pound container of spinach that was just waiting for the perfect opportunity to get used up.
And luckily enough, I had taken a package of ground beef out of the freezer a couple of days prior also.
I figured I was in pretty good shape to come up with a dish that was similar enough to what my brain had seen to calm my craving down AND have it ready right on time for dinner, too.
Hey, who says you absolutely have to have Breakfast Skillets for breakfast?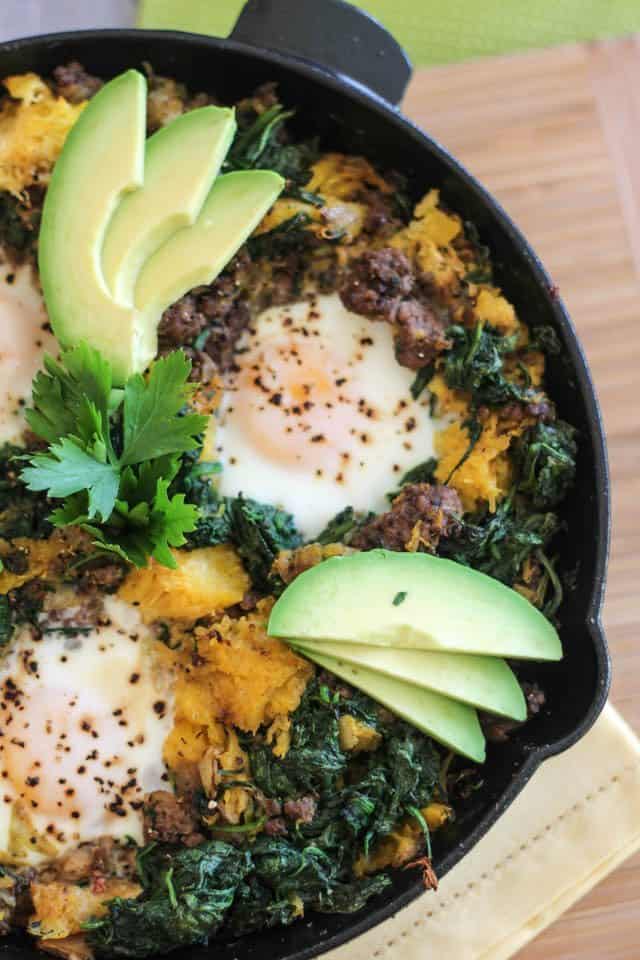 The beauty of this dish, you see, apart from being incredibly tasty and nutritious, is that it is highly adaptable.
Don't have butternut squash? No biggie! You could very well use sweet potatoes or acorn squash, or pumpkin or even spaghetti squash. Mashed rutabaga would also be a wonderful addition to this tasty skillet.
No spinach on hand? Sauteed collards or kale, or Swiss chards would very well do the trick.
And if ground beef isn't your thing, why not sub ground turkey, or chunks of cooked chicken, or ground lamb… even. Oh yes! Lamb! Now THAT would work fantastically well in this.
Or sausage, why not?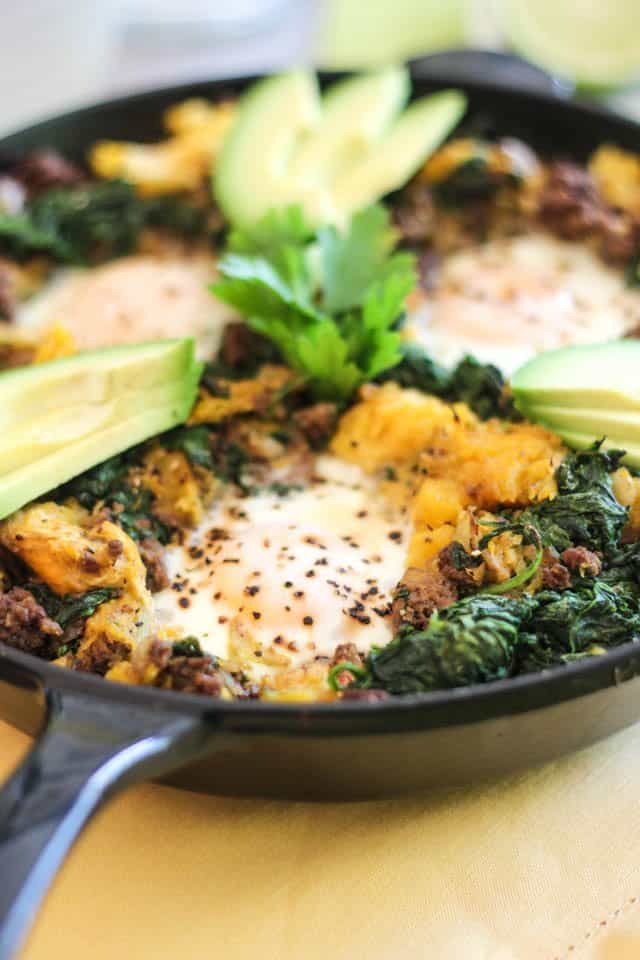 Another great thing about this dish is that it reheats fairly well. So even if you're making it only for yourself, you can very well enjoy one serving fresh out of the oven and put the other 2 in the fridge.
This way, you have breakfast taken care of for the next 2 mornings.
A few minutes in the microwave is all is takes, and voilà, breakfast is served!
Plus, the egg doesn't even get all rubbery. WIN!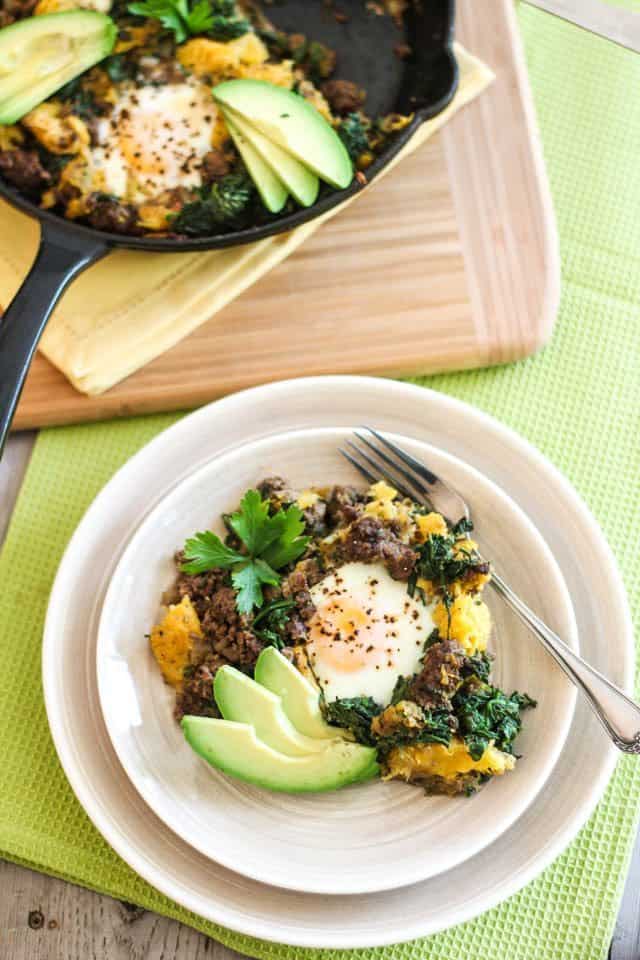 I think all that's missing is a couple of slices of bacon on the side…
Or crumbled and sprinkled all over the top.
Oooooh yeah! Wouldn't you agree?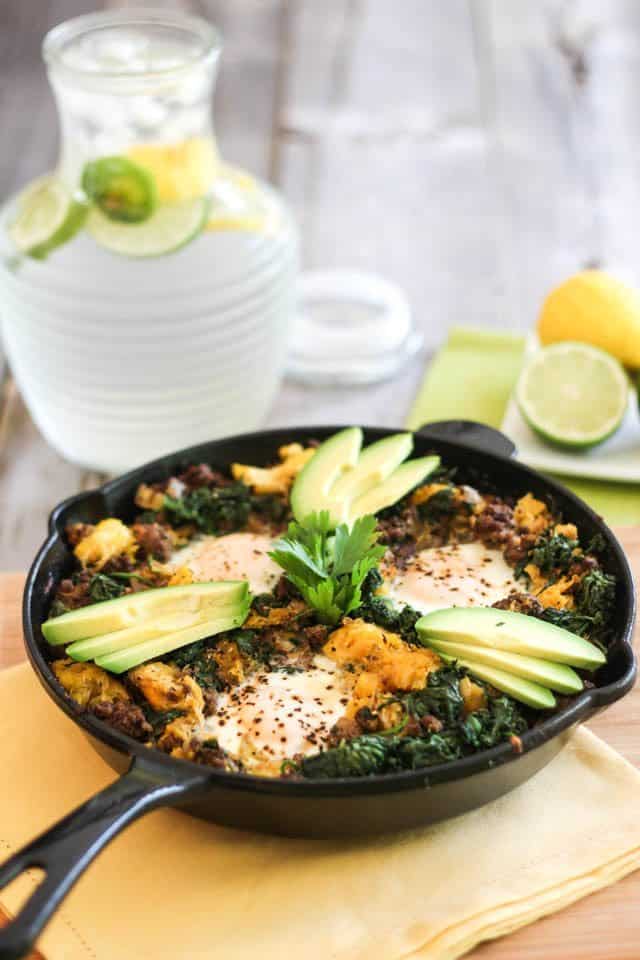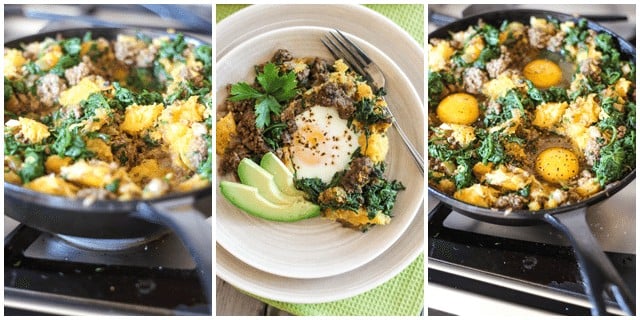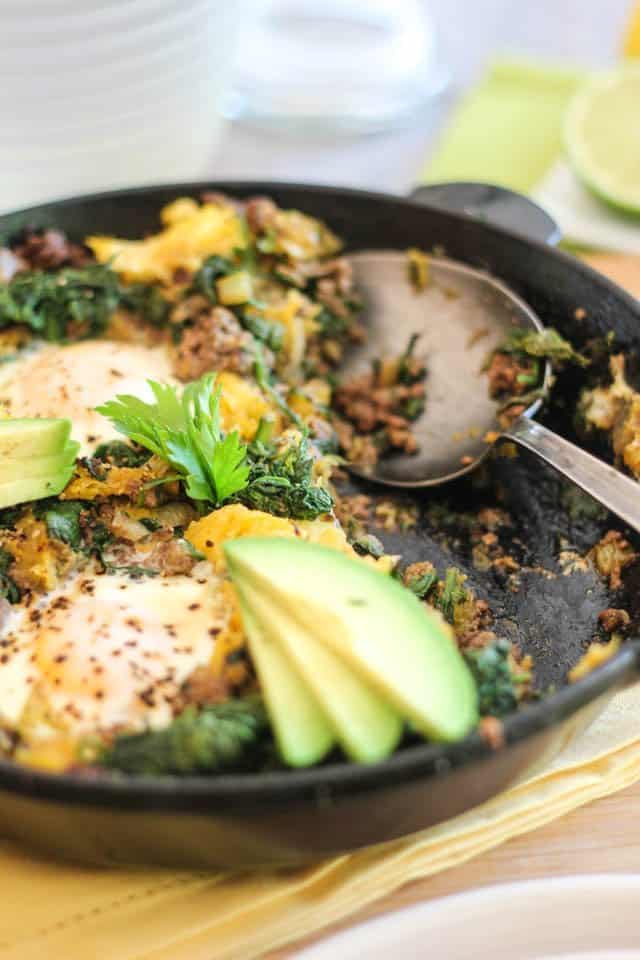 Ground Beef & Butternut Squash Breakfast Skillet
A warm and comforting mixture of ground beef, butternut squash, spinach, eggs and avocado. A surefire way to start, or end, your day right!
Servings: 3
Ingredients
1-2 tbsp lard
1 lb grassfed ground beef
1 small onion, chopped
2 celery stalks, chopped
3 cloves garlic, minced
½ tsp Himalayan or fine sea salt
¼ tsp ground white pepper
1 tsp ground cumin
½ tsp ground coriander
1 tsp garam masala
½ large butternut squash, cooked
1 lb spinach, chopped
3 pastured eggs
½ avocado, peeled and sliced
Instructions
Preheat oven to 375°F

Divide the spinach into 2 or 3 batches and cook them in the microwave for about a minute, until wilted. Allow the cooked spinach to cool until it can be safely handled and press them with your hands to squeeze out as much liquid as you possibly can. Reserve.

While the spinach is cooling, scoop the flesh out of the butternut squash and set that aside.

Melt the lard in a heavy skillet (cast iron preferred) set over medium high heat. When the lard is nice and hot, add onion, celery, garlic and salt and cook until the veggies are fragrant and softened, about 2-3 minutes.

Add ground beef, white pepper, cumin, coriander and garam masala and continue cooking until the beef completely brown.

Add squash meat and drained spinach and mix lightly, just to distribute the ingredients somewhat evenly.

Create 3 dimples in the mixture and crack an egg into each dimple. Sprinkle the eggs with a little bit of salt and pepper.

Place in the oven to bake for 12-15 minutes, until the eggs are set.

Garnish with the sliced avocados and serve immediately.
Nutrition
Calories: 505kcal, Carbohydrates: 29g, Protein: 43g, Fat: 25g, Saturated Fat: 8g, Cholesterol: 262mg, Sodium: 702mg, Potassium: 2139mg, Fiber: 10g, Sugar: 6g, Vitamin A: 28119IU, Vitamin C: 78mg, Calcium: 299mg, Iron: 10mg
If you've tried this recipe, please take a minute to rate the recipe and let me know how things went for you in the comments below. It's always such a pleasure to hear from you!
You can also FOLLOW ME on PINTEREST, FACEBOOK, INSTAGRAM and TWITTER for more delicious, healthy recipes!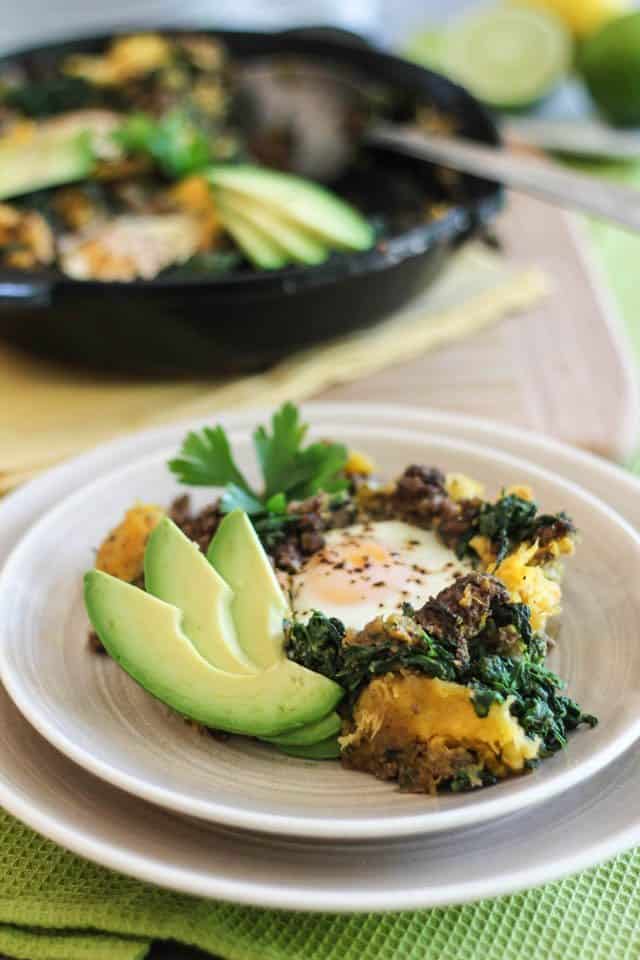 I can see the finish line… only 3 days to go!