Butternut Squash, Brussels Sprouts and Jicama Hash
This recipe was also inspired by a picture I saw on Instagram, but unfortunately, I can't remember who posted it…
As is often the case, I saw a picture, it sort of imprinted in my mind and I knew exactly where I wanted to take the dish. So I never really went back to that image or waited for a recipe to be posted.
But let me give you a little piece of advice before I continue: Pin this one right now, save it, bookmark it, print it, use whatever way you prefer to keep it for ulterior consultation.
Because you ARE going to want to make this.
Like a thousand times again, and then some.
Just to give you an idea of how much I liked this, I made the firm decision with the very first bite that this exact dish would make it to my Christmas table this year.
And I can guarantee you that it will be on my Christmas menu on more than one occasion. It might very well become part of the tradition!
Oh, there might be a few slight modifications, though, for this dish simply CALLS for modifications.
It's like, you eat gobble it down and tell your brain think to yourself omg this is fantastic… this is incredible… chomp, chomp, but you know what would also work well in this? BACON!
Oh yeah, baaaacoooon…
And then, as you take inhale the next bite, your mind goes :"Oh, Oh, chomp, chomp, you know what else would go good with this? APPLES!"
Sure, apples would be awesome!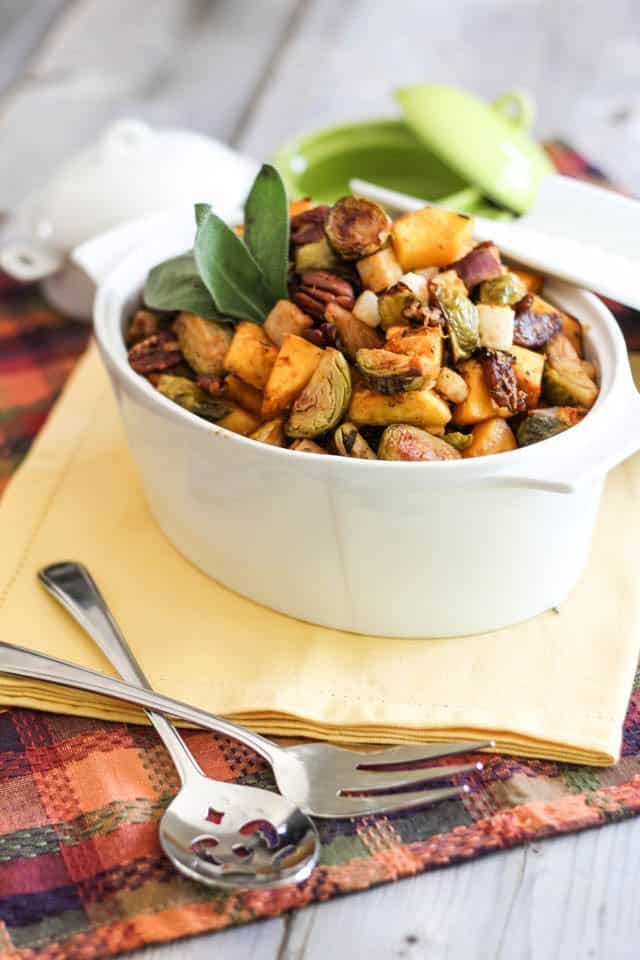 And then you start thinking… if I'm gonna add apples, might as well use raisins instead of figs. 'Cuz apples and raisins, you know… they're just meant to be together. Oh, and while we're at it, why not add a little bit of cinnamon and nutmeg too, just to complement them.
Oh, and chestnuts would be sooo dreamy, too… plus, they are so Christmas-y! For sure, they're gonna find their way into the" Holiday" version of this dish.
And of course, if you didn't have any butternut squash on hand, sweet potatoes would very well do the trick!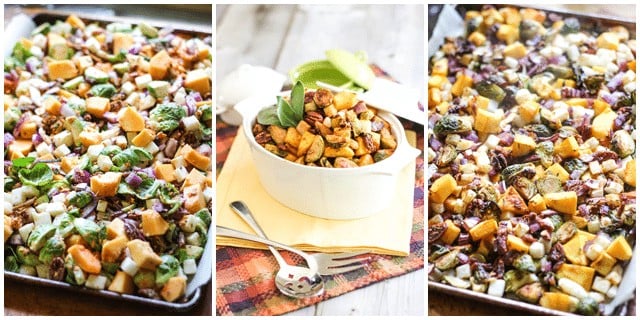 Pears, dates, pistachios and cardamom, instead of jicama, figs, pecans and  and smoked paprika. That's a winning combination to me.
I think Ras El Hanout or Garam Masala would work incredibly well with the rest of the flavors in this dish. Or a pinch or two of spicy curry…
Carrots could no doubt sub for the squash…
Or, broccoli could very well be used in lieu of the Brussels sprouts.
See what I mean?
But hey, there really is no need to make any substitutions at all either.
I'm telling you, this dish was pure awesomeness just as it was. BOOM! A pure explosion of flavors, colors and textures.
Do yourselves a favor and give it a test run now, before the Holidays are here…
Cuz this will happen sooner than we think, you know that, right?
Go on, get prepared!
Butternut Squash, Brussel Sprouts and Jicama Hash
Servings: 6
Ingredients
The veggies
½ medium butternut squash, peeled and diced (about 4 cups)
½ medium jicama, peeled and diced (about 4 cups)
475 g Brussels sprouts, cut into 2 or 4 pieces, depending on size (about 3 cups)
1 large red onion, chopped
75 g pecans, chopped (3/4 cup)
150 g cup dried figs, chopped (3/4 cup)
2 sprigs fresh sage, chopped
2 sprigs fresh rosemary, chopped
The sauce (aka the flavor pack)
Instructions
Preheat the oven to 375F and line a shallow baking dish or sheet with parchment paper.

In a large mixing bowl, combine all the vegetables, pecans, dried figs and fresh herbs. Set aside.

In a smaller mixing bowl, or in a small food processor, combine all the ingredients for the sauce and whisk (or process) until all the ingredients are well incorporated.

Pour the sauce over the reserved vegetables and mix until well combined. Transfer the veggies to the prepared baking dish and bake in the oven for about 40-45 minutes, stirring once or twice.

When the veggies are cooked to your liking, set the oven to broil and leave that on for 2 or 3 minutes, just to slightly brown and crisp up the top a little bit.

Serve immediately.
If you've tried this recipe, please take a minute to rate the recipe and let me know how things went for you in the comments below. It's always such a pleasure to hear from you!
You can also FOLLOW ME on PINTEREST, FACEBOOK, INSTAGRAM and TWITTER for more delicious, healthy recipes!
Can you believe the colors in this? 
The smell as this comes out of the oven… Mr. Chocolate Cake himself has nothing on it!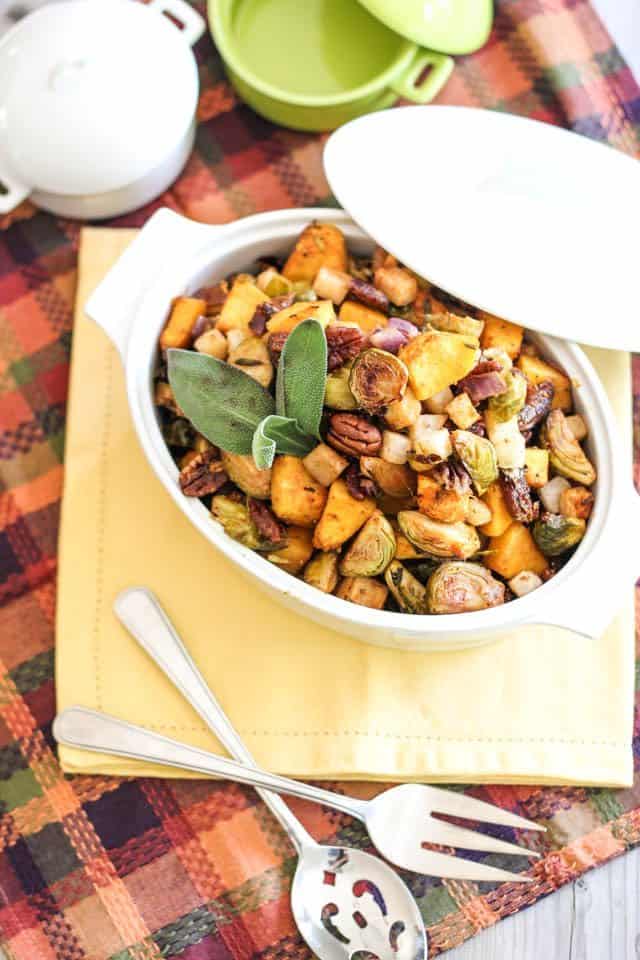 I can very well picture this on my Christmas table. Sure is pretty enough… 
But it tastes even better than it looks!
Wait 'til you take a bite to your lips… 
You know you want to! 
Final day tomorrow!
Of course, I'm making this a full month, 31st included!