So I successfully completed my second Whole30® challenge…
In fact, it has been officially over for 3 days now, but I'm still going at it. I guess I'm feeling so good and fantastic, I just don't wanna stop. Plus, I thoroughly enjoy sharing my every meals on Instagram!
Initially, I figured I would keep going at least until the end of the week, but now, I'm considering extending this through the entire month of August and join the whole bunch of people that are taking the August Whole30 Challenge.
There's only one slight problem, though. The baker in me is really, seriously itching to bake a cake. Not sure I can go another WHOLE month without baking!
Plus, I sort of told one of my readers that I would try and come up with a healthy cake recipe for their upcoming birthday, which would be next week…
What to do, what to do?
If I baked a cake that was entirely Whole30® compliant, would I automatically get "kicked out" of the program? Would it mean I failed on the challenge? I mean, I know SWYPO is not at all encouraged, but is it completely, totally ruled out? Banned? Outlawed?
Oh, how badly this girl itches to bake that cake, it's not even funny! I even got all the ingredients and stuff. I don't even really want to eat the cake, I just want to bake it!
But there's no such thing as baking without tasting, you know.
Of course, I guess I could always put it off for another month. Which means Camille would have to wait for that cake all the way until her next birthday, and I sincerely feel bad about this! But I'm also really wanting to extend my Whole30®.
Guess I need to think some more, but I better make a decision soon: the week-end is coming fast!
Hey, maybe if I shared one of my pre-challenge recipes with you, one that I created all the way back in June when I was last hit with an unbearable urge to bake somethin' good, then maybe it would help me curb this new attack.
And so I give you: Paleo Date Squares! Entirely Grain, Gluten, Dairy AND Refined Sugar Free.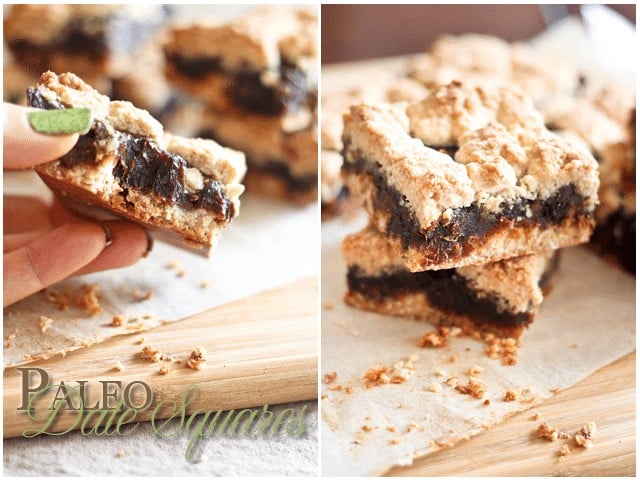 A word of warning though!
While they are made with nothing but Whole30® approved ingredients, I wouldn't even DREAM of indulging in one of these babies during a Whole30®.
Trust me, SWYPO just doesn't get any SWYPOer than this.
These date squares, they mean serious business. They're not at all your typical super moist and soft date squares. No way. These guys, they have a lot of substance to them. They are firm, very firm. I would even dare say, solid! When your teeth sink into one of these puppies, they will be faced with some serious resistance. Now, I'm not saying they're hard as a rock, but they have the firm consistency of say, a really thick graham crust?
Now something HAS to be said about that!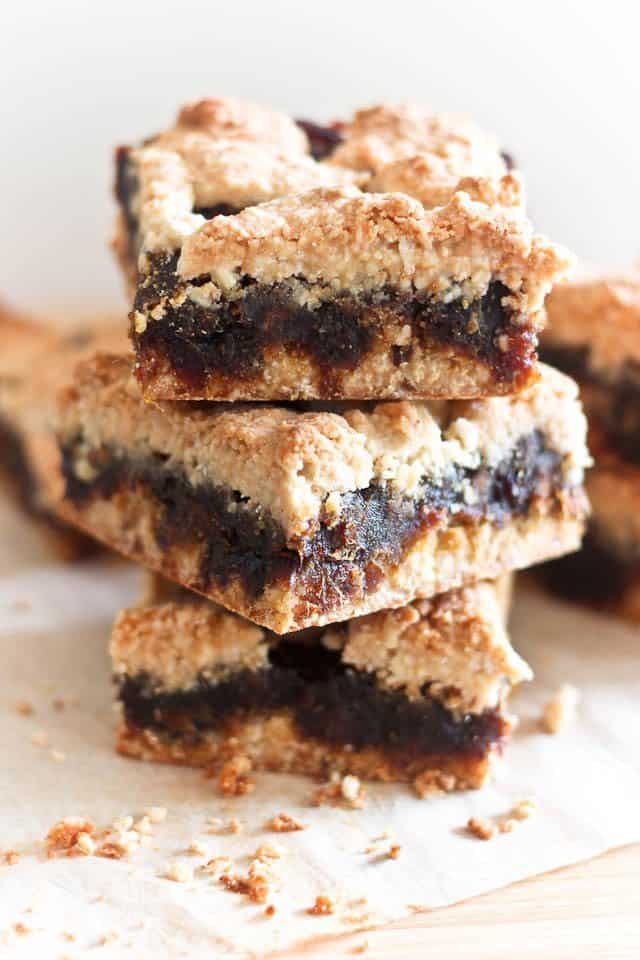 As for the flavor, it's absolutely dreamy, heavenly good. The [not so] subtle notes of orange really take the filling to the next level, while the coconut blends in perfectly well and gives a whole new dimension to this classic treat. The crust has such a rich buttery flavor to it, you'd swear it contains loads and loads of the stuff. But of course, there's none whatsoever. Not even a teaspoon.
Honestly? These were the best date squares I've ever eaten.
Not at all typical, but amazingly good still!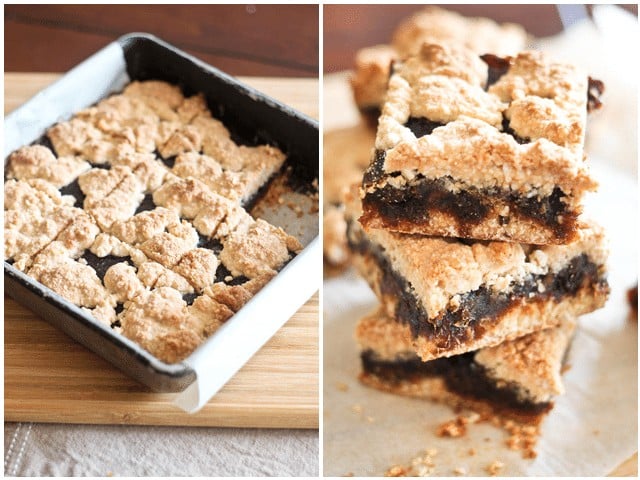 This is one recipe that I will most definitely be making over and over again, when I'm NOT doing a Whole30® that is.
And to all of you people who CAN have these right now (you lucky human beings you) I strongly suggest that you go right ahead and make some now.
Then have a bite for me, will you please?

Paleo Date Squares
Serves:
Makes 9-16 squares
Ingredients
DATE MIXTURE
CRISP (TOP AND BOTTOM LAYERS)
Instructions
Combine all the ingredients for the date mixture in a medium saucepan and cook over medium heat for about 5 minutes, until the liquid has fully evaporated and you're left with a creamy, mushy and smooth, heavenly date mixture. Set aside to cool.
In the bowl of your food processor, combine all the ingredients for the top and bottom layers.
Process on pulse until the mixture is well combined, no more. Refrigerate this crisp mixture for 15-20 minutes.
Preheat the oven to 350F.
Press a little more than half the mixture at the bottom of an 8" square baking pan that's been lined with parchment paper. Place that in the oven and blind bake for 8-10 minutes until the crust starts to turn slightly golden brown.
Remove from the oven, spread the date mixture as evenly as you can over the bottom layer then loosely crumble the rest of the crisp mixture right on top.
Bake in a 350F oven for 22-25 minutes, until the top gets nice and golden.
Allow to cool completely before cutting into squares.

Nutrition Information
Serving size:
NF based on 1 of 16 squares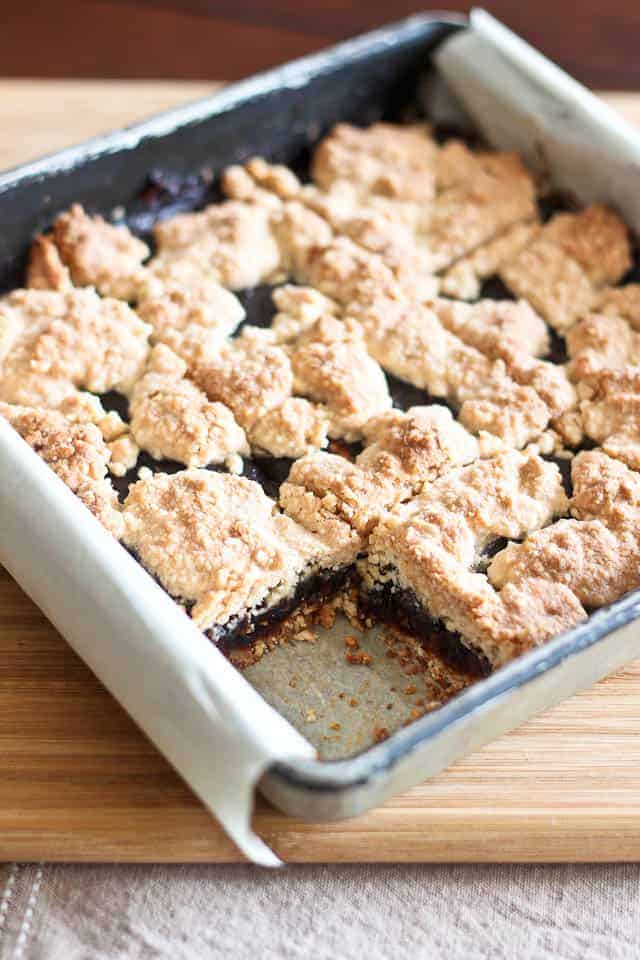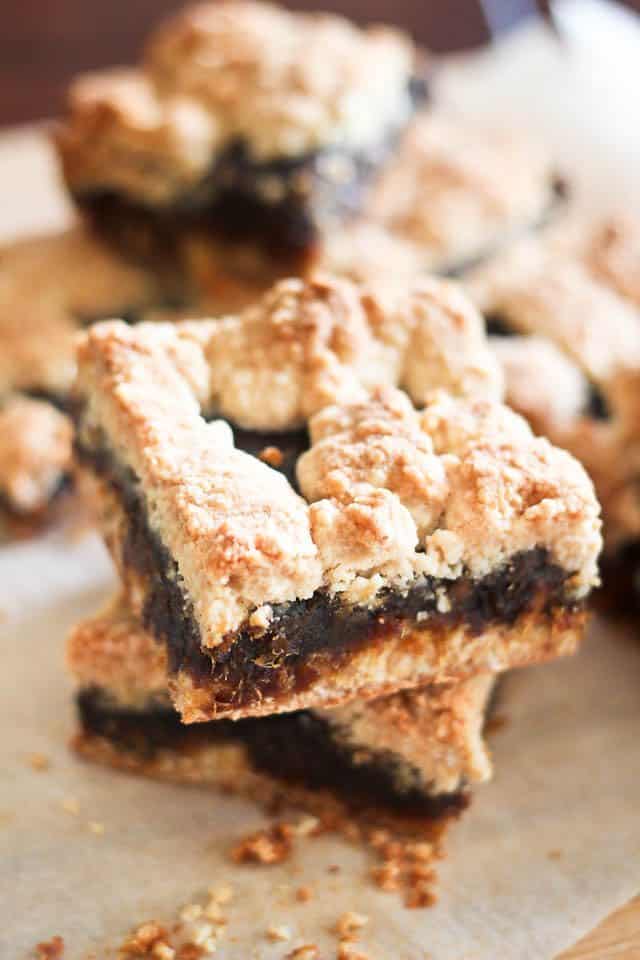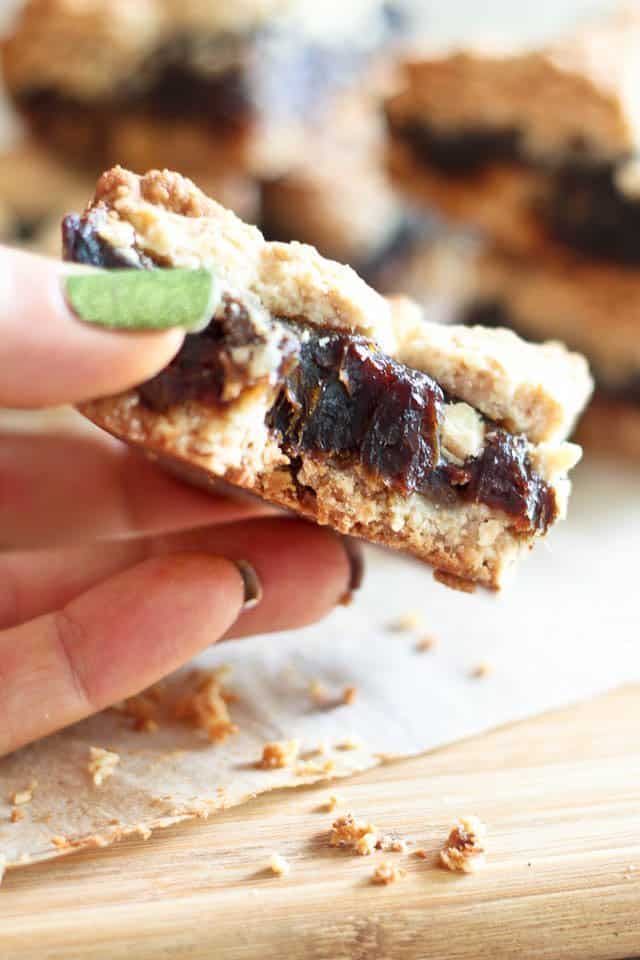 Even though this recipe uses only approved ingredients, it is NOT Whole30® compliant!
Save it for after you've completed the challenge!