Bacon Wrapped Apple Pork Meatball Kebabs
There are no words to describe these kebabs, my friends.
If I was forced to put words on them, it would have to be something like: "crazy-insane-stupid-will-have-you-do-the-wackiest-things-just-to-get-your-hands-on-one" good.
And unfortunately, the pictures do not even BEGIN to do them justice.
In fact, what they really need is a picture so perfect, so big, so unbelievable, it would make you stop dead in your tracks, drop your chin right to the floor and run to the nearest kitchen to make them.
Kind of like those HUGE pictures you see on the side of delivery trucks, sometimes.
Or on billboards along highways.
THAT BIG AND PERFECT AND MOUTH WATERING.
Yeah. That is what these babies deserve.
Unfortunately, this is all your getting. A bit tiny, I'm afraid.
Maybe if you tried zooming in?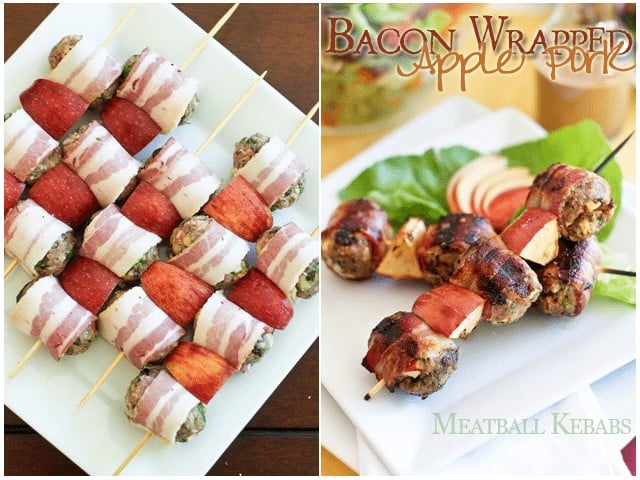 To make matters worse, I had the hardest time taking those pictures that night. Especially the ones AFTER the kebabs were cooked.
I was just soooo hungry and they smelled and looked soooooo good… Needless to say I didn't have much patience for pics.
Plus, I had company that night, so it sort of threw me off a little.
I had to speed things up, you see?
So the pictures aren't billboard material, sorry.
But the kebabs… Oh. My. Lord.
They are impress your husband, wife, friends, kids, extended family members, heck, impress the entire neighborhood material!
They FAR exceeded my expectations! They are one of the most amazing things I've eaten in my entire life.
My friend and I just couldn't stop oohing and aahing the whole time we were eating.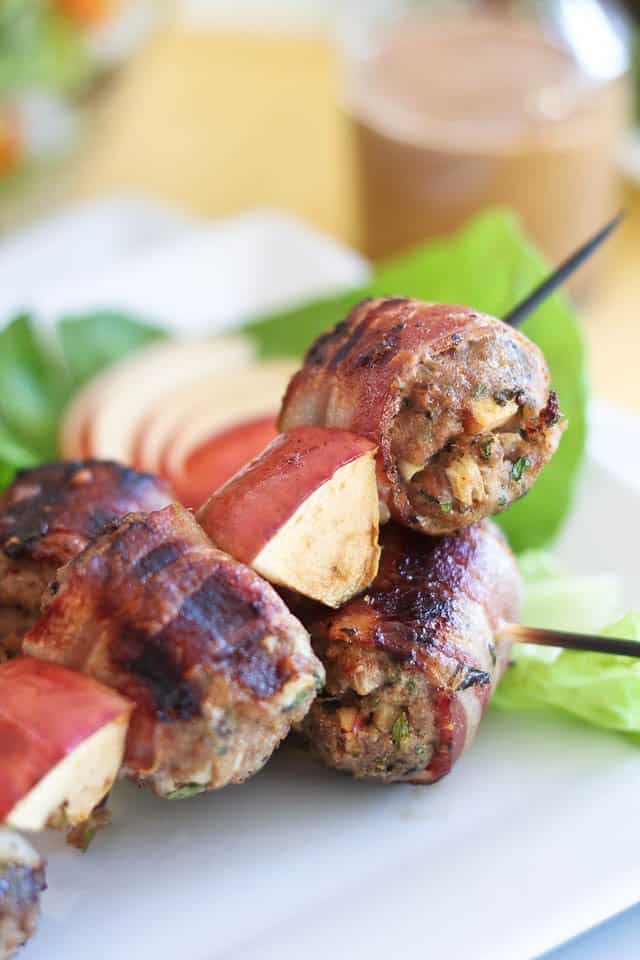 It's all in the flavor combination, really. The pork, the raisins, the spice blend, THE BACON!
Oh! And the apples, guys. How could I forget the apples! Grilled apples with a bit of a smokey bacon flavor are simply to die for.
Each and every ingredient in this completes the next absolutely flawlessly… like they're in perfect communion, perfect balance.
SPECTACULAR!
At least, that's what my friend and I thought. So hey, it wasn't just me!
I wish I could find better words to explain it, but like I said, there are none.
Guess you're gonna have to try them for yourselves!
It's okay. You can thank me after!
Bacon Wrapped Apple Pork Meatball Kebabs
Servings: 6 kebabs
Ingredients
450 g pastured ground pork
1 small onion, finely chopped
½ red cooking apple, finely chopped
1 tsp salt
1 tsp black pepper
1 tsp chai spice
¼ cup fresh parsley, finely chopped
¼ cup fresh mint, finely chopped
¼ cup raisins
1 egg, lightly beaten
¼ cup coconut flour
9 slices pastured bacon, cut in half
1 red cooking apple, peel on, cored and cut into 8 wedges
6 wooden or metal kebab skewers
Instructions
If using wooden skewers, put them in cold water to soak for at least 30 minutes prior to using them.

Place all the ingredients except for bacon and apple wedges in a large mixing bowl and knead well with your hands until uniformly blended. Form the meat mixture into 18 medium sized meatballs.

Wrap half a bacon slice around each meatball, making sure that it wraps completely around the meatballs and even overlaps a little bit. If necessary, don't hesitate to reshape your meatballs and make them slightly oval.

Cut each apple wedge in half crosswise.

Thread 3 meatballs and 2 pieces of apple per skewer, alternating between meat and fruit. When threading the meatballs, make sure that you insert the skewer right through that spot where the bacon overlaps. This will prevent the bacon from coming undone on the grill.

Preheat your grill to medium-high heat.

Place the kabobs on the grill and cook until the meatballs are cooked through and the bacon is nice and crispy, about 3-4 minutes per side.

Serve immediately with loads of fresh veggies.
If you've tried this recipe, please take a minute to rate the recipe and let me know how things went for you in the comments below. It's always such a pleasure to hear from you!
You can also FOLLOW ME on PINTEREST, FACEBOOK, INSTAGRAM and TWITTER for more delicious, healthy recipes!
Meatballs wrapped in bacon. 
You could almost stop right there!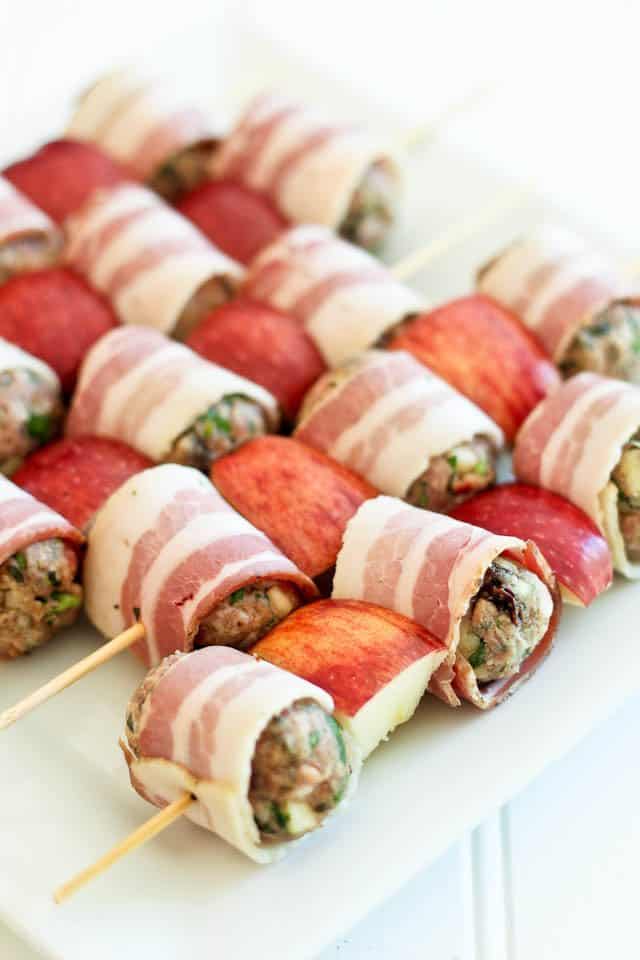 Thread meatballs onto skewers, alternating with pieces of apples.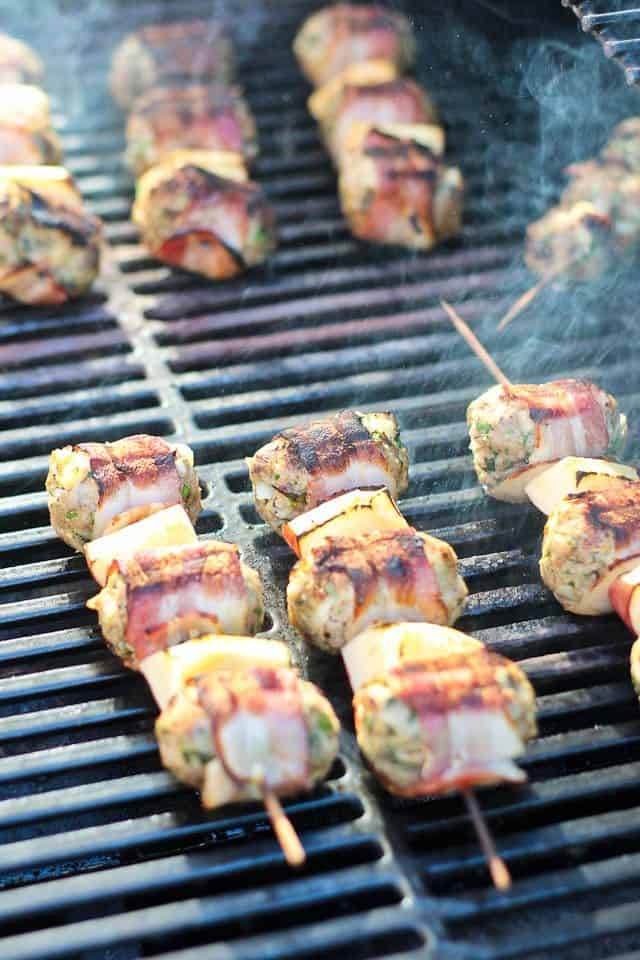 Throw kebabs on the grill.
Try not to drool all over the deck!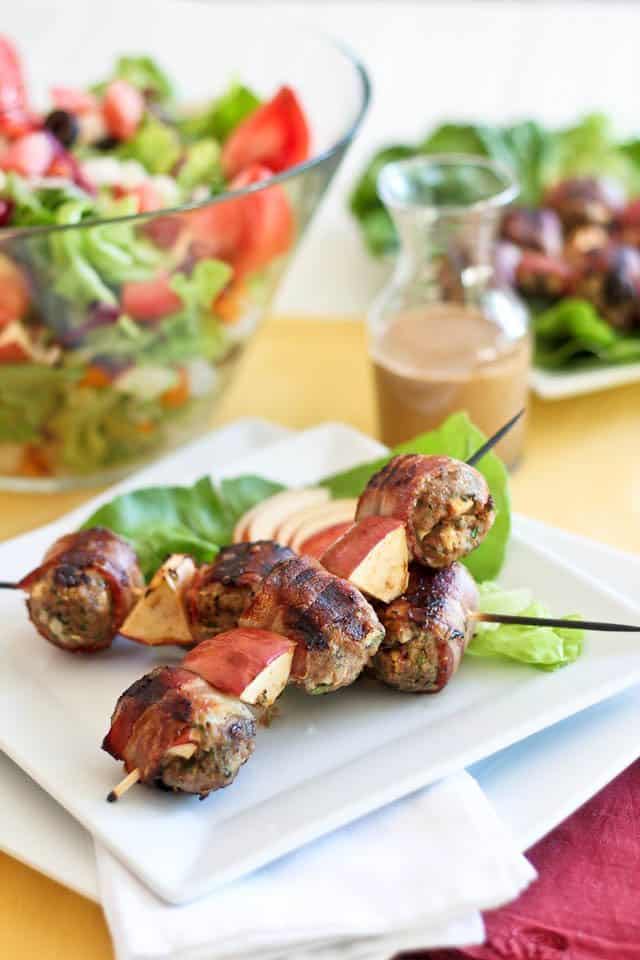 Plate 'em up! 
Serve with loads of fresh veggies.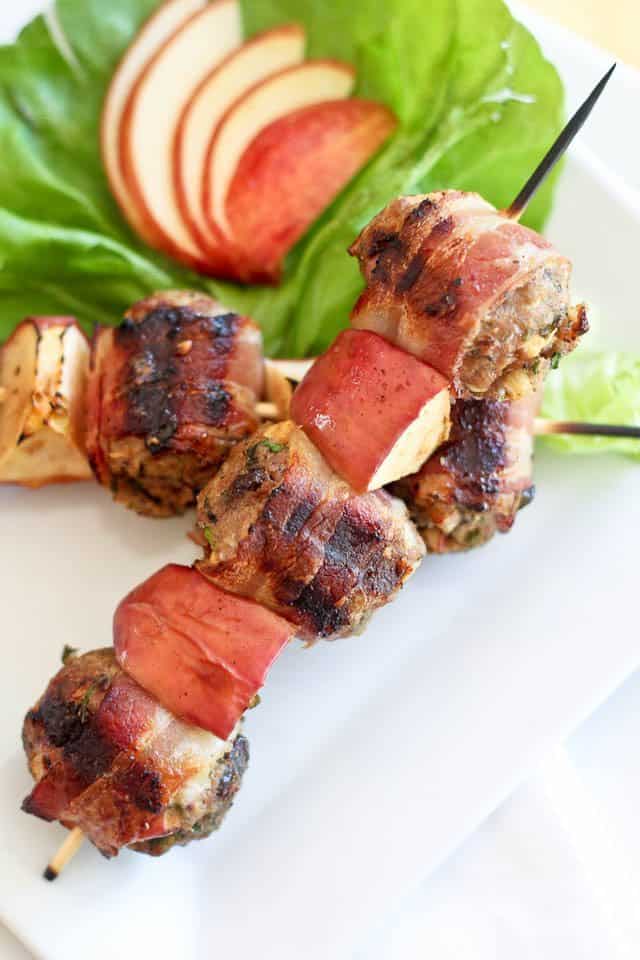 Think if you got real close you could smell this?
Don't I wish…