Spicy Orange Beef – The Paleo Way
I know, I know…
Some of you who are currently on a Whole30® or who are familiar with the program might look at this recipe and go:
"WHOA, wait a minute. This can't possibly be Whole30® compliant, now, can it? Surely this qualifies as SWYPO! Hey, if this isn't junk food replica, I don't know what is, and trying to replicate junk food, even if using nothing but compliant ingredients, simply goes against the grain of what the Whole30® is trying to accomplish."
Well, I totally hear you, and to be honest, I had to question myself long and hard before I went ahead and made this…
Truth is, I'd been itching to try my hand at this particular dish for several weeks but had decided to put it off for the entire duration of my initial 30 day challenge because I felt it was borderline SWYPO.
The thing is, you see, I have a real sweet spot for Asian food, so I had to seriously ask myself the question: "Am I trying to exactly duplicate or recreate a poor food choice with "approved" ingredients, or am I merely looking for a healthier, more nutritious substitution for that food?"
I finally decided that I was genuinely itching to create a healthy version of THAT particular dish, and was in no way trying to go for a quick Asian food fix.
So I elected that it was okay for me to have this and saw no reason why I should put the project on hold for another 31 days, until the end of my second challenge.
However, your mileage may vary and you might feel that this is not safe for you to consume during a Whole30® because it might trigger a negative response and leave you wanting to do nothing but take your pants off…
If you fear this may be the case, then it might be best if you waited until after you're done.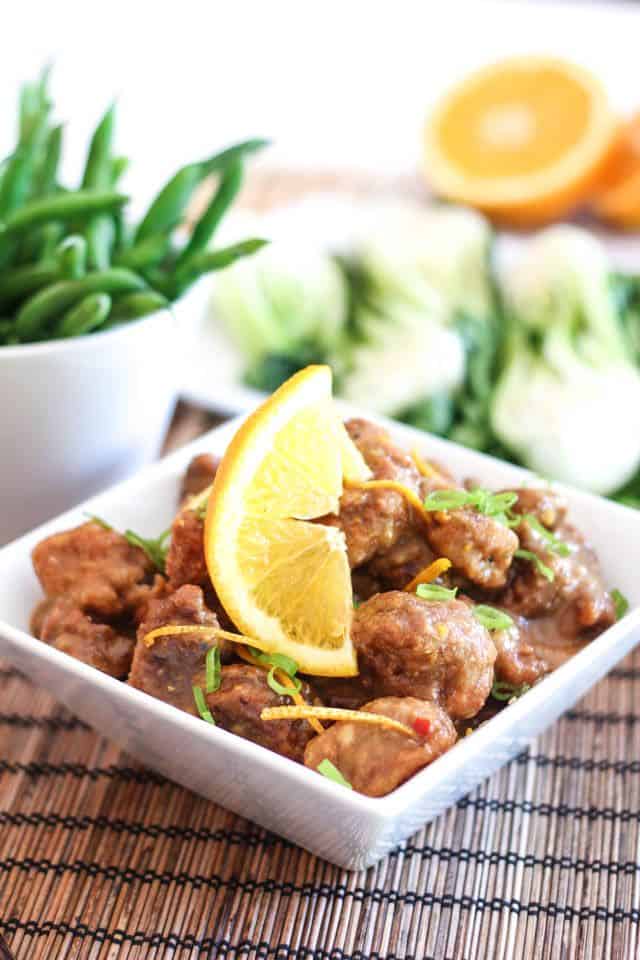 But if you're not currently on a Whole30® or if you are but feel that this is a safe food choice for you, by all means, go right ahead and make this!
The sooner the better, especially if you're a fan of Asian food!
I am telling you, this dish turned out superfragilisticexpialidocious.
Oh yeah, that good. Perhaps even better than my General Tso's Chicken. Perhaps…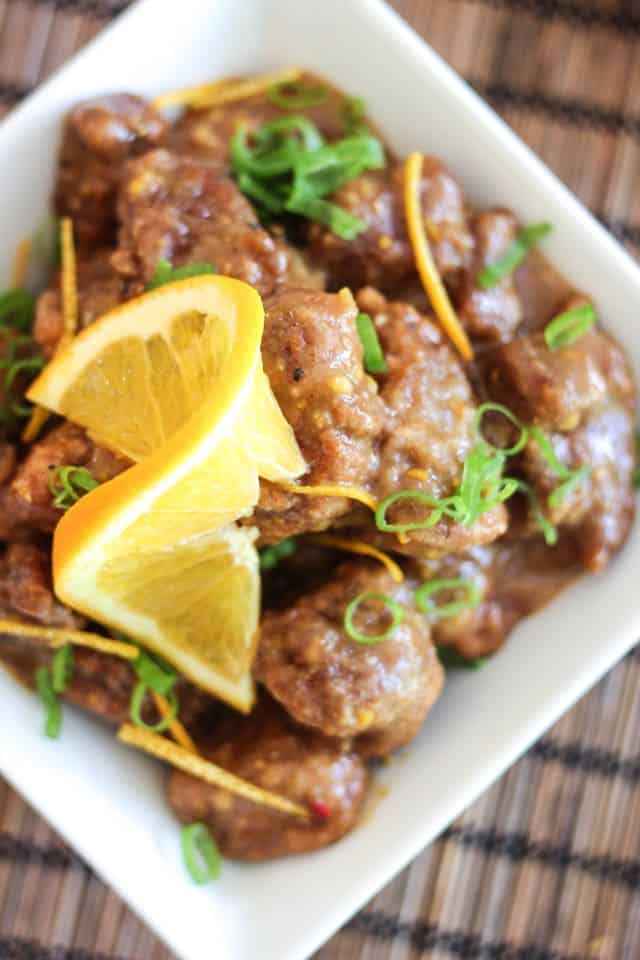 Did this recipe turn out exactly like I'd imagined it?
To be honest, no, it didn't. But I am not at all unhappy with the results that I got. The orange flavor in this dish is really intense and the overall in mouth experience provides a perfect balance between sweet, salty, spicy, hot and sour.
The only flaw, if I had to name one, is that this dish is much better consumed right away.
A few hours sitting in the fridge will cause the morsels of beef to lose all of their delicious crispiness. But honestly, even after that's been taken away, the flavor remains so delicious that it's pretty easy to forgive this little imperfection.
And I think I just made a new addition to my personal Healthy Asian Menu.
Now THAT makes me happy!
Spicy Orange Beef
Servings: 4
Ingredients
The Sauce
1 garlic clove, minced
4 tbsp fresh ginger, minced
2-3 dried bird's eye chili pepper, crushed
¼ cup date paste
¾ cup freshly squeezed orange juice, that's the juice of about 1½ - 2 oranges, depending on how juicy they are
¾ cup water
The zest of one orange
1/4 cup + 1 tbsp rice vinegar
1/4 cup + 2 tbsp coconut aminos
2 tbsp coconut oil, melted
3 tbsp arrowroot flour
1/2 tsp Chinese 5 spice
1/4 tsp salt
1/4 tsp black pepper
Deep Frying
1-2 cups coconut oil for deep frying
Garnish
1 green onion, thinly sliced (green part only)
1 birds eye chili pepper, seeded and finely chopped
Orange zest
Instructions
To make the sauce, combine all the ingredients in your food processor and process until smooth. Transfer to a medium saucepan and bring to the boil over medium heat. Stir until the sauce turns darker and thickens, about 3-4 minutes. Kill the heat, cover and set aside.

Cut the beef into tiny bite size pieces and pat real dry.

Whisk the egg whites in a shallow dish until foamy.

Combine arrowroot flour, coconut flour, orange zest and baking soda in a separate shallow dish; use a whisk to make sure the ingredients are well blended.

Toss half the beef into the foamy egg whites and coat well, then dredge the meat in the flour mixture, making sure all sides are well coated. Transfer beef to a plate and repeat with the remaining piece of meat.

Heat the coconut oil in a large wok or saucepan (or use a deep fryer if you have one) until it registers about 340ºF. Fry the meat in 2 or 3 batches until golden brown and crispy, about 3 minutes, turning the pieces over halfway through cooking. Transfer cooked meat to a paper towel-lined baking sheet to drain excess fat.

Re-warm the sauce over medium heat until bubbling. Add the beef and toss to coat.

Transfer to serving dish and garnish with sliced green onions, orange zest and chili peppers.

Serve immediately.
Notes
*Strain coconut oil through a fine mesh sieve lined with cheesecloth or a paper towel and save for eventual re-use or cooking.
If you've tried this recipe, please take a minute to rate the recipe and let me know how things went for you in the comments below. It's always such a pleasure to hear from you!
You can also FOLLOW ME on PINTEREST, FACEBOOK, INSTAGRAM and TWITTER for more delicious, healthy recipes!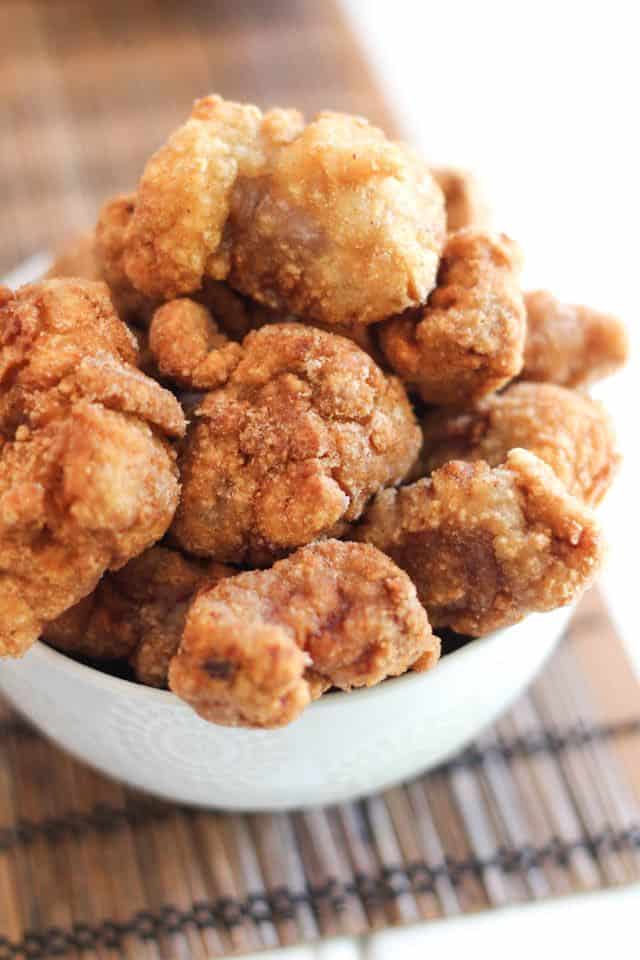 The pieces of beef are so good in their naked state, you almost don't even need the sauce…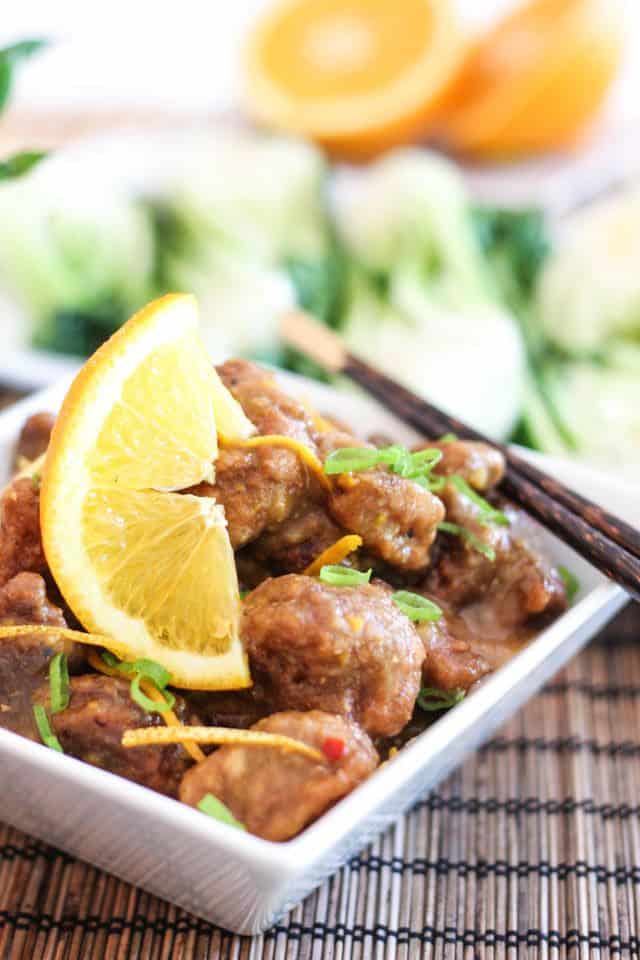 Almost, I said! That sauce is way too good to pass…