General Tso's Chicken – Paleo Style
This is by far the best General Tso's Chicken that I've ever had.
I swear.
Well, ok, maybe save for that which is being served at this extremely small authentic Asian joint that I sometimes still like to go to.
And yeah, perhaps that other one, too.
But apart from these two, I swear. This General Tso's Chicken simply can't be beat!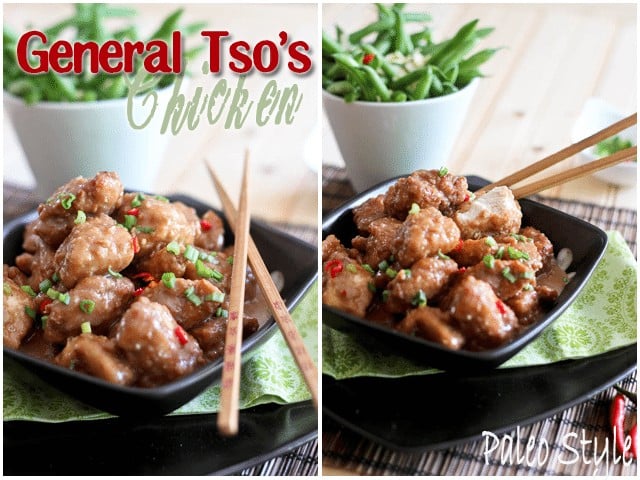 The sauce is plenty sweet and hot and spicy and tangy, just as you'd expect it to be. It comes in very ample amount, too, which I don't hate at all. It *could* be a tad stickier maybe, but still, I say it's extremely satisfying as it is.
The pieces of chicken are VERY generous! You really get to sink your teeth into a lot of meat here, not mere balls of fried dough (as is too often the case, I find). The breading provides just what it takes of starch to create a nice, crispy and crunchy exterior, while the chicken remains super tender and juicy and moist and oh so tasty on the interior.
To that effect, I strongly recommend soaking your chicken breasts in a solution of salt and water for at least 12 to 24 hours prior to making this. You would not believe the difference that it makes.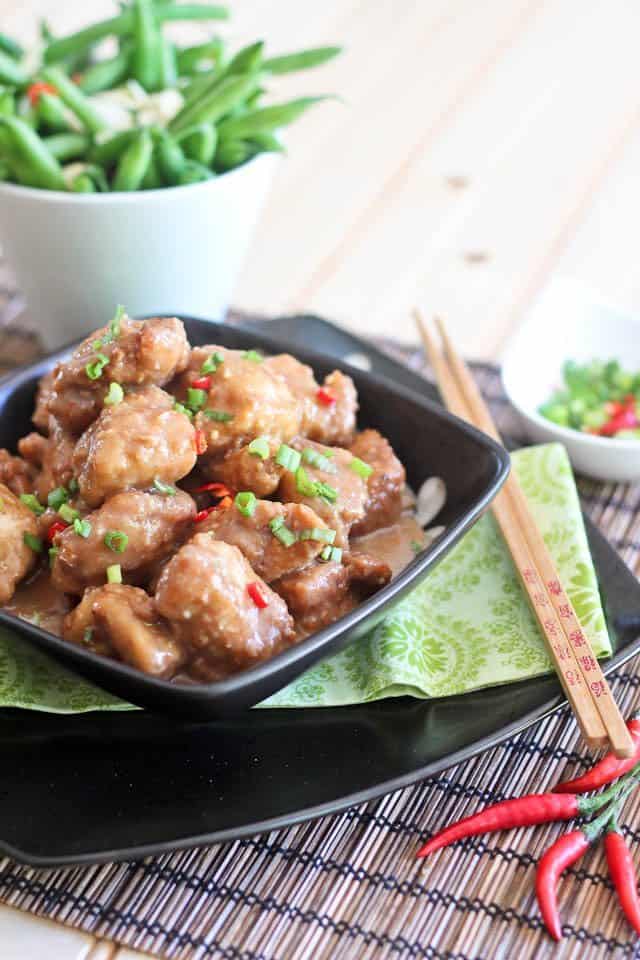 Also, I think a lot has to be said for deep frying, as opposed to pan frying, or even baking. It does make the pieces of chicken extra nice and crispy on the exterior and super moist and juicy on the interior. I used to avoid it like the plague, but since I discovered that one can use coconut oil to get the job done, I've been a lot less hesitant to do so.
Plus, you really don't need that much oil either. All it takes to make this recipe is one cup, which, after you're done, you can strain and reuse for cooking afterwards.
Furthermore, when all was said and done, I remeasured my oil and was only short about 2 measly tablespoons. Not bad at all, especially when you consider the fact that coconut oil is actually a good source of healthy fat.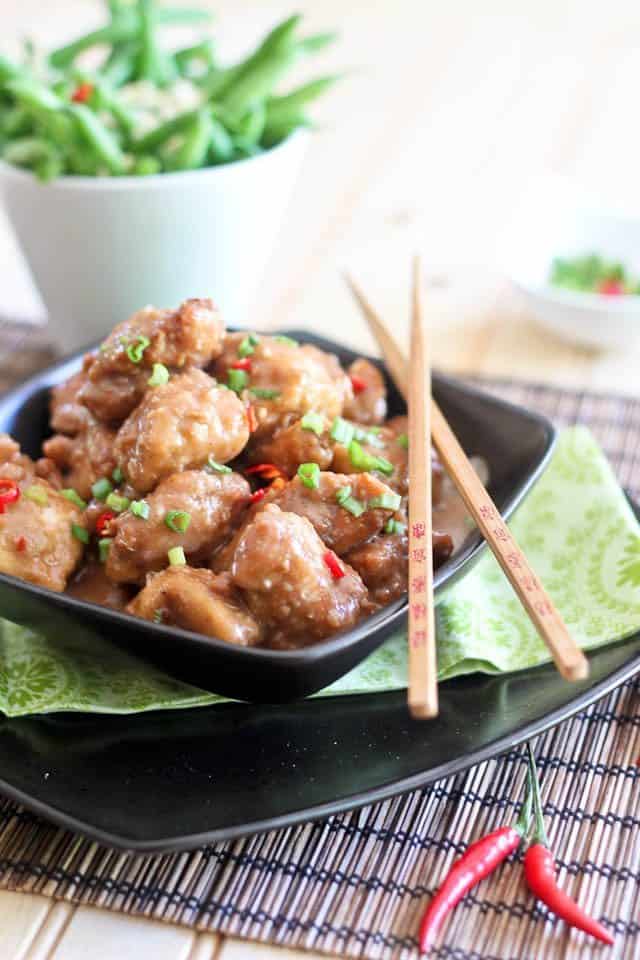 With that in mind, I get the feeling that I'll be experimenting with Asian cooking a little bit more. What can I say, I still have a major soft spot for the stuff and if I can learn to make great paleo versions at home of all those classics I love so much, well then maybe I won't get the urge to hit my favorite restaurants every so often.
Trust me, I now know that next time I get a craving for General Tso's chicken, I'll be able to satisfy that craving right in the comfort of my own home, without even making so much as a dent in my good eating record.
For this version TRULY delivers, without having me suffer any of the usual consequences…
And that, is a major win, if you ask me!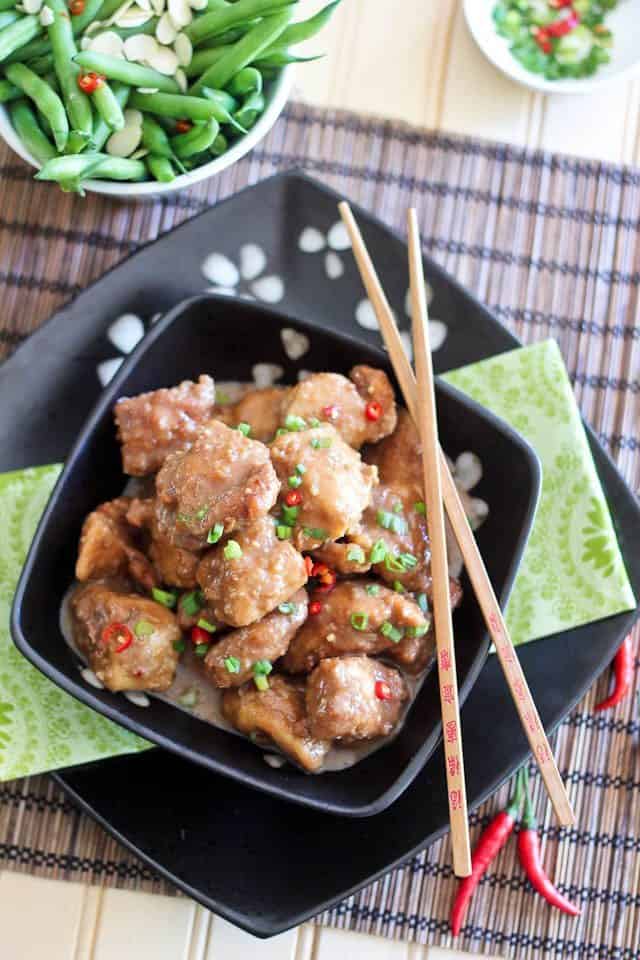 Check out all the sauce at the bottom!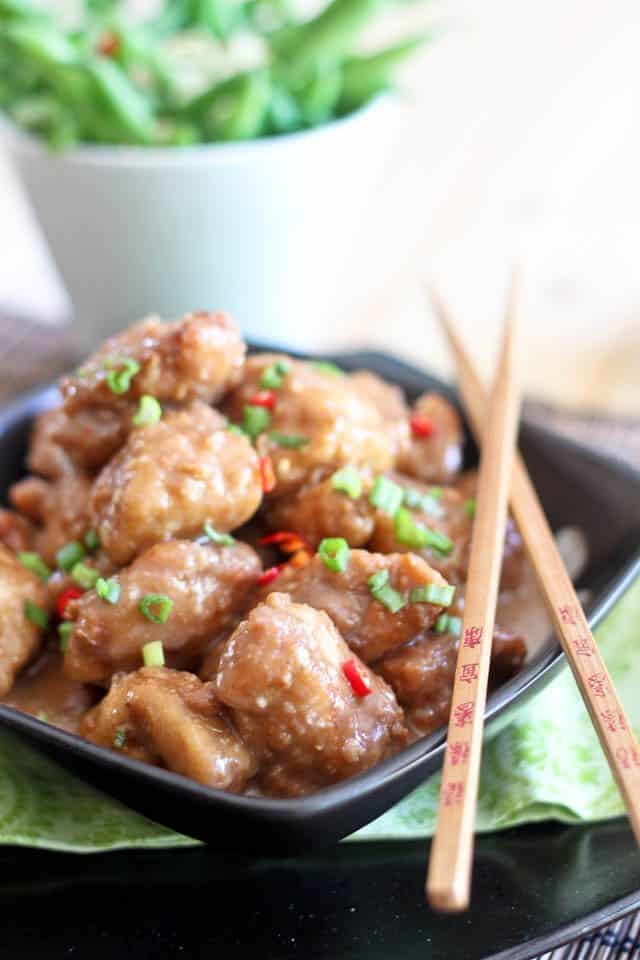 So close, yet so far… and it smells so good, too!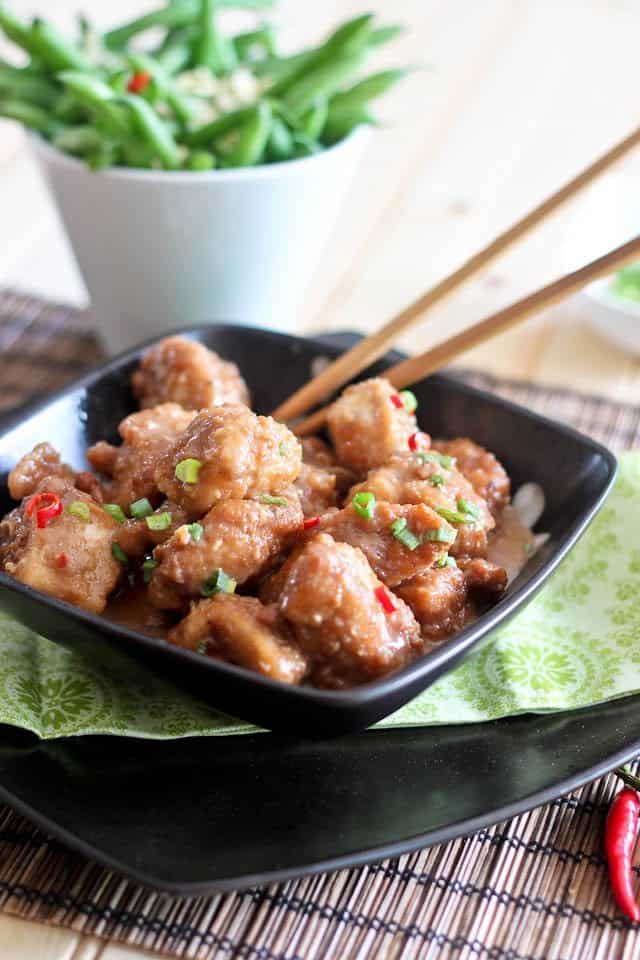 Finally, I get to dig in…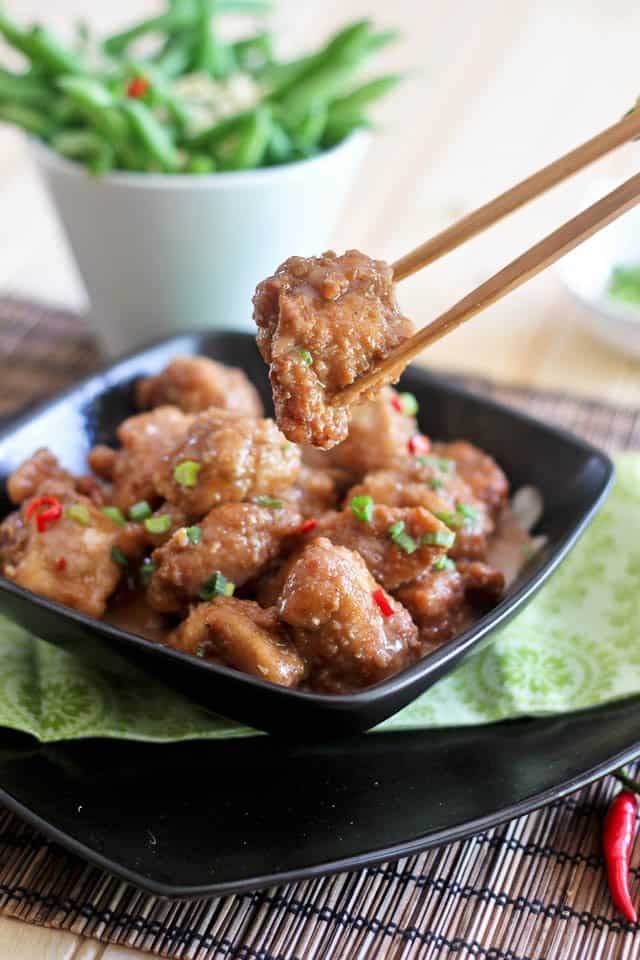 Does that look crispy enough for ya?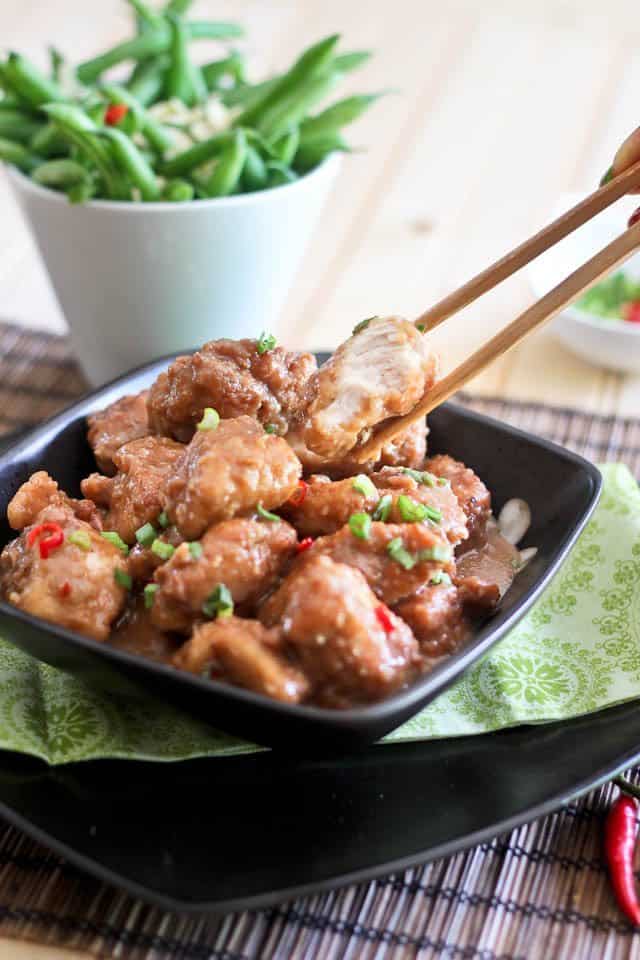 And just look at how juicy and meaty that bite is…
I'd call that generous, alright!
General Tso's Chicken – Paleo Style
Probably the last General Tso's Chicken Recipe you'll ever need. This paleo version is by far the best General Tso's Chicken I've ever had. Well, at home anyway!
Servings: 4
Ingredients
The Sauce
4 garlic cloves, minced
2 tbsp fresh ginger, minced
1-2 dried bird's eye chili pepper, crushed
3 tbsp date paste
1 tbsp toasted halzelnut or almond butter
1½ cups water
1/4 cup + 1 tbsp rice vinegar
1/4 cup + 2 tbsp coconut aminos
2 tsp sesame oil
1 tbsp coconut oil
3 tbsp arrowroot flour
1/2 tsp Chinese 5 spice
1/4 tsp salt
1/4 tsp black pepper
Deep Frying
1 cup coconut oil for frying
Garnish
2 green onions, thinly sliced (to garnish)
1 birds eye chili pepper, thinly sliced
Instructions
The previous night, place your chicken to soak in a solution made of 2 cups of water and 2 teaspoons of salt. While this step is entirely optional, I strongly recommend it as it will make your chicken extra tender and tasty.

To make the sauce, combine all the ingredients in your food processor and process until smooth. Transfer to a medium saucepan and bring to the boil over medium high heat. Stir until the sauce turns darker and has thickened, about 3-4 minutes. Kill the heat, cover and set aside.

Remove chicken from salted solution and pat dry. Cut the breasts into 1 to 1½ inch chunks.

Whisk the egg whites in a shallow dish until foamy.

Combine arrowroot flour, coconut flour and baking soda in a separate shallow dish. Use a whisk to make sure the ingredients are well combined.

Toss half the chicken into the foamy egg whites until well-coated, and then dredge the chicken in the flour mixture, making sure all sides are coated. Transfer chicken to a plate and repeat with remaining chicken.

Heat oil in a large wok until it registers about 340ºF. Fry the chicken in 2 or 3 batches until golden brown, about 3 minutes, turning pieces over halfway through cooking. Transfer cooked chicken to a paper towel-lined baking sheet to drain.

Re-warm the sauce over medium heat until bubbling. Add the chicken pieces and toss to coat.

Transfer to serving dish and garnish with sliced green onions and chili peppers.

*Strain coconut oil through a fine mesh sieve lined with a paper towel and save for cooking.
Nutrition
Calories: 496kcal, Carbohydrates: 52g, Protein: 23g, Fat: 21g, Saturated Fat: 14g, Cholesterol: 54mg, Sodium: 918mg, Potassium: 500mg, Fiber: 5g, Sugar: 8g, Vitamin A: 102IU, Vitamin C: 3mg, Calcium: 54mg, Iron: 1mg
If you've tried this recipe, please take a minute to rate the recipe and let me know how things went for you in the comments below. It's always such a pleasure to hear from you!
You can also FOLLOW ME on PINTEREST, FACEBOOK, INSTAGRAM and TWITTER for more delicious, healthy recipes!