Green Beans, Olives & Sun Dried Tomato Salad
The one thing that will sometimes give me a hard time in the kitchen is side dishes.
I find I often run out of ideas!
Veggies are great and I happen to really love them, but when you eat as much as 8 to 10 cups of the stuff on a daily basis, you sort of need to come up with creative and quick ideas of how to serve them so they don't become extremely boring.
Take green beans, for instance. They are awesome on their own and I could easily go through a whole pound of them just like that: steamed and lightly sprinkled with a tiny little bit of salt and maybe a drizzle of olive oil.
But add a few sliced olives, some toasted almonds, a handful of chopped sun-dried tomatoes as well as a few herbs and spices and in mere minutes, you just turned a rather ordinary side dish into an exciting, tasty and super nutritious salad.
And the best thing is that you can make a huge batch and keep it in the fridge for a few days, so it's ready for you when you're ready for it.
You know, I used to not really like cooking green beans because I thought they took forever to prep. That was until I discovered this neat little trick.
Instead of handling the beans one by one and trimming both ends off with a paring knife like I used to, I now grab a whole bunch at a time, place them all on the same side in the palm of my hand (i.e. stem side down, pointy side up) then I grab them with both hands and tap them lightly on the cutting board to align them, stem side down since this is the only side I really want to get rid of.
I then lay the beans flat on the cutting board and, with a large chef knife, I  trim all the stems at once.
I then repeat the process with the remainder of the beans.
It's just SO much quicker that way!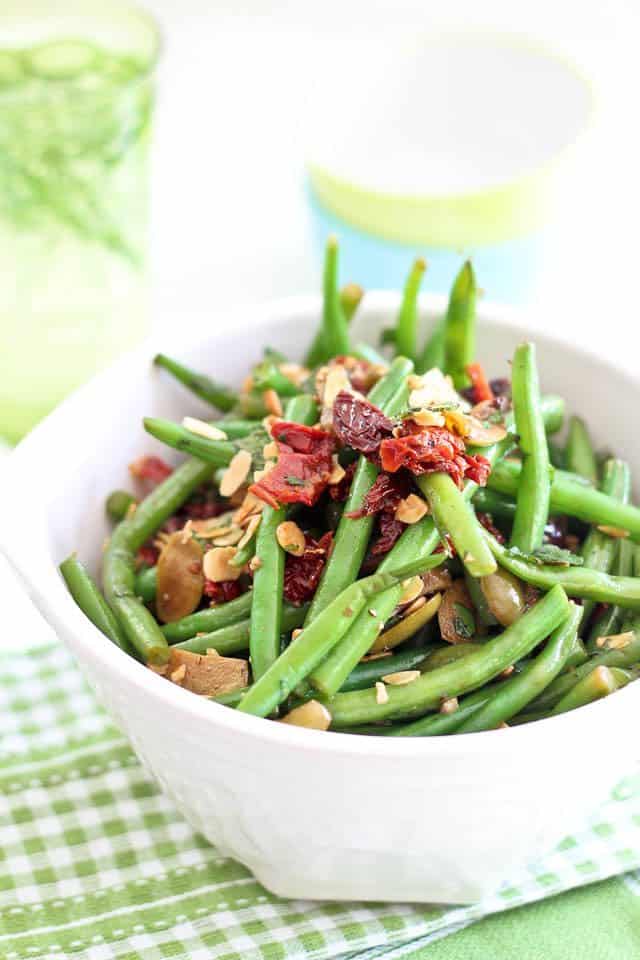 Also, even when I intend to eat my beans warm, I tend to make them a little bit ahead of time and plunge them in an icy cold water bath as soon as they are done cooking.
I then sauté them quickly in a pan with a little bit of olive oil when I'm ready to eat.
This ensures that the beans remain nice and crispy and keep their lovely, bright green color.
Nothing turns me off more than a mushy, grayish green bean.
Hey, they're called GREEN beans after all, aren't they? 
Green Beans, Olives And Sundried Tomato Salad
Servings: 4
Ingredients
600 g fresh green beans, ends removed
10 large green olives, pitted and sliced
10 large kalamata olives, pitted and sliced
50 g sundried tomatoes, chopped
75 g sliced almonds, toasted
¼ cup fresh parsley, finely chopped
¼ cup extra virgin olive oil
½ tsp Himalayan or unrefined sea salt
½ tsp freshly cracked black pepper
2 cloves garlic, minced
Instructions
Bring about an inch of salted water to a boil. Place the beans in a steaming basket and set over the boiling water. Cover and steam until tender to the bite, 3 to 5 minutes (depending on how crisp or tender you like them)

As soon as beans are ready, plunge them in a bowl of icy cold water to stop the cooking and preserve their lovely bright green color, then drain and pat dry.

Add the cooked beans, as well as the rest of the ingredients, to a large mixing bowl and toss delicately until well combined

This salad can be served immediately but will keep well for a couple of days in the refrigerator.
If you've tried this recipe, please take a minute to rate the recipe and let me know how things went for you in the comments below. It's always such a pleasure to hear from you!
You can also FOLLOW ME on PINTEREST, FACEBOOK, INSTAGRAM and TWITTER for more delicious, healthy recipes!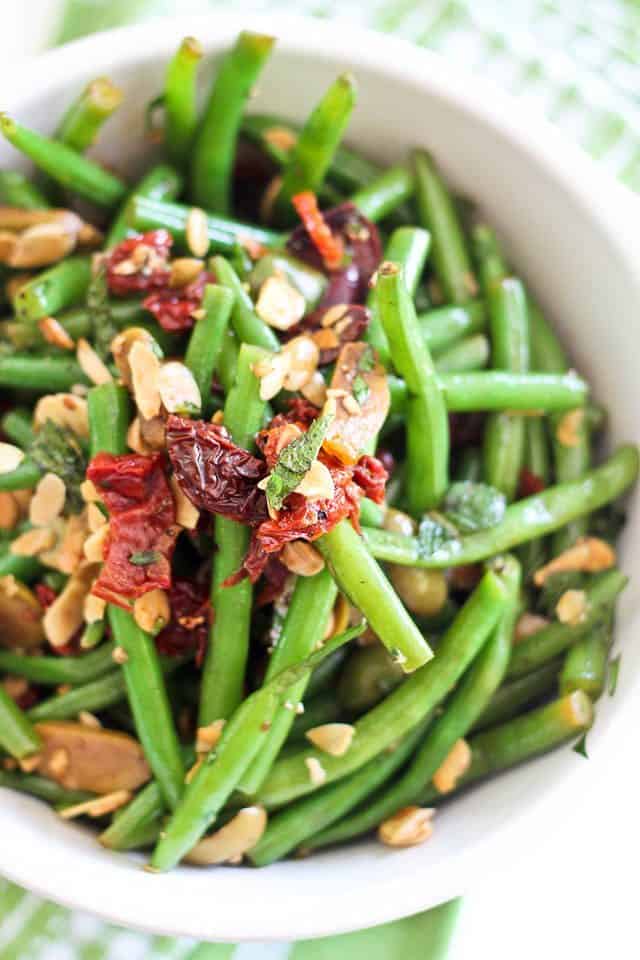 So very simple, yet so super full of flavor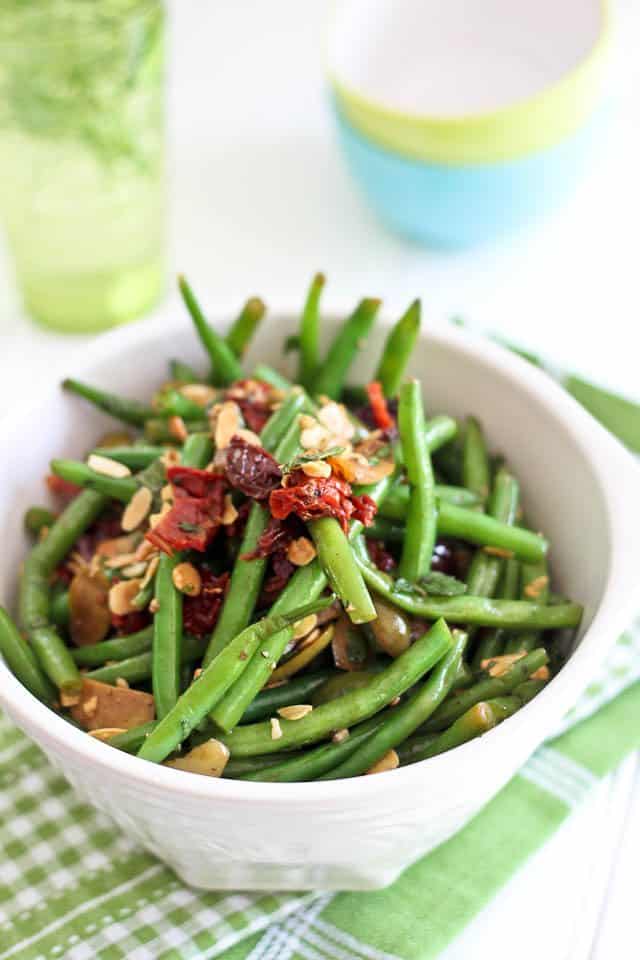 Don't tell me that doesn't look good!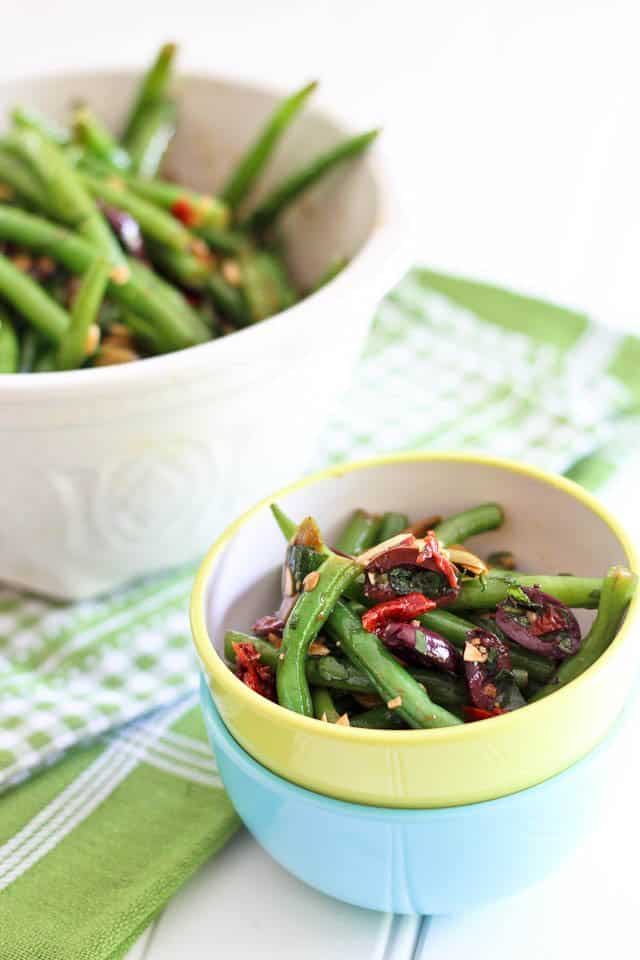 Care for a bowl?