Poached Egg and Smoked Ham over Portobello Mushroom Caps
If you're eating paleo, chances are, you're having eggs for breakfast… a lot!
Eggs are REALLY good, but sometimes,  you know, just sometimes, scrambled just won't cut it.
You want something that's a tad fancier. You need to kick things up a notch.
That's when you want to whip up the poached eggs. I find that no matter which way you choose to serve them, poached eggs always look fancy and elegant.
But imagine what happens when they get to throne right on top of a chunky, meaty Portobello mushroom cap, adorned with a few slices of creamy avocado, a handful of crisp, peppery watercress leaves as well as a few super thin slices of delicious, good quality, smokey black forest ham.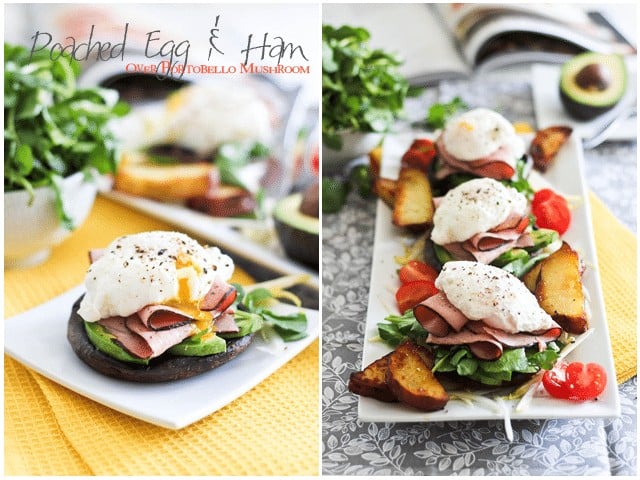 What you get, I say, is breakfast fit for a king. Or queen!
A breakfast that looks like you spent hours working on it, too! Only, it really doesn't take all that long to make. Especially not if you make your poached eggs in advance…
Because yes, you can do that!
All you need to do is plunge them in an icy cold water bath as soon as they're done cooking to stop the cooking process. Then, you want to set them on a piece of paper towel to absorb excess water and very delicately pat them dry.
Once that's done, you can store them in the fridge in an airtight container (they need to be handled with great care but are surprisingly resistant, still) and when you're ready to eat them, you only need to reheat them quick quick in a little bit of simmering water, or even microwave them for a few seconds, if you're in a pinch.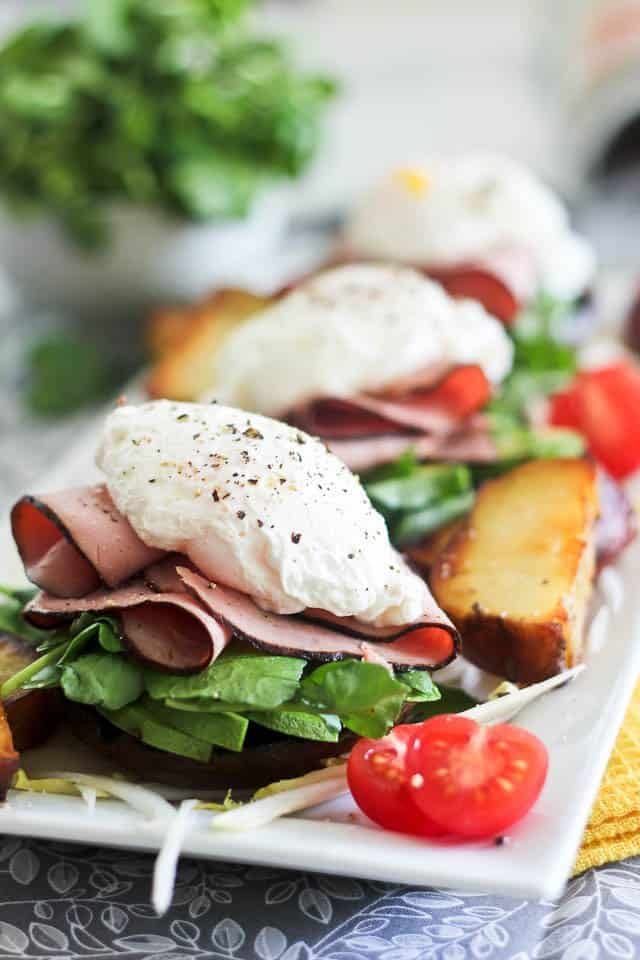 Wouldn't you love to treat yourself to such a beautiful breakfast before heading out to work?
I know I sure wouldn't didn't mind!
And hey, don' t think that you absolutely have to reserve this one for breakfast either. With a dish this substantial, I think you can afford to serve it any time of the day… any day of the week!
And if you really can't be bothered to make the poached eggs (or really don't have time for them), I suspect scrambled eggs would throne just as proudly on top of that mushroom cap. And they too, would look very elegant.
Especially if you sprinkled them with a little bit of chopped chives…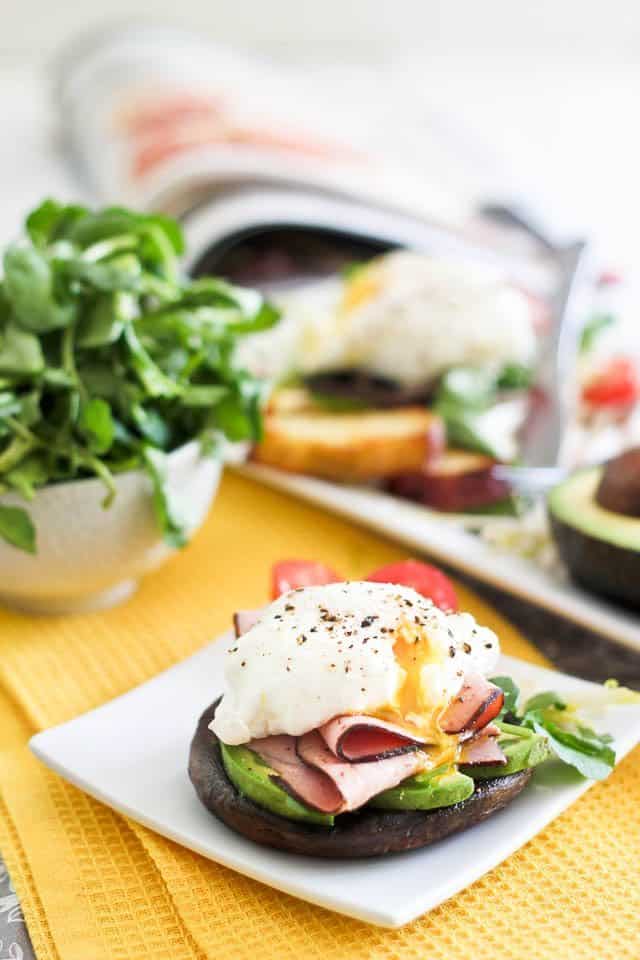 Oh, and you know what I'm thinking? Grilling the mushroom caps must taste absolutely fantastic. Why didn't I think of that before? It would add a totally different dimension to this already delicious meal.
Now I so want to give that a try.
I get the feeling that this beauty will be on the menu again and again for me in the upcoming weeks, with many, many variations on the subject.
I'm already thinking grilled asparagus, roasted bell peppers, maybe grilled zucchini. Oh, and maybe I could replace that mushroom with a nice, thick slice of grilled aubergine.
A hint of grainy mustard and a drizzle of balsamic vinegar would complete this very nicely, too!
Oh, precious eggs. How can one ever be bored with thee?
Poached Egg and Smoked Ham over Portobello Mushroom Caps
Servings: 1 Plan for 1 or 2 units per guest
Ingredients
For each unit, you will need:
1 large Portobello mushroom, stem removed
1 poached egg
1/4 cup fresh watercress
½ avocado, sliced
50 g pastured, sugar free smoked ham, sliced very thinly
Salt and pepper to taste
Instructions
Start by cooking as many mushroom caps as you need over medium heat in a little bit of coconut oil until slightly softened, about 1 minute per side. Sprinkle with salt and pepper and set aside.

Top each Portobello cap with the sliced avocado, a handful of watercress leaves (baby arugula or spinach leaves would also work great), followed by the ham.

Place poached egg over the ham, sprinkle with salt and pepper and serve immediately
Notes
Shown served with shredded endive, more watercress, fresh grape tomatoes and pan fried sweet potatoes.
If you've tried this recipe, please take a minute to rate the recipe and let me know how things went for you in the comments below. It's always such a pleasure to hear from you!
You can also FOLLOW ME on PINTEREST, FACEBOOK, INSTAGRAM and TWITTER for more delicious, healthy recipes!