Happy Meat part II – The Side of Pork
I told you in my previous post about my Happy Beef that I was also waiting on a side of pastured pork, which I had also ordered from Viandes Rheintal.
Well, it got delivered as promised, bright and early the very next day.
That's right. Delivered right to my front door at no extra cost. How's that for customer service?
To give you an idea of what to expect if you ever order a half pig, this is what the entire order looks like. It didn't come in these container, however… I bought them myself to make storing, organizing and finding my meat easier.
The order actually came in cardboard boxes with my name on it, just like the one on the left.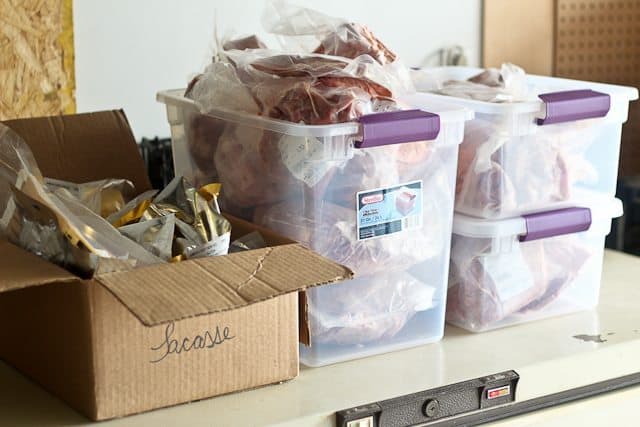 Oh, and also too, every single piece of meat has my name on it. Don't ask why, but I really like that. To me, it says that this particular meat has been prepared especially for me, according to my own specifications. It makes me feel sort of privileged... 
Upon taking the inventory, I realized that getting  a whole side gives you a lot more variety of cuts to choose from. However, because I had specified that I wasn't too big on bones, I got mainly boneless cuts again, which is fine with me in this case. In fact, I don't think I'll be making that many modifications next time I place an order. I'm quite satisfied with what I got.
The only thing is, just as with the beef, I'll make sure to tell them that I want to I keep as much as possible from my carcass, INCLUDING bones and fat.
Nose-to-tail is the way to go!
Speaking of which… would you believe that, a few days after receiving this order, I was contacted by the lovely folks over at Paleo Parents who offered me a review copy of their soon to be released book Beyond Bacon: Paleo Recipes that Respect the Whole Hog.
Can you say EXCITED? I was OVER THE MOON!!! I'd been drooling over it for weeks, if not months. I sooooo can't wait to get my hands on that book and tell you all about it.
But for now, let's take a look at the complete inventory of what was in my boxes this time.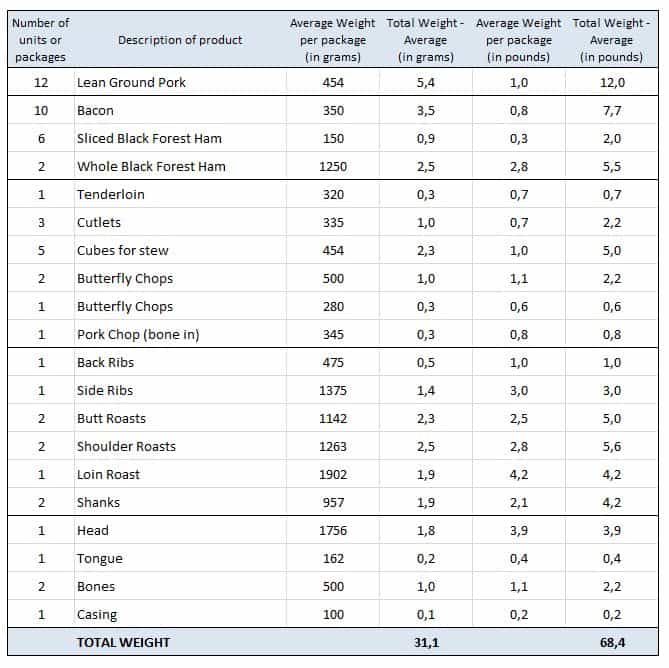 All in all, I got approximately 31 kg (68 pounds) of meat, which ended up costing me about $356, delivered right to my door.
Not bad at all when you think about it! That's around $5.15/lb for top quality pastured pork, including BACON and ham.
Sure makes me happy!
Oh, and yes, at least I thought of asking for the tongue, head and casings too! Already put the latter to good use, see?
Home made sausage, ladies and gentlemen. How cool is that?
Completely sugar free, gluten free and nasty free, of course!
Of course the recipe will come… but that's for another post. Now let's get back to the meat, shall we?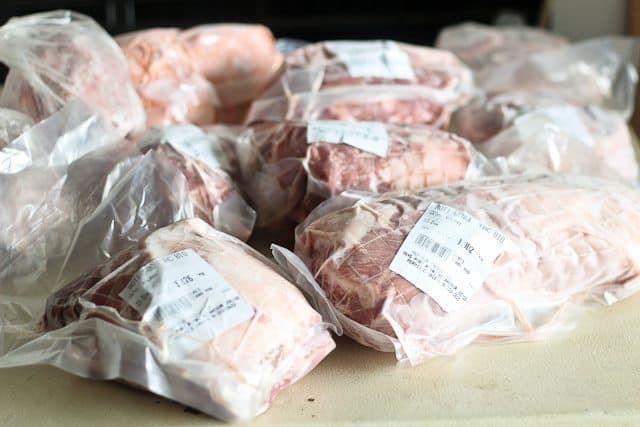 That's all the roasts I got. And the head, in the background. Well, half a head, to be precise.
Say, does anyone have a good headcheese recipe?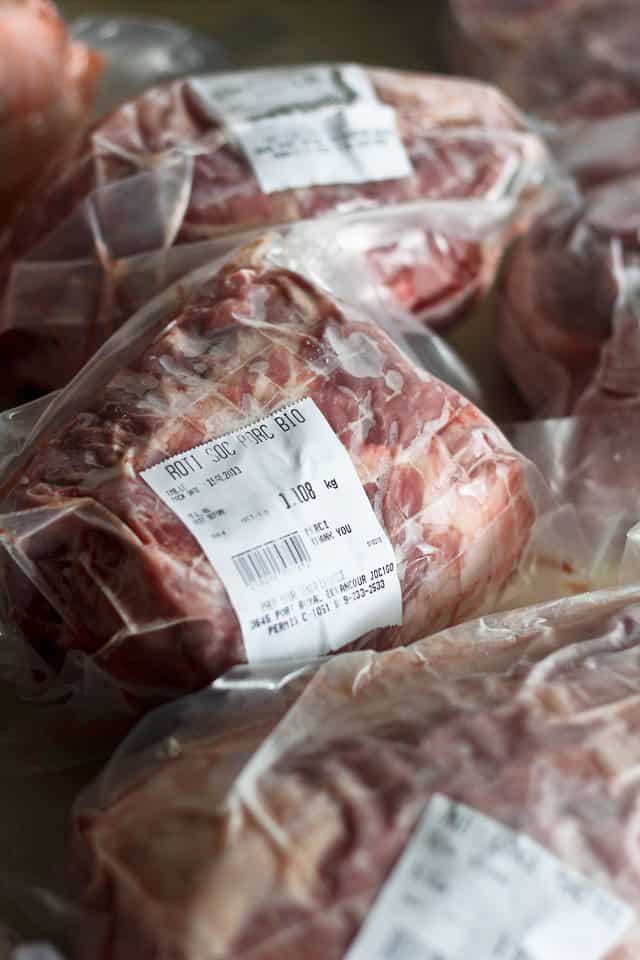 Is that a beautiful roast or what? I can't wait to cook it and show you the finished product.
I get the feeling this one will be injected with tons of garlic cloves!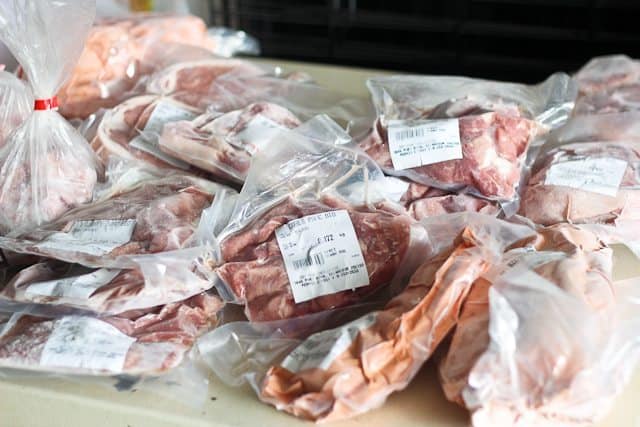 Chops,  shanks, ribs, bones, cutlets and cubes… that's a lot of meat!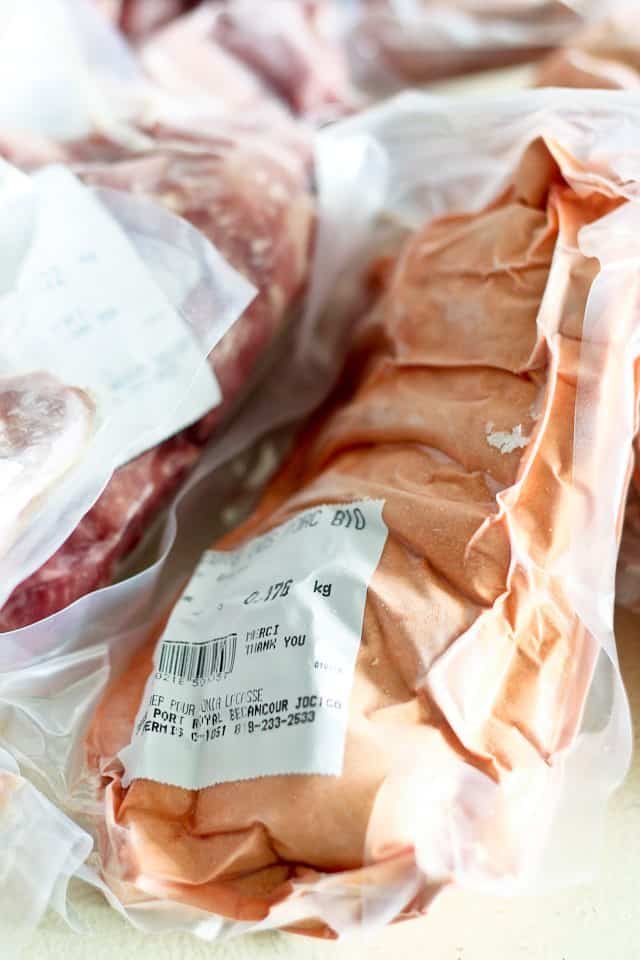 The back ribs. Those will get eaten on a beautiful, sunny Saturday over the course of the summer, that's for sure!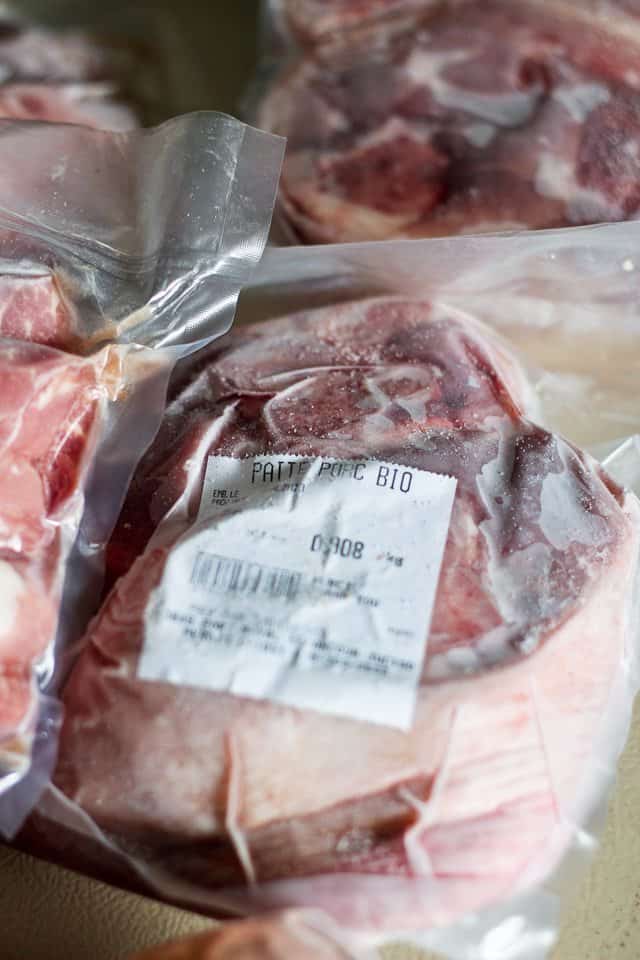 The shanks, I'll save for Christmas. I need them to make my traditional Meatball Stew!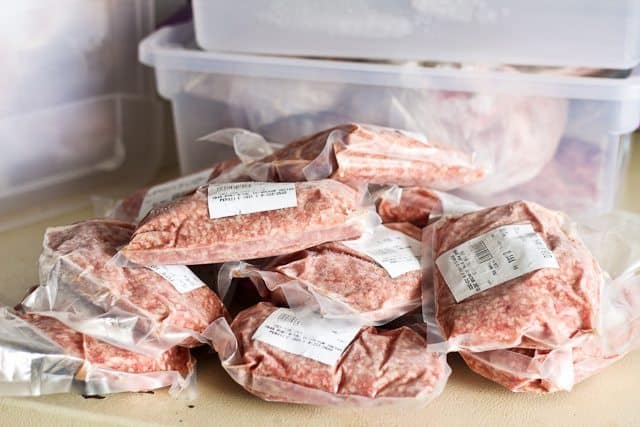 Of course, I'll need some of that too! For who says meatballs, says ground meat!
That's all 12 packages, right there.
Actually, nope, sorry. Make that 11. I already used some of that too.
Sneak peek anyone?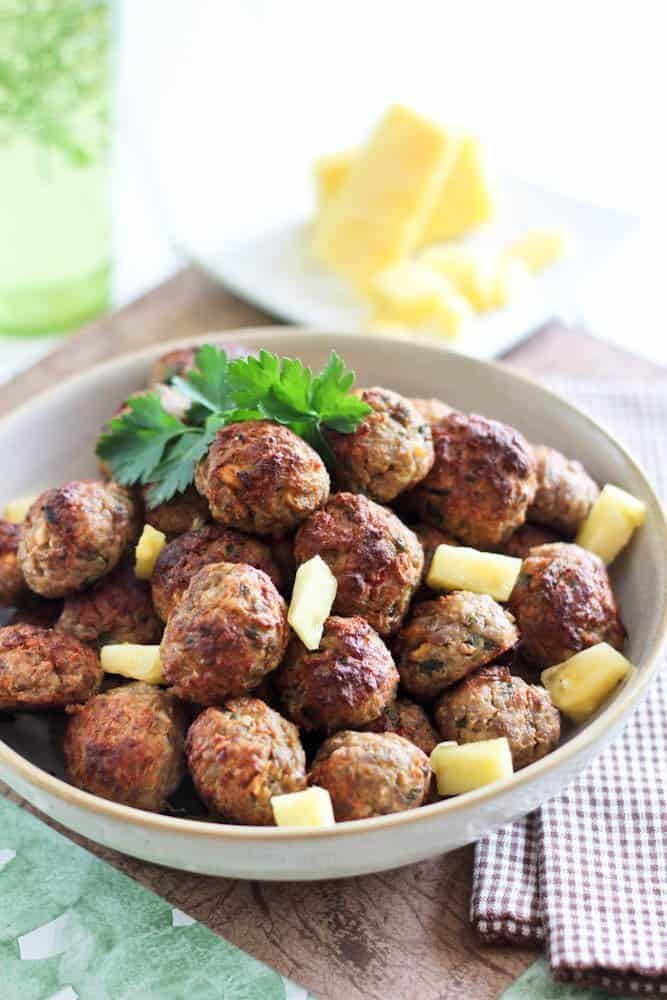 Of course, I had to make meatballs. Remember this meal? They were on the menu that night…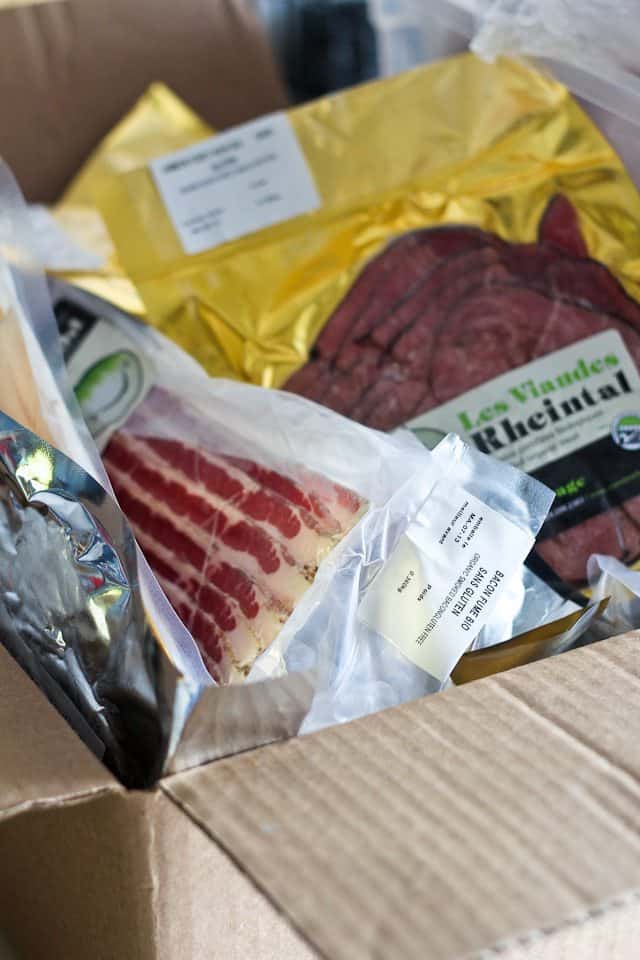 And finally… is that bacon I see?
Oh yeah!
They do send you bacon and ham also, if you want them, although you do have to pay a little bit extra for that.
But hey, we're only talking $50 more for the entire order. There was no way I was going to pass on that one!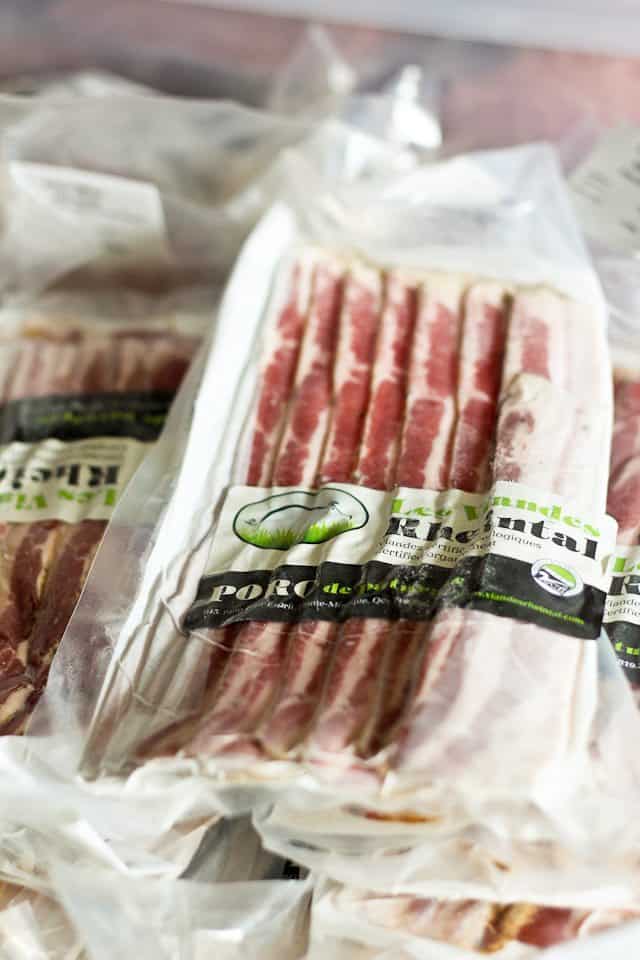 Look at how beautiful that bacon is…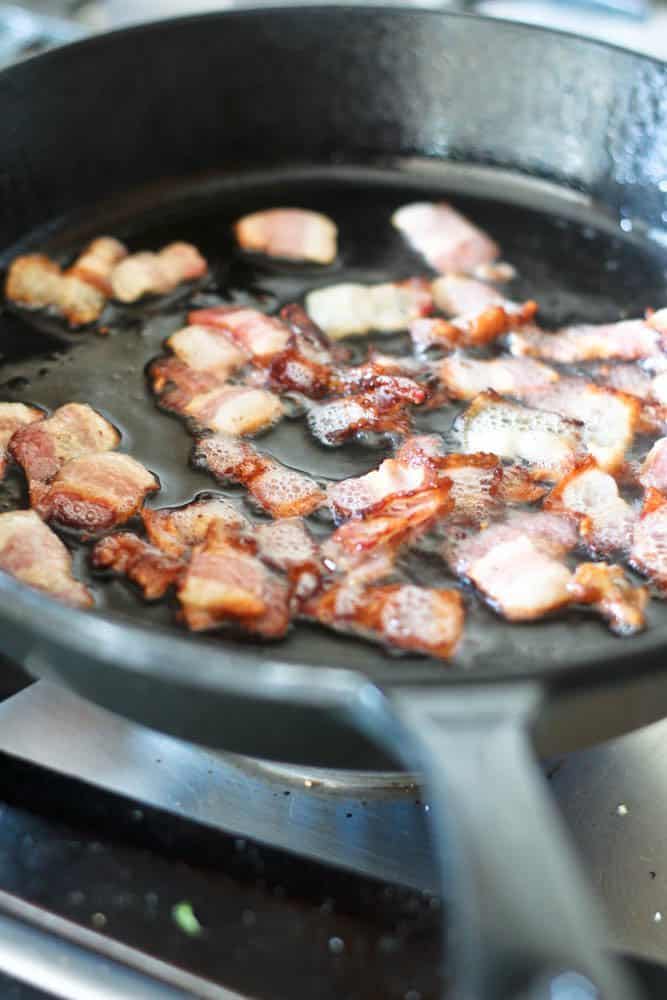 And so tasty, too!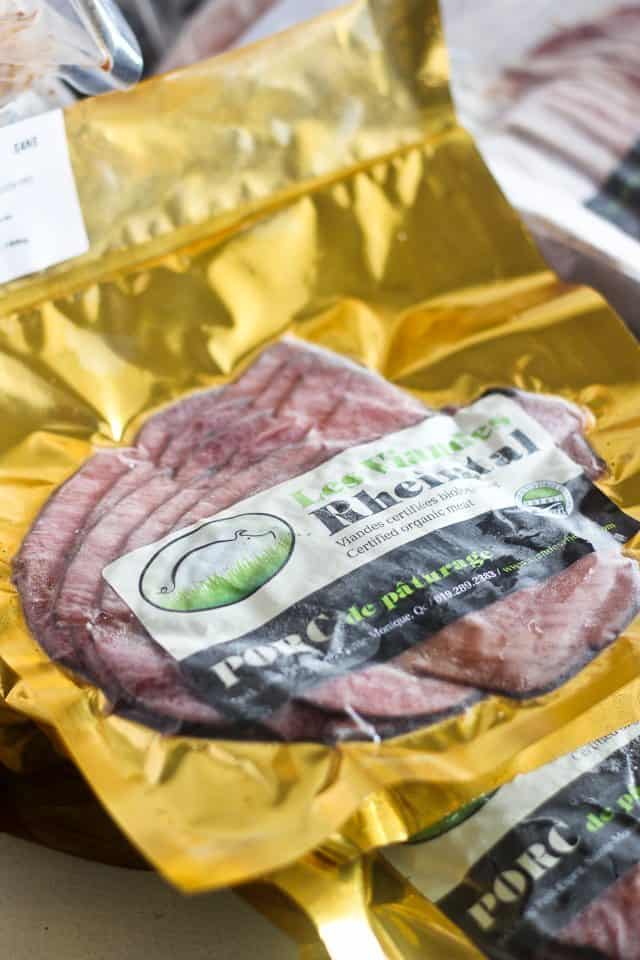 The ham wasn't exactly what I expected, but I can't say I'm disappointed.
On top of the sliced ham, I also got 2 whole small black forest smoked hams.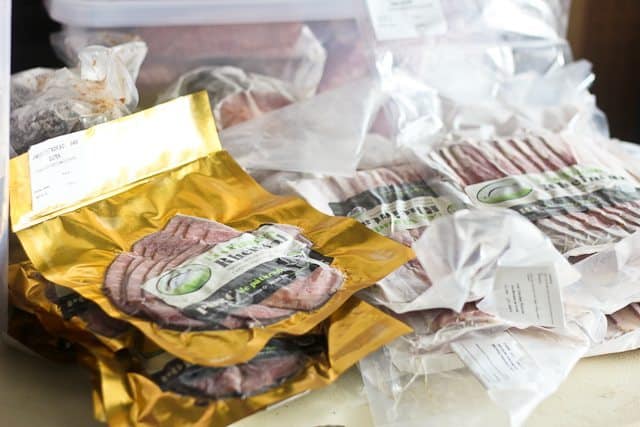 That's all the ham and bacon, posing nicely for the camera.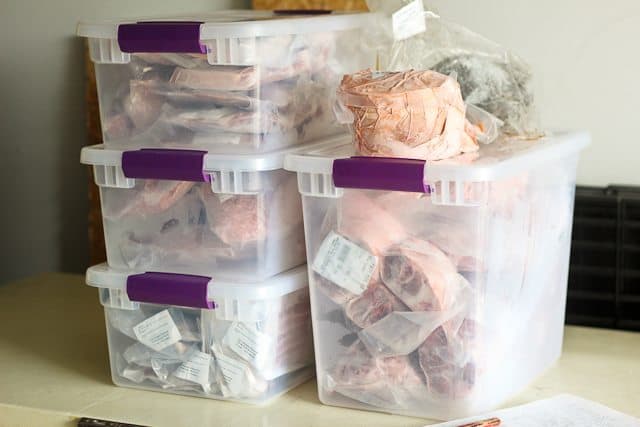 And there you have it.
That's the entire order, all wrapped up and ready to go in the freezer.
In case you are wondering, it's fairly full now. There isn't much room for anything else in there. Maybe a few chickens would fit, as well as some random pieces of fish and seafood, but not much more than that.
So I guess I'll have to wait before I put in an order for a whole lamb!