Paleo "Knock-You-Right-Off-Your-Feet" Sweet Potato Brownies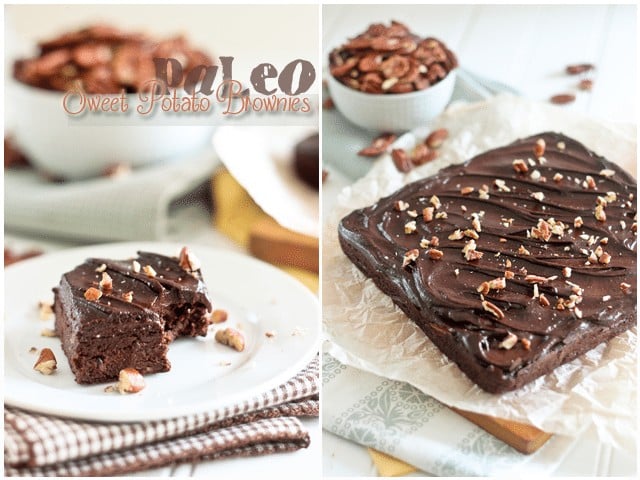 Rarely have I been so excited about a recipe, but this one is just plain out of this friggin world.
Trust me guys, when I say "Knock–You-Right-Off-Your-Feet", I really mean "Knock-You-Right-Off-Your-Feet".
These Sweet Potato Brownies seriously threw me straight to the ground with every single bite I took . I still don't know how I even managed to not eat the entire pan right then and there, after I took the first bite.
In fact, I don't even know how it is that I was able to only eat 3 squares out of the whole pan. And that's over the course of a week, too! The rest got either given away or sent to the freezer.
I really hope that they freeze well and that I haven't just wasted half the batch by throwing them in there, 'cuz that would be a hell of a shame.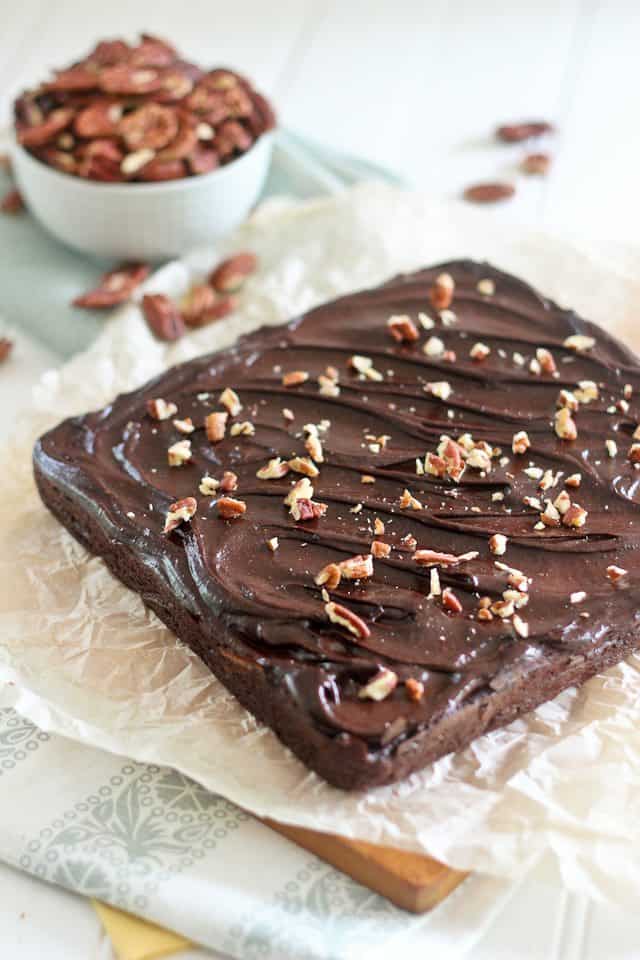 I mean, these guys are absolutely perfect in every possible way. At least, as far as I'm concerned.
They simply have everything I like in a brownie: an INTENSE, dark, super chocolate-y flavor followed by a nice, subtle touch of sweetness, a crazy dense but super moist and chewy texture, all that topped with a dreamy creamy and decadently smooth, melt-in-your-mouth frosting.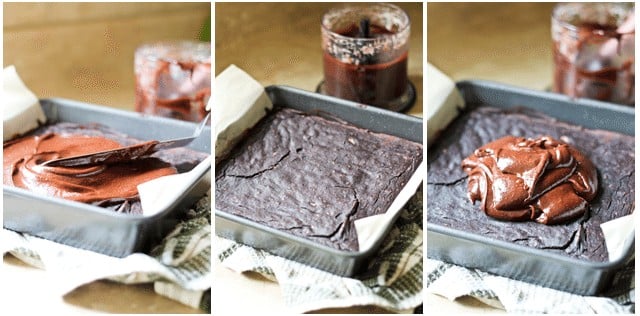 Honestly, this recipe is FAR superior to my previous, non-paleo version, in every possible way. It doesn't even compare.
I know that back then, I said that those brownies were really great, but I wouldn't even consider making them again now that I've tasted these.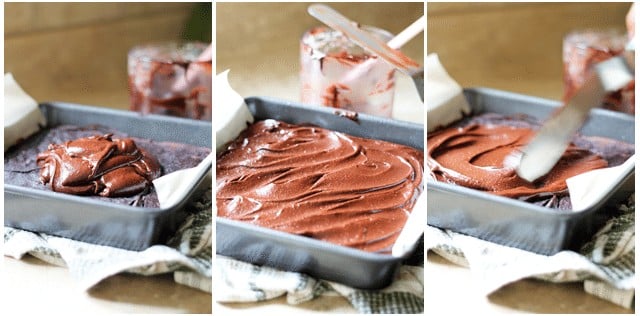 They do have SOME similarities, though.
Just like the previous version, these do get better, tastier and richer after a couple of days sitting in the fridge and are to be enjoyed cold.
Mind you, I haven't tried them warm, but I can't really imagine them being good. I think they truly are at their best when they are completely chilled.
However, they are super delicious and ready to eat after having spent only a few hours in the fridge.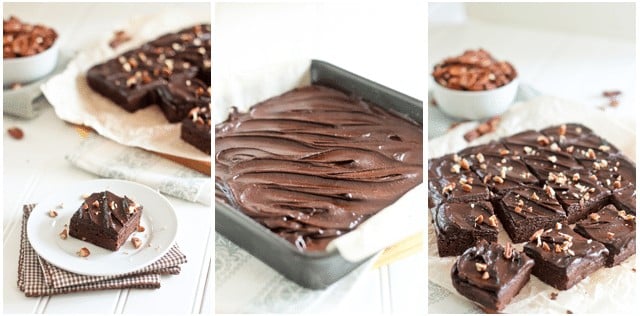 Oh, and that frosting?
It does taste as good as it looks, maybe even more.
I'd even say it should come with a warning…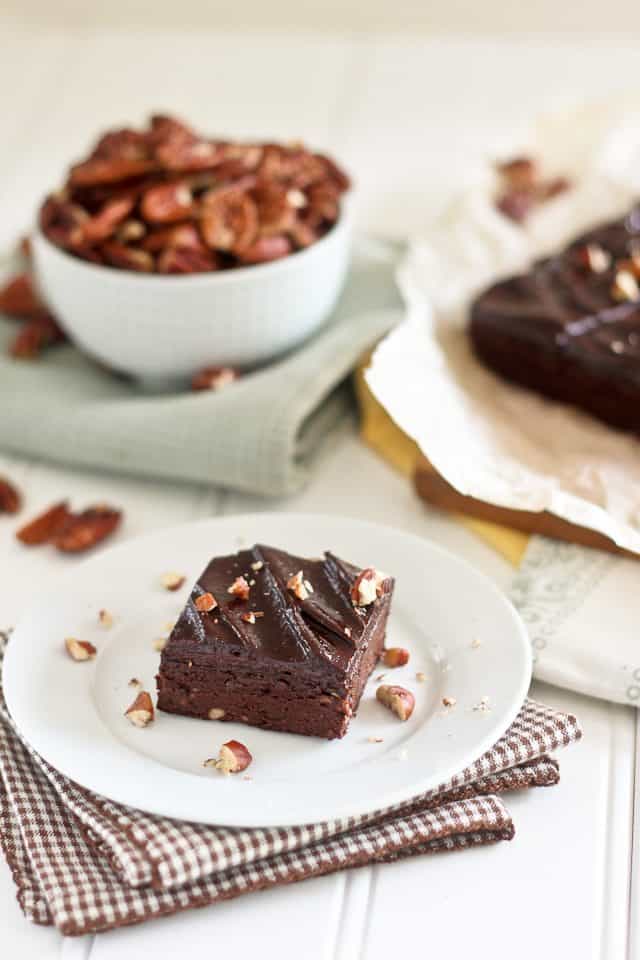 Bottom line, this is now my official go-to brownie recipe. Now, all I need to do is work on different versions of this.
Spicy Pumpkin Cinnamon Swirl or Almond Joy Madness, perhaps?
Oh, I know… Salted Caramel and Crispy Bacon!
YUM!
Did I ever tell you guys just how much I enjoy baking?
Yeah… thought I had! 🙂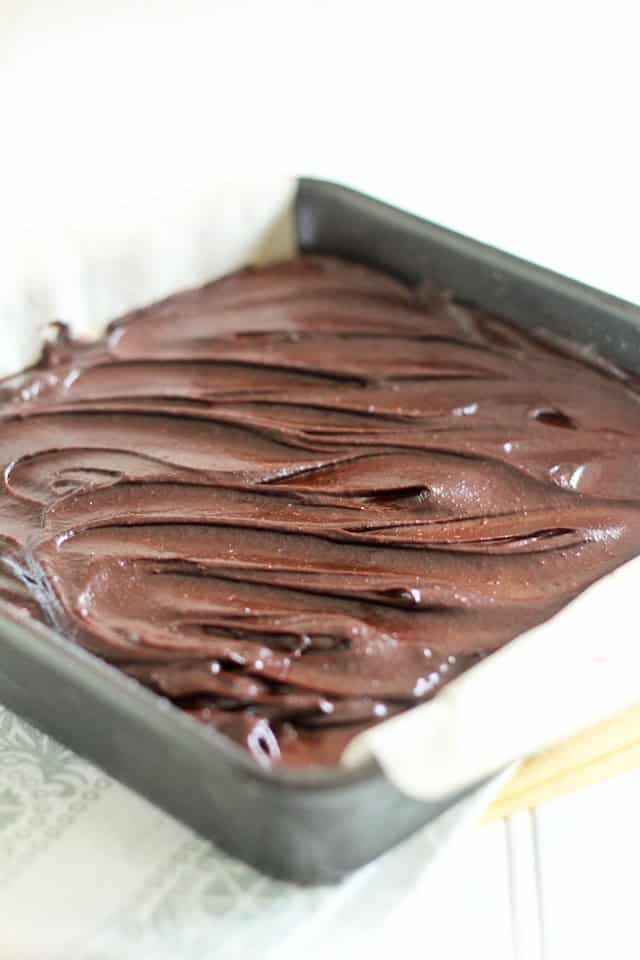 Take pan out of the fridge… Oh! Just you look at that frosting…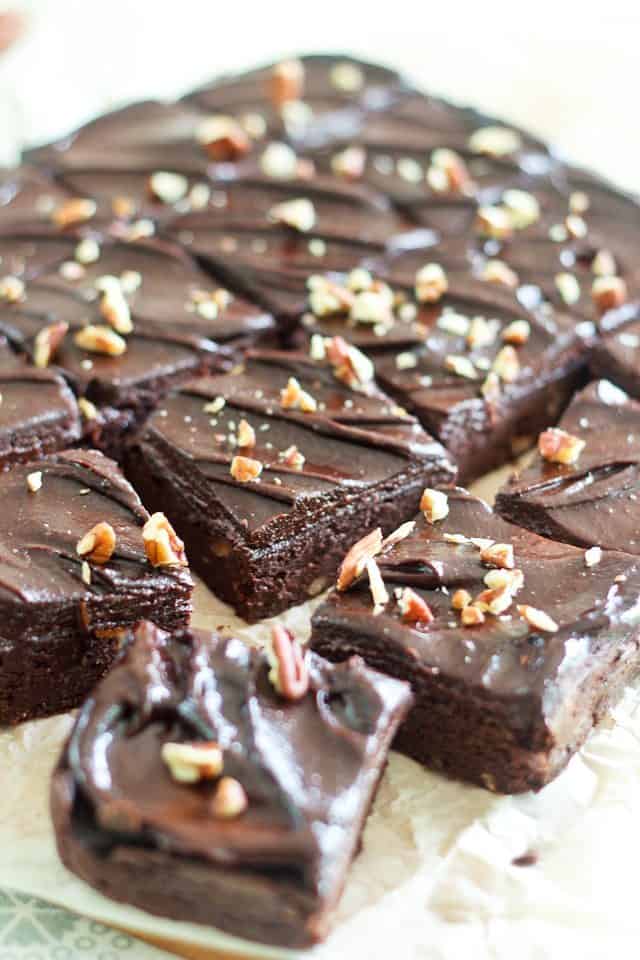 Sprinkle chopped pecans all over. Drool… Cut into squares. Drool some more…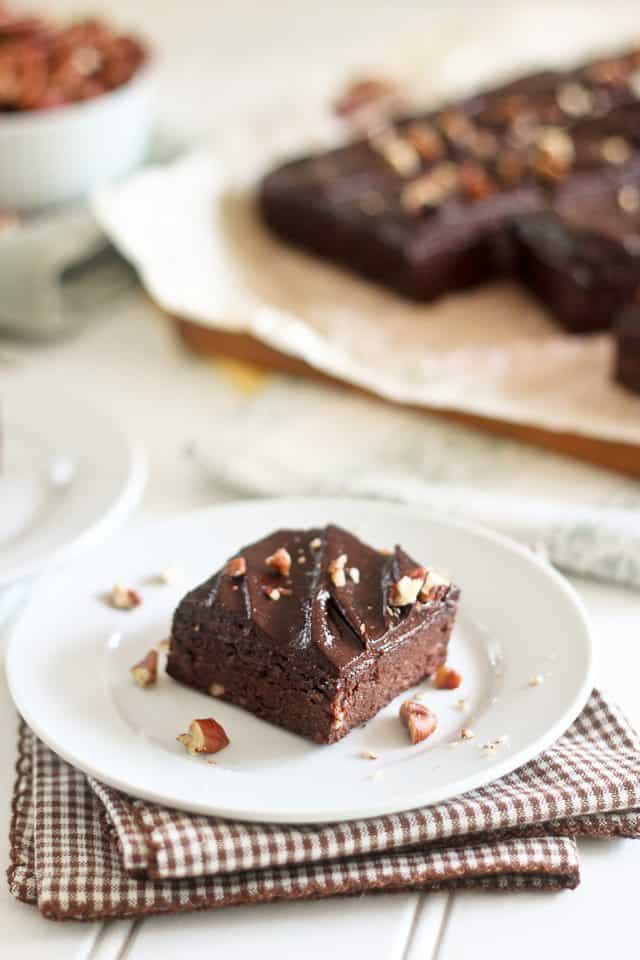 Place ONE brownie on your plate. Well, at least, one at time…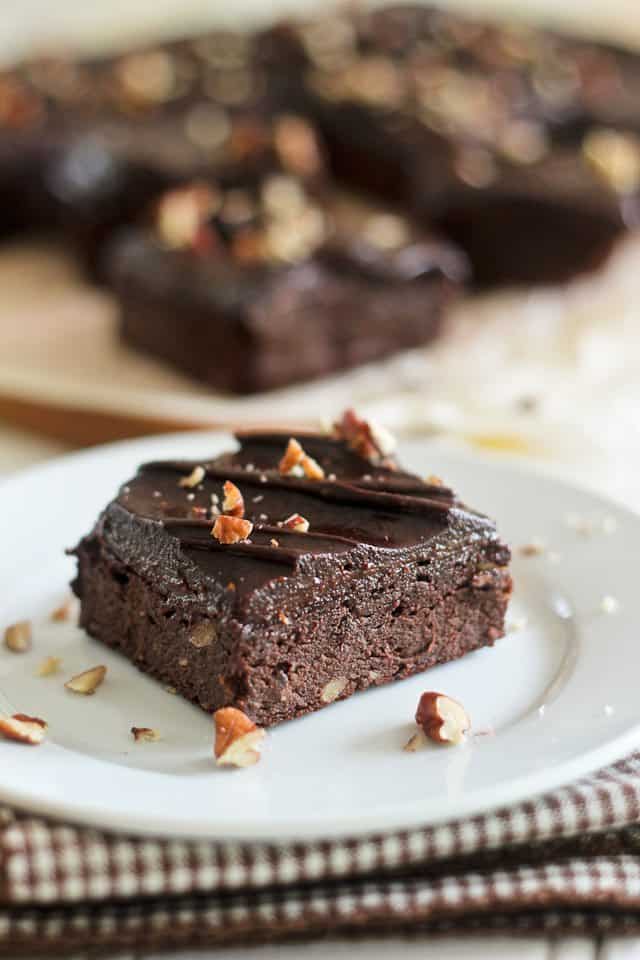 Take a good look at it. Eating starts with your eyes, doesn't it? Are you drooling yet?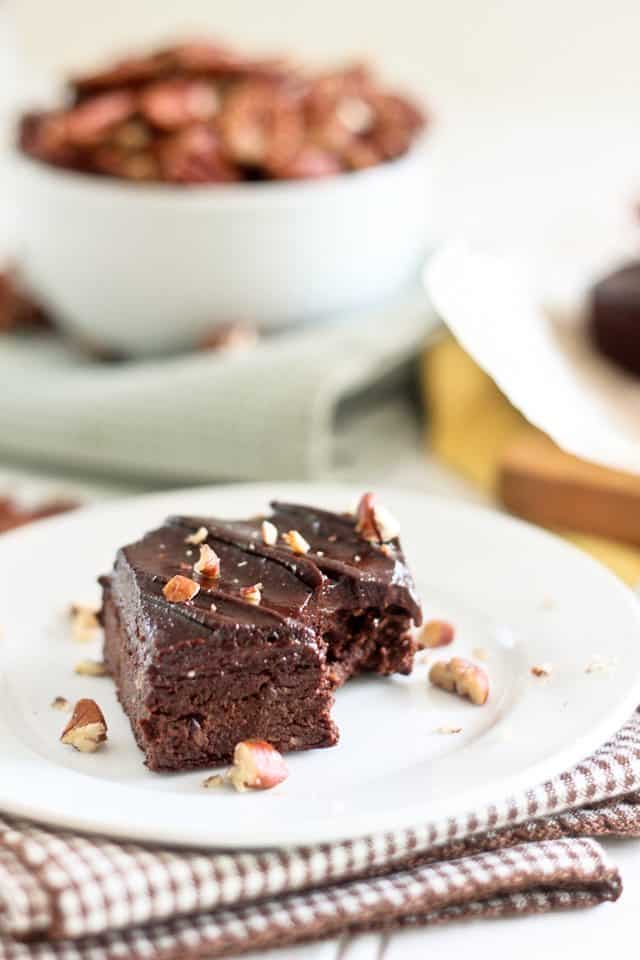 Alright, go on, grab a bite! Delicious, isn't it?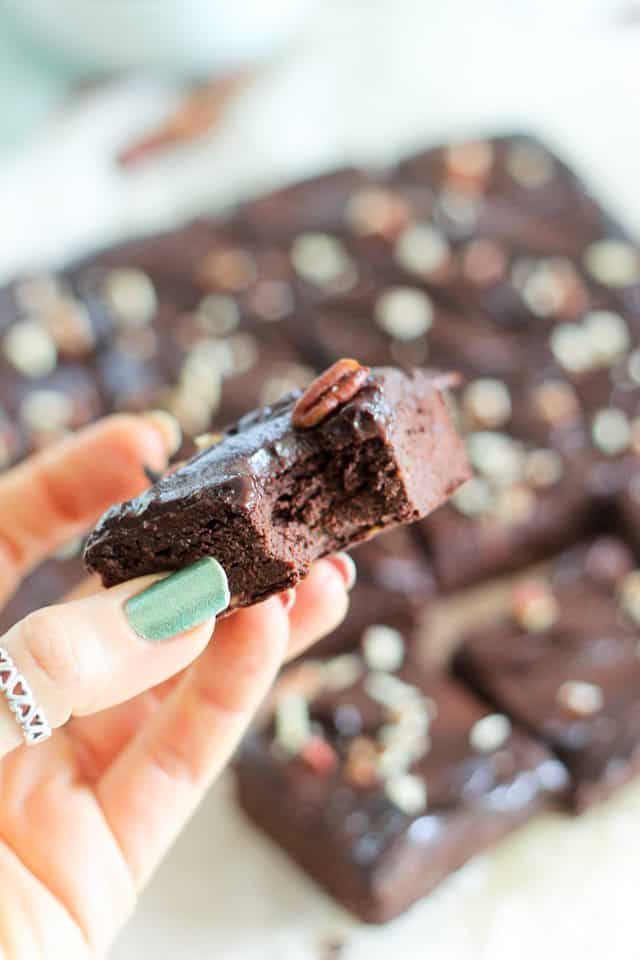 Now that's a texture I like!
Paleo Sweet Potato Brownies
These grain free, gluten free, dairy free and refined sugar free sweet potato brownies are so unbelievably good, they will knock you right off your feet!
Servings: 16 brownies
Instructions
Preheat your oven to 375°F. Grease a 9" square baking pan with coconut oil and line pan with parchment paper, leaving enough extra to extend over the sides.

In the bowl of your

food processor

, combine avocado, sweet potato puree, unsweetened applesauce, date paste and vanilla and process until smooth and creamy. Add cacao powder and again, process until smooth.

Add eggs, one at at time, processing until smooth between each addition.

In a large mixing bowl, add coconut flour, arrowroot flour, salt, ancho chile, and baking soda and stir with a whisk until well combined then add to your food processor and, you guessed it, process until smooth.

Add pecans and pulse a few times just to mix them in.

Transfer to your prepared pan. Spread batter evenly and bake for approximately 25 minutes, or until a toothpick inserted in the center of the cake comes out almost clean.

Set brownies on a wire rack to cool for 15-20 minutes then transfer to fridge to cool completely, about an hour.

Prepare the icing by adding all the ingredients to the bowl of your food processor and process until smooth and creamy.

Pour over brownies and spread evenly with a spatula.

Place the brownies in the fridge and chill completely, at least 8 hours, preferably overnight. Sprinkle with a handful of coarsely chopped pecans, if desired. Cut into squares.

These brownies seem to get even better and richer tasting after sitting in the fridge for a few days...
Notes
*To make the sweet potato puree, wrap a sweet potato in foil and bake it in a 375F oven for about 35-40 minutes or until soft. Allow to cool completely, remove peel and puree. It might be a good idea to do that a day ahead of time. And make some extra! Leftover baked sweet potatoes are always a good thing to have in the fridge...
Nutrition
Calories: 181kcal, Carbohydrates: 18g, Protein: 5g, Fat: 12g, Saturated Fat: 3g, Cholesterol: 41mg, Sodium: 173mg, Potassium: 347mg, Fiber: 5g, Sugar: 8g, Vitamin A: 3485IU, Vitamin C: 5mg, Calcium: 53mg, Iron: 2mg
If you've tried this recipe, please take a minute to rate the recipe and let me know how things went for you in the comments below. It's always such a pleasure to hear from you!
You can also FOLLOW ME on PINTEREST, FACEBOOK, INSTAGRAM and TWITTER for more delicious, healthy recipes!