Pineapple Grilled Chicken
I love havin' company for dinner!
I'm not sure, however, that the feeling is all that mutual… company can't really like me having them for dinner.
You see, food bloggers I make for the most terrible of hosts. Unless one really enjoys eating their food cold, that is.
The thing is, food bloggers I have a disease, you see. It's VERY hard for them me to cook something and NOT write the recipe down or take pictures of the dish that just came to life.
Even, and probably ESPECIALLY when they I have company. Hey, that's usually when the best food is being made.
The only problem is, by the time you get to eat it, that so called best food has most probably had time to lose much of its glory.
Take this particular chicken dish, for example. It was absolutely fabulous the minute after I took it out of the grill: so moist and juicy and tender!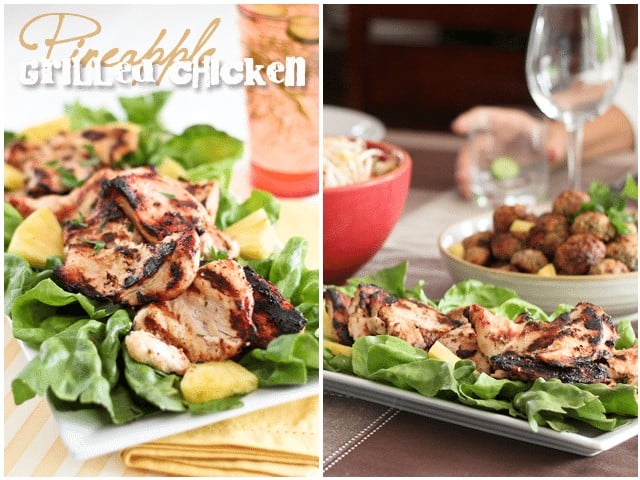 But after spending 15 minutes on the table to get its picture taken and being thrown in the oven on "warm" for close to 2 hours?
Not so much!
But even so, my mom and her boyfriend are kind enough to diligently put up with my defective social skills and always accept my invitations to dinner with great pleasure.
To make matters worse this time, I had totally forgotten to take into account the fact that my daughter had to drive for about an hour in order to get home after work.
Hmpft. My bad!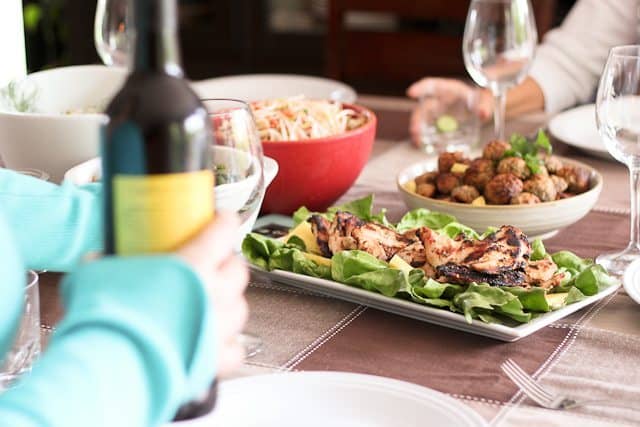 Soooo, after patiently waiting for over an hour, the table has been set and wine is finally being served.
WOOHOO!
Um yeah, I still do indulge from time to time! 😉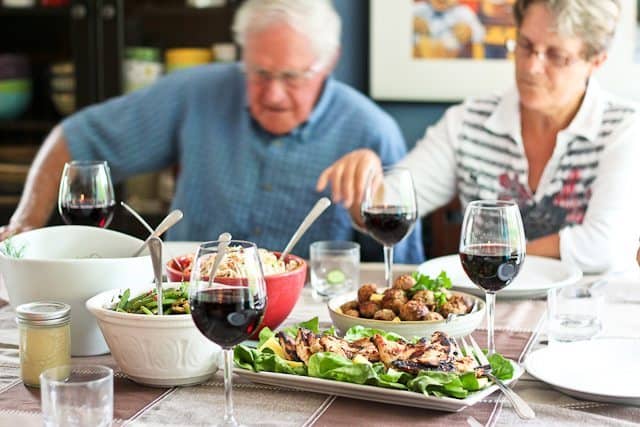 We all get to take a seat…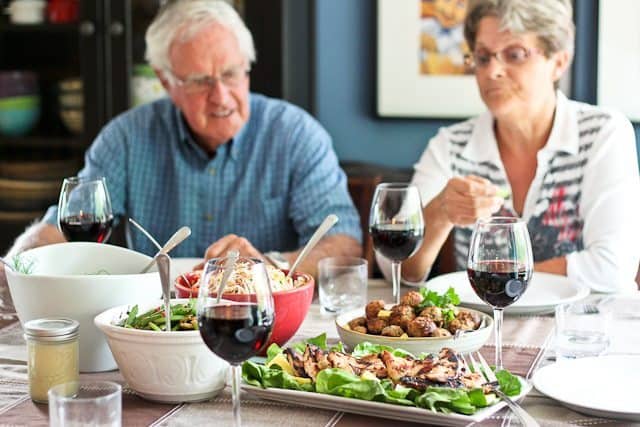 …and browse the selection!
Is it just me or does my mom look a tad skeptical? 😉
Nah! She was just saying that it all looked very good!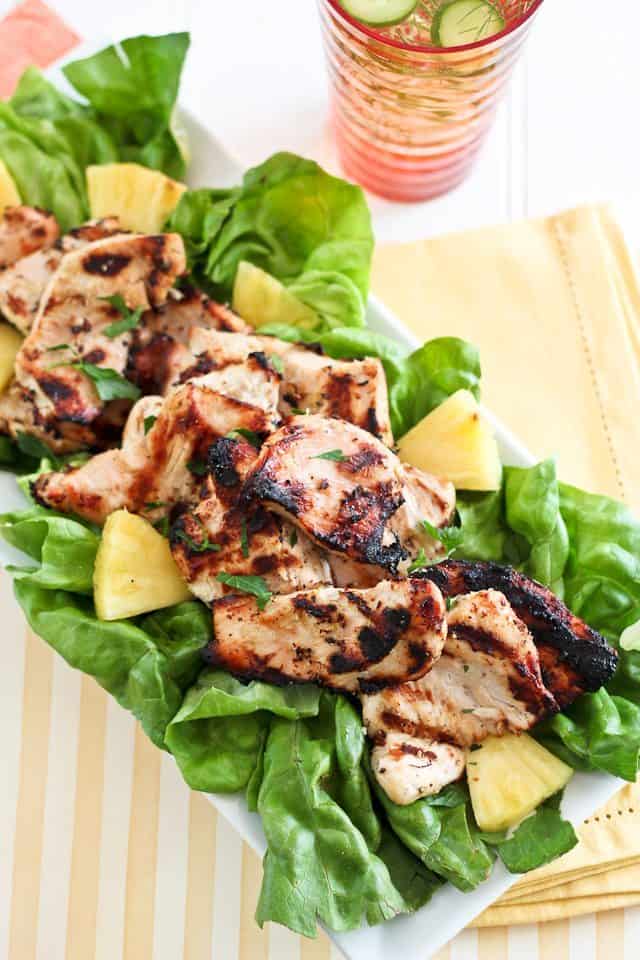 And there's the grilled chicken, in all its glory (before it got to dry out in the oven for 2 hours).
All joking aside, it still was very good and there wasn't a piece left in that plate after we were done eating.
And by the way, all the other dishes that you see on the table also got their own private shoot. That particular week-end, I'd pulled what's practically a miracle: I created and photographed 6 different dishes, one of which was this particularly spectacular looking but unfortunately, "submystandards" cake.
That poor fellow is still sitting on the fence…
The rest of the dishes, though, ended up making the cut, so I'll be sharing the recipes with you.
Watch this space! 
Pineapple Grilled Chicken
Servings: 6
Ingredients
The juice and zest of 1 orange
The juice and zest of 1 lime
100 g fresh pineapple
2 tbsp rice wine vinegar
1 tbsp coconut aminos
¾ tsp salt
1 dry bird's eye pepper, crushed
2 large cloves garlic, chopped
1 tsp sesame oil
½ tsp black pepper
¼ cup canned coconut milk
¼ cup pure coconut water
60 g fresh ginger, grated
3-4 large chicken breasts, each cut into 3-4 pieces
2-3 tbsp extra virgin olive oil or melted coconut oil
Instructions
Add all the ingredients except the chicken in the bowl of your food processor and process into a liquid puree.

Place the chicken in a shallow container with fitting lid (or resealable plastic bags) and pour the pineapple marinade all over it. Move the pieces of chicken around to ensure that they get completely covered. Place in the fridge and set to rest overnight.

Preheat your outdoor grill to high.

Rinse the pieces of chicken under running water and pat them dry.

Rub them well with the oil until every piece is coated all over.

Place the pieces of chicken on the grill, smooth side down and lower the heat to medium. Close the lid and let the chicken cook for about 4-5 minutes, or until it gets nicely marked and starts to turn opaque on the side opposite to the grill.

Flip the pieces of chicken and continue cooking until cooked through, about 3-4 minutes.

Serve immediately.
If you've tried this recipe, please take a minute to rate the recipe and let me know how things went for you in the comments below. It's always such a pleasure to hear from you!
You can also FOLLOW ME on PINTEREST, FACEBOOK, INSTAGRAM and TWITTER for more delicious, healthy recipes!