Cobb Style Green Bean Salad with Creamy Honey-Dijon Vinaigrette
I remember how, not so long ago, I used to associate the paleo diet with nothing but meat. Lots of meat.
Lots of fatty, greasy meat.
Oh! And bacon.
It just seemed to me as though everything paleo had bacon in it.
And since in my mind, bacon was the epitome of unhealthy, it sort of made me rule the paleo diet as being unhealthy by default. Without really taking the time to look into it all that much…
But after taking Whole30® challenge, I discovered a whole new aspect of the paleo diet.
There's A LOT more to it than just the meat!
The paleo diet is in fact cleaner than any clean eating plan I've seen out there and includes more veggies than I ever thought possible.
In fact, I don't think I've ever eaten this many veggies on a regular basis than since going paleo.
Plus, it's so, so respectful of the environment. It strongly encourages you to shop local, buy organic as much as possible, get your meat from good, sustainable sources, go for grass fed, humanely raised animals, buy free range, farm fresh eggs, etc. To me, this just takes healthy to a whole new level and makes me love my food even more.
True, protein holds a VERY important role in the Paleo diet, especially protein from well sourced, high quality meat, fish and eggs.
Meals are actually built AROUND said protein source, but it's not like you're expected to eat like a caveman, sit yourself down with an entire roasted turkey and go at it with your bare hands! Hey, paleo folks are civilized, you know!
Once protein has been taken care of, plates get FILLED with vegetables, some fruit, as well as some healthy fats. Every single meal should follow that very simple template.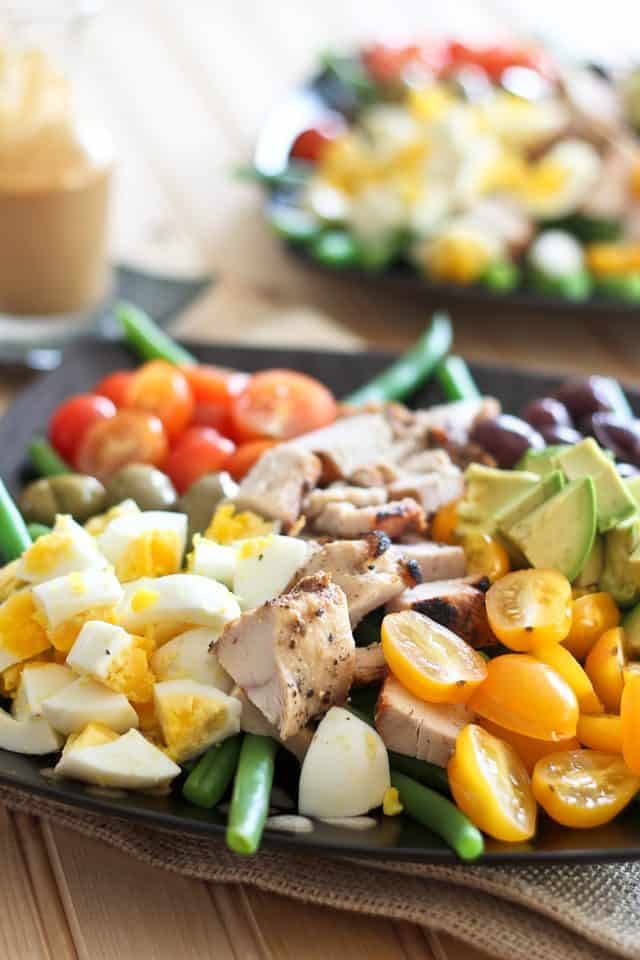 If you were to ask me today what my vision of a paleo meal is, I'd probably have to answer with this picture, right here.
You get TONS of beautiful, colorful, flavorful and über fresh veggies, a good dose of healthy fats from the olives and avocado, and a healthy portion of protein  in the form of lean chicken meat and hard boiled eggs.
Nothing greasy or caveman like here…
This, to me, is what paleo is all about, now. And that, is the perfect picture, right there!
Although, maybe I should've crumbled a tiny little bit of bacon on top of that! 😉
Cobb-Like Salad
Servings: 2
Ingredients
For the Honey-Dijon Vinaigrette
For the salad
250 g leftover cooked chicken, cut into bite size pieces
10 red cherry tomatoes, cut in half
10 yellow cherry tomatoes, cut in half
1 ripe avocado, diced
4 hard-boiled eggs, roughly chopped
650 g green beans, cooked and cooled
6 large green olives
12 large kalamata olives
Instructions
Place all the ingredients for the dressing in a tall glass jar and mix with a stick blender until well blended and slightly emulsified, about one minute. If you don't have a stick blender, you could also use a small food processor. Set aside.

Bring about an inch of salted water to a boil. Place the beans in a steaming basket and set over the boiling water. Cover and steam until tender to the bite, 3 to 5 minutes (depending on how crisp or tender you like them)

As soon as beans are ready, plunge them in a bowl of icy cold water to stop the cooking, then drain, pat dry and divide them between two serving plates

Divide the rest of the ingredients between the 2 plates and arrange them so that they look pretty. Serve with Honey-Dijon Vinaigrette.
If you've tried this recipe, please take a minute to rate the recipe and let me know how things went for you in the comments below. It's always such a pleasure to hear from you!
You can also FOLLOW ME on PINTEREST, FACEBOOK, INSTAGRAM and TWITTER for more delicious, healthy recipes!