Far Breton aux Pruneaux
Did you ever have this happen to you?
You eat something this one time in your life and then for years, every now and then, the memory of it resurfaces in your mind and you can't stop thinking about it…
You desperately want to eat that particular dish again, but you have no idea how to make it and since you don't know how it's called, well, you can't really find a recipe for it.
Still, you search… you enter a whole bunch of keywords in Google and religiously scan the results, to no avail.
All your attempts remain unsuccessful.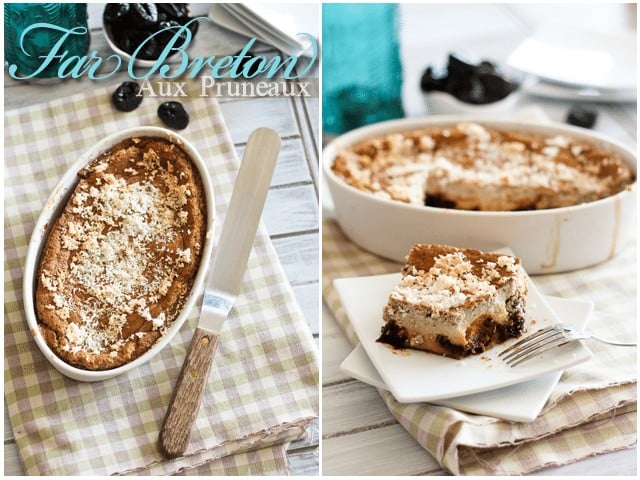 I have a few of those.
One of them would be a very specific Moka Cheesecake recipe that I used to make back when I was a young adult. It had been printed in a little booklet that Kraft used to publish a few times a year around special Holidays. Unfortunately, I somehow misplaced that booklet and have been madly searching for that darn recipe for years. To this day, I've had no luck…
There's also this Salad Fruit Cake with some sort of a Creamy Dreamy Rum Sauce that I remember eating when I was a very young kid. My memory of this one is pretty vague, yet I can still almost taste it. I believe that one of my aunt had made it, but I've asked all of them and none of them remembers ever making such a cake. Oh well. Looks like I'm gonna have to forget about that one… or maybe play it by tongue and try recreating something similar to what my taste buds remember…
Lastly, there's this cake. Well, make that WAS!
This is something that I remember eating / making back when I was in pastry school, but for some strange reason, I don't seem to have the recipe in any of my school books. Trust me, I looked! I went through all of them numerous times, desperately trying to find the recipe for this delicious dessert, but… no  luck.
I didn't even remember how it was called. I only knew that it was some sort of a flan with prunes in it.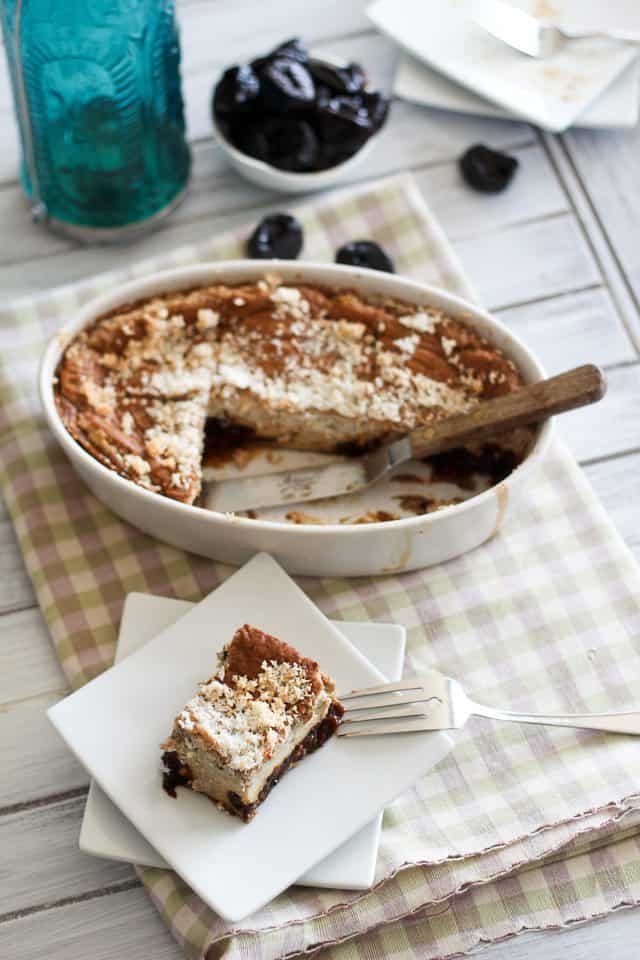 Then one fine morning, not too long ago, I was having breakfast quietly while reading a magazine when I saw it: a picture of that dessert I'd been dreaming about for so long.
Apparently, it was called a Far Breton. What a pretty name!
I almost cried!
But as much as I wanted to reconnect with that same flavor I'd experienced years before, making the real thing now was out of the question. I had to come up with a healthier version.
So I turned to the Internet for inspiration and finally decided on this one as a base for my experiment.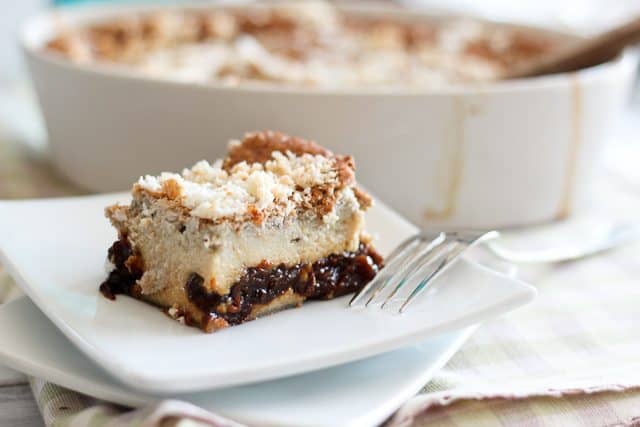 Well, I'm not sure if my taste buds are getting old or if they are truly happy with the stuff that I've been feeding them, but I'm telling you, they didn't even seem to mind that I didn't serve them the "real" thing.
In fact, I think they too cried a little with every bite that I took.
This beautiful flan lasted me an entire week. I would have a little piece at breakfast, alongside my eggs or meat and veggies.
Boy oh boy did it satisfy!
Honestly, I've forgotten all about the original, now. The memory has been replaced with this new one.
And I'm lovin' it even more.
Only now, when I want to eat it again, I will know exactly where to go for the recipe!
Far Breton aux Pruneaux
Servings: 8
Instructions
Preheat oven to 400°F.

In a small food processor, add the eggs and bananas and process until well combined. Add the arrowroot flour and melted coconut oil and mix well.

Add coconut milk, coconut water, salt and vanilla and continue mixing for a about minute.

Meanwhile, grease an oven safe ceramic dish with coconut oil then add shredded coconut and swirl the dish around so the coconut sticks to all surfaces.

Lay the pitted prunes in the bottom of your dish and delicately pour the egg batter over the prunes.

Place in the oven and bake at 400°F for 10 minutes, then lower the heat to 325°F and continue baking for 1 hour.

About 10 minutes before the end of cooking time, mix coconut oil and shredded coconut together and sprinkle the mixture all over the top of your far Breton.

Cool to room temperature then chill completely in refrigerator before serving.

Note that, much like a soufflé, your far Breton will slightly expand during cooking and fall when cooling.
If you've tried this recipe, please take a minute to rate the recipe and let me know how things went for you in the comments below. It's always such a pleasure to hear from you!
You can also FOLLOW ME on PINTEREST, FACEBOOK, INSTAGRAM and TWITTER for more delicious, healthy recipes!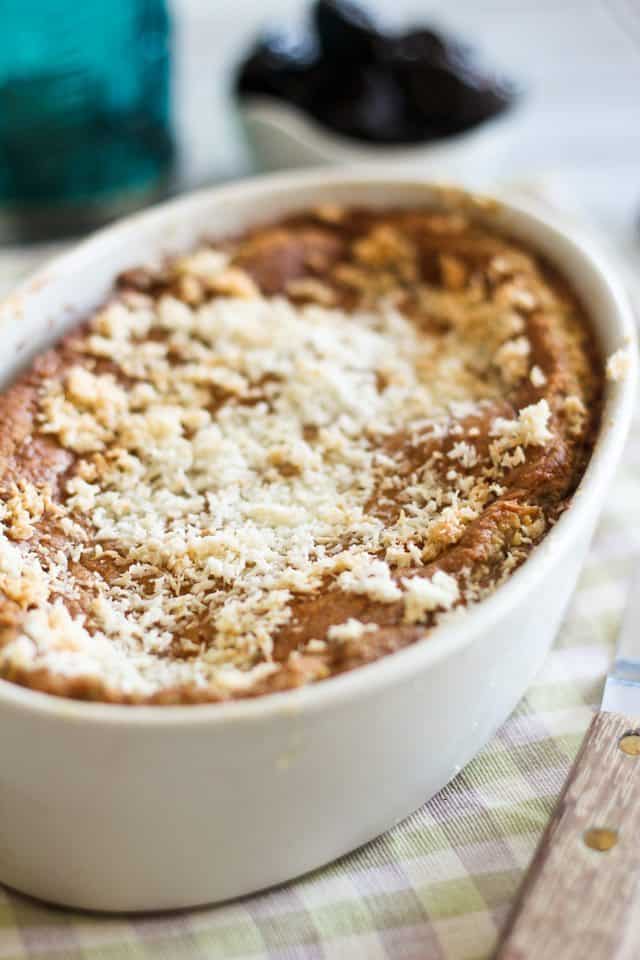 Beautiful coconut-y crust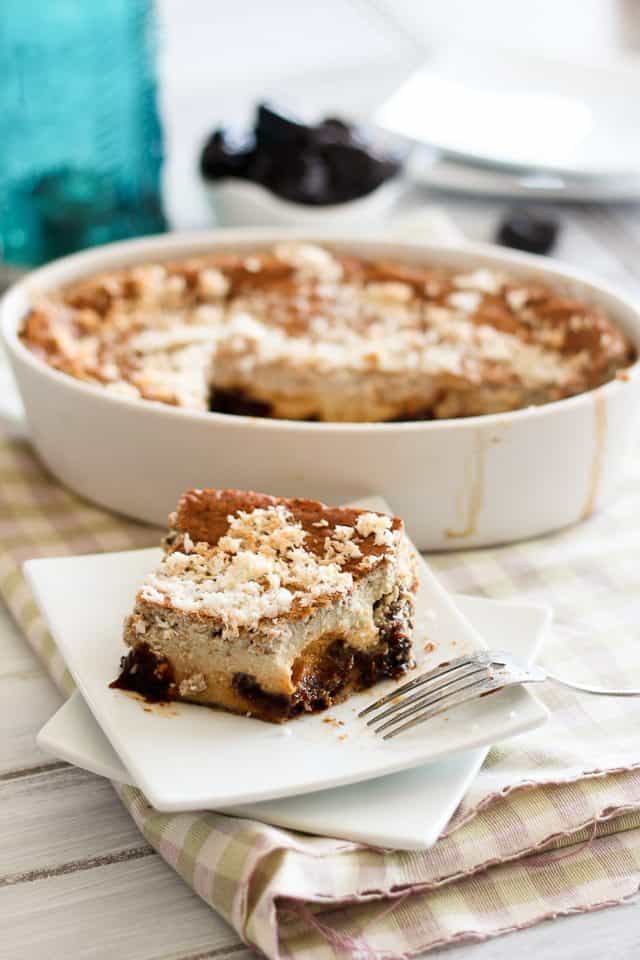 Creamy and sweet, sweet and creamy…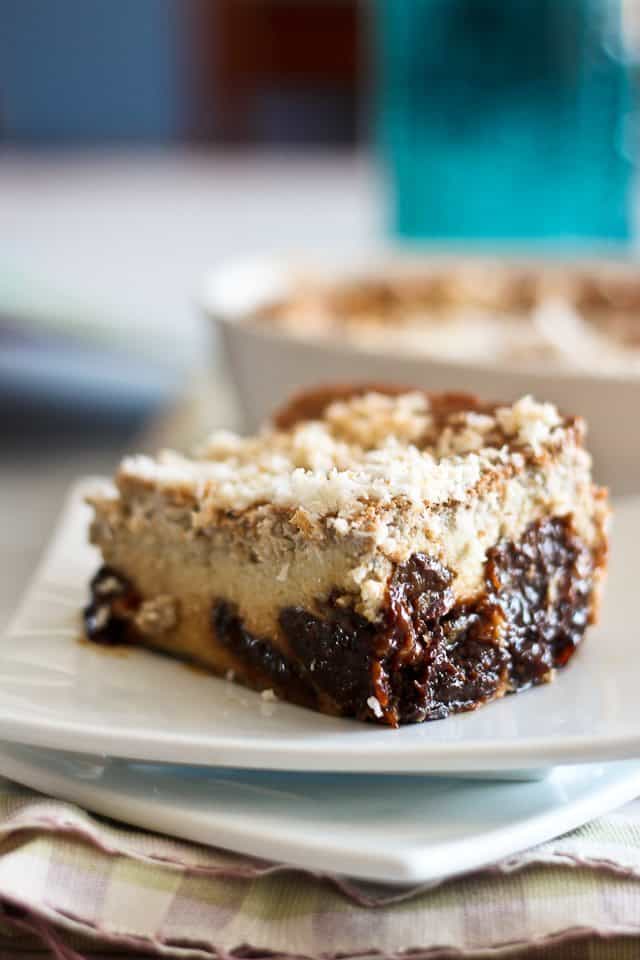 Just look at that beautiful, moist and sweet prune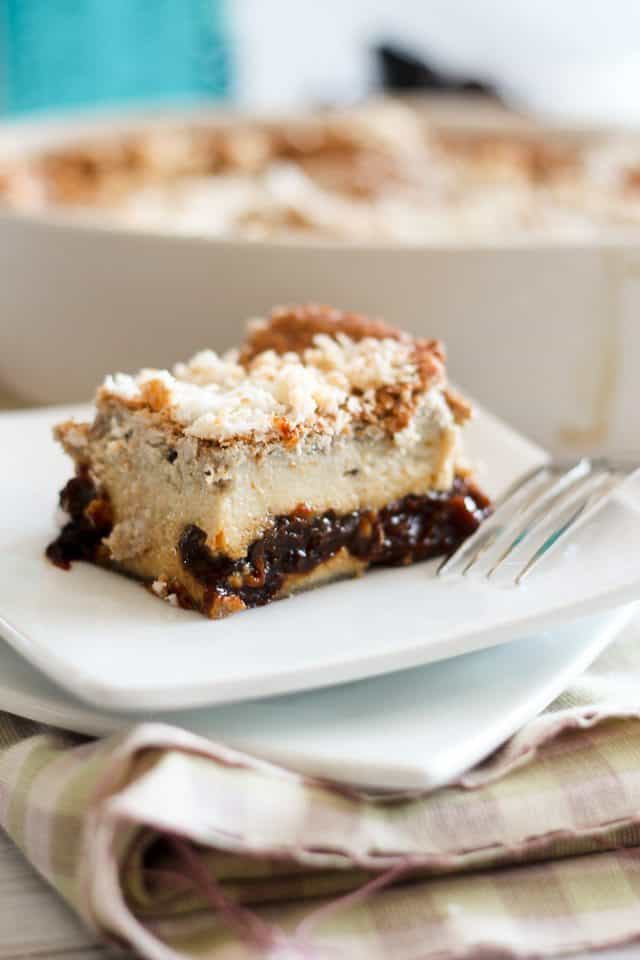 And the flan is so soft and moist… it melts in your mouth!