Move-Over-Shepherd's-Pie Casserole
You love Shepherd's Pie, don't you?
I knew it.
For frankly, who doesn't like Shepherd's Pie?
Unfortunately, for us paleo folks, this simple yet delicious classic is pretty much off limits. Corn, being a grain and not a vegetable, has been removed from the "safe" food list and plain ole white taters, well, while some choose to still have them on occasion, they're not your ultimate food choice.
Come to think of it, the good ole, typical Shepherd's Pie that we're so accustomed to eating, leaves much to be desired in the nutrition department.
Not this version, though!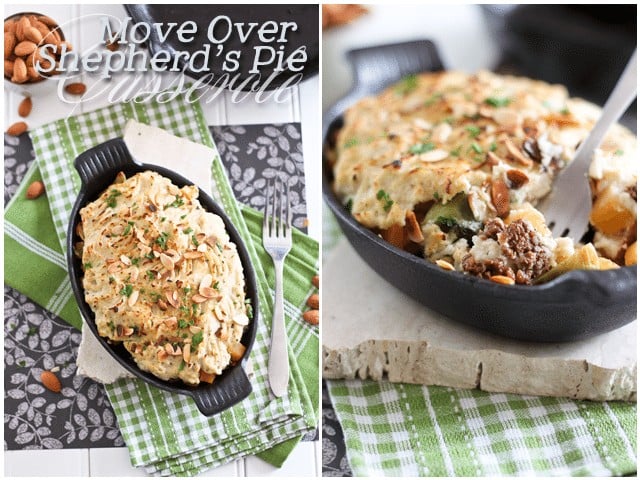 Let me tell you, this Paleo Shepherd's Pie right here was a million times better than any of the traditional Shepherd's Pies I ever had.
It's so full of flavor and textures, I'm telling you, the real thing has ABSOLUTELY nothing over that one.
NOT ONE SINGLE THING!
Not even the mashed potatoes.
Speaking of which… the mashed potatoes that you see on this guy?
HA!
They're not even mashed potatoes. What you're looking at is actually cauliflower.
That's right: CAULIFLOWER! But if you don't tell, no one will even notice the difference.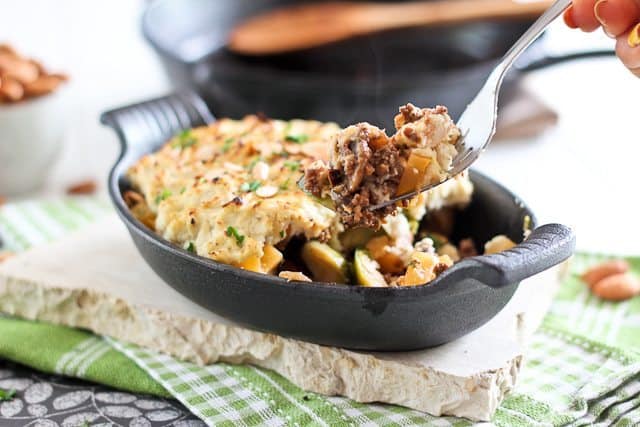 So thanks to Mr. Cauliflower, Ms. Tater won't be missed, not even one for one minute.
And you know who else won't be missed?
The Kernels family.
The Brussels sprouts and rutabaga have so much flavor to them, they greatly contribute to making every bite as palatable as can be. What's more, the addition of toasted almonds brings a slight little element of crunch to that middle layer, much like corn would, only with much more personality.
I'm telling you guys, THIS, is my new official Shepherd's Pie and I don't feel deprived in the least!
Just wait 'til you try it!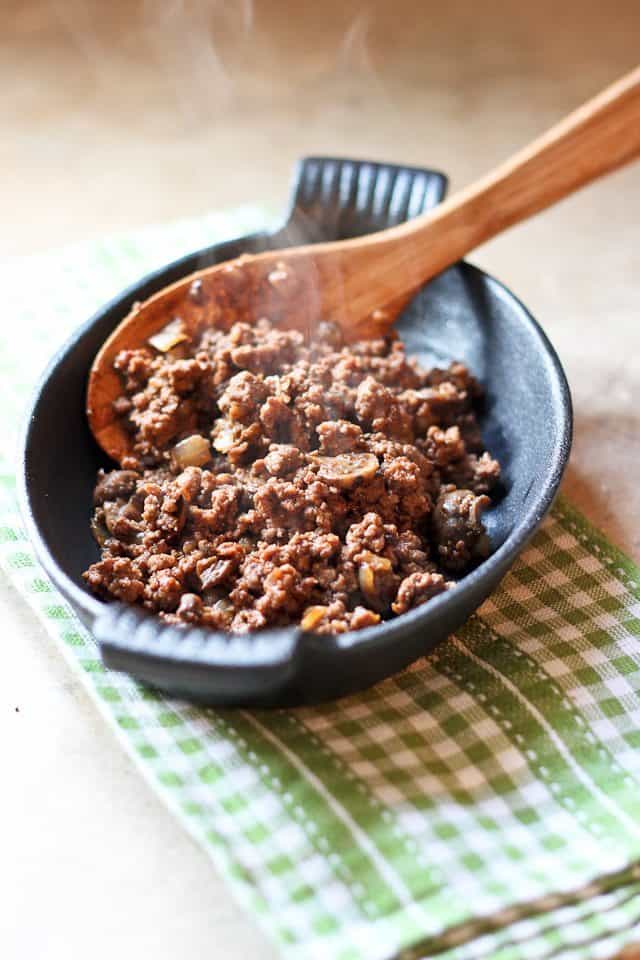 DA meat, already looking good!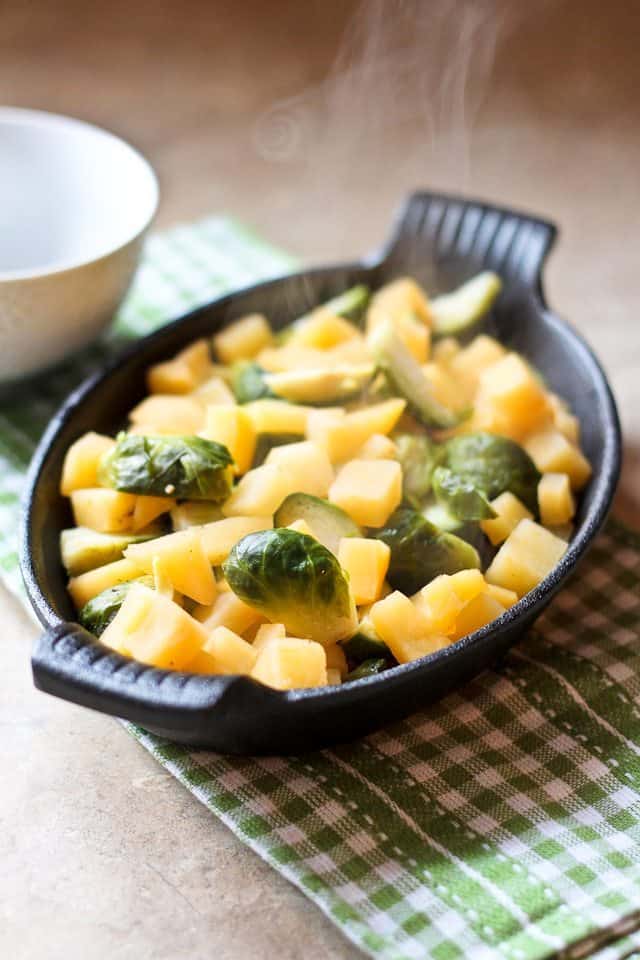 Adding steamed veggies right on top of it.
Look closely… have you ever seen steam form such a perfect swirl? It completely blew my mind!
This just became my favorite picture EVER just because of that swirl.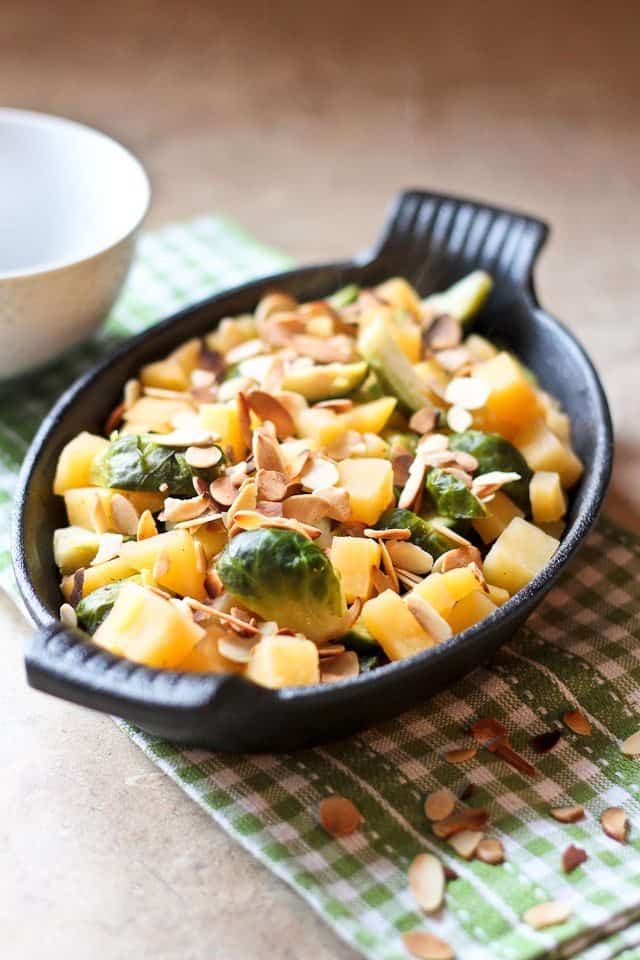 Sprinkle toasted almonds…
Smelling fantastic!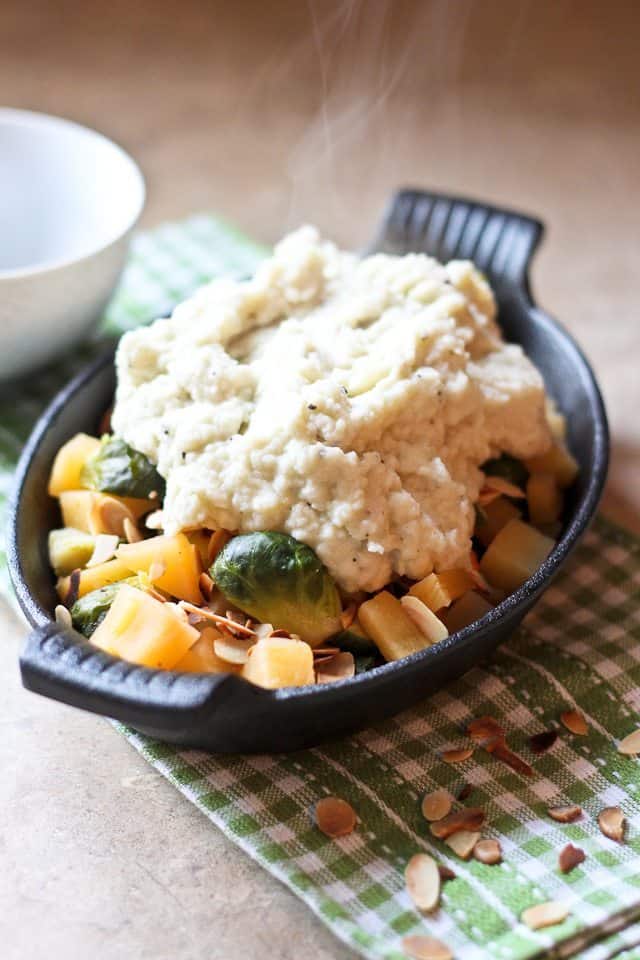 Top with mashed potatoes
Em, sorry… Cauliflower Mash!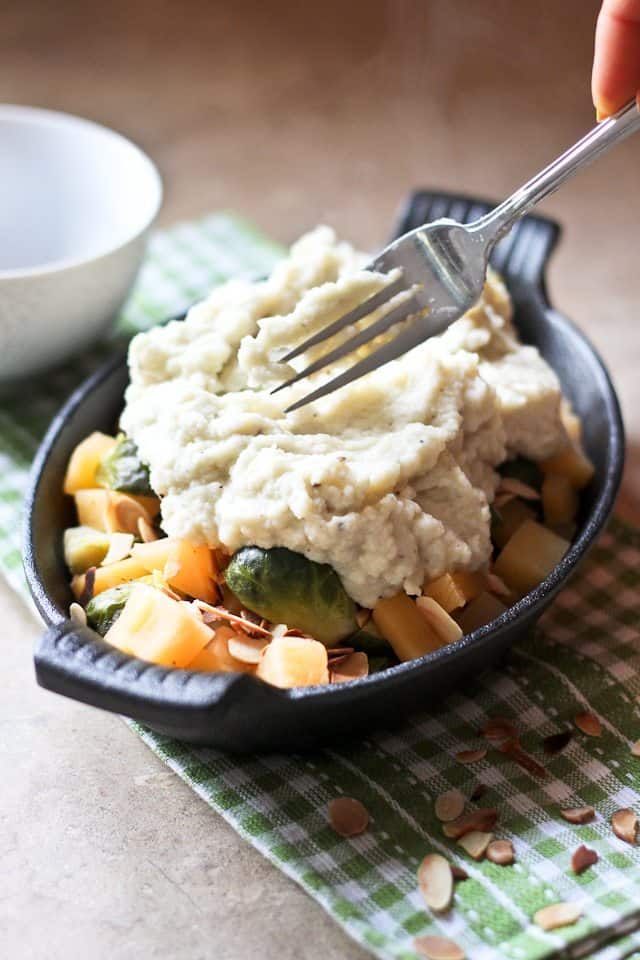 Gently spread Cauliflower Mash all the way to the edge.
Wait, don't eat this just now!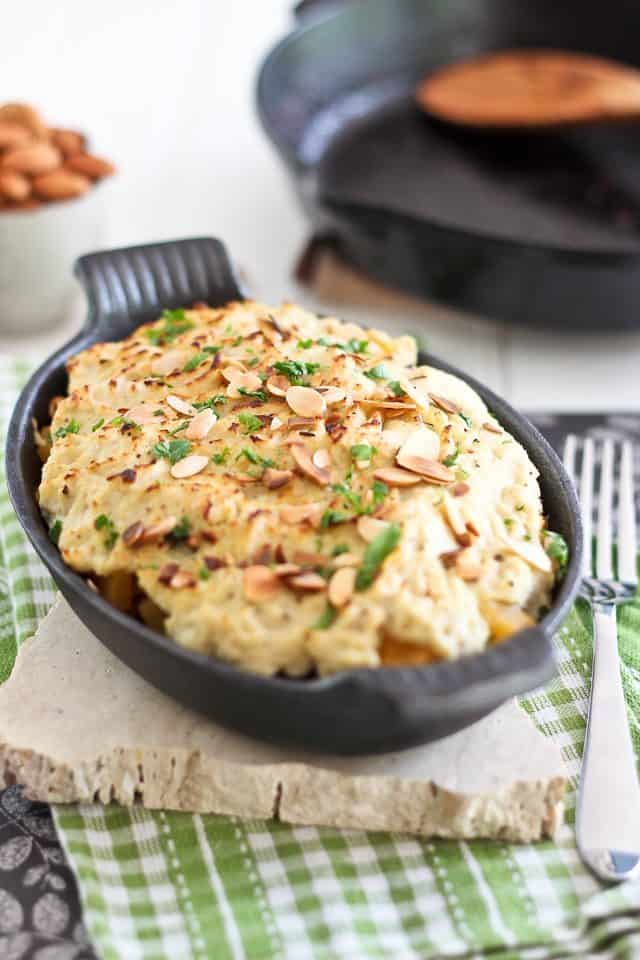 Throw it under the broiler to form a nice golden crust and garnish with more toasted almonds and chopped fresh parsley
Pretty? Pretty!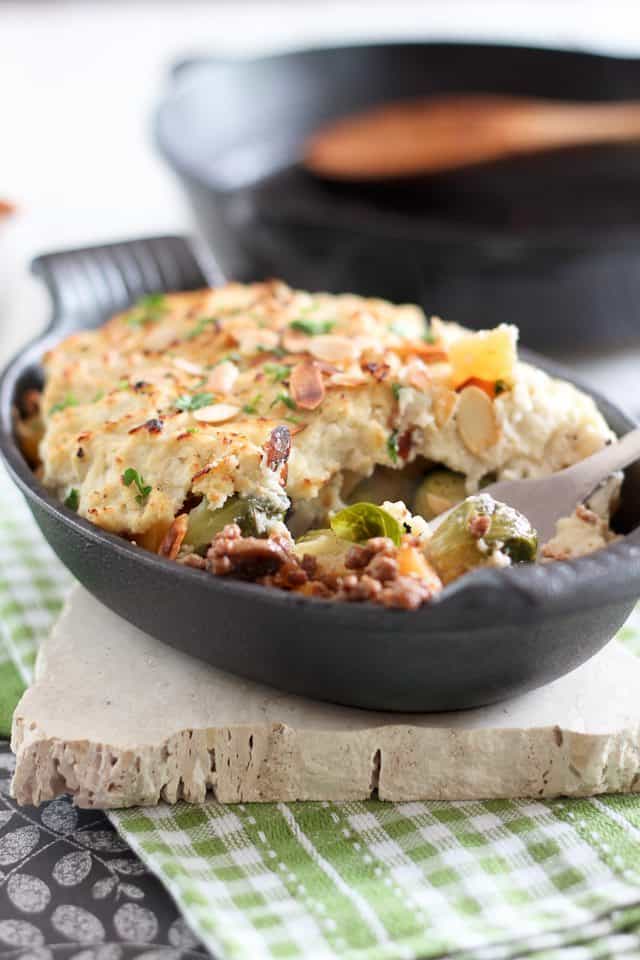 Now dig in!
So? What do you think? Better than the real thing?
See, I told you!
Move-Over-Shepherd's-Pie Casserole
So delicious and nutritious, too! The good ole classic version has absolutely nothing on this super tasty Paleo Shepherd's Pie. 
Servings: 4
Ingredients
Middle layer
15 oz rutabaga, cut into ½" pieces
15 oz Brussels sprouts, quartered
¼ cup sliced almonds, toasted
Top layer
1 large head cauliflower
2 tbsp extra virgin olive oil
½ tsp Himalayan or unrefined sea salt
½ tsp freshly cracked black pepper
few grinds freshly grated nutmeg
½ tsp Dijon Mustard
More toasted almonds and chopped fresh parsley to garnish
Instructions
Heat a large skillet over medium-high heat. When pan is hot enough, melt a little bit of coconut oil then add the mushrooms and cook them until they get all nice and golden brown on both sides. Add onion and cook until fragrant, about 2-3 minutes.

Add ground beef and continue cooking until the beef is no longer pink.

Meanwhile, combine tomato paste, mustard, anchovy paste, salt, pepper, coriander, clove, cinnamon, nutmeg and water in a small mixing bowl. Stir until well blended and pour over cooked ground beef. Continue cooking for a few minutes until liquid has completely evaporated.

Transfer to an oven safe dish (or several individual ones) and set aside.

Cut the cauliflower into small florets and throw it into a saucepan with about a cup of salted water. Place a steaming basket over that saucepan and add the rutabaga and Brussels sprouts to it. Sprinkle with a little bit of salt, cover and steam until all the vegetables are fork tender, about 5 minutes. If you don't have a steamind basket that fits over a saucepan, you can cook the vegetables in two separate pots.

Dry roast the almonds in a small skillet set over medium heat.

When veggies are cooked, add rutabaga and Brussels sprouts on top of the reserved meat. Sprinkle with toasted almonds and set aside once again.

Add cauliflower, olive oil, salt, pepper, nutmeg and Dijon mustard to the bowl of your processor and process until smooth. You might have to scrape the sides and push the cauliflower down a few times to get all the pieces in.

Delicately spread that puree over the casserole.

Drizzle with a tiny little bit of olive oil and place under the broiler for a few minutes until a beautiful golden crust forms.

Garnish with toasted almonds and chopped parsley before serving.
Nutrition
Calories: 466kcal, Carbohydrates: 34g, Protein: 35g, Fat: 24g, Saturated Fat: 6g, Cholesterol: 75mg, Sodium: 725mg, Potassium: 1885mg, Fiber: 12g, Sugar: 14g, Vitamin A: 924IU, Vitamin C: 191mg, Calcium: 167mg, Iron: 6mg
If you've tried this recipe, please take a minute to rate the recipe and let me know how things went for you in the comments below. It's always such a pleasure to hear from you!
You can also FOLLOW ME on PINTEREST, FACEBOOK, INSTAGRAM and TWITTER for more delicious, healthy recipes!