Pork Chops with Braised Bacon and Apple Cabbage – inspired by Beyond Bacon: Paleo Recipes that Respect the Whole Hog
This, people, is the recipe that I have to share with you tonight.
But before we get to it, please allow me to take a minute to talk to you about one of my favorite cookbooks of the late.
I'm a big fan of cookbooks.
In fact, if money or storage were no object, I could easily dedicate an entire room of my house to storing *just* cookbooks. I don't think I'd have a problem buying every single cookbook that is out there, ESPECIALLY all the gorgeous paleo oriented ones that are coming out lately.
But since I don't have an entire room at my disposal, or hundreds of dollars per month to spend on new additions, I have to be very selective of the ones I buy.
In fact, the truth is I'm completely out of room to store new books. All of my bookcases are full, so the new additions get piled up on a little storage cabinet that I have in the dining room. Not the best conditions, I know!
Regardless, there are a few select titles out there that are on my "absolute-must-have" list.
Such was the case for Beyond Bacon. Before it was even released, this one was in my Amazon shopping cart to be purchased the minute it came out. I was already drooling in anticipation, almost counting the days until its official release.
Now can you imagine my excitement when I received an email from the Paleo Parents' Team one day, telling me that Stacy was a great fan of my blog and they were offering to send me a review copy of their yet to be released title: Beyond Bacon: Paleo Recipes that Respect the Whole Hog!
I almost wept with joy.
From that day on, I anxiously waited for the book to come in the mail. I knew that it was going to be a real treat to look at. I knew that it was going to be one of those cookbooks that you treat with utmost respect, the kind that you sit yourself down with and take the time to read quietly, from cover to cover, while mentally drooling and salivating at the sight of all the beautiful, mouth-watering pictures…
After what seemed to be forever, the book finally came in and I must admit that I was not disappointed! In fact, I can honestly say that it FAR EXCEEDED MY EXPECTATIONS!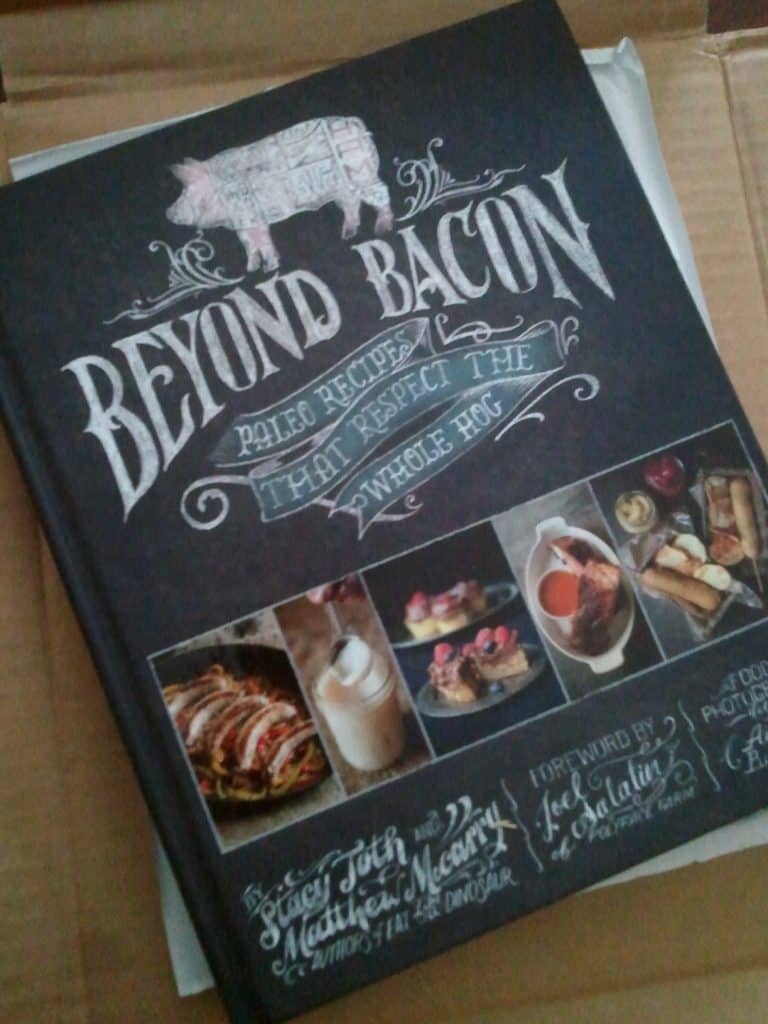 This truly is one sexy book! The hard cover alone almost makes it worth purchasing! It has such a rich feel to it, and conveys a general feeling of "warm and homey" that immediately transports you and makes you want to completely lose yourself in the pages that are about to be revealed.
Flipping through said pages is just pure enchantment. The pictures are not only gorgeous, they are also plentiful and present on pretty much every page. How generous! Be warned though: they WILL have your mouth water quasi instantly.
But to me, the real beauty of this book lies in the fact that, on top of providing the reader with top notch recipes, which all have their very own little intro paragraph, super clear and easy to follow instructions as well as a gorgeous depiction of the expected result, you also get TONS of extremely helpful information on the art of sourcing, purchasing and consuming the whole hog. I personally have gained a whole new level of respect for the ever clever and, let's admit it, unbelievably cute animal that is the pig. That newfound respect really had me want to think outside the box, get out of my comfort zone and honor the adorable beast it by eating ALL of it, NOT just its belly.
All in all, I couldn't be happier with the book and my only regret is that I haven't gotten my hands on it prior to purchasing my first whole hog. The book indeed includes a very handy guide with lots of pointers as to what to look for, what to ask and what to expect when purchasing a whole hog and Stacey and Matthew also share many a useful resource.
One of the biggest mistakes that I made when ordering my pig, I think, was to not request any fat at all. Boy, oh boy do I ever feel like I'm missing out! To think of all that beautiful lard that would be in my cupboard right now if only I'd read Beyond Bacon beforehand. Now I guess I'll have to wait until need to order another side of pig.
Mind you, I get the feeling that I'll be placing a special order order of fat, if only to try my hands at one (or a few) of the incredible dessert recipes, or Sweet Thangs as they call 'em, that Beyond Bacon has to offer.
Caramel Praline Lard Fudge, Maple Bacon Frozen Custard, Decadent Brownies (they call them "The Best, and trust me, they LOOK it!) or Salted Caramel Bacon Sauce, just to name a few…
They even have a Pie Crust recipe that looks just like the real thing! Oh, and they'll teach you how to make you own bacon at home, too… Seriously!
Of course, there are also tons of "regular" pork recipes such as spare ribs, roasts, burgers, meatballs and pork chops, like these gorgeous Apple & Bacon Stuffed Pork Chops.
Can you tell that this is the dish that's behind the delicious braised pork chops recipe that I'm sharing with you tonight? I know I haven't told you much about it and frankly, I think I've already done enough talking for one night, so you're just gonna have to take my word for it: it's absolutely delicious! Trust me, this was the first time but definitely not the last that I was reaching for Beyond Bacon for inspiration!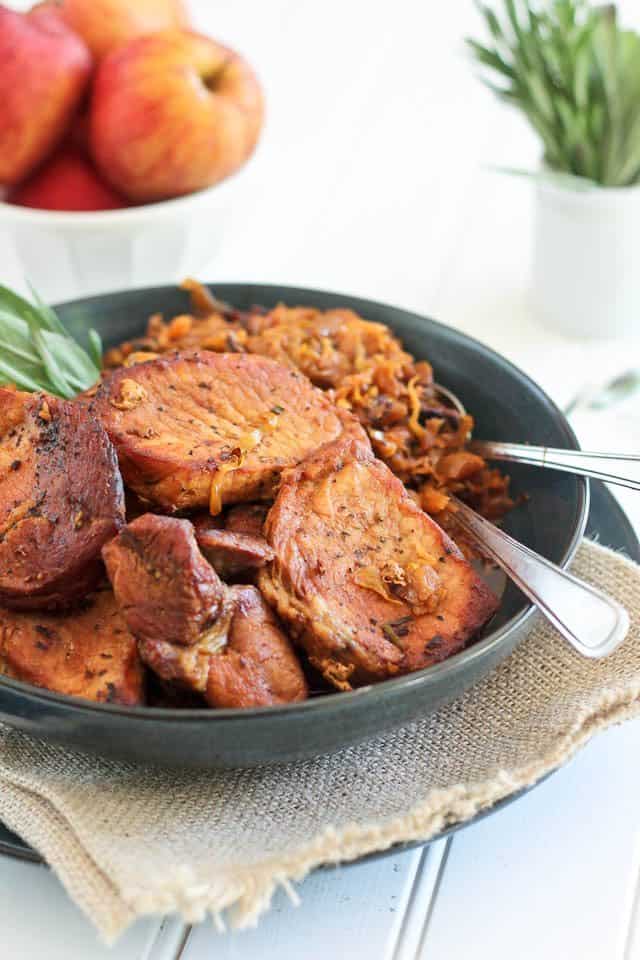 By all means, if you are considering purchasing a whole hog or even if you simply are a fan of pork who is looking to expand their horizons a little bit, do yourself (and the pigs) a favor and get this book.
In fact, you don't even need to care for pork to appreciate this book. If, like myself, you happen to have a real deep appreciation for beautiful cookbooks, go ahead and get this.
Trust me, you will NOT regret it!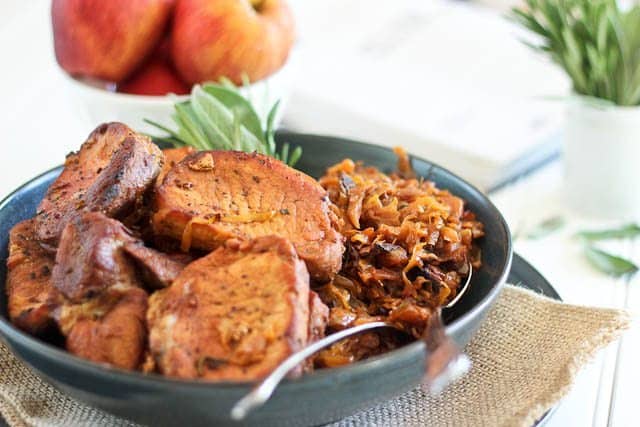 Disclaimer, kind of… I have to specify that I have been given a review copy of Beyond Bacon, but he opinions expressed in this post are my own. I was under no obligation to write this post, but I happen to really like the book and wanted to share this with you guys. I like sharing the stuff that I truly believe in and this one most definitely fits the description.  
Pork Chops with Braised Bacon and Apple Cabbage
Servings: 6
Ingredients
1.5 kg pork loin, cut into 3/4" thick chops (or 10-12 pork chops of your choice)
8 strips pastured bacon, cut crosswise into ½" pieces
2 medium onions, thinly sliced
½ head green cabbage, shredded (reserve the outer leaves)
2 cooking apples, peel on, cored and diced (Fuji, Gala, Golden Delicious)
1 tbsp smoked paprika
1 +½ tsp salt, ½ to sprinkle over pork chops, 1 to go in onion mixture
1 +1 tsp black pepper, 1 to sprinkle over pork chops, 1 to go in onion mixture
1 cup water, or chicken stock
1 cup unsweetened apple juice, or chicken stock, or water
¼ cup apple cider vinegar
2 tbsp Dijon mustard
2-3 sprigs fresh rosemary, finely chopped
2-3 sprigs fresh sage, finely chopped
Instructions
Preheat the oven to 350F

Cut the bacon slices crosswise into ¼" wide pieces.

In a large Dutch over set over medium heat, cook the pieces bacon until nice and crispy. Remove the bacon to a plate with a slotted spoon and set aside.

Pat the pork chops real dry, sprinkle with salt and pepper and add them to the hot bacon fat to brown them nice and good on both sides. Make sure to leave a little bit of room between the pieces of meat to allow good air circulation, else the meat will boil as opposed to brown. You might have to work in 2 or 3 batches, depending on the size of your Dutch oven. When the pork chops have a nice golden crust, remove them to a plate and reserve.

Add the onions to the Dutch oven and cook until slightly softened and caramelized, about 2-3 minutes. Add the paprika, salt and pepper and continue cooking until fragrant, about 1 minute.

Add the cabbage and cook until softened, 2-3 minutes. Throw in the apples and bacon and stir well. Give that another 4-5 minutes cooking time. While that's happening, mix the water (or chicken stock), unsweetened apple juice, apple cider vinegar and Dijon mustard together with a whisk. Pour that over the cabbage mixture, throw in the fresh herbs and stir to combine one final time.

Arrange the pork chops over the cabbage and cover with reserved cabbage leaves to help seal in moisture.

Place in the oven and bake for 2 to 2½ hours, until the meat is nice and tender

Let stand for 15-20 minutes before serving. This will allow the flavours and juices to settle and get nice and comfy, which will result in your dish tasting that much better.
Notes
Inspired by Beyond Bacon's Apple & Bacon Stuffed Pork Chops
If you've tried this recipe, please take a minute to rate the recipe and let me know how things went for you in the comments below. It's always such a pleasure to hear from you!
You can also FOLLOW ME on PINTEREST, FACEBOOK, INSTAGRAM and TWITTER for more delicious, healthy recipes!
Sometimes, instead of writing things down, I prefer to take pictures… I find it easier that way. 
Then, when I write the official recipe, I go back to my pictures to refresh my memory. 
I thought it would be fun to share some of these with you! 
Look at the gorgeous golden color of that meat.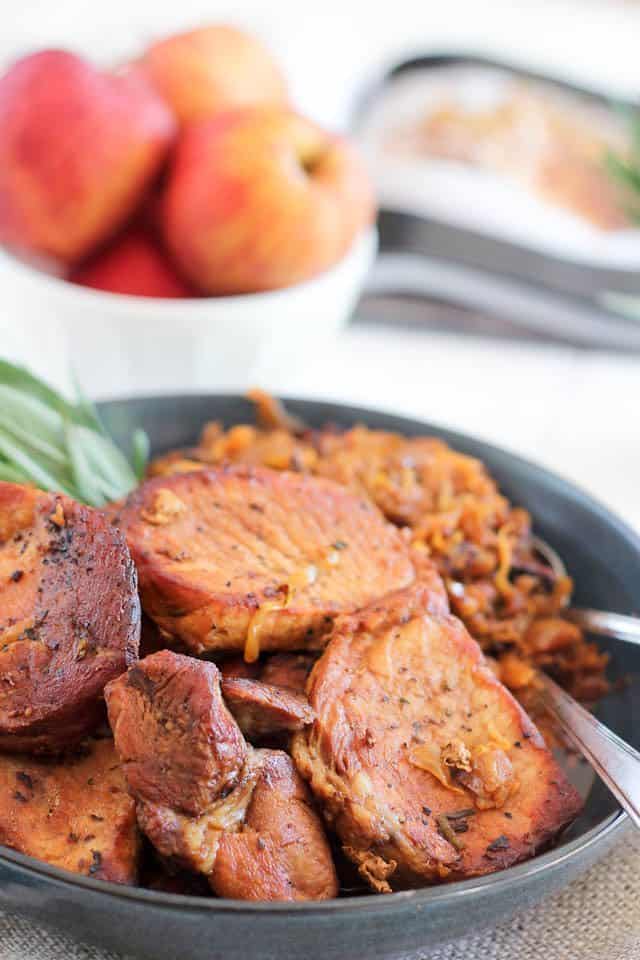 Oh, pork, how I love thee!  That's concentrated deliciousness right there! 
Check out that beautiful cabbage! It came out so sweet, so tender and tasty… 
Seriously, this pretty much melts in your mouth.